Chesapeake & Ohio 2-6-6-2 #1309

Last revised: June 2, 2023
By: Adam Burns

The years 2013 and 2014 witnessed some incredible announcements in regards to steam locomotive restoration.  First, in early 2013 word came that Norfolk & Western J Class #611 would likely return to operation. 

This was followed by the biggest announcement of all, Union Pacific's blockbuster move to restore 4-8-8-4 Big Boy #4014.  Finally, in late summer of 2013 news broke that the Western Maryland Scenic Railroad was eyeing Chesapeake & Ohio 2-6-6-2 #1309 for possible overhaul and restoration. 
This was later confirmed during the following May.  The big compound Mallet, built for coal service, will be the largest of its kind in operation and only the third such type currently under steam.  The locomotive will be WMSR's primary power in excursion service.

Alas, the restoration of #1309 has not been the fast and efficient project of Union Pacific #4014, or even what the railroad had hoped. 
WMSR has dealt with setback after setback; after costs soared the railroad discovered a prominent employee stole twelve drive-wheel journal boxes off the locomotive, totaling an incredible $251,000. 
The big Mallet was test-fired by the railroad on June 29, 2020 and on December 31, 2020 moved under its own power for the first time in over 64 years.  Its restoration was officially completed on November 19, 2021.
She made her first revenue runs over the Western Maryland Scenic leading The Polar Express during the weekend of December 17 - 19, 2021.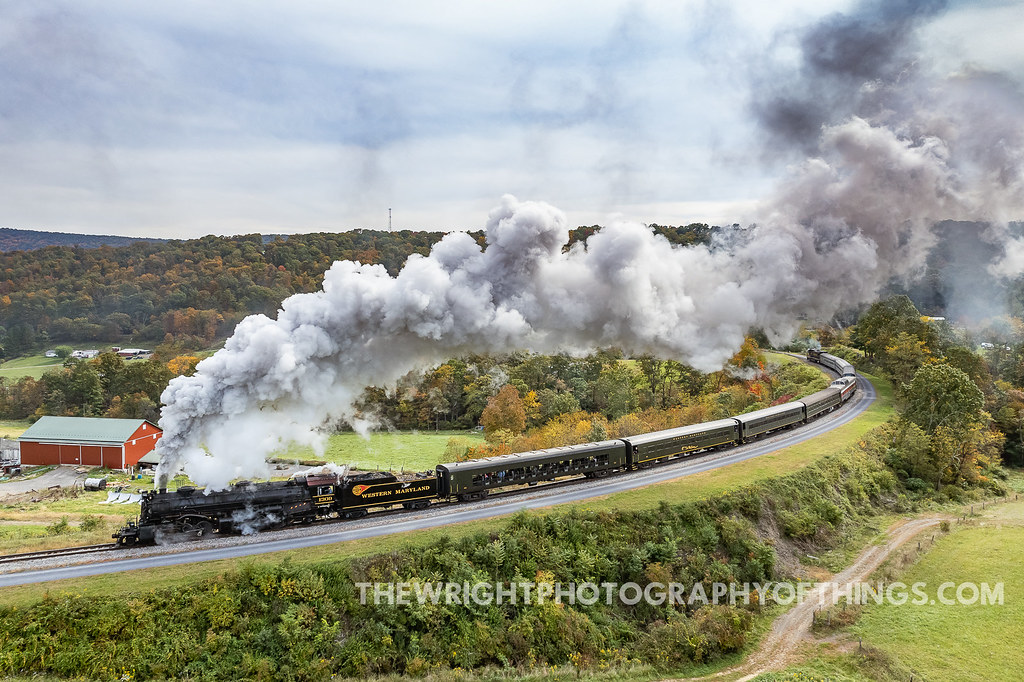 Chesapeake & Ohio 2-6-6-2 #1309 leads an excursion around Helmstetter's Curve on October 12, 2022. Jon Wright photo.
Overview
The Mallet was an interesting steam design.  Its name derives from the person who invented it, Anatole Mallet of Switzerland.  The first example to enter service was Baltimore & Ohio 0-6-6-0 #2400. 
Also known as "Old Maude" the locomotive was built by the American Locomotive Company where it was employed in heavy drag service along the railroad's fabled grades of the West End. 
Most railroads came to dislike the Mallet which used compound expansion that many found too complicated to justify the advantages in fuel savings and tractive effort.  However, a few major lines found use for them on more than just an experimental basis, notably the Norfolk & Western and Chesapeake & Ohio.
History
The C&O employed its first Mallets around 1910 with a 2-6-6-2 wheel arrangement (sometimes referred to as a Mallet Mogul), a few years after the B&O had proven the design's capabilities (during this era several railroads tested compound technology ranging from the Clinchfield to Great Northern). 
Like its northern neighbor the C&O operated a plethora of coal branches in the Mountain State as well as eastern Kentucky, many of which were riddled with stiff grades. 
As a result, these high adhesion brutes came in quite handy at moving heavy trains of black diamonds with tractive efforts near or above 70,000 pounds.  The first to enter service was #1300 followed by #1301 (both were manufactured by Alco, the former at its Brooks plant and the latter in Schenectady).

These early compounds were very light compared to later examples, weighing roughly 200 tons compared to future variants that weighed 300 tons or more.  In all, the C&O rostered 25 of these early Mallets numbered 1300-1324. 
They saw relatively short careers on Chessie thanks largely to their small size and all were scrapped by 1935.  They were followed by the somewhat beefier Class H-4's of 1912, which weighed nearly 300 tons.  A few years later a batch of what was listed as Class H-3 arrived that were even heavier than the H-4's with a tractive effort of nearly 74,000 pounds. 
During 1919 and 1920 the C&O received batches of its Class H-5's and Class H-6's becoming the last new compounds to arrive on the railroad for nearly 30 years. 

The locomotives were numbered 1520-1539 (H-5) and 1475-1519 (H-6).  While the railroad is said to have not particularly cared for its H-5's Chessie was apparently quite happy with the its initial H-6's, which performed exemplary in coal drag service offering tractive efforts of 70,000 pounds and weighing nearly 330 tons. 
It seems the C&O was so pleased with the H-6's that it went back for more following World War II.  This move is somewhat incredible considering that steam was in its waning years, diesels had proved their superiority, and most roads were in the process of retiring and/or phasing out their fleets. 
Up until that time Alco had built the entirety of the railroad's 2-6-6-2 fleet.  However, when it ordered more in 1948 Chessie tapped Baldwin.
The need for the locomotives was, again, in the transport of heavy coal trains.  Due to the late era in which they were built the compounds featured some of the newest technologies available such as roller bearings and upgraded lubrication systems. 
The latest H-6's were modeled from the earlier H-6's and also pulled from the H-3 and H-4 designs.   As a result they offered similar tractive efforts, weight, wheelbase, and driver sizes among other features. 
Initially, the C&O placed an order of 25 2-6-6-2s but would amend this to just ten, #1300-1309, following coal strikes in 1949 that saw production drop significantly and the need for more power was no longer needed. When out-shopped that year #1309 earned the distinction as being Baldwin's last steam locomotive commercially produced for a U.S. railroad.
The batch of ten were immediately dispatched to the C&O's busy Peach Creek Terminal at Logan, West Virginia where they remained for the entirety of their eight-year careers. 
As the 1950s wore on ever-larger batches of Electro-Motive GP7s and GP9s (the C&O's preferred choice of first-generation road-switchers) bumped steam from main line service, including the H-6's. 
The last 2-6-6-2, #1309, was retired in 1956 and spent several years in storage at the Peach Creek Roundhouse until it was acquired by the Baltimore & Ohio Railroad Museum in 1972. 
Restoration
There it remained for 41 years until the summer of 2013 when the announcement was made that the Western Maryland Scenic Railroad was interested in restoring the big Mallet for use in excursion service.
---
A deal was eventually reached and on May 6, 2014 news broke that #1309 would be transferred to the WMSR for operation marking the third large steam locomotive in just over a year to begin full-scale restoration.
Current Status
The work was finally deemed complete after more than seven years of work.  It currently works alongside GP30's #501 and #502 (dressed as Western Maryland units). 

The initial hope was to have #1309 back under steam for the 2016 operating season.  Alas, funding shortfalls have constantly pushed back its completion date and the locomotive currently sits in a state of reconstruction at the railroad's shops in Ridgeley, West Virginia.  
After numerous setbacks the locomotive finally stretched its legs for the first time in 65 years on November 19, 2021.  If you would like to see the big Mallet in action please visit the WMSR website to book a trip or see when she will be operating.