Railroads In The 1840s, A New Industry Takes Flight
Last revised: June 7, 2023
By: Adam Burns

As 1840 dawned in the United States, railroads remained largely novelty.  Watercraft were still the most efficient means of transportation, aided in part by numerous canals (notably the Erie Canal and Pennsylvania's Main Line of Public Works) either in full operation or under construction at that time. 

However, having already proved their advantage in speed and year-round operation, railroads were here to stay.
As John Stover points out in his book, "The Routledge Historical Atlas Of The American Railroads," in 1840 the U.S. contained just under 3,000 miles of track.  This number would more than triple by 1850 (9,000+).   
Much of it was concentrated in the Northeast/New England although some disconnected lines had opened in the Southeast and as far west as Illinois. 
One of the decade's most significant developments was the Pennsylvania Railroad's chartering in 1846, formed by the state legislature to maintain Philadelphia's leverage as a major port city.
History
By 1850 railroads had blossomed into a unified matrix with lines linking the east coast and Midwest.
The industry's growth led to a significant (and important) auxiliary network of car builders, locomotive manufacturers, and related businesses.  In this section we will look briefly at how railroads continued to expand during the 1840s.

Photos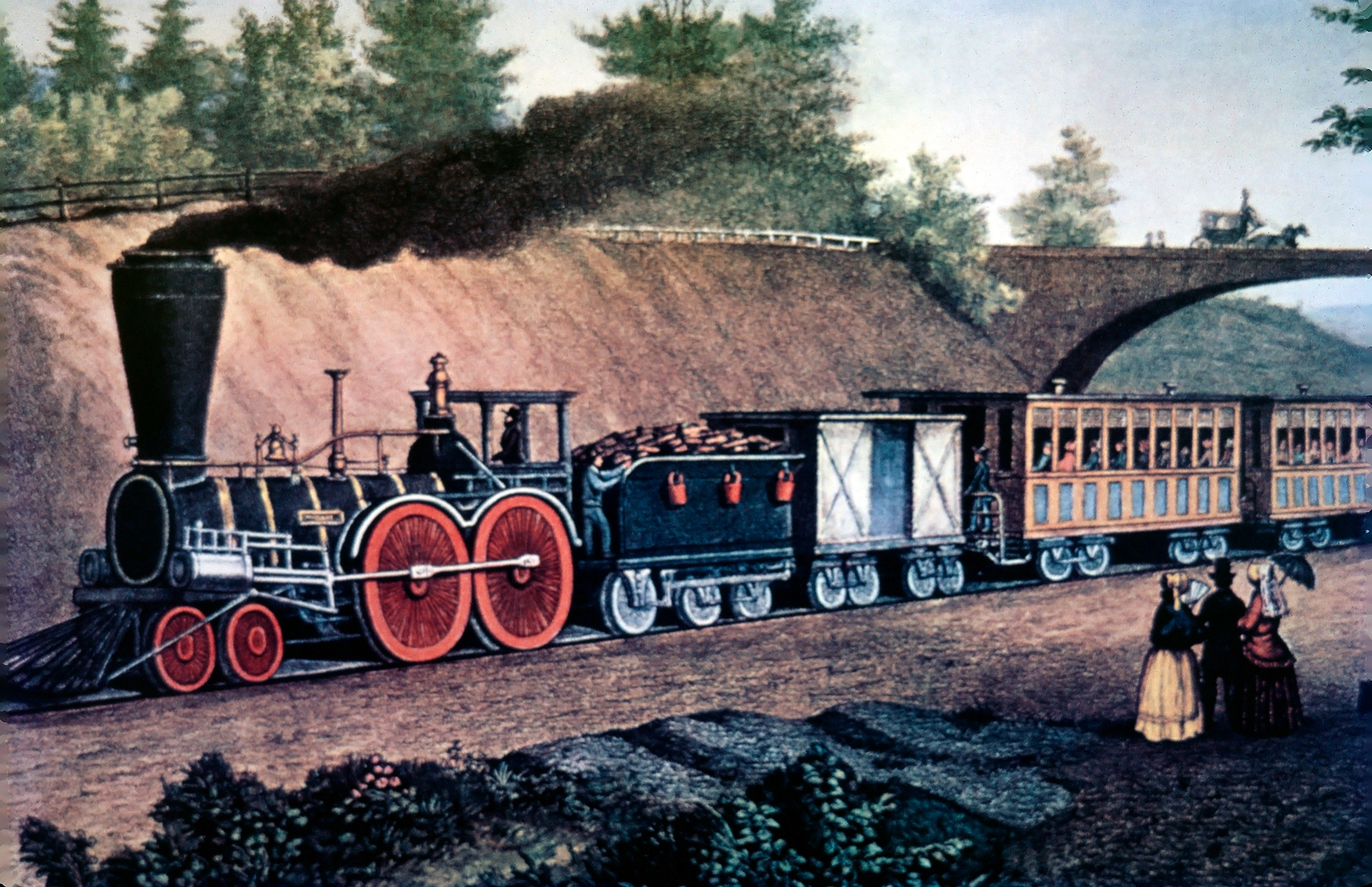 "The Express Train." This was a lithograph by Nathaniel Currier completed in 1840 featuring railroad operations as they would have appeared at that time. Note the early 4-4-0 locomotive and passenger coaches. American-Rails.com collection.
Establishing A Network
While the late 1820's and 1830's are widely understood as the founding era of American railroads, the 1840's were also an experimental decade. 
During that period engineers and early experts were still under a huge learning curve trying to establish a guide of "best practices" including such things as a standard gauge, efficient coupling system, and car designs. 
A few of the more notable advancements occurred in infrastructure.  While many early railroads still employed the strap iron rail method (thin sheets of iron fastened to wooden stringers) it was fast being replaced by the solid "T" rail. 
In his book, "Railroads Across America: A Celebration Of 150 Years Of Railroading," author and historian Mike Del Vecchio describes the following regarding this revolutionary invention:
"Legend has it that T-rail was invented by Robert Stevens (the son of Colonel John Stevens).  Robert was whittling while traveling to England to purchase rails for the Camden & Amboy, and [stumbled onto] the I- or T-shaped form. 
The first boatload of T-rails, 550 pieces, each sixteen feet long, three inches tall and weighing thirty-six pounds per yard, arrived in Philadelphia in May, 1831." 
Overview
National Rail Network (1840)

2,808 Miles

Notable Developments

Pennsylvania Railroad's Chartering (April 13, 1846)

Railroad Gauges In Use

4 Feet, 8 ½ Inches (Standard Gauge)

4 Feet, 3 Inches (Delaware & Hudson)

4 Feet, 10 Inches (Ohio Gauge)

5 Feet

6 Feet

Freight Car Capacity

10 Tons

Freight Car Length

25 Feet

Train Speeds (Average)

10 MPH
Sources (Above Table):
Boyd, Jim. American Freight Train, The. Osceola: MBI Publishing, 2001.
Schafer, Mike and McBride, Mike. Freight Train Cars. Osceola: MBI Publishing, 1999.
McCready, Albert L. and Sagle, Lawrence W. (American Heritage). Railroads In The Days Of Steam. Mahwah: Troll Associates, 1960.
Stover, John. Routledge Historical Atlas of the American Railroads, The. New York: Routledge, 1999.
T-Rail
T-rail held numerous advantages over the strap-iron method:
Firstly, it was much stronger and could support far greater weight.


Secondly, it was cheaper (less labor involved)


Thirdly, could be spiked to a support base, in this case a wooden tie.  


Many of the country's first railroads, like the Baltimore & Ohio, used stone ties.  The massive blocks were very labor extensive to both transport and install. 
By contrast, their wooden counterparts were much lighter while still providing sufficient lateral strength.  Finally, ballast (crushed stone) found increasingly widespread use during the 1840s. 
Engineers found that it not only reinforced the track but also acted as an excellent drainage system which kept water away from the rails. 
With an improving infrastructure and increasing demand, cars and locomotives also needed upgraded.  The latter witnessed major advancements through the 1840s and 1850s as America veered away from English designs. 
The earliest predecessor of the modern American Locomotive Company was established in Schenectady, New York in 1848 (Schenectady Locomotive Works) while Matthias W. Baldwin, a former jewelry maker, built his first steam locomotive in 1831.  
In his book, "Baldwin Locomotives," Brian Solomon notes it was a small design commissioned by Franklin Peale as a display piece for the Philadelphia Museum. 
Baldwin based his locomotive on those used in England's famous Rainhill Trials held in October, 1829.
He continued refining his work and even helped assemble British locomotives shipped to America.  In 1832 he manufactured his very first, full-scale locomotive for the Philadelphia, Germantown & Norristown Railroad.  It carried a 2-2-0 wheel arrangement and was named Old Ironsides. 
Closely based on Robert Stephenson's early 2-2-0 Planet design, it was placed into service on November 23rd that year. 
As previously mentioned, early American railroads imported almost everything from England (rails, locomotives, cars, etc.) since that country had a well-established manufacturing center and its products were less expensive.  This had changed, however, as America's network became better established. 
In his authoritative book, "The American Railroad Freight Car," author John H. White, Jr. notes that by 1840 most U.S. railroads had further broken from British influence and abandoned the open freight car concept. 
Instead, most were closed (aside from flatcars) in an effort to protect ladding (freight) against weather and, in some cases, vandals.
Two-Axle Trucks
It was becoming clear America would surpass its longtime rival in overall tonnage and mileage.  To meet growing demand, American railroads shifted to two-axle trucks by 1840. 
As Mr. White notes, they offered more than just increased capacity for freight cars; since many railroads had been built cheaply with, in many cases, sharp grades, stiff curves, light rail, and little or no ballast the extra axles offered greater weight distribution. 
Perhaps, though, its greatest attribute was its pivoting, free-swiveling design which enabled a car to easily navigate all types of track conditions. 
The first four-axle car was placed into service on the Baltimore & Ohio during the winter of 1830/1831 to ship cords of firewood from outlying forests into Baltimore as home heating fuel. 
These experimental cars worked exceedingly well and the B&O eventually rostered some 25 of what were dubbed "Trussell Cars" by 1834. 
Shortly thereafter the railroad contracted with J. Rupp and H. Schultz for 110, 24-foot boxcars featuring two-axle trucks. 
By 1838 the B&O stated it was upgrading all freight cars with two-axle trucks.  The concept quickly caught on throughout the industry and by 1850 few two-axle freight cars remained in service.

Passenger cars remained as rudimentary as their freight hauling counterparts. 
In many ways, they had seen even fewer advancements during the ten years following the B&O's inauguration of passenger service (Mount Clare to Carrollton Viaduct) on January 7, 1830. 
The first railroads relied on cars inspired by stagecoaches, which provided few accommodations and an even rougher ride. 
The modern diner, lounge, sleeper, and other popular services which became commonplace by the late 19th century were still decades away.  However, advancements in the standard coach were being made. 
Soon after the B&O placed its first Trussell Car into service, the company sought an overhaul of its stagecoach-influenced passenger cars.
In his book, "The American Railroad Passenger Car," author John H. White, Jr. points out that as early as 1828 or 1829 the B&O was visited by Joseph Smith from Philadelphia with a proposal for a rectangular coach of significant length to handle more travelers. 
While never actually built it was a radical departure from typical designs. 
The idea was later picked up by B&O's treasurer, George Brown, who requested an testbed car based on Smith's idea which would feature double trucks.  It was named the Columbus and constructed during the spring of 1831. 
Officially placed into service on July 4, 1831 it was initially pulled by horses although steam locomotives had soon taken over these duties by July 13th. 
In another first, the B&O also placed the first modern coach into service during 1834.  In his excellent book, "The Railroad Passenger Car," author August Mencken notes it was the work of Ross Winans, featuring a center aisle running longitudinally with seating to each side that carried double-trucks.  

While only a prototype all future passenger cars were based from this design (incredibly, one such "Winans Car" remained in regular use on the Tioga Railroad until 1883).  As the 1850's dawned, strides were being made in seating capacity but also passenger comfort. 
The latter was revolutionized by George Pullman during that decade who recognized a market in pampering travelers.
During the 1840s railroads could still be described as rudimentary with little government jurisdiction.  As a result, accidents, injuries, and deaths were common. 
The lack of federal authority meant railroads could do whatever they pleased and most refused to work together in the name of competition and greed. 
Despite these problems, railroads were the fastest way to travel and by 1850 every state east of the Mississippi, except Florida, could boast at least a few miles of track.   
In addition, the now widely recognized 4-4-0 wheel arrangement was developed at this time, credited to Henry R. Campbell in 1839. The so-called "American" type became the most commonly used and best recognized locomotive of the 19th century thanks to its combination of power, speed, and reliability.  
---
Pioneering Locomotives
The Camden & Amboy's John Bull, a pioneering locomotive built by Robert Stephenson & Company and entered service in 1831, was later upgraded by C&A engineers with a lead "bogey" truck. 
This feature allowed the locomotive to easily negotiate curves and became a common feature for those wheel arrangements used in main line service. 
This included the 4-4-0, which was refined into the late 1800s and early 20th century with arrangements like the 2-8-0, 2-6-0, 2-8-2, 4-6-0, and many others.  By the 1840s, the seeds of which became the four major eastern trunk lines (Pennsylvania Railroad, New York Central, Baltimore & Ohio, and Erie) were well established. 
What transpired in the 1840s led to an even greater explosion of new construction the following decade. Aside from the tripling of mileage further technological improvements allowed trains to reach the Midwest in a mere two days instead of a month at the 19th century's dawning. 
The 1850s would witness railroads breaking across the Mississippi River into Texas while plans were being drawn up for a transcontinental route into California. 
The book "Railroads In The Days Of Steam" by Albert L. McCready and Lawrence W. Sagle, notes that in 1835 more than 200 railroads were either proposed or under construction with around 1,000 miles in operation.  By 1850, 9,022 miles of railroad were in service which constituted an investment of $372 million.