Railroads In The 2nd Industrial Revolution (1890s)

Last revised: June 7, 2023
By: Adam Burns

A multitude of events were affecting the railroad industry during the 1890's:

A financial panic ensued in 1893, the first federal regulations were enacted that decade.


A new mode of transportation took root (interurbans).


Labor made a greater push for fair working conditions.


A locomotive reached speeds beyond 100 mph (New York Central & Hudson River 4-4-0 #999, which attained a speed of 112.5 miles per hour on May 9, 1893)


The mighty Southern Railway was born.
In general, what is now regarded as the Second Industrial Revolution was great time in America; business was rapidly expanding (especially in the west) and new construction continued with nearly 30,000 miles completed between 1890 and 1900.
Much of this trackage was laid down across the Midwest and western states, particularly through Illinois, Iowa, Minnesota, Wisconsin and eastern Nebraska and Kansas; the so-called "granger railroads." 
History
Alas, the building blitzkrieg resulted in a great deal of redundant trackage throughout America's Breadbasket.  

As federal regulations tightened, railroads were forced to continue operating many of these branches at a loss until the 1970's and 1980's. 
Dr. George W. Hilton points out railroads had reached their economic maturation by the late 19th century and would remain the only viable and efficient mode of transportation until the 1920's.  

Images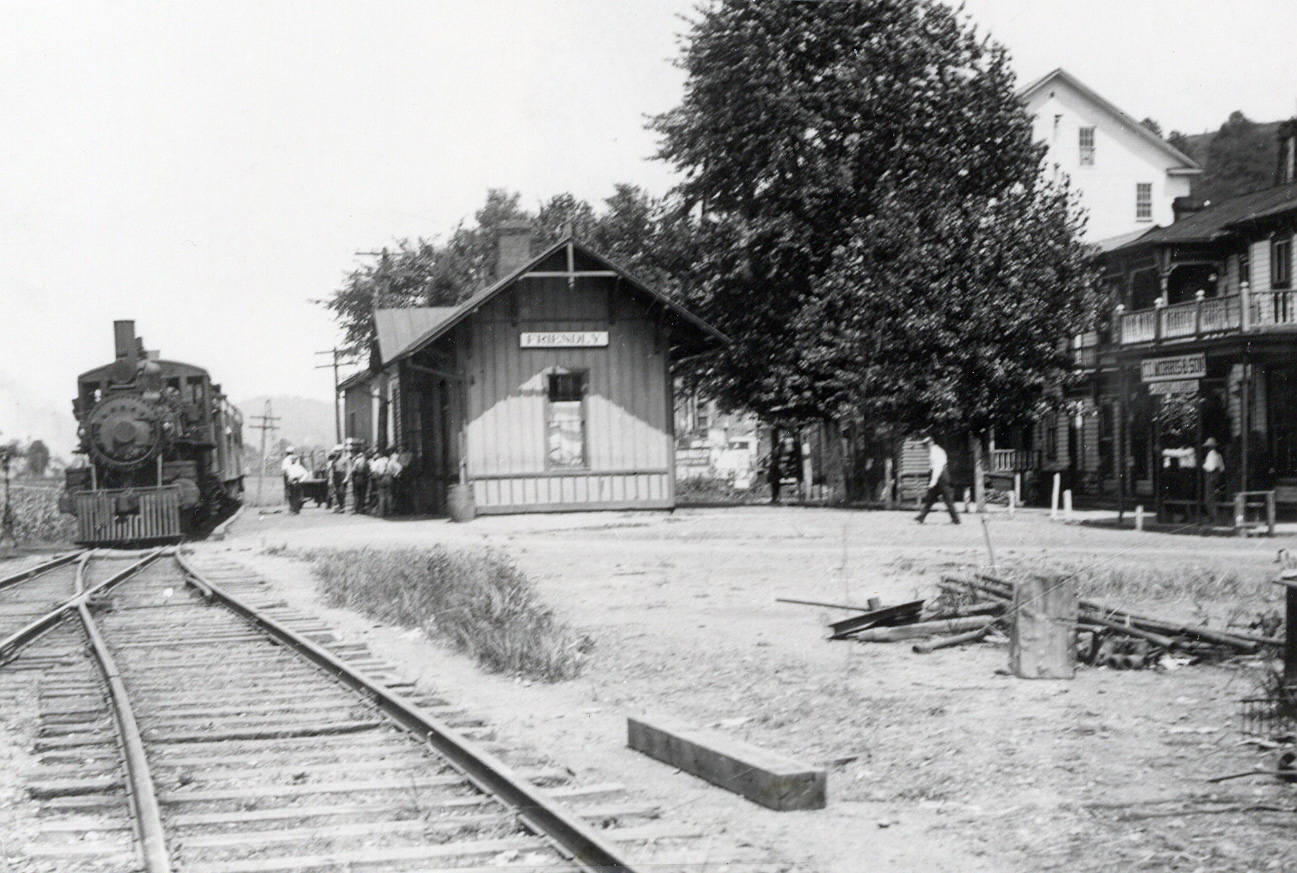 The Baltimore & Ohio's quaint depot in Friendly, West Virginia is seen here along the former Ohio River Rail Road (Wheeling - Huntington) circa 1920. Author's collection.
Contribution
They dominated every aspect of American commerce.  The information here highlights the industry during the 19th century's final decade.

As the 1890's dawned, railroads were riding a great wave of euphoria. 
The industry had witnessed more than 70,000 miles of new construction in the 1880's, trains were the undisputed leader in transportation (which drove an economic explosion), rail barons became increasingly richer, and it appeared nothing would slow America's largest industry. 
As their power grew into what Dr. Hilton described as a cartel, railroads used their influence to place supportive politicians throughout Washington and at the state level.  As a result, complaints by the general public were largely ignored. 
At A Glance
National Rail Network

163,597 Miles

Mileage Constructed (1890-1900)

29,749 Miles

Notable Developments

First Main Line Electric Enters Service (Baltimore & Ohio, 1895)

Legislation Adopts Automatic Air Brake and Coupler (March, 1893)

First Electrified Interurbans Appear

Interurban Mileage

7 Miles (1890)

1,538 Miles (1899)

Locomotive Speed Record (1893)

New York Central 4-4-0 #999 (112.5 mph)

Steel Rail Usage

80%

Average Freight Rate

0.8¢ per-ton-mile

Average Passenger Rate

2.5¢ per-passenger-mile
Sources (Above Table):
Boyd, Jim. American Freight Train, The. Osceola: MBI Publishing, 2001.
Hilton, George and Due, John. Electric Interurban Railways in America, The. Stanford: Stanford University Press, 2000.
Schafer, Mike and McBride, Mike. Freight Train Cars. Osceola: MBI Publishing, 1999.
McCready, Albert L. and Sagle, Lawrence W. (American Heritage). Railroads In The Days Of Steam. Mahwah: Troll Associates, 1960.
Stover, John. Routledge Historical Atlas of the American Railroads, The. New York: Routledge, 1999.  
That began to change following the Great Railroad Strike Of 1877.  While it did not win concessions for the common worker, Americans recognized the corporate machine could potentially be taken down.  Continued efforts eventually led to the Interstate Commerce Commission's formation on February 4, 1887. 
In his book, "The Routledge Historical Atlas Of The American Railroads," author John F. Stover points out that Richard S. Olney, a corporate attorney, noted the new ICC only "...satisfied the popular clamour for a government supervision of the railroads," but would do nothing in actually dampening their power. 
At first, Olney's words rang true but over time they were proven wrong as further acts ended railroads' free reign.
Important Inventions
The decade's most important legislation was in the area of safety. 
As Jim Boyd notes in his book, "The American Freight Train," the Railway Safety Appliance Act of 1893, passed by Congress that year, federally mandated all rail equipment include two important devices, George Westinghouse's automatic air brake and Eli Janney's automatic knuckle coupler (also known as the Master Car Builders, or MCB, coupler).
Both were revolutionary as the most practical and efficient way to stop a train and join/detach equipment. 
The former had been tested as early as 1869 and the latter in 1873 but railroads continually refused to use either citing cost concerns.  The decade's only significant downturn was the financial Panic of 1893. 
There were many reasons for this particular depression, some of which were international in nature.  For the railroad industry, it all began when the Philadelphia & Reading Railroad, a mighty northeastern anthracite carrier which had been attempting to create a regional monopoly, entered receivership on February 20, 1893. 
This sparked a domino effect that witnessed 40,000 miles of railroad in bankruptcy that year including the Erie Railway, Baltimore & Ohio, Northern Pacific, Richmond & Danville, Santa Fe, and Union Pacific.  While recovery took time the panic was not nearly as severe as the 1873 incident.
Strikes At The Pullman Palace Car Company
The strikes at George Pullman's Pullman Palace Car Company in May, 1894 were not directly related to the railroad industry but would eventually involve railroaders.  It also signified another shift towards organized labor gaining concessions against the corporate empire. 
If you have any interest in this subject, its history, and effects on American society you should consider a copy of Jack Kelly's book, "The Edge Of Anarchy."
It covers these subjects and specifically details the great uprising which began when workers at the Pullman Palace Car Company walked off the job in a fight for higher wages.
The battle soon escalated into a nationwide strike involving American Railway Union's 150,000 members, led by Eugene V. Debs. Mr. Kelly's book eloquently details the struggle, which ultimately ended in failure when the U.S. government dispatched federal troops to quell the unrest.
While "The Edge Of Anarchy" is a fascinating look at a different time in America it also highlights similarities to labor issues in modern times.  Without this fight, the industry's modern labor movement in the 20th century would likely never have been successful.
A significant positive event did result from the depression, creation of the Southern Railway. 
After the Richmond & Danville's struggles, the Southern was born in 1894 through the efforts of banking mogul J.P. Morgan; it was comprised of the original R&D along with several smaller systems that, combined, formed a 6,000 mile system. 
Morgan used his extensive assets to spent heavily on upgrading the new conglomerate.  After the initial merger the Southern continued to grow, peaking at nearly 6,500 miles by 1900. 
During the 20th century it became one of the most profitable railroads of all time before its merger with the Norfolk & Western in 1982 (forming today's Norfolk Southern Railway).
In its final incarnation the railroad stretched from Richmond to Jacksonville, Memphis to New Orleans, Washington to Atlanta, St. Louis to Chattanooga, and was comprised of some 125 smaller railroads. Its most important main line linked Atlanta with Washington, D.C. and was entirely double-tracked. 
Two other systems that helped rebuild the South were the Atlantic Coast Line and Seaboard Air Line.  The former, also known as the ACL or 'Coast Line,' served points from Richmond to Florida and west to Birmingham, Alabama. 

A crowd has gathered at the new depot in New Martinsville, West Virginia to celebrate the opening of the Baltimore & Ohio's Clarksburg Northern Railroad on February 26, 1914. Author's collection.
The Seaboard Air Line is perhaps best remembered as a smaller version of the ACL; both railroads served many of the same cities.  The long-time competitors would eventually merge in 1967 forming the Seaboard Coast Line. 
The industry in the 1890's saw two major improvements. Firstly, railroads began switching to steel rails in favor of iron. 
Steel, created from molten pig iron (before the development of the open hearth furnace), was not only much stronger but also had a longer lifespan.  The modern steel movement is credited to Englishmen Henry Bessemer, who invented the so-called "Bessemer Process" in 1857. 
It was the first of its kind enabling steel to be produced cheaply on a large scale.  A license for his process was acquired by Alexander Lyman Holley, an American mechanical engineer, which brought steel-making to the United States in 1863. He, along with John F. Winslow and John Augustus Griswold, placed the first steel mill into operation at Troy, New York in 1865. 
Afterwards, the use of steel rail rose sharply; in 1880 about 25% of America's rail network consisted of steel rails.  This number had jumped to 80% by 1890, and by 1900 nearly all corridors were laid with steel.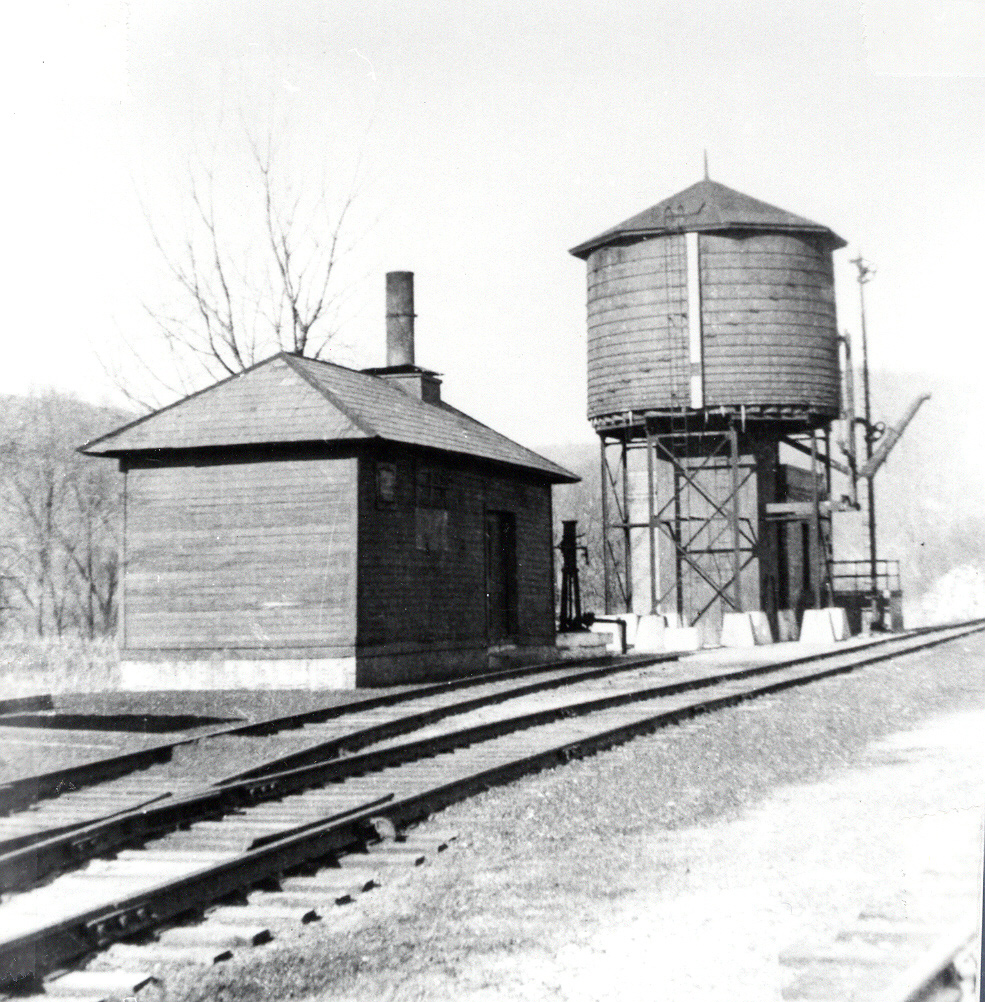 Seen here is Baltimore & Ohio's water tower and pump station at Foster, West Virginia in the early 1900s. Author's collection.
Electric Locomotives
The decade's other advancement was the electric locomotive's introduction, first employed by the B&O.  The Baltimore Belt Railroad and Howard Street Tunnel project essentially kicked off main line electrification in the United States. 
Its origins can be traced as far back as the 1830's although modern electrified operations began with Frank Sprague's successful demonstrations on the Richmond Union Passenger Railway in 1888.
The Baltimore Belt Railroad, was built to close a gap between the railroad's New York-Washington (north-south) and Washington-Cumberland (east-west) main lines.  To learn more about the B&O's electrified operations, please click here. 
Prior to this the railroad relied on a circuitous car ferry operation across Baltimore Harbor, making competition against nearby rival Pennsylvania Railroad nearly impossible. 
As Dr. George Hilton and John Due's authoritative piece, "The Electric Interurban Railways In America," points out the birth of the true American interurban began around the same time, in 1886, when the same Frank Sprague was involved with another, the New York Elevated Railway.   
There, he developed an electric motorcar whereby the traction motor was situated between the axle, along with a trolley pole and multiple-unit control stand.  
---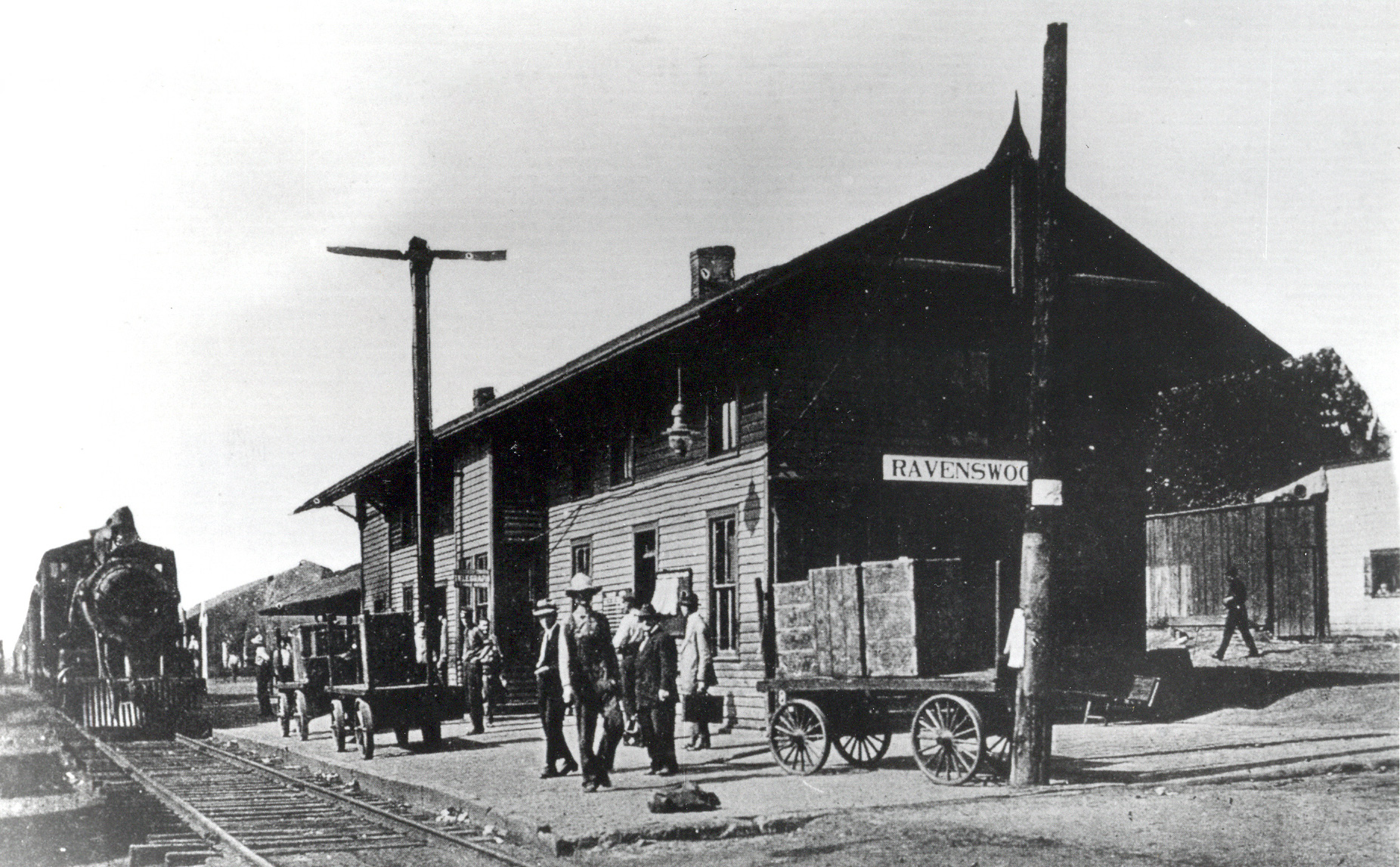 A view of the small depot in Ravenswood, West Virginia around the turn of the 20th century. The train is either the Ohio River Rail Road or successor Baltimore & Ohio. Author's collection.
Streetcar Development
This gave way to the typical streetcar which became such a common sight throughout America.
There were three great periods of interurban development; the first occurred during the 1890's and reached a great flurry of construction between 1901 and 1904 when more than 5,000 miles were laid down.  
The Panic of 1903 ended this fervor but it reignited again between 1905 and 1908 when another 4,000 miles were built.  There was one casualty of the 1890's, the narrow gauge railroad. 
In another book by Dr. Hilton entitled, "American Narrow Gauge Railroads," he details this unique movement, which sprang up during the 1870's. 
It reached its zenith in 1885 when 11,699 miles were placed into operation.  Proponents felt it a more efficient alternative to the standard gauge of 4 feet, 8 1/2 inches.  However, their data was later proven flawed and by 1890, mileage had tumbled to 8,757 as lines were either abandoned or converted. 
By 1900 this number had decreased to just 6,733.  In 1900 the country's total rail mileage had increased from 163,597 (1890) to 193,346.
By this time the railroad industry was so well entrenched that it seemed rails reached every small community of the country, particularly in the Midwest and Northeast.
The era would see several east-west and north-south main lines in operation including no less than five routes connecting the west coast. Revenues by this time had topped $1 billion with three quarters of a million workers employed on the railroad. By the 20th century this number continued to increase.