Abandoned Railroads: The Decline (1960's And 1970's)
Last revised: June 7, 2023
By: Adam Burns

The modern movement to abandon our nation's railroads began in the 1960's and 1970's.  While railroading in the 1950s became more efficient it unfortunately did not stem the tide of losses, which only worsened through the 1960s.

The decade saw many railroads in financial trouble as well as a number of mergers. 
By that era, the industry had lost so much market share to trucking and airlines it could no longer remain solvent amid stifling government regulation; regulation that simply squeezed many companies out of business. 
History
Names like the mighty Pennsylvania, New York Central, Chicago Great Western, Erie, Lackawanna, Seaboard Air Line, Atlantic Coast Line, and others would all disappear into merger in the 1960s. 
In many ways our own federal government, through acts passed in the early 20th century and then ignored their abolition when no longer needed, is responsible for the decline of the world's greatest railroad network.
Photos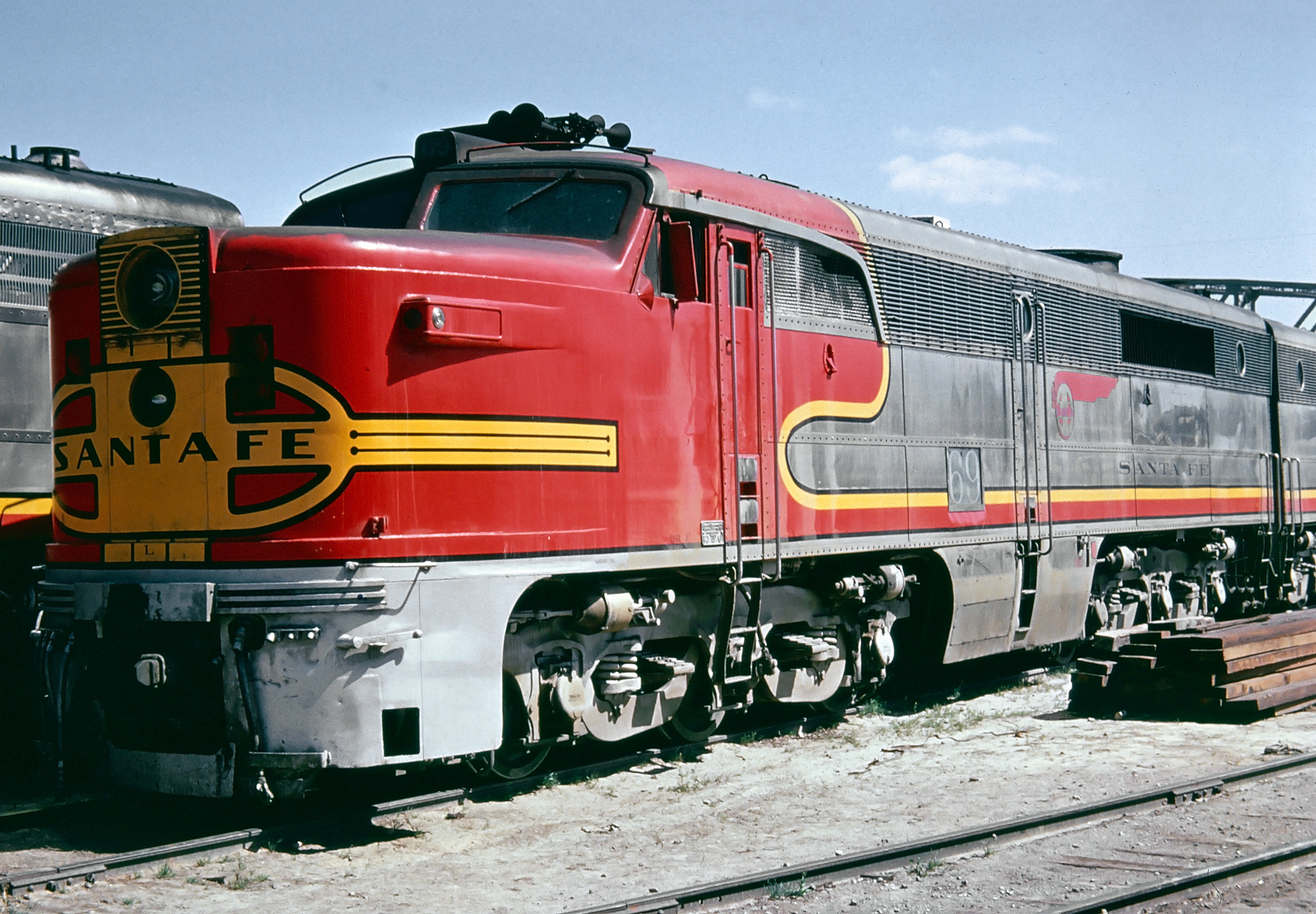 Santa Fe PA-1 #69-L. Date and location not recorded but likely taken near the locomotive's retirement (1969). American-Rails.com collection.
Bankruptcies
It all came to head during the 1970's when numerous lines were in bankruptcy, or carried out poor mergers approved by the Interstate Commerce Commission in an ill-fated attempt to reduce mounting debt. 
Unions like the Penn Central and Illinois Central Gulf are stark examples of this practice.  In addition, passenger rail services worsened as lines cut back on spending as folks continued to abandon trains for cars and airplanes. 
Statistics
National Rail Network

219,000 Miles (1959)

207,334 (1960)

196,479 Miles (1970)

National Interurban Mileage

209 Miles (1959)

Steam Locomotives In Service

65,000 (1924)

325 (1960)

Market Share (Passenger Travel)

7.5% (1970)

Excess Trackage

15,575 Miles Between Washington, D.C. - St. Louis (per Orange Line Report, 1974)

Interstate Commerce Commission

Denied 4% freight rate hike for industry in 1972.

Bankruptcy

More than half of the Northeastern rail network was in receivership by 1973.

Other Issues

OPEC Oil Embargo (1973)

Recession (1973-1975)

Rock Island Bankruptcy (March 17, 1975)

Milwaukee Road Bankruptcy (December 19, 1977)

Employee Wages

Increased 54% between 1968-1974.
Sources (Above Table):
Hilton, George and Due, John. Electric Interurban Railways in America, The. Stanford: Stanford University Press, 2000.
Grant, Roger H.  

Erie Lackawanna: Death Of An American Railroad, 1938-1992

.  Stanford: Stanford University Press, 1994.
Loving Jr., Rush.  

Men Who Loved Trains, The: The Story Of Men Who Battled Greed To Save An Ailing Industry

. Bloomington: Indiana University Press, 2006.
McCready, Albert L. and Sagle, Lawrence W. (American Heritage). Railroads In The Days Of Steam. Mahwah: Troll Associates, 1960.
Yenne, Bill.  Atlas Of North American Railroads. St. Paul: Voyageur Press, 2005.
By the decade's beginning only the most popular named trains like the Empire Builder and Super Chief still carried full service, including sleepers. It was not a good era for railroads and things continued to worsen, culminating with the Penn Central collapse of 1970.   
If the federal government of the era understood the industry and its plight; not only would there have been fewer bankruptcies and abandonments but several key corridors pulled up in their entirety would also still be in active service today.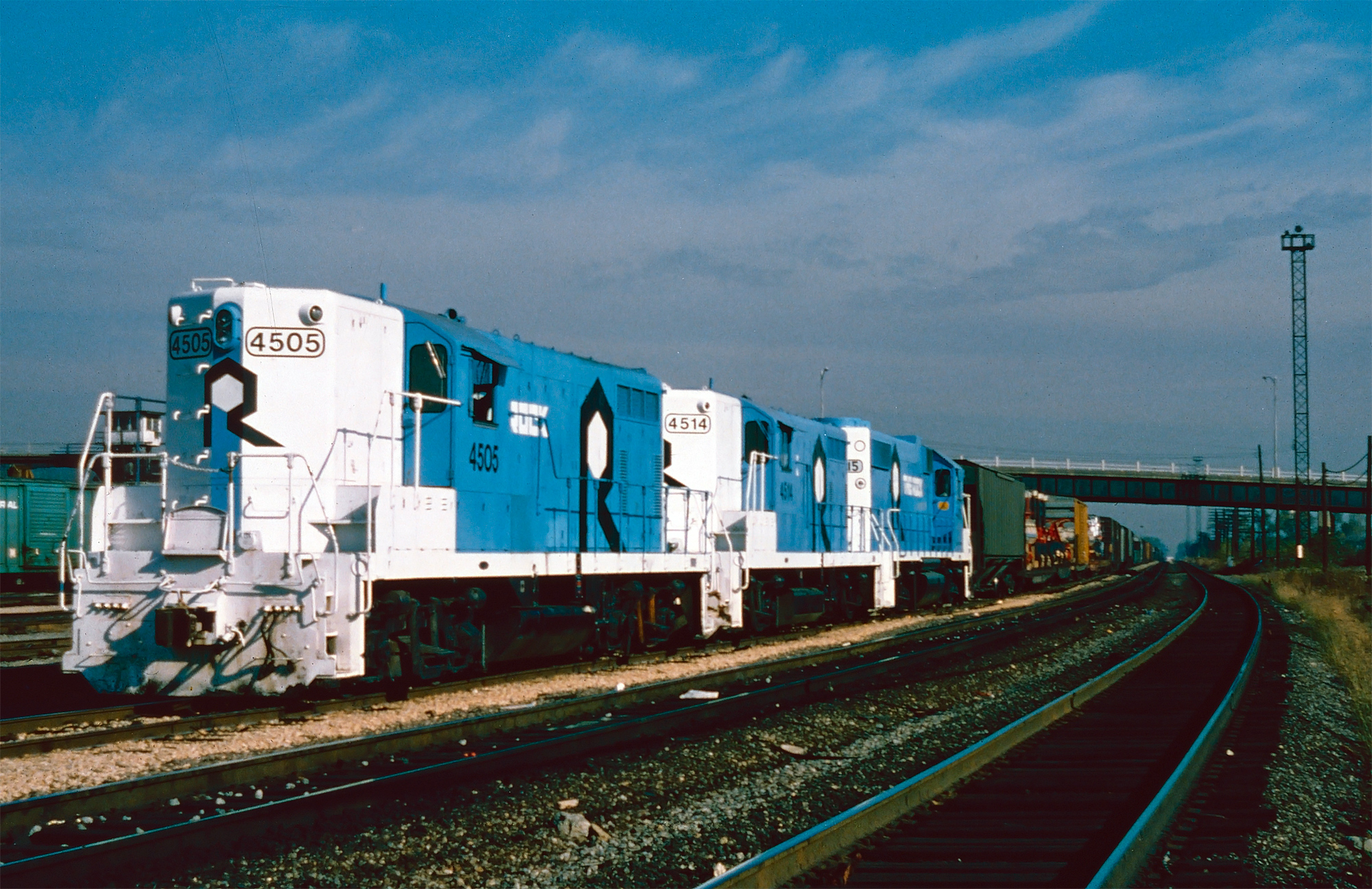 Rock Island GP7R's #4505 and #4514, along with GP38-2 #4315 lead a westbound through Burr Oak Yard in Blue Island, Illinois, circa 1976. American-Rails.com collection.
Railroads had a very bad 10 years during the '70s. As mentioned above, it was already off to a rough start with the creation of Penn Central in 1968, a company that had already declared bankruptcy by June of '70.
The result of this was a ripple effect throughout the entire Northeast, as other railroads that depended on the Penn Central to ferry traffic no longer had a means to move much of their freight.
These lines included names like Lehigh Valley, Reading Railroad, Lehigh & Hudson River Railway, Erie Lackawanna, and Delaware & Hudson Railway.
It became so bad that the Penn Central was facing total shutdown if financial assistance were not located.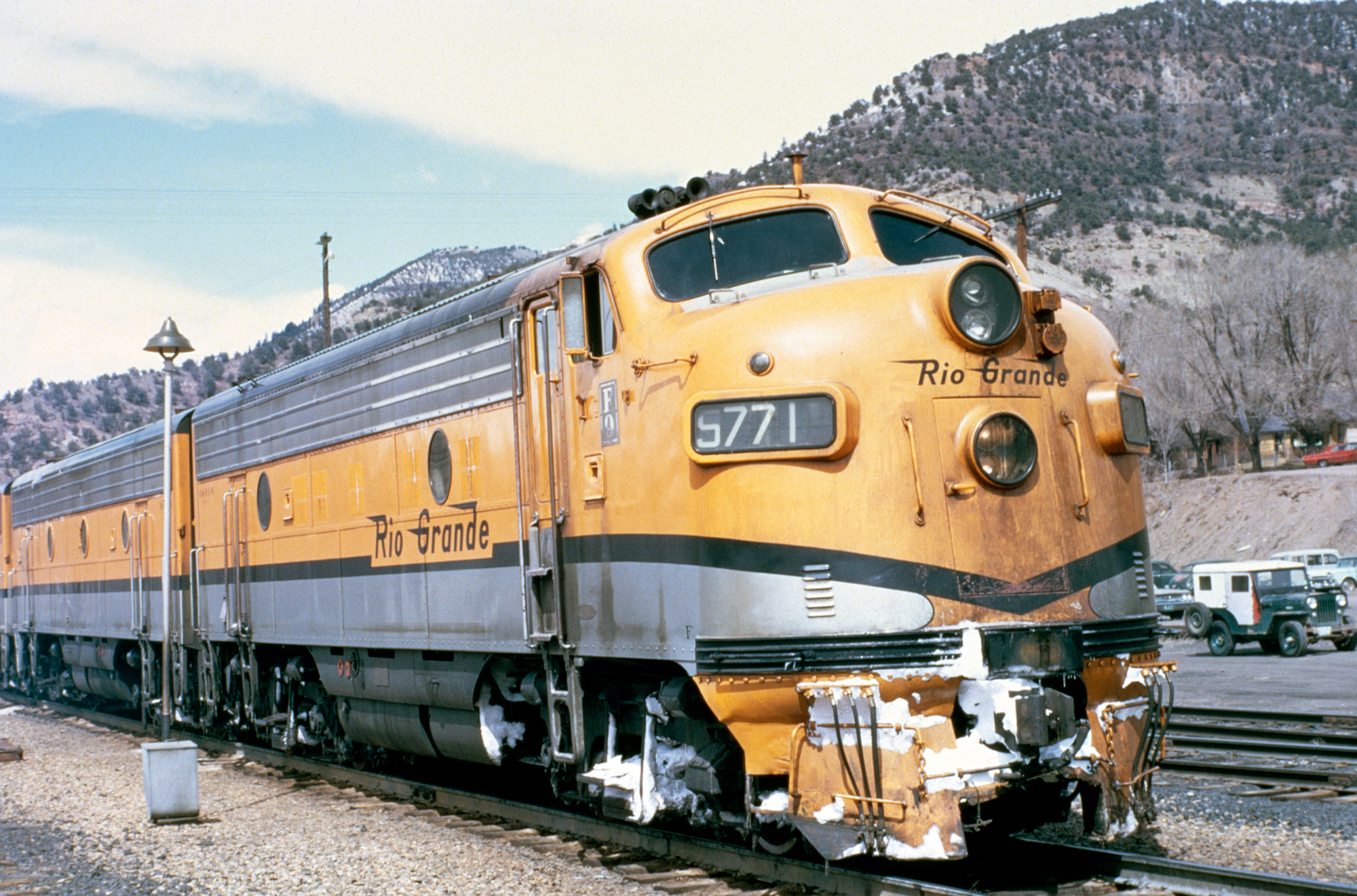 Rio Grande F9A #5771 at Bond, Colorado, circa 1972. Robert Eastwood, Jr. photo. American-Rails.com collection.
Conrail
Realizing the severity of the situation the federal government stepped and setup the Consolidated Rail Corporation, which comprised the skeletons of several bankrupt Northeastern carriers, and began operations on April 1, 1976.
With federal backing Conrail began to slowly pull out of the red ink (it took many years) and by the late 1980s was a profitable railroad after thousands of miles of access trackage was abandoned and/or upgraded.
Aside from the creation of Conrail, railroading in the 1970s saw Amtrak born as well. The early years of Amtrak were somewhat like a circus as it attempted to organize a chaotic system from the remnants of the private freight railroads' passenger operations.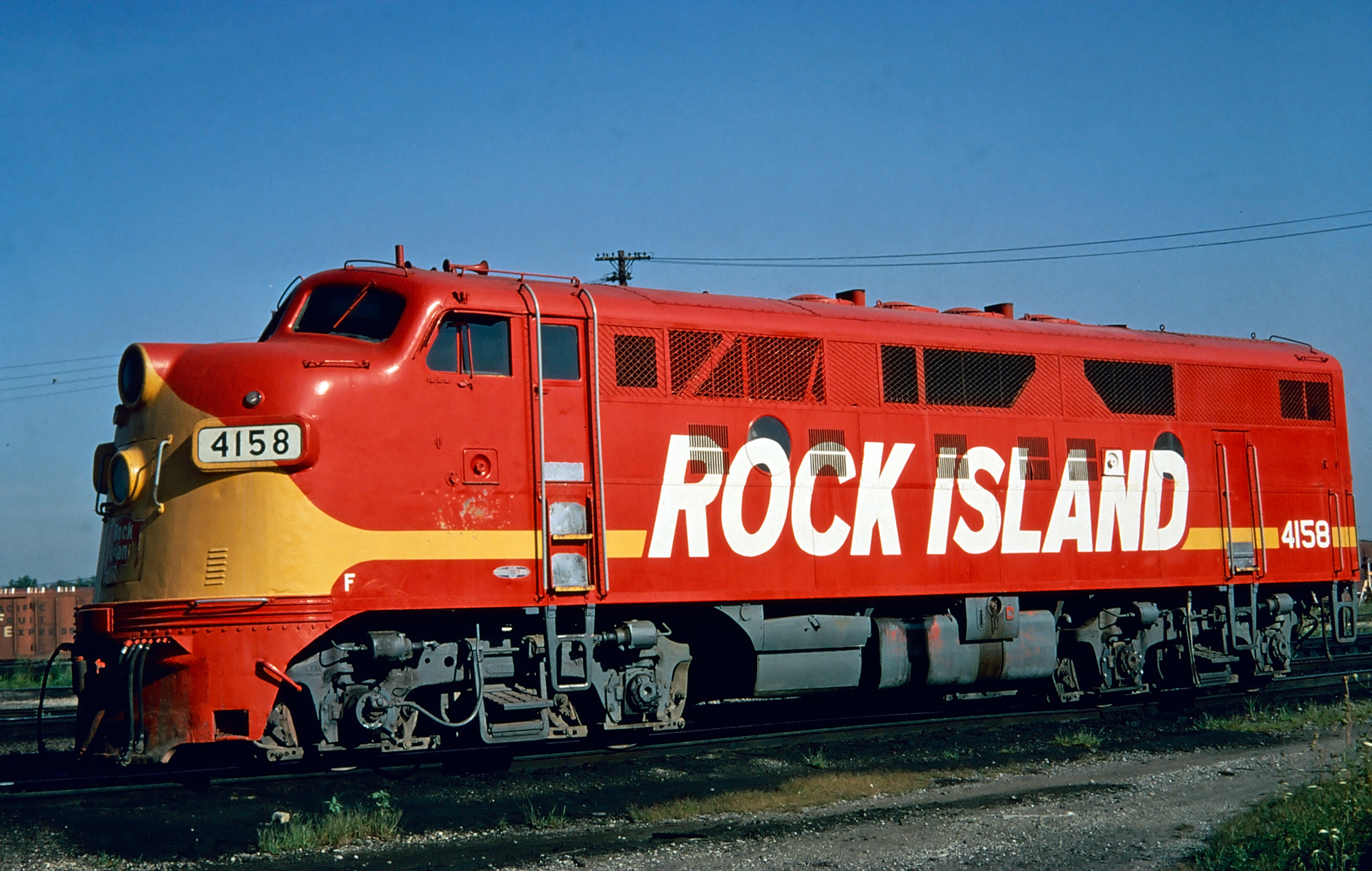 Rock Island F9Am #4158, circa 1975; another former Union Pacific F3A (#1416-A/#1522) the railroad had rebuilt to F9 specs (numbered 522) before being sold to the Rock in 1972. It's interesting that the lettering was painted right over the portholes. By the 1970s the Rock was in desperate need of motive power but could not afford new units so it acquired outdated, first-generation power at a bargain price from UP. American-Rails.com collection.
Amtrak
Relief for the railroads would finally come in the way of the National Railroad Passenger Corporation, or Amtrak, signed into law by President Richard Nixon in the way of the Rail Passenger Service Act, which began operations on May 1st, 1971. 
Some railroads like the Southern Railway and Denver & Rio Grande Western opted not to include their passenger operations in with Amtrak and others like the Rock Island could not afford to turn over their operations to the carrier but for the most passenger service provided by the private railroads ended forever after 1971.
With the creation of Amtrak the passenger rail network (or that which was remaining) dropped from 112,000 miles in 1957 to just 49,000.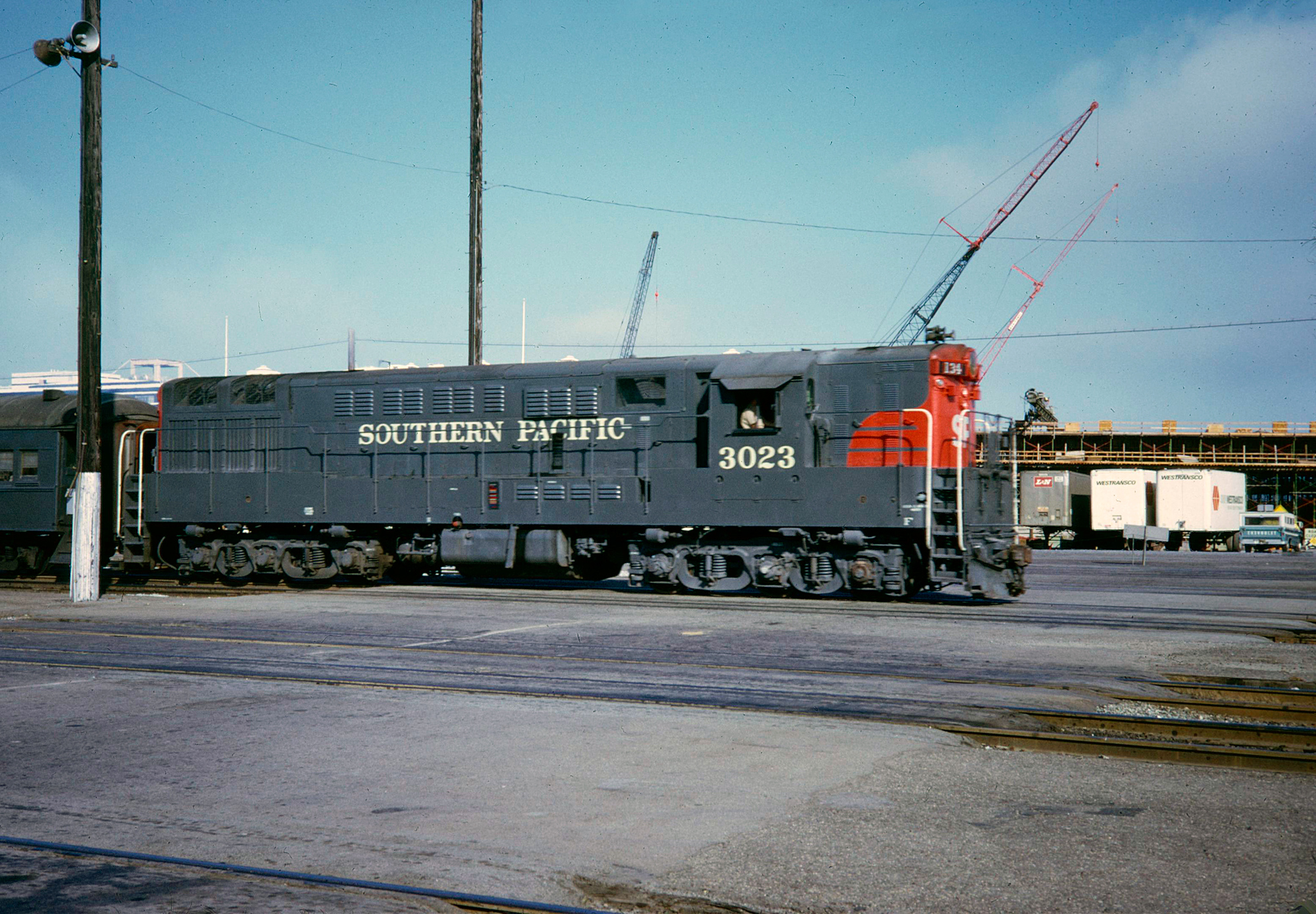 Southern Pacific "Trainmaster" #3023 has commuter train #134 at San Francisco's 3rd & Townsend Depot in April of 1973. American-Rails.com collection.
Freight Volume Decline
Aside from the creation of Conrail and the classic railroad companies which disappeared into its name others would be merged out of existence during the decade: Chessie System would become the corporate name of the Baltimore & Ohio, Chesapeake & Ohio, and Western Maryland in 1972.
Later, the marketing name of the Family Lines system gobbled up the Seaboard Coast Line, Louisville & Nashville, Clinchfield and other smaller lines while Burlington Northern was formed in 1970 from the Burlington, Northern Pacific, Great Northern and Spokane, Portland & Seattle; after a botched merger preceding by the ICC the Rock Island was liquidated in 1980.
These are just some of the biggest names to disappear, many smaller lines also went extinct at the time. Many railroads saw their intercity freight volume at near record lows to just 38.8% when in 1929 the industry had held roughly 75%.
Also, since the decade began it had witnessed freight ton-mile volume more than double from its 771 billion figure. While the industry's percentage base would drop slightly in 1980, since that time it has slowly improved to over 40% today. 

---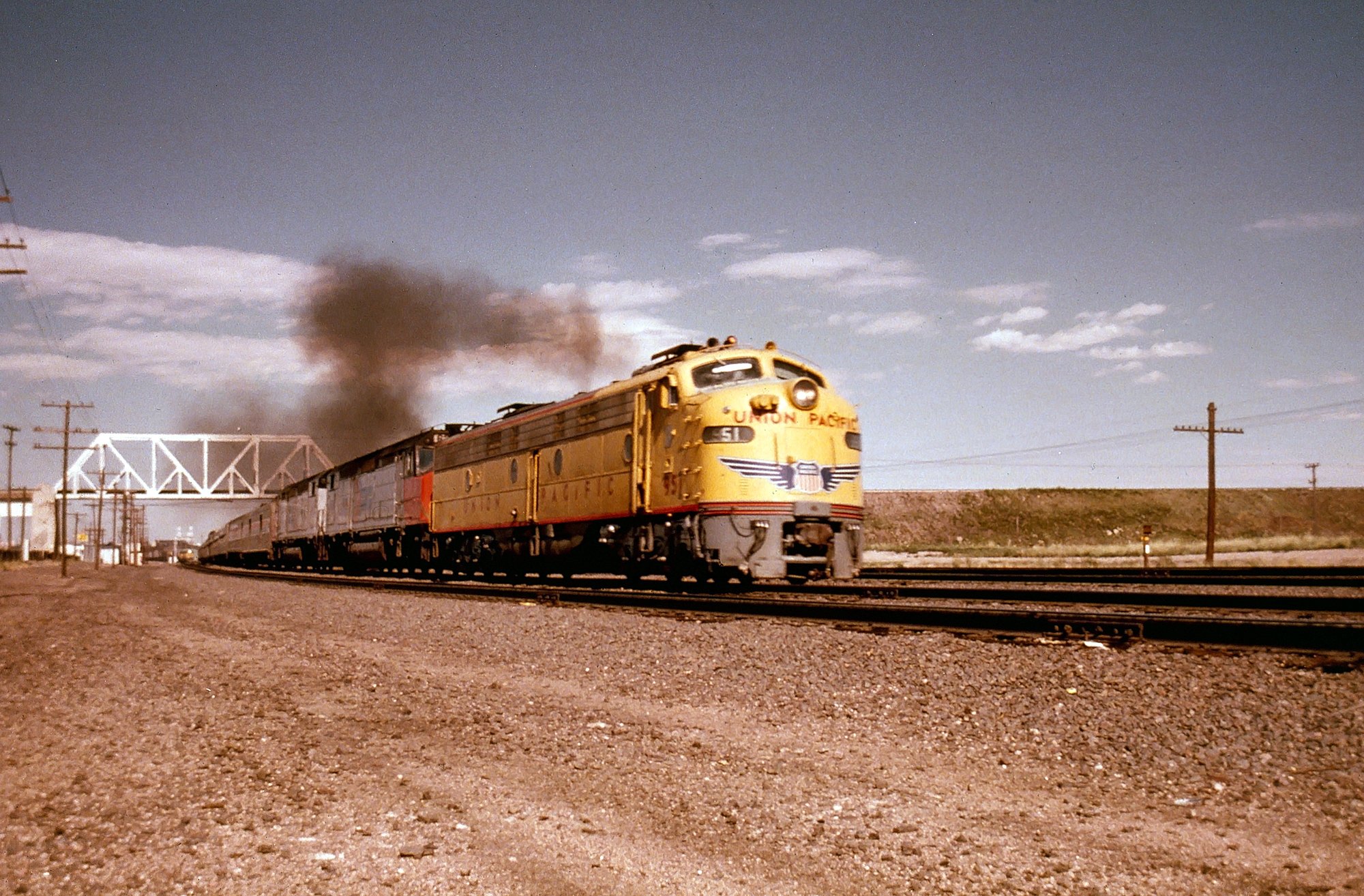 Union Pacific E9A #951 leads Amtrak's westbound "San Francisco Zephyr," powered by a pair of SDP40Fs, out of Cheyenne, Wyoming, circa 1979. In the background is the Burlington Northern (ex-CB&Q) flyover. Mike Bledsoe photo. American-Rails.com collection.
Mergers
It was not a good time to be in the business during the '70s and many seemed to think that the industry was an outdated mode of transportation that needed to be replaced.
However, with the creation of the Staggers Act and deregulation of the industry things slowly began to change.
Now free to set their own rates and more open to abandon unneeded trackage railroads slowly began to recover. The mega-merger movement also continued during the 1980s as many more famous names like the Milwaukee Road,
Southern Railway, Norfolk & Western Railway, Rio Grande and others all disappeared during the decade.
While its been unfortunate to see these names gone forever railroads found a new role in the transportation market during the 1980s and today they play an extremely important role in moving goods and materials.