2-6-6-2 "Mallet Mogul" Locomotives

Last revised: April 12, 2023
By: Adam Burns

The 2-6-6-2 wheel arrangement was well-liked for its ability to lug heavy loads at slow speeds and was manufactured in a variety of sizes depending on need.

As such, it saw use in a wide range of service, from hauling coal drags on roads like the Clinchfield, Chesapeake & Ohio, and Norfolk & Western to handling heavy log trains on Clover Valley Lumber, Weyerhaeuser Timber, Long Bell Lumber, Clemons Logging, and others.
Interestingly, despite its widespread use the wheel arrangement never received a common nickname like most others.  It is generally described as simply a "Mallet Mogul."  Nevertheless, it was rugged, utilitarian design that was quite successful in a verity of roles.

There are currently four in operation, the most of which is Chesapeake & Ohio 2-6-6-2 #1309, a Class H-6 that masquerades as Western Maryland Scenic #1309.  She was returned to service in late 2021.
The three other units currently running include: Rayonier (Weyerhaeuser) 2-6-6-2T #110 on the Black Hills Central, Weyerhaeuser 2-6-6-2T #108 also on the Black Hills Central, and Clover Valley 2-6-6-2T #4 at the Niles Canyon Railway.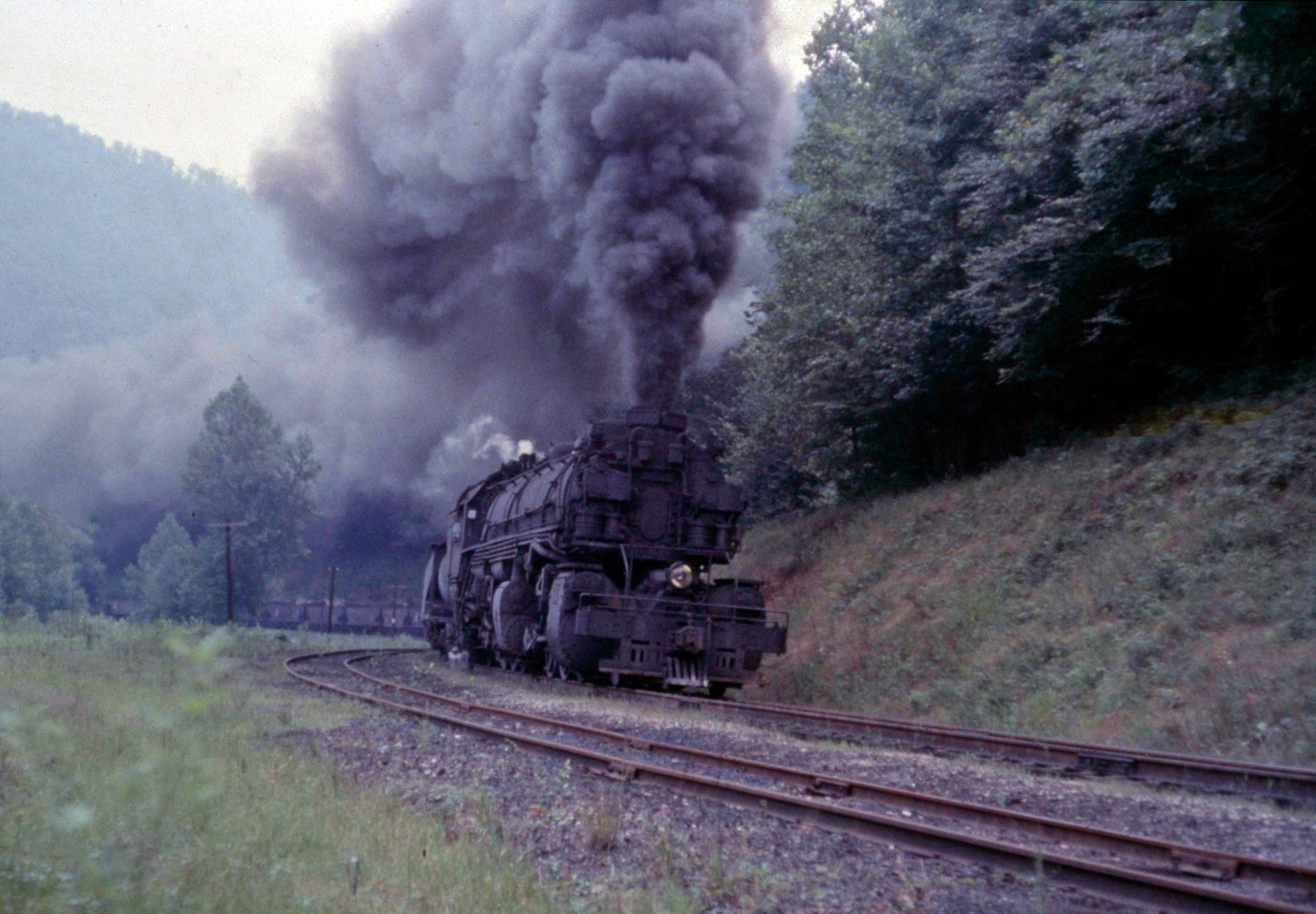 Chesapeake & Ohio 2-6-6-2 #1515 (H-6) charges up grade with a heavy coal drag near rural Logan, West Virginia on August 13, 1956. American-Rails.com collection.
A Brief History Of The 2-6-6-2 Arrangement
The first 2-6-6-2s to appear in service was a group of five that Baldwin manufactured for the Great Northern between July and September, 1905.  
These were given road numbers 1800-1804 (later 1900-1904) and used in the GN's mountainous territory within the Cascade Range of western Washington State.
They were largely a basic 0-6-6-0 with single axle near the pilot and another just beneath the cab.  They proved satisfactory but Great Northern's later 2-6-6-2's featured the firebox behind the drivers and supported by the trailing truck. 
This updated design was better suited for main line operation.  The inspiration for the 2-6-6-2 actually came from the very first Mallet steamer ever operated in the United States in 1904, Baltimore & Ohio 0-6-6-0 #2400, built by the American Locomotive Company.
This locomotive was affectionately known as "Old Maude" and capable of producing 71,500 pounds of tractive effort.
The B&O's goal was simple, to achieve economies of scale by building larger and more powerful locomotives to reduce the number of units needed to handle a single freight train.
The Mallet Type (pronounced "Ma-lay") is often a name mistakenly given to all articulated steam locomotives.  However, not all are true Mallets as not all utilize compound steam for locomotion.
The Mallet receives its name from the person who invented it, Anatole Mallet of Switzerland. The Mallet Type was essentially two engines housed under one frame and this, coupled with its six or more sets of axles, allowed it to produce awesome levels of adhesion and horsepower thanks to its compound design. 
Railroads, particularly those operating in mountainous regions, found it very beneficial over the standard heavy-hauler of the day, the Consolidation (a 2-8-0 design).
For instance, B&O's 0-6-6-0 could produce 50% more tractive effort than a Consolidation making it ideal for heavy freight service.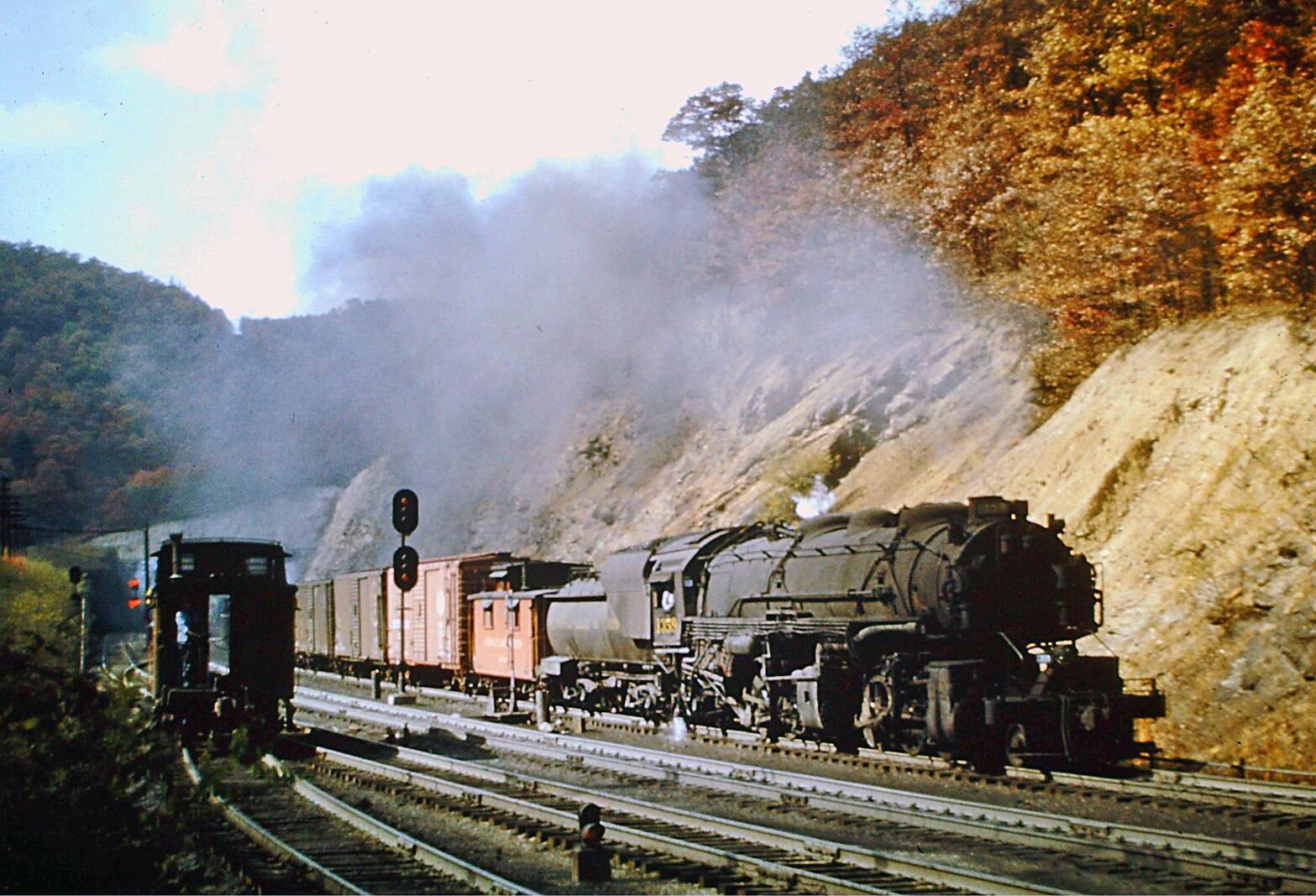 Chesapeake & Ohio 2-6-6-2 #1359 (Class H-4, this locomotive was manufactured by American Locomotive's Richmond Works in 1913) steams through the tunnels at Alleghany, Virginia on October 19, 1951. The C&O owned a vast collection of these "Mallets."
Seeing what the B&O had accomplished with its 0-6-6-0 Mallet and building on its initial five examples, the Great Northern further improved the design by adding a foreword pilot truck, for better stability, and a rear truck to help support the firebox's weight.

Overall, GN was rather satisfied with these early 2-6-6-2s. The steam locomotives could produce 64,200 pounds of tractive effort.  
In the early 1900s superheating had been tested on various railroads; once its benefits were readily apparent, it became a standard addition to stem locomotive designs after 1910. 
Such technological leaps would continue over the next few decades, notably the "Super Power" locomotives of the 1920s, until the diesel made these efforts redundant.
A superheater works through a series of coils that contain freshly created steam.  This steam then passes through flue gasses to increase its temperature.  Once steam has passed through these superheater coils, it adds 25 to 30 percent more power for a locomotive.
While the 2-6-6-2 wheel arrangement was widely regarded among main line railroads for use in heavy drag service, it also was quite popular with lumber companies to move logs up and down the notoriously steep grades found in such  operations.
However, logging companies always used much smaller examples, such as tender or tank designs, since their temporary spurs and branches were built with tight curves and light track.
The 2-6-6-2Ts could only be found in the west and were used by companies including:
Bloedel Donovan Lumber (Washington)



Booth-Kelly Lumber Company (Oregon)
Caspar South Fork & Eastern (California)


Clemons Logging Company (Washington)
Clover Valley Lumber (California)


Crown Willamette Paper Company (Washington)

Hammond Lumber Company (Oregon)


Larson Timber (Washington)



Long Bell Lumber Company (Washington) 



Mud Bay Logging Company (Washington)



Ostrander Railway & Timber Company (Washington)



Portland & Southwestern Railroad (Oregon)



Potlatch Lumber Company (Idaho)



Proposed Biles-Coleman Lumber Company (Washington)


Saginaw Timber (Washington)



Simpson Logging (Washington) 



Southwest Forest Lumber Mills (New Mexico)


St. Paul & Tacoma Logging Company (Washington)



Uintah Railway (Colorado/Utah)


Verde Tunnel & Smelter (Arizona: Copper mining operation.)



Weyerhaeuser Timber (Washington)
Most of these Mallets were built between and, surprisingly, as late as the 1928-1929 time period. As mentioned, the main line 2-6-6-2s were primarily meant for slow, drag service.
---
Interestingly,  the Santa Fe originally designed its 2-6-6-2 Mallets  for use in passenger service.  Its first class was built by its own shop forces and designed from 2-6-2 Prairies, thus the locomotives became known as Prairie Mallets on the railroad.
However, all future 2-6-6-2s the company rostered were built by Baldwin. As early as 1909, experimentation began with the more powerful 2-8-8-2 Mallet.
Naturally, with two extra axles and four drivers making contact with the rails, the locomotive could produce far more tractive effort than its earlier counterpart.
This resulted in 2-6-6-2s being bumped from primary roles and into secondary assignments. The Chesapeake & Ohio was the only Class I system to  continue purchasing the wheel arrangement after 1920.  In total, there were roughly 1,300 2-6-6-2s built across the United States.
Sources
Adams, Kramer A.  Logging Railroads Of The West.  New York:  Bonanza Books, 1961.
Dixon, Thomas W. Appalachian Coal Mines & Railroads. Lynchburg: TLC Publishing, 1994.
Dixon, Thomas W. Chesapeake And Ohio Railway:  A Concise History And Fact Book.  Clifton Forge:  Chesapeake & Ohio Historical Society, 2012.
Dixon, Thomas W. Norfolk & Western Steam: The Last 30 Years. Forest: TLC Publishing, 2013.
Edson, William D. Steam Locomotives Of The Baltimore & Ohio: An All-Time Roster.  Potomac: William D. Edson, 1992.
Grenard, Ross and Krause, John. Steam In The Alleghenies. Carstens Publications.
Simpson, Walter. Steam Locomotive Energy Story, The.  New York: American University Presses, 2021.