2-6-6-6 "Allegheny" Locomotives

Last revised: October 12, 2023
By: Adam Burns

The Allegheny Type locomotive was true power to say the least! Designed and built almost exclusively for the Chesapeake & Ohio by the Lima Locomotive Works (the Virginian would be the other buyer of the locomotive).

The locomotive, an articulated design (meaning that either one, or both, set of driving wheels pivots to better and more safely negotiate curves), was of the 2-6-6-6 wheel arrangement and based purely on horsepower and tractive effort nothing can top it.
The locomotive gets its name from the lines it was assigned to in western Virginia and southern West Virginia, the C&O's Allegheny Division. Also, by being built in the 1940s the Allegheny Type carried the latest in steam technology and thankfully two survive today.

The two examples preserved, both of C&O heritage include #1604 at the Baltimore & Ohio Railroad Museum in Baltimore, Maryland and #1601 at the Henry Ford Museum in Dearborn, Michigan. 
The latter has been extremely well-preserved having remained indoors since it was retired and immediately moved to the grounds.  In fact, it is said to occasionally leak oil!
Photos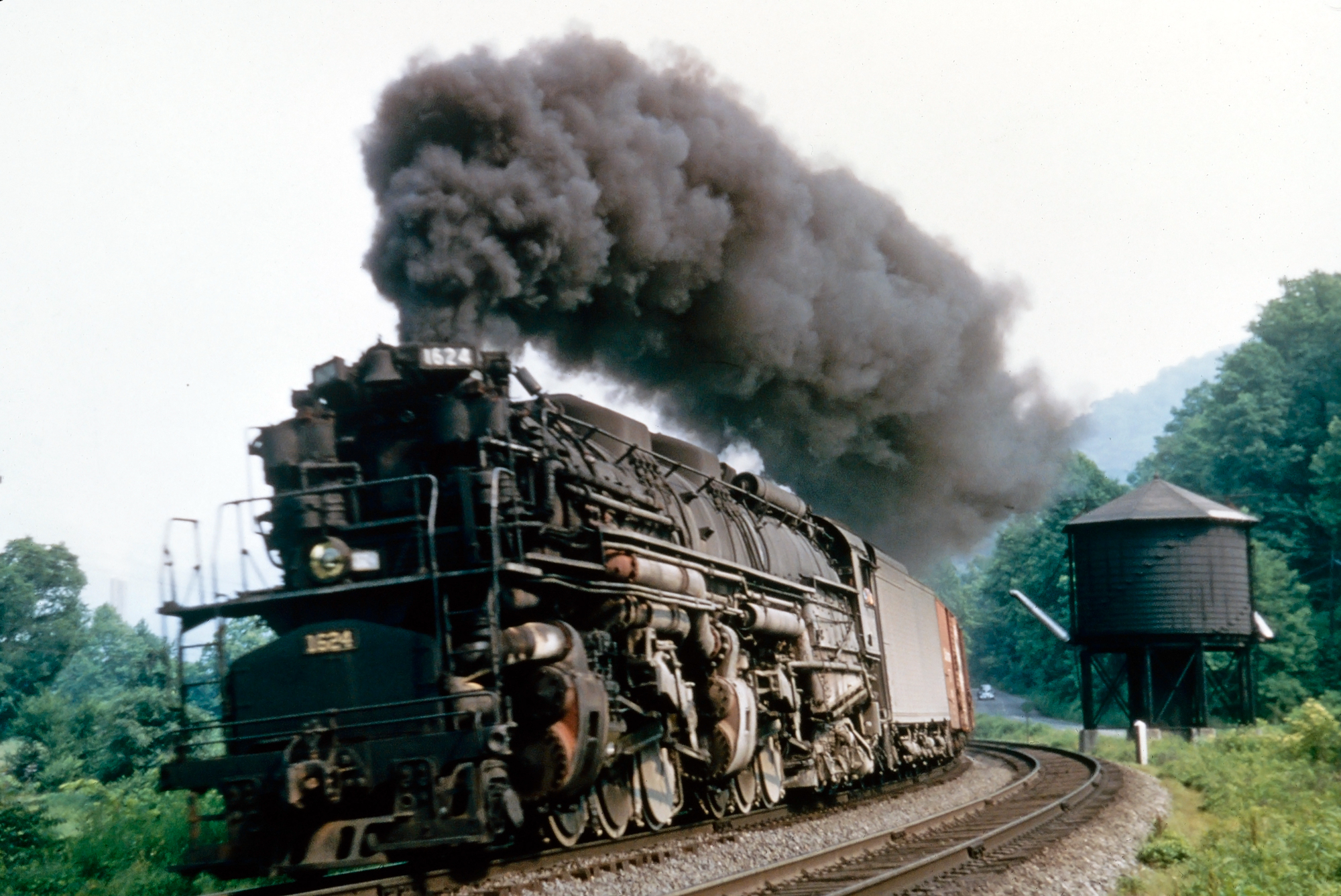 Chesapeake & Ohio 2-6-6-6 #1624 hustles train #95 around a curve west of Deep Water, West Virginia on June 6, 1956. Bill Price photo. American-Rails.com collection.
Overview
Much like the Union Pacific attempted to develop a powerful steamer that needed few, if any, helpers to shove heavy freight trains over steep sections of its main line along the Wasatch Range and Sherman Mountains located in the states of Utah and Wyoming (which led to the creation of the 4-8-8-4 Big Boy) so too did the Chesapeake & Ohio.
The railroad looked to build a steam locomotive that could handle the stiff grades along its main line between Hinton, West Virginia and Clifton Forge, Virginia (with a maximum grade that ranged between 0.58% and 1.14%).
While the argument over which of these mighty articulated steam locomotives was the more powerful will likely never be laid to rest, in many respects the Allegheny did best its rival despite the fact that the C&O never employed it in services where the locomotives would have operated most efficiently.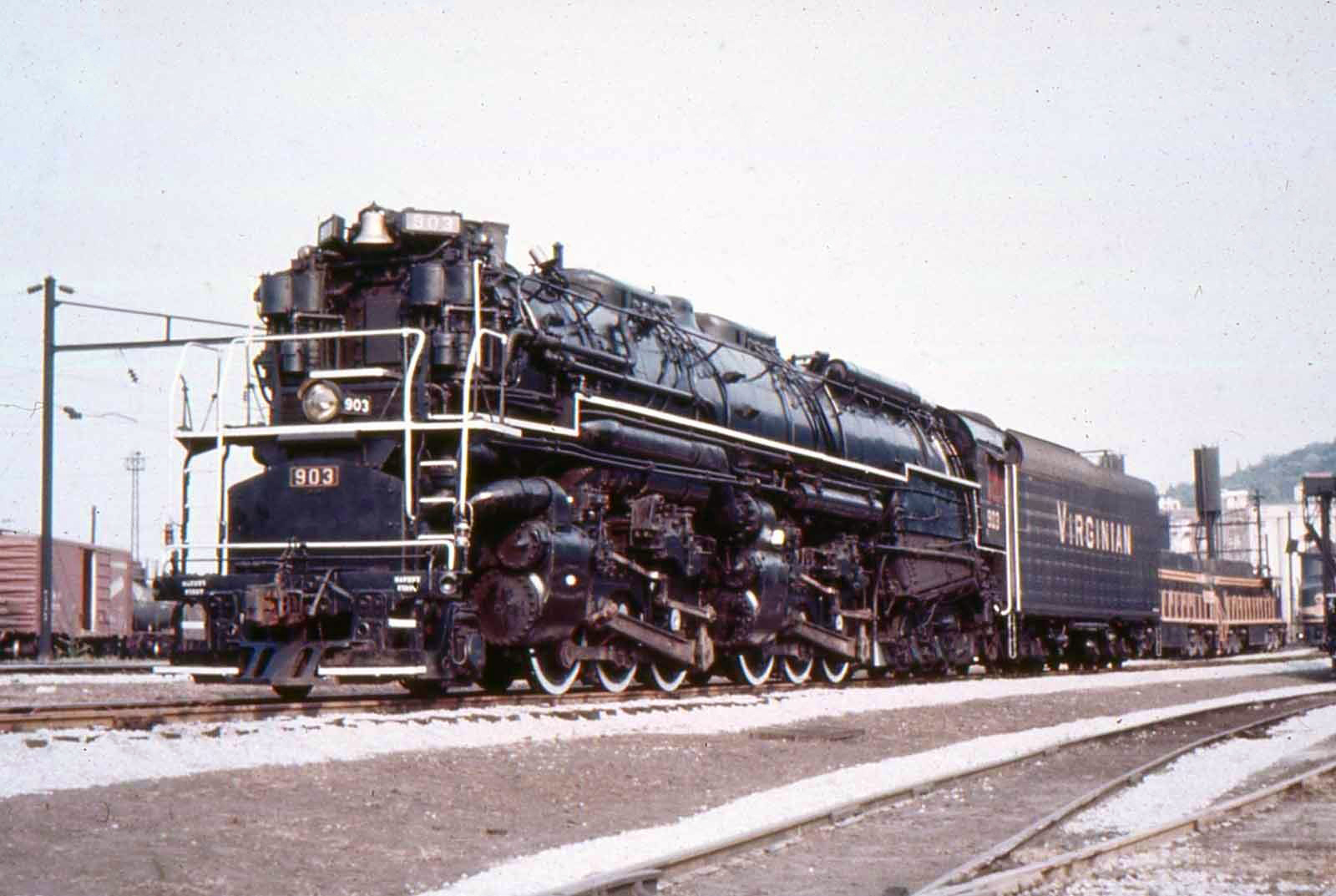 Virginian Railway 2-6-6-6 #903 (AG) is seen here at Roanoke, Virginia during the NRHS's 1957 annual convention. The railroad had several of its now-famous locomotives on display, including its EL-C and EL-2B electrics (both visible in the background). Fred Byerly photo. American-Rails.com collection.
Chesapeake & Ohio
The 2-6-6-6 was born from a need by Chessie to update its fleet of heavy steam locomotives to pull tonnage, particularly West Virginian coal, over the section of line mentioned above.
At the time of the Allegheny's development in the mid-1930s the railroad was using powerful, but somewhat older wheel arrangements that dated to the 1920s including its reliable Class T-1 2-10-4s (Texas Types) as well as larger 2-6-6-2s and 2-8-8-2s (Chesapeakes).
Interestingly, however, when the railroad set out to update its fleet (thanks to recommendations via its Advisory Mechanical Committee, or AMC), its goal was not to out perform UP's then-in-development Big Boy. However, the hope was to have a locomotive which could not only move heavy tonnage but also outclass the Norfolk & Western's home-built, new Class A 2-6-6-4s of 1936.
Teamed with the Lima Locomotive Works, the C&O studied the Seaboard Air Line's 2-6-6-4s and UP's 4-6-6-4 Challengers in planning the new articulated design.
It was decided that the locomotive should not only be powerful but also capable of operating at high speeds, quite ironic considering the Allegheny would rarely ever be used in such applications.
Horsepower
In tests, Lima's new design was found to be capable of producing a stunning 7,498 drawbar horsepower (dbhp), nearly 1,200 more than either the Big Boy (6,300) or N&W's Class As (6,300).
The Alleghenies proved one of the heaviest reciprocating steamers ever built, weighing 751,830 pounds.  By comparison, Norfolk & Western's 2-6-6-4's weighed 573,000 pounds and the 4-8-8-4's 772,250 pounds.  With its tender, an Allegheny weighed 1,183,540 pounds.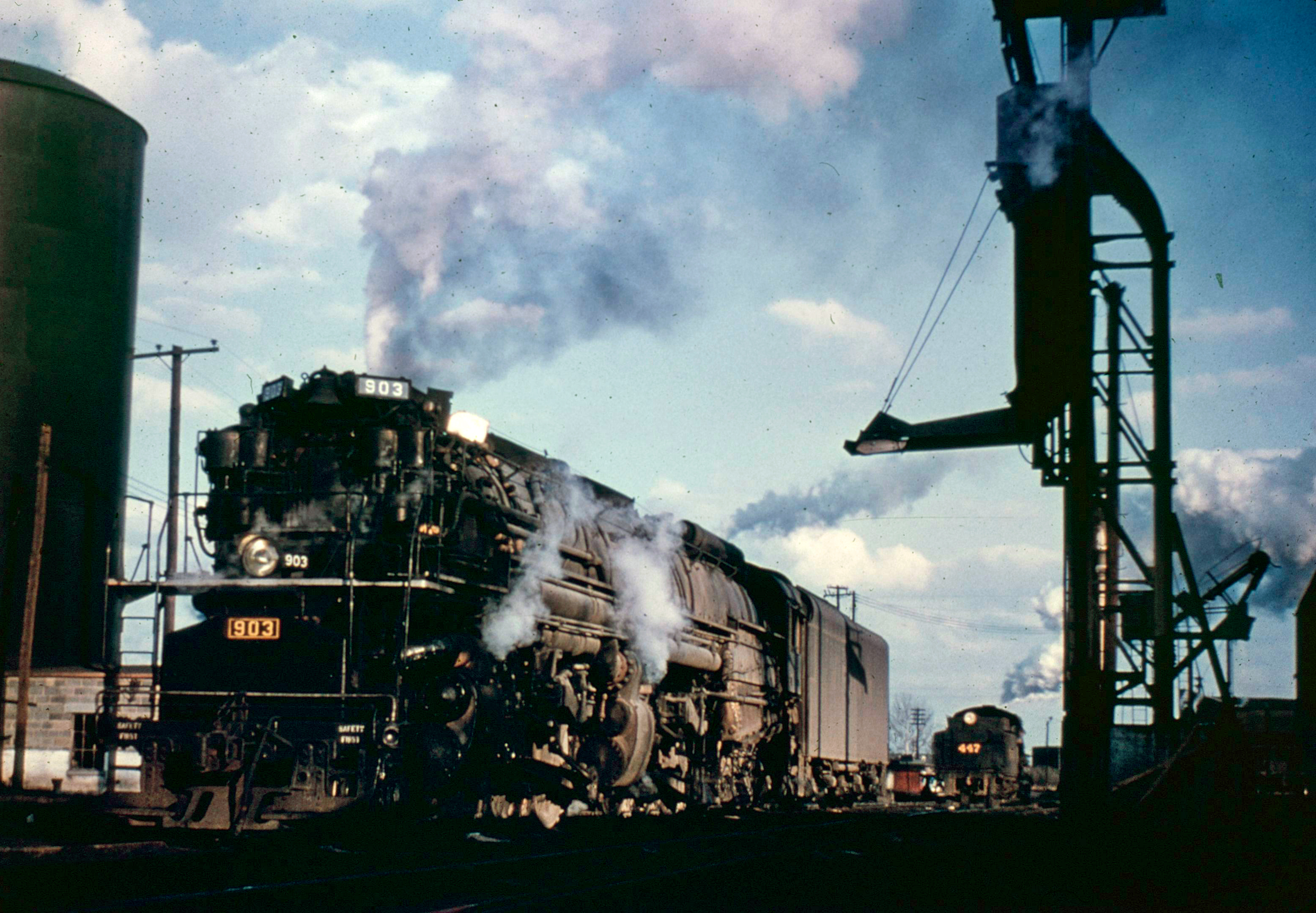 A big Virginian Railway 2-6-6-6, #903 (Class AG), is seen here in Norfolk, Virginia during December of 1954. American-Rails.com collection.
When designing the locomotive Lima had to make sure it kept the length within the bounds of the C&O's turntables otherwise, of course, there would have been a logistical headache in trying to turn the beasts.
To get around this Lima angled the rear tender to be larger at the rear to increase its capacity while reducing the locomotives' overall length, which was still an impressive 113 feet. This resulted in the tender having an uneven truck setup, four axles on the rear and three in front with a capacity of 25,000 gallons (water) and 25 tons (coal).
With sixty-seven inch drivers and over 110,000 pounds of tractive effort an Allegheny could move 5,000 tons at an incredible 45 mph although they were commonly asked to haul twice this tonnage (around 10,000 lugging freights at about 15 mph).
However, the Allegheny Types were designed to operate most efficiently at high speeds where their high horsepower could truly be appreciated. While the C&O had 23 of their 2-6-6-6s equipped with heat and signal lines for passenger service the steamers rarely saw use in this capacity except for occasionally moving a few heavy mail trains.
Because of this, Ed King argues in his article "Big Boy Or Big Mistake?" from the September, 2004 issue of Trains magazine if the Alleghenies were really ever worth the investment by the C&O, which went on to purchase 60 with each carrying an individual price tag of around $230,000 (nearly twice the cost of the N&W's Class As, which were about $123,000 a piece).
Given how they were used in service, King points out that a Class H-7 2-8-8-2 built in the '20s had a tonnage rating just 200 less than an Allegheny.
Specifications
| | |
| --- | --- |
| Wheel Arrangement | 2-6-6-6 |
| Builder | Lima Locomotive Works |
| Years Produced | 1941 (C&O), 1945 (VGN), 1948 (C&O) |
| Cylinders (4) | 22.5" x 33" |
| Boiler Pressure | 260 psi |
| Driver Diameter | 67" |
| Tractive Effort | 110,211 Lbs |
| Weight on Drivers | 504,010 Lbs |
| Locomotive Weight | 751,830 Lbs |
In any event, the C&O took delivery of its first ten Allegheny Types from Lima in December of 1941, numbed 1600-1609 and given Class H-8. The railroad ultimately rostered all of its 60 units in this class.
The Big Boys may have garnered more publicity from the general public but the 2-6-6-6s were powerful not only from a horsepower standpoint but also are often credited as being the pinnacle of steam locomotive super power prior to the age of the diesel.
Sadly, these locomotives were practically new when they were retired with the oldest barely ten years of age before the C&O began replacing the fleet with diesels in 1952. Perhaps most incredibly, however, is that the final fifteen Alleghenies (numbered 1645 to 1659) never even saw the age of ten! Delivered during late 1948 the entire Allegheny fleet was retried by 1956.
---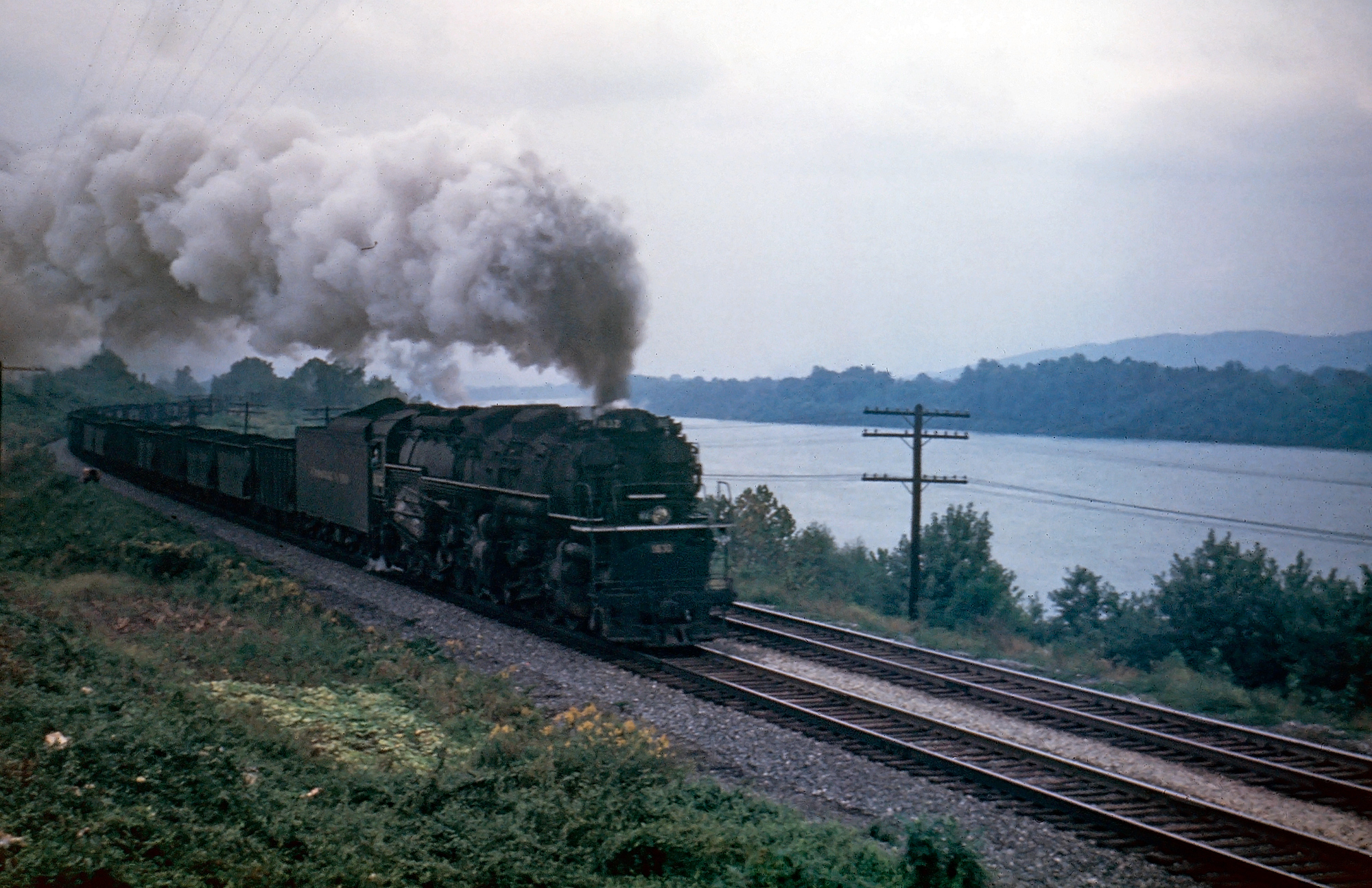 Chesapeake & Ohio 2-6-6-6 #1632 hustles eastbound loads of coal over the main line in eastern Kentucky, circa 1952. In the background is the mighty Ohio River. American-Rails.com collection.
Virginian Railway
It should be noted that Chessie was not the only buyer of the 2-6-6-6. The Virginian also purchased eight of its own 2-6-6-6s in 1945, numbered 900-907, albeit known by the name of "Blue Ridge" and not "Allegheny."
The railroad likely would never have purchased the locomotives had it not been for its president, Frank Beale, who had come to the Virginian from the C&O.
During his time at Chessie, Beale worked as a senior manager through the Allegheny territory where the 2-6-6-6s were first put in service and was impressed with the articulateds, deciding that the Virginian needed its own fleet.
Just as on the C&O, the Virginian's stiff grades precluded its 2-6-6-6s from being used in high-speed service as intended and they normally did not operate faster than 35 mph. After only 15 years of service the massive locomotives were all scrapped.
Sources
Dixon, Thomas W. Chesapeake And Ohio Railway:  A Concise History And Fact Book.  Clifton Forge:  Chesapeake & Ohio Historical Society, 2012.
Lewis, Lloyd D.  West Virginia Railroads Volume 4:  Virginian Railway.  Forest:  TLC Publishing, Inc., 2011.
Simpson, Walter. Steam Locomotive Energy Story, The.  New York: American University Presses, 2021.