Reading No. 2124
Published: November 1, 2023
By: Adam Burns

Reading 2124 is a 4-8-4 steam locomotive completed by the Reading company in early 1947.  It is a "Northern" type locomotive, characterized by its wheel arrangement of four leading wheels, eight driving wheels, and four trailing wheels.
The 2124 was primarily used for hauling heavy freight and coal trains, but also pulled passenger trains on occasion.
The locomotive became well known among the public for leading the railroad's popular Iron Horse Rambles from 1959-1961.  When it was in need of a major overhaul the Reading elected to retire and sell the 4-8-4.  It was subsequently replaced with sister 2102, which continued hosting the Rambles until 1964. 
It is one of the few surviving examples of Reading's T-1 class locomotives and is currently on display at the Steamtown National Historic Site in Scranton, Pennsylvania.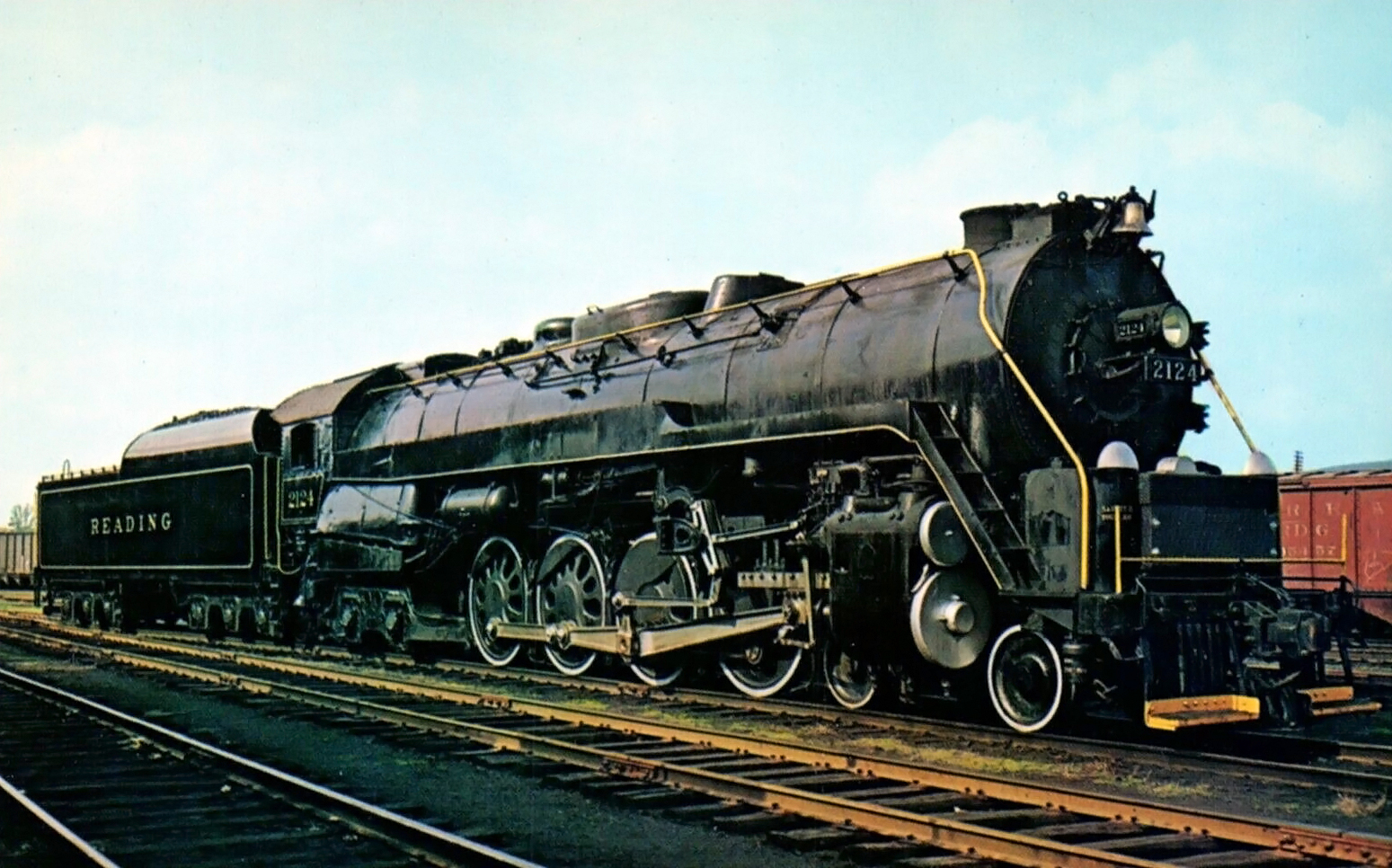 Reading 4-8-4 #2124 (T-1) is seen here between leading one of the railroad's "Iron Horse Rambles" at the Reading Shops in Reading, Pennsylvania on June 16, 1960. Don Wood photo.
Operational History
Reading 2124 holds a prominent place in American railroad history. Built by the renowned Reading Railroad, one of the Northeast's most successful anthracite roads, this locomotive has a history as fascinating as the journeys it undertook during its operational years.
2124 was initially born as 2-8-0 #2024 in December of 1923. It was constructed by the reputable Baldwin Locomotive Works, whose expertise in locomotive building lent this machine a robustness and prowess rivaled by few others during its time.
Interestingly, it wasn't until the late 1940s that #2024 metamorphosed into what became 4-8-4 2124.  During the mid-1940s Reading president Revelle W. Brown requested superintendent of motive power and rolling equipment, E. Paul Gangewere to consult with Baldwin regarding converting 30 I-10a Consolidations into 4-8-4s.
The railroad needed more powerful locomotives to not only handle late era wartime traffic demands but also speed up freight movements.
The Reading effectively rebuilt these Consolidations itself at the railroad's own shops in Reading, Pennsylvania instead of purchasing new locomotives.  The new fleet, listed as class T-1, were numbered 2100-2129.  The engines could operate at speeds up to 80 mph with tractive efforts of 68,000 pounds.
During its operational stint with the Reading, 2124 was primarily tasked with heavy freight service, predominantly handling anthracite coal. This duty allowed it to showcase its true potential, with its powerful engineering making it an exemplary asset to the Reading.
At A Glance
| | |
| --- | --- |
| Builder | Reading Shops |
| Heritage | 2-8-0 #2024 (Class I-10a) |
| Original Manufacturer | Baldwin Locomotive Works |
| Original Build Date | 12/1923 |
| Serial Number | 57596 |
| Completion Date | 1/1947 |
| Number | 2124 |
| Class | T-1 |
| Whyte Notation | 4-8-4 |
| Driver Diameter | 70" |
| Engine Wheelbase | 45' 9 31/32" |
| Length (End Of Couplers) | 110' 3 ½" |
| Boiler Pressure | 240 psi |
| Axle Loading | 69,740 Lbs |
| Weight On Drivers | 278,200 Lbs |
| Engine Weight | 441,300 Lbs |
| Tender Weight (Loaded) | 367,700 Lbs |
| Engine + Tender Weight | 809,000 Lbs |
| Valve Gear | Walschaerts |
| Fuel Capacity (Coal) | 26 Tons |
| Water Capacity | 19,000 Gallons |
| Tractive Effort | 67,984 Lbs |
| Cylinder Size | 27" × 32" |
| Factor of Adhesion | 4.09 |
| Horsepower | 5,500 |
| Top Speed | 80 mph |
| Reading Retirement | 1957 |
| First Restoration | May, 1959 |
| Second Retirement | October 22, 1961 |
| Current Owner | Steamtown National Historic Site (Scranton, PA) |
Iron Horse Rambles
2124 also served a significant role in the popular "Reading Rambles" excursions, originally restored alongside sister 2100 in May, 1959.   During a time when the steam locomotive had only recently been retired from most railroads the Rambles proved far more successful than the railroad had ever envisioned.
The excursions provided passengers with an opportunity to witness and appreciate the power of this massive steam engine up close.  The Rambles frequently comprised of double-headed steam locomotives, futhering their popularity.
These excursions offered train enthusiasts a glimpse into the past and solidified the 2124's place in railway history.  The locomotive continued leading these trips until its flue time ran out on October 22, 1961.  Instead of overhauling the engine, the Reading replaced it with sister 2102 which was already under restoration at that time.
F. Nelson Blount
Following its tenure with the Reading Railroad and leading the Iron Horse Rambles, the 2124 found a new purpose when it was sold in 1961 to F. Nelson Blount. Blount, a prominent railroad enthusiast and collector, procured the locomotive for his Steamtown, U.S.A. collection, which would soon become a momentous preservation initiative.
Steamtown, U.S.A., originally located in Bellows Falls, Vermont, was Blount's personal collection of steam locomotives. The 2124 joined this prestigious lineup, offering a glimpse into the realm of steam-driven railway operations that had since been overshadowed by diesel power.
Steamtown, USA
As significant changes in rail operations occurred, Steamtown, U.S.A. moved to its present location in Scranton, Pennsylvania. This move brought 2124 to Pennsylvania, where it became a part of a vast collection of preserved steam locomotives and railroad artefacts.
The current status of 2124 at Steamtown serves as a lingering testament to its storied past. The locomotive, while no longer operational, remains a focal point for visitors and train lovers who flock to this historical site.
Despite its non-operational status, 2124 stands as a grand exhibit at Steamtown, representing the sheer power and technological advancements of the transition era in American railroading. Enclosed within the protection of the roundhouse, it brings to life a historical era for the many visitors who marvel at this monumental machine.
Legacy
The importance of 2124 to the Reading Railroad cannot be understated. As a workhorse for freight transport and a star of the Iron Horse Rambles, it played a crucial role in the success and popularity of the Reading Railroad during its operational years.
But perhaps what truly sets the 2124 apart is its popularity during the Iron Horse Rambles. These excursions served as a catalyst, catapulting this steam engine to almost celebrity-like status among rail enthusiasts.
During the Rambles, 2124 routinely pulled an array of vintage passenger cars. Often departing from major cities like Philadelphia, these trips took enthusiasts through scenic rural regions of Pennsylvania, providing them with an authentic and exciting steam-powered experience.
The 2124's participation in the Rambles has made it an important part of rail history. Fans relished the opportunity to ride behind this powerful locomotive as it traversed the picturesque Pennsylvania countryside, cementing its place in their hearts and memories.
The spectacle of this steam giant effortlessly pulling the Rambles with a plume of white steam trailing behind became iconic. Indeed, the image of the 2124 under full steam became synonymous with the Iron Horse Rambles.
The longevity and impact of the 2124 are demonstrated by the continued interest in this locomotive. Today, many years after its last run, the locomotive continues to draw enthusiasts and casual onlookers alike, captivated by its size, history, and the legacies it left behind.
Even in retirement, 2124 serves an important role as an educational tool. Its presence in Steamtown allows visitors to grasp the scale and complexity of steam power, and offers insight into the technological achievements of a bygone era.
Historical accuracy and preservation have been key in maintaining 2124. Its representation at Steamtown remains true to its last operational configuration, allowing visitors to appreciate the locomotive as it appeared in its prime.
As one browses through the assortment of locomotives and railroad equipment at Steamtown, the importance of the 2124 is emphasized. Among the varied collection, it stands as a beacon of railroad history, illuminating the past for all to see and appreciate.
In the role of an ambassador for its kind, the 2124 continues to inspire train enthusiasts and educate those new to the world of rails. Despite the passage of time and the changing face of railway technology, the appeal of this steam giant persists.
In terms of cultural significance, current day rail enthusiasts regard 2124 as a breathtaking symbol of mechanical brilliance, nostalgia, and industrious American spirit. Its mere presence at Steamtown conveys the magnitude of history connected to this locomotive.
---
Conclusion
As we conclude this exploration of the 2124, one thing remains certain. This locomotive, a product of the Reading Railroad and a veteran of the Iron Horse Rambles, has more than earned its place in railroad history.
Its captivating tale continues to be told at Steamtown, helping us remember a glorious period of American railroading. Regardless of the passage of time, the 2124 retains its relevance and fascination, serving as a living testament to the remarkable era of steam engines.