21st Century Steam Program (Norfolk Southern)

Last revised: May 19, 2023
By: Adam Burns

The 21st Century Steam Program was launched by Norfolk Southern in 2011 to feature historic steam power once more on its system, and lasted through 2015. 

Unlike the railroad's earlier program that was quietly ended in 1994 these locomotives were not owned but leased through their owners to host several excursions throughout the year. 
The idea for this renewed endeavor began some years before by a new company executive and to the delight of railfans and the public it became reality. 
At first, only one small Consolidation was used but later Nickel Plate Road #765 joined the party and more steamers are on tap for the future.  Although only in existence for a few years the program was a great success for Norfolk Southern and a wonderful nod to railroad history, complementing the railroad's Heritage Program released in 2012.  
After 2015, all steam trips were terminated over NS rails. While the 21st Century Steam Program was launched only in 2011 its history originates with predecessor Southern Railway. 
Following the second completed restoration of Southern 2-8-2 #4501 in 1966 by the Tennessee Valley Railroad Museum, the company kicked off its first steam-powered excursions that year.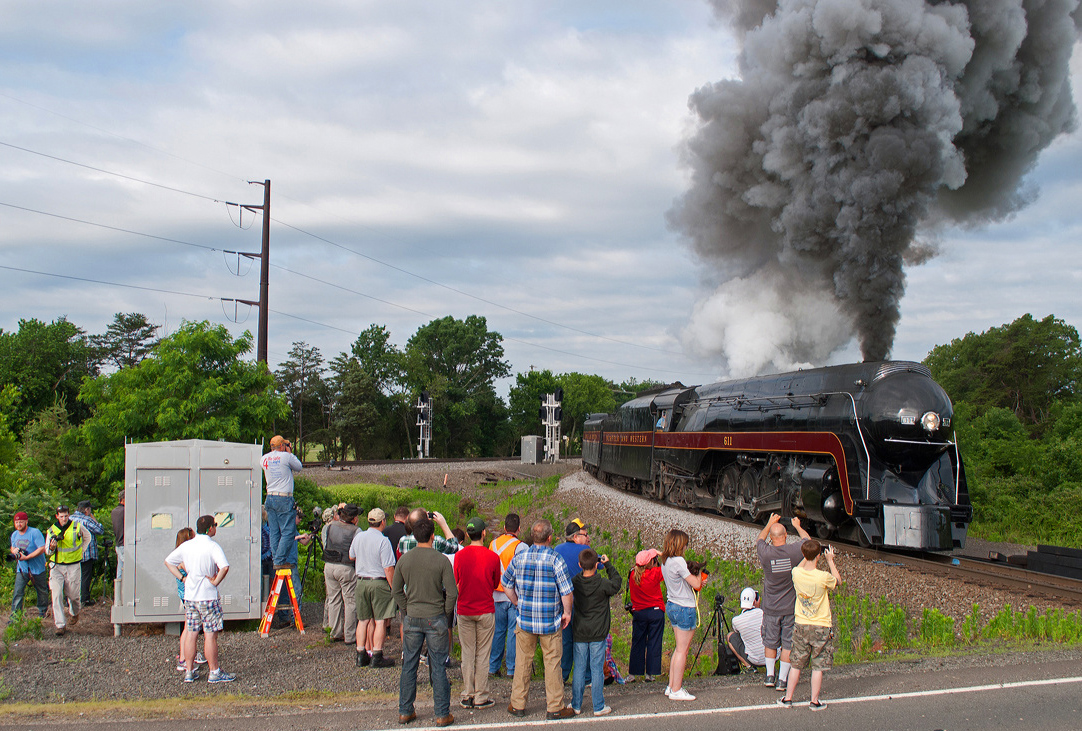 The most recognized participant in the program was Norfolk & Western 4-8-4 #611 (J). It is seen here rounding the wye at Manassas, Virginia on June 7, 2015. Tom Granville photo.
This initial endeavor was thanks in no small part to then-vice president Graham Claytor and general counsel Jim Bistline, both of who were able to convince president Bill Brosnan to create an official steam program within the company. 
Mr. Brosnan was no fan of the steam locomotive but nonetheless gave the go ahead.  In truth, such excursions were already quite common on the Southern, as well as other railroads, during those days sponsored by various railfan groups and historical societies. 

The #4501, a Class MS Mikado, began its career in 1911, a product of Baldwin.  It operated on the Southern until around 1948 when it was sold to the Kentucky & Tennessee Railway, which retired the unit in 1963. 
It was then acquired by railfan Paul Merriman, who used his own money to restore the locomotive back to operation in 1964 before it rejoined the Southern in 1966.  In 1967 Brosnan became chairman of the railroad and handpicked his successor, Claytor, as president. 
With a life-long interest in trains Claytor expanded the steam program the very year he became president adding Southern 2-8-0 #722 and 4-6-2 #750.  In 1968 Southern 2-8-0 #630 joined the fleet.  While not directly owned by the railroad other steamers to make guest appearances included Texas & Pacific 2-10-4 #610, Chesapeake & Ohio 2-8-4 "Kanawha" #2716, and Canadian Pacific 4-6-4 #2839.

In 1982 Norfolk & Western merged with the Southern forming today's Norfolk Southern system. 
The steam program continued and was expanded to include two examples which operated on the N&W; streamlined J Class 4-8-4 #611 and articulated Class A 2-6-6-4 #1218. 
For the next decade NS continued its incredibly popular steam excursions (which included a fleet of restored and all-matching cars sporting the N&W's maroon and gold passenger livery) until a shift in management attitudes forced its end in 1994, showcased by a final farewell excursion led by #611. 
While the gorgeous J was stored with great care at the Virginia Museum of Transportation the big articulated was in the middle of major rebuild when the decision to end the program was announced, resulting in the locomotive being only partially put back together prior to its permanent display at the museum.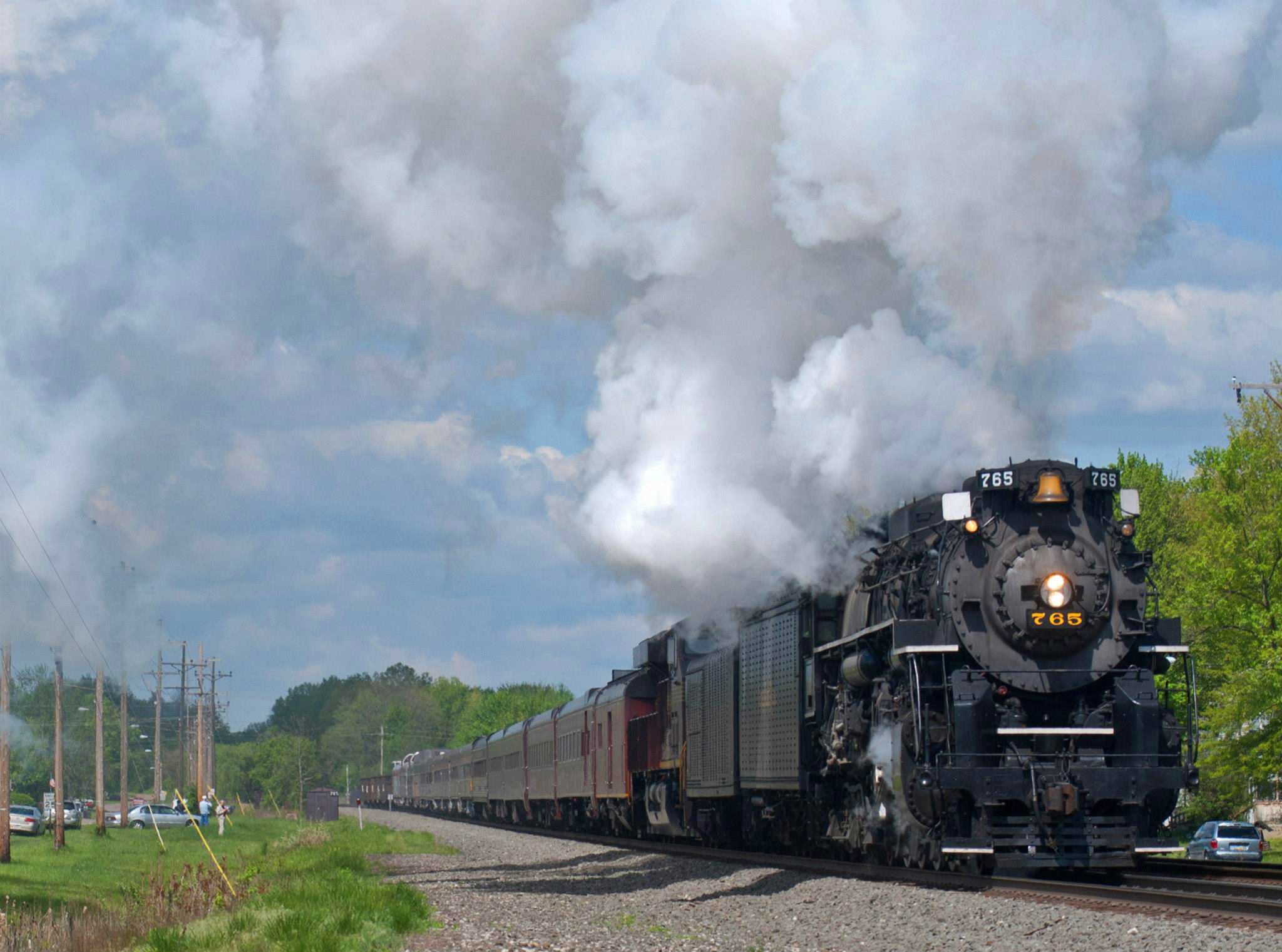 Nickel Plate Road 2-8-4 #765 puts on a show while leading an excursion along the Norfolk Southern main line outside of Sebring, Ohio during May of 2013. Tom Granville photo.
In 2005 NS had a new chairman, Charles "Wick" Moorman, a long-time railfan himself and the railroad was about to experience a renewed interest in history and heritage.  This began in 2007 when the company unveiled a fleet of restored F units to power its business train. 
These locomotives wore a beautiful livery inspired from the old Southern freight scheme.  During the summer of 2010 the railroad officially announced its intentions on June 30th that through a partnership with the Tennessee Valley Railroad Museum (TVRM) it would launch the all-new "21st Century Steam Program." 
At that time the designated locomotives to operate included Southern #630, Southern #4501, and Tennessee Valley Railroad 2-8-0 #610.  Of this trio, only #630 was used extensively and #4501 made it back into service for part of the 2015 season.

During the Labor Day weekend in 2011 #630 pulled the first excursions near the TVRM to celebrate the organization's 50th anniversary and officially kick off the steam program. 
This was followed by additional excursions over the next few months across Tennessee.  The year 2012 witnessed the program blossoming exponentially with two major events occurring; in March Norfolk Southern announced the release of an unprecedented heritage fleet including 20 "fallen flag" liveries comprising the railroad, adorning new SD70ACe and ES44AC locomotives. 
This event, along with employee appreciation excursions hosted by #630 helped mark Norfolk Southern's 30th anniversary that year.  Additionally, Nickel Plate Road 2-8-4 #765 joined the fleet and began hosting trips that summer. 
The Berkshire is owned by the Fort Wayne Railroad Historical Society and powered several excursion across Pennsylvania, Ohio, and West Virginia.
The most notable included a series of trips over Pennsylvania's fabled Horseshoe Curve near Altoona where the big Berk ran wide-open with heritage Nickel Plate diesel #8100 and Mr. Moorman made headlines for being in the cab during some of these runs. 
The year 2013 witnessed #765 and #630 once again hosting excursions although the big news that year was the addition of Norfolk & Western #611 when the Virginia Museum of Transportation and its Fire Up 611! committee announced they would restore the J to operational status for the steam program. 
Unfortunately, the needed funding for the shop complex #611 needs to keep it regularly maintained and running could not be obtained in time for the locomotive to run during the 2014 season (the restoration funds are already in place) but it did make it back into service for the 2015 season.

---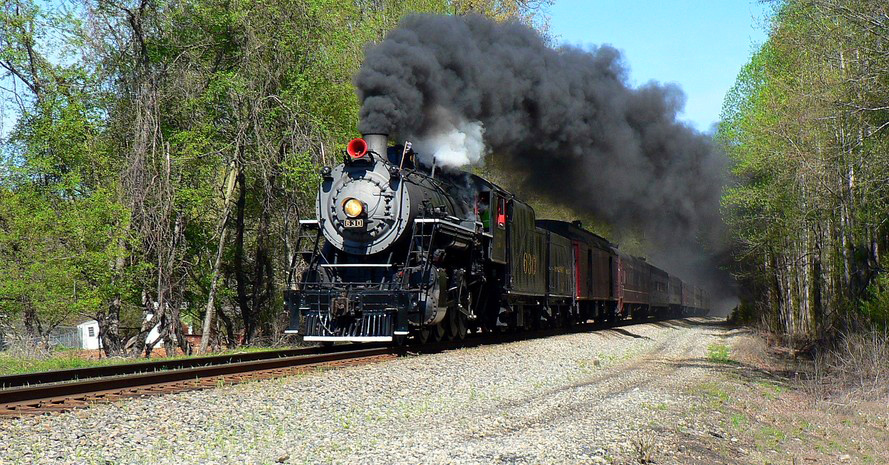 With whistle blowing Southern 2-8-0 #630 flies, at-speed, through rural Majolica, North Carolina with an eastbound excursion during the spring of 2013. Dan Robie photo.
Norfolk Southern's eventual goal for its 21st Century Steam Program, aside from teaching and showcasing the history of railroading, was to have steam visit all of their major terminals by the year 2015.  
Alas, this ultimate goal was fulfilled and the railroad made the somewhat surprising announcement in December stating its steam program was essentially concluded.  Beyond 2016, Norfolk & Western #611 has hosted trips over various railroads' track but no longer on Norfolk Southern.
In addition, several of NS's beautifully restored business cars which operated not only within these excursions but also as part of the company's former business train pulled by restored "F" units have also been sold (including the "F" units).