Milwaukee Road 4-8-4 #261

Last revised: May 17, 2023
By: Adam Burns

The Milwaukee Road 261 is a 4-8-4 "Northern" type steam locomotive in which the railroad once owned nearly fifty such designs.

Like most late model steam locomotives, the Chicago, Milwaukee, St. Paul & Pacific's (Milwaukee Road) 4-8-4's had a relatively short life span,  all were retired after less than twenty years.
Today, two of the Milwaukee Road's 4-8-4s remain preserved; #265 on static display at the Illinois Railway Museum and the most famous, #261. 
The big Northern was in danger of being put on static display permanently in 2008 when its owner, the National Railroad Museum, along with the Friends of the 261 could not agree on a new lease. 

After a two year period the museum finally agreed to sell the locomotive back to the Friends.  In 2013, #261 returned to excursion service.  Since that time the big 4-8-4 has once again been awing the public as it hosts excursions across the Midwest.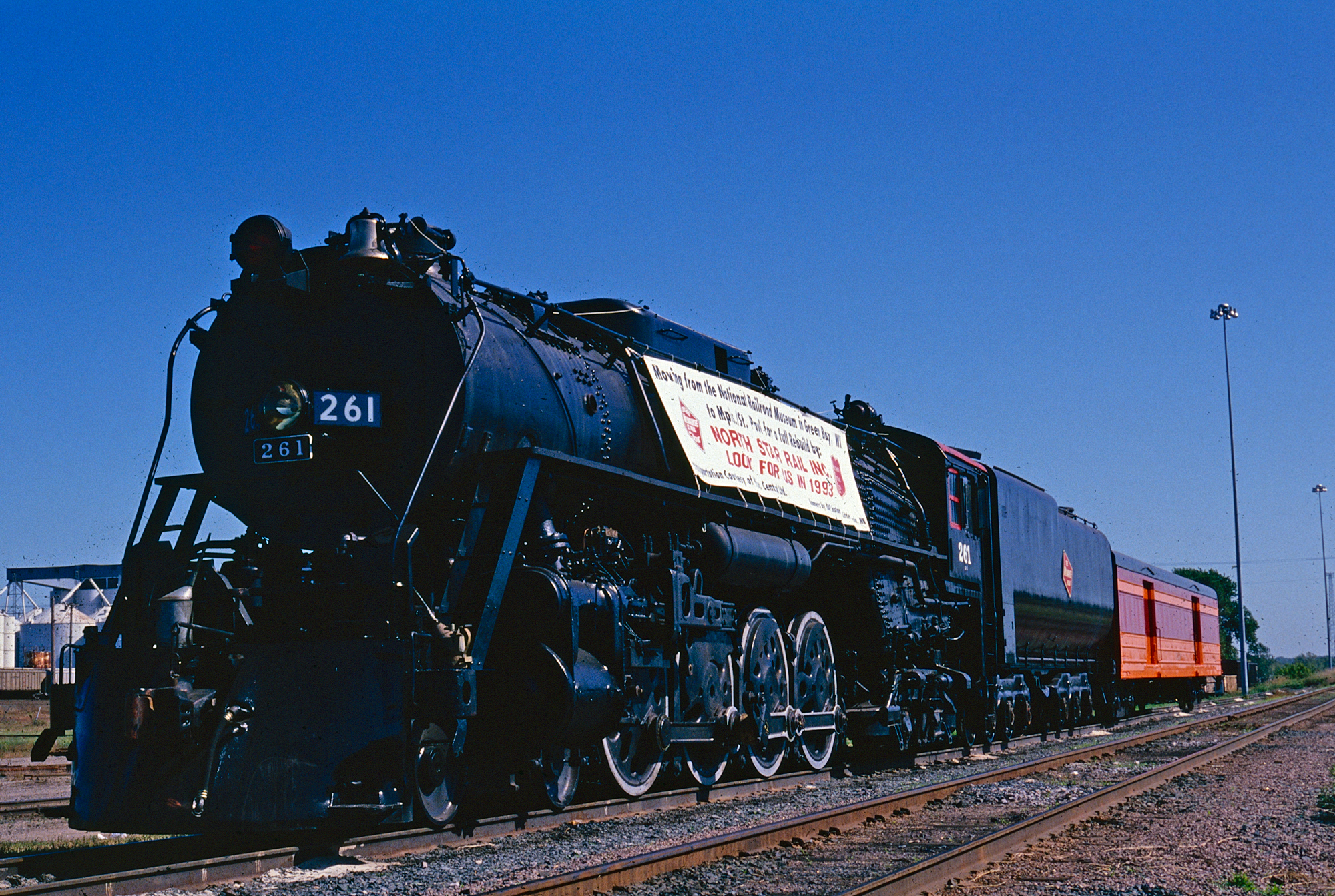 Milwaukee Road 4-8-4 #261 was photographed here at the National Railroad Museum in Green Bay, Wisconsin during August, 1992 as the big Northern awaits restoration. Note the banner: "Moving from the National Railroad Museum in Green Bay, WI to Minneapolis/St. Paul for a full rebuild by North Star Rail, Inc. Look for us in 1993." Author's collection.
While several railroads had different names for their 4-8-4 designs the Milwaukee Road stuck with the traditional "Northern" designation. Purely on looks the Northern Type, in general, was one of the most beautiful steam locomotive designs ever developed.
While some of these handsome locomotives would receive streamlining even without such enhancements they were still a fine looking piece of machinery with a "streamlined" tender and centered headlight.
This steam locomotive gained its name from the Northern Pacific Railway due to the fact that to burn the low-grade coal found along the railroad the steamer needed a larger firebox. 
One particular feature that made the 4-8-4 wheel arrangement so successful was its versatility where it was just as capable of pulling a time-sensitive passenger train clipping along at 70+ mph as it was at lugging a heavy freight train over stiff grades.
This versatility, along with the locomotive being equipped with some of the  latest technology, made the Northern Type one of the most successful designs of all time with over 1,000 built for 36 different railroads.
Perhaps the most well known Northerns to ever operate including the Norfolk & Western's handsome J Class, Southern Pacific's Golden States, and New York Central's Niagaras just to name a few (there were many others). 
For the Milwaukee Road its use of 4-8-4s began in 1930 when the railroad's motive power department, well-known for developing or enhancing steam locomotive designs, worked in conjunction with the Baldwin Locomotive Works to construct a Northern, which originally received the road number 9700 but was later changed to #250 upon the railroad receiving more such designs.
Milwaukee Road's 4-8-4 Northerns
| Class | Road Numbers | Date Built | Builder | Quantity |
| --- | --- | --- | --- | --- |
| S-1 | 250-251 | 1930, 1938 | Baldwin, CMStP&P | 2 |
| S-2 | 201-240 | 1937-1940 | Baldwin | 40 |
| S-3 | 260-269 | 1943 | Alco | 10 |
The Milwaukee Road 261 was the railroad's most advanced 4-8-4 design, and one of the most advanced steam locomotives in general having been built in 1943.
Following the railroad's original #9700, designated as Class S-1, it placed either no interest or no need for any future 4-8-4s until the late 1930s when Baldwin completed an order of thirty for the railroad in 1937.
This group of 4-8-4s, with road numbers 201-230, was designated as Class S-2 and was the most powerful and heaviest Northerns the Milwaukee would ever own exerting 70,800 pounds of tractive effort with a boiler pressure of 285 pounds-per-square-inch (in comparison the railroad's two other Northern classes could produce tractive efforts of only between 60,000 and 62,000 pounds).
In 1940 the Milwaukee Road return to Baldwin for more 4-8-4s, which also were Class S-2s and road numbers 231-240.

In this view of the same train seen in the top photo, #261 rolls past the CSX yard at Willard, Ohio. The terminal is named for legendary B&O president Daniel Willard. Wade Massie photo.
The railroad's final order of Northerns came in 1943 and were needed for the wartime traffic boom. This time the Milwaukee contracted with the American Locomotive Company (Alco) for ten more 4-8-4s classed as S-3s with road numbers 260-269.
They were less powerful than the S-2s but were more efficient as the S-3s featured the latest in steam locomotive technology such as roller bearings.  
It should be noted that the Milwaukee Road's own shop forces constructed a 4-8-4 in 1938. It was listed as Class S-1 with the road number 251 and had a similar rating to its earlier sister, #250 (ex-#9700) built in 1930. In general the railroad used all of its Northerns in freight service, particularly its powerful S-2s. 
During this time the Milwaukee Road was an innovative and forward thinking railroad. As such, it wasted little time embracing the diesel locomotive and purchased many before wartime restrictions forbid construction of diesels.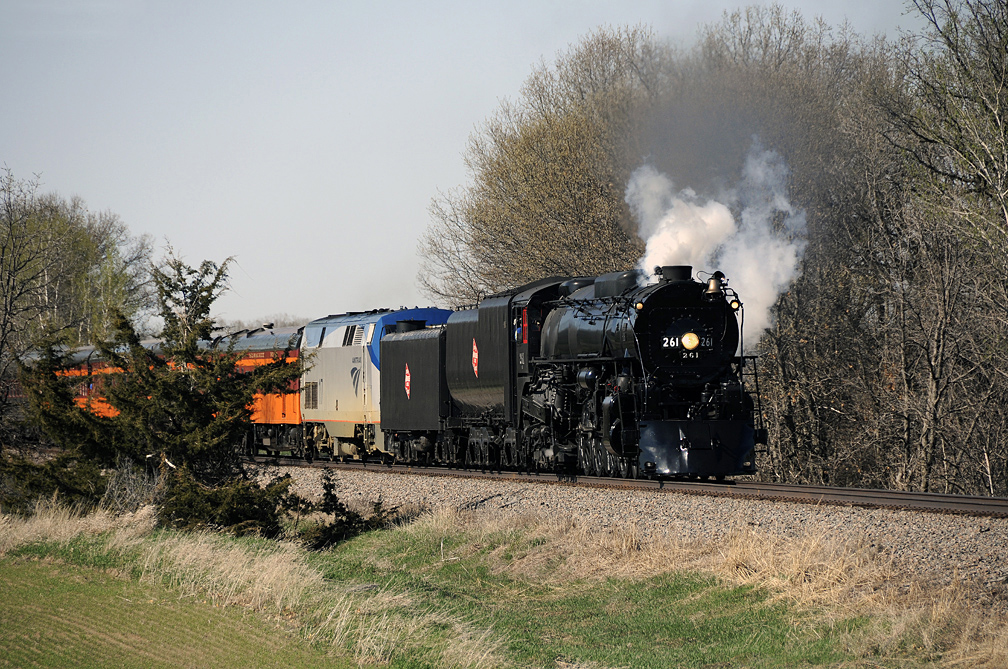 Milwaukee Road 4-8-4 #261 steams south with an Amtrak special near Cambridge, Minnesota on May 12, 2013. Drew Jacksich photo.
Milwaukee Road #261's Schedule (2021)
Please note!  Due to the ongoing COVID-19 Pandemic, Friends Of The 261's 2021 excursion schedule is extremely limited at the present time.  In addition, not all events listed here are trips hosted by the locomotive.

 White Nights By Steam (June 16 – 30, 2021)
A two-week vacation to Russia and a trip to the Article Circle by train.  Hosted by Friends Of The 261, the 15-day itinerary has been preset offering guests a once-in-a-lifetime experience to an area of the world most western's have never seen.
North Pole Express (Christmas, 2021)
The dates for this event has not yet been scheduled.
After the war the railroad picked up its pace of replacing its steam fleet and for the 4-8-4s, their time was short. In the case of Milwaukee Road 261 and its sister Class S-3s, they saw barely a decade of service before retirement in 1954, around the time virtually all of the Northerns were retired.  
For Milwaukee Road 261 it was one of the survivors as the railroad donated the locomotive to the National Railroad Museum in Green Bay, Wisconsin in 1958, the first piece of equipment the museum ever owned.
Here it sat for more than 30 years on static display until a group known as the Friends of the 261, which was formed in 1991 to preserve and restore the locomotive back to operation. In just two years Milwaukee Road 261's restoration was complete and it immediately began to see use in excursion service. 
Milwaukee Road #261's Whistle
When Milwaukee Road #261 returned to operation in 1993 the big Northern was initially equipped with a Hancock 3-chime whistle.  This particular model was later replaced with a Santa Fe 6-chime whistle that came from 2900-series 4-8-4 locomotive.  Interestingly, the Friends Of The 261 group also retain its original whistle, utilized on Milwaukee Road's S3 class Northerns. 
Since its restoration #261 has become a celebrity across the country operating both east and west, in conjunction with Class Is and Amtrak, and for numerous promotional events. This success can be mostly contributed to the Friends of the 261, now known as Railroading Heritage of Midwest America, Inc.  
The RHMA is headed by Steve Sandberg and it is operated as a quasi-business although it is technically a non-profit organization.
This philosophy has allowed the #261 to prosper, enabling it to be properly maintained year-after-year and even feature an entire consist of restored passenger cars (virtually all of which are of Milwaukee Road lineage), which are maintained to Amtrak standards.
Of course, the operation also would not be successful without the large group of volunteers who take pride in maintaining the 4-8-4.

---
Another scene of #261 heading towards Chicago as it passes the Baltimore & Ohio's old VN tower in Nova, Ohio. Wade Massie photo.
In late 2008 the locomotive was in danger of never running again. The 261 had always been operated on a lease agreement by the Friends as the National Railroad Museum remained owner of the locomotive.  
When the 4-8-4 went down in the fall of 2008 for its normal FRA boiler inspection a renewed lease, which expired at year's end, remained unresolved.
This carried through 2009 until it was learned that the two groups could not negotiate new lease terms and it was feared Milwaukee Road 261 would return to static display in Green Bay.  Then things heated up in early 2010 when it was reported the locomotive was to be sold to a private collector for return to operation by the Friends.
While this deal was never completed on National Train Day, May 8, 2010 that the Friends would purchase the locomotive themselves for a little less than a quarter-million dollars.