30th Street Station
The Pennsylvania Railroad's 30th Street Station is situated on the west bank of the Schuylkill River near downtown Philadelphia.  
Opened during the early 1930s the facility was one of the last great passenger terminals ever built during the PRR's efforts to modernize and infrastructure and replace Broad Street Station, a stub-end design which had become operationally inadequate.  
Thankfully, it has stood the test of time and today continues serves in its original capacity hosting both commuter and intercity trains of Amtrak and the Southeastern Pennsylvania Transportation Authority (SEPTA).  
As of 2018 more than 4 million passengers used the terminal, making it Amtrak's third busiest such terminal.  In some respects 30th Street slightly resembles New York's iconic Pennsylvania Station although not nearly as large or ornate.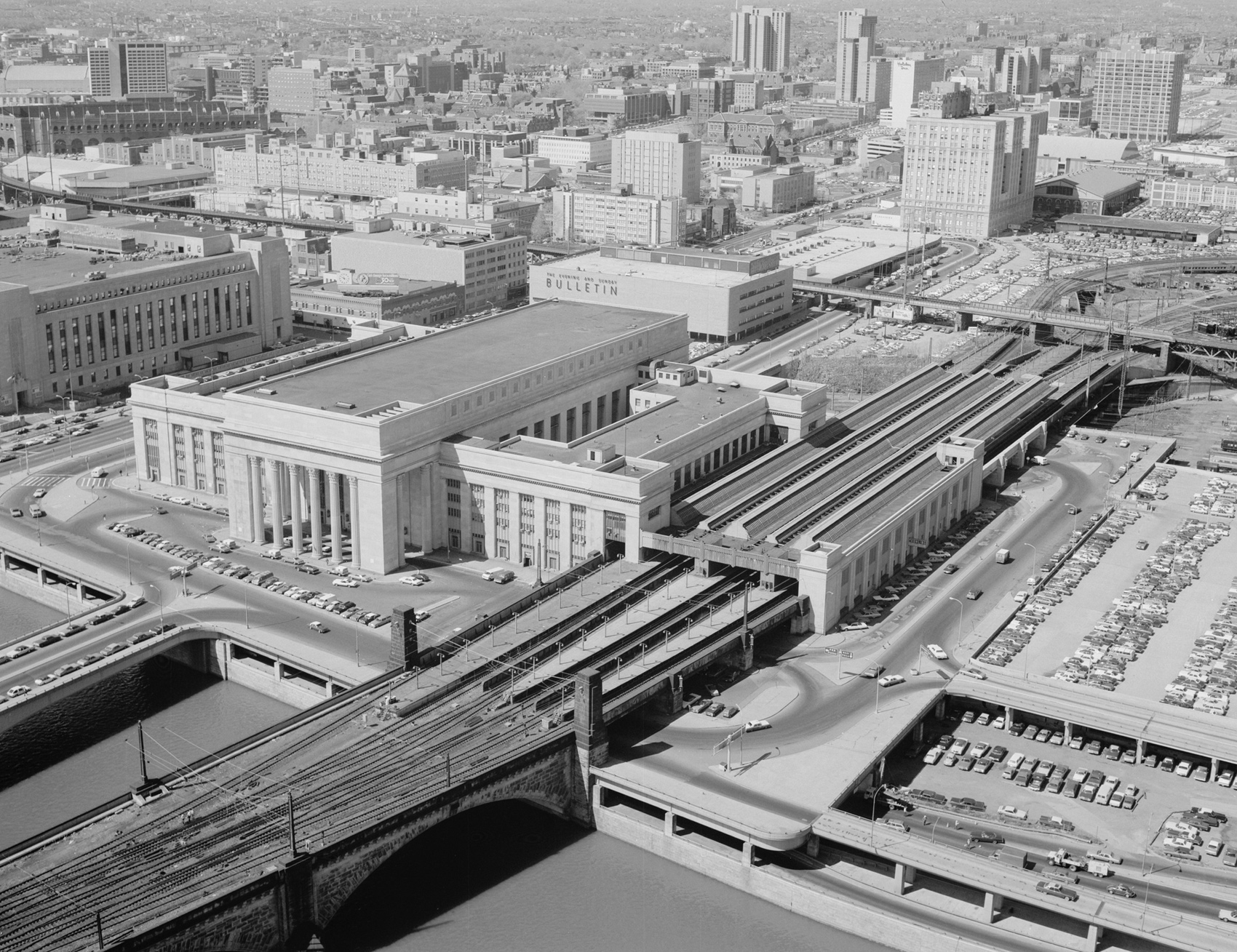 This aerial view of 30th Street Station, like the one below, was likely taken some time during the 1960s.
Before 30th Street Station: A Brief History Of Broad Street Station
What was known as Broad Street Station was the first major passenger terminal the PRR opened in Philadelphia. The station formally opened in 1881, located at Broad and Market Streets (hence its name) located right across the street from City Hall.
It was originally designed by architectural firm Wilson Brothers & Company carrying a presence that exemplified the PRR's growing dominance not only in the railroad industry but also as an American corporate juggernaut.  
Its most impressive feature was a massive train shed, the largest single-span ever built, which was 300 feet wide by 108 feet high.  
To reach the facility the PRR constructed approach tracks over the Schuylkill River that remained elevated to City Center, a necessary step to keep grades level.
---
A History Of The Pennsylvania Railroad
Notable Through Trains Serving 30th Street Station
Champion (Atlantic Coast Line):  (New York/Boston - Miami)
Congressional: (New York - Washington)

Crescent (Southern Railway):  (New York-Washington-Atlanta-Montgomery-New Orleans)

Montrealer/Washingtonian: (Washington - New York - Montreal)
Pelican (Southern Railway): (New York-Lynchburg-Bristol-Knoxville-Chattanooga-Birmingham-New Orleans)

Senator: (Boston - Washington)
Silver Comet (Seaboard Air Line): (New York/Portsmouth - Birmingham)
Silver Meteor (Seaboard Air Line): (New York - Miami/St. Petersburg/Venice/Fort Meyers)
Silver Star (Seaboard Air Line): (New York - Miami/St. Petersburg/Venice/Boca Grande)
Vacationer (Atlantic Coast Line): (New York - Miami)

---
While the design was given an ornate exterior to match the station, Philadelphians loathed these tracks dubbing them the great "Chinese Wall," named for the Great Wall of China.  
According to Brian Solomon's, "Railway Depots, Stations & Terminals," the entire complex was designed in the Gothic Revival style and modeled after London's great St. Pancras station which opened in 1868 (and still stands today).
After only a decade of service the PRR hired noted Philadelphia architect Frank Furness to update and overhaul the facility to keep up with growing demand.  Furness was well-known in the railroad industry.  
Philadelphia & Reading once hired him as its chief architect and he also worked for the Baltimore & Ohio on several projects.  
During his 45-year career he designed or collaborated on railroad-related buildings (mostly stations) and is credited for more than 600 structures in all.
As the PRR continued its rapid expansion Furness was tasked with redesigning Broad Street to accommodate the company's primary offices.  While he kept the overall Gothic look the station was also given High Victorian touches.
In addition, the train shed was updated, covered with a massive balloon shed over the 16 tracks terminating at the building.  Unfortunately, Furness could not fix Broad Street's one glaring issue, its stub-ended design.
This setup forced the Pennsy to back passenger trains into and out of the terminal, a both awkward and very time consuming proposition.  As Solomon points out in his book, "Railroad Stations," by 1910 this was becoming a major problem.  
The facility strained under the demand of 600 trains and 80,000 passengers using it on a daily basis, four times the amount of traffic for which it was designed.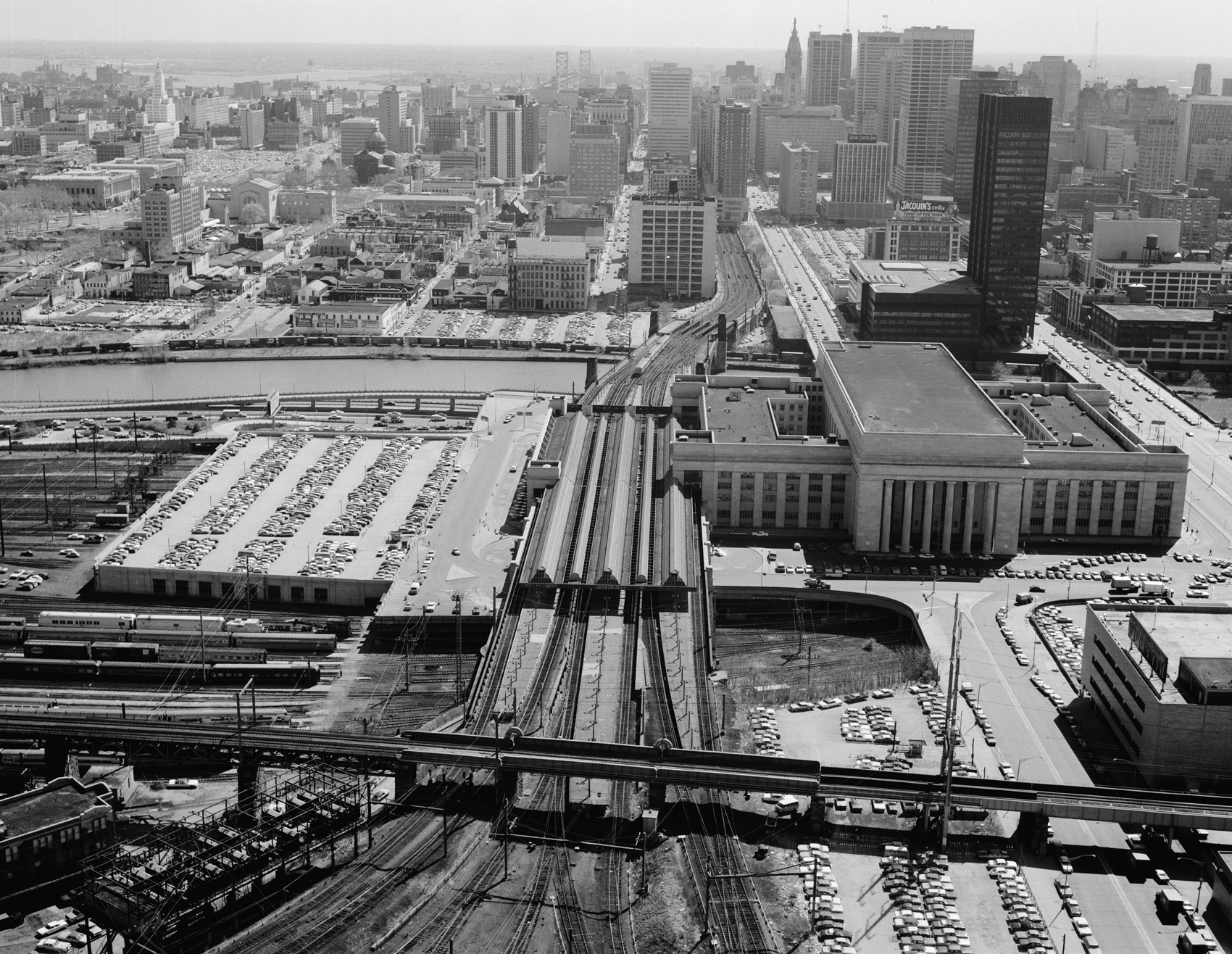 To alleviate this problem the railroad initially upgraded its trackage with electrification to increase capacity and reduce the terrible level of smoke from steam locomotives.  
Unfortunately, even these efforts could not completely resolve the issue and surrounding development precluded another redesign of the premises.  
Realizing there was no other way, during the 1920s the PRR decided to replace Broad Street with two new terminals, which became 30th Street Station and Suburban Station.  
Prior to this occurring, however, Broad Street was severely damaged by fire to its massive shed on the morning of June 11, 1923.  
The two new terminals were both through designs and worked as intended to provide for more efficient operations.  The fire damage, though, had not sealed Broad Street's fate.  
The PRR quickly rebuilt the terminal and it continued to host regional Clockers serving New York until finally being closed on April 27, 1952. 

30th Street Station Is Born
The 1920s were a great era in American history with tremendous economic growth and financial success.  Unfortunately, the largely unforeseen Great Depression dampened the decade and hit most industries very hard, including railroads.  
During this time the PRR launched efforts to construct what would eventually become 30th Street Station (officially known by the railroad as the Pennsylvania Station–30th Street), hiring architectural firm Graham, Anderson, Probst & White from Chicago to oversee its development.
The entire facility would not have been possible, however, if the city and railroad had failed to reach terms on their respective projects.  
The former needed land the latter owned to build the Benjamin Franklin Parkway.  In exchange for this the PRR acquired tunneling rights beneath the Schuylkill River to 15th Street for its new station.
This subterranean right-of-way allowed the railroad to build Suburban Station nearby for the heavy volume of commuter traffic which Broad Street could no longer handle.  
This facility was located between 16th and 17th Streets near City Hall and adjacent to Broad Street.  It opened on September 28, 1930 and coincided with the PRR's efforts to electrify its trackage in the region, which ended the use of suffocating steam locomotives.  
Interestingly, as Solomon points out, Broad Street, via a temporary connection using the Chinese Wall, remained in service until 1952 since the Pennsy's speedy GG-1 electrics could not operate into Suburban Station.  
Alas, the old terminal was not spared the wrecking ball, razed under PRR President James (Jim) Symes who stated,
"It is an old landmark that many of us will dislike seeing go...But remember, it is being replaced with Pennsylvania Station at 30th Street, one of the most modern, practical, and beautiful passenger terminals in the world, barring none."  
Interestingly, it was also Symes who ordered the destruction of New York's masterpiece, Pennsylvania Station, only a decade later.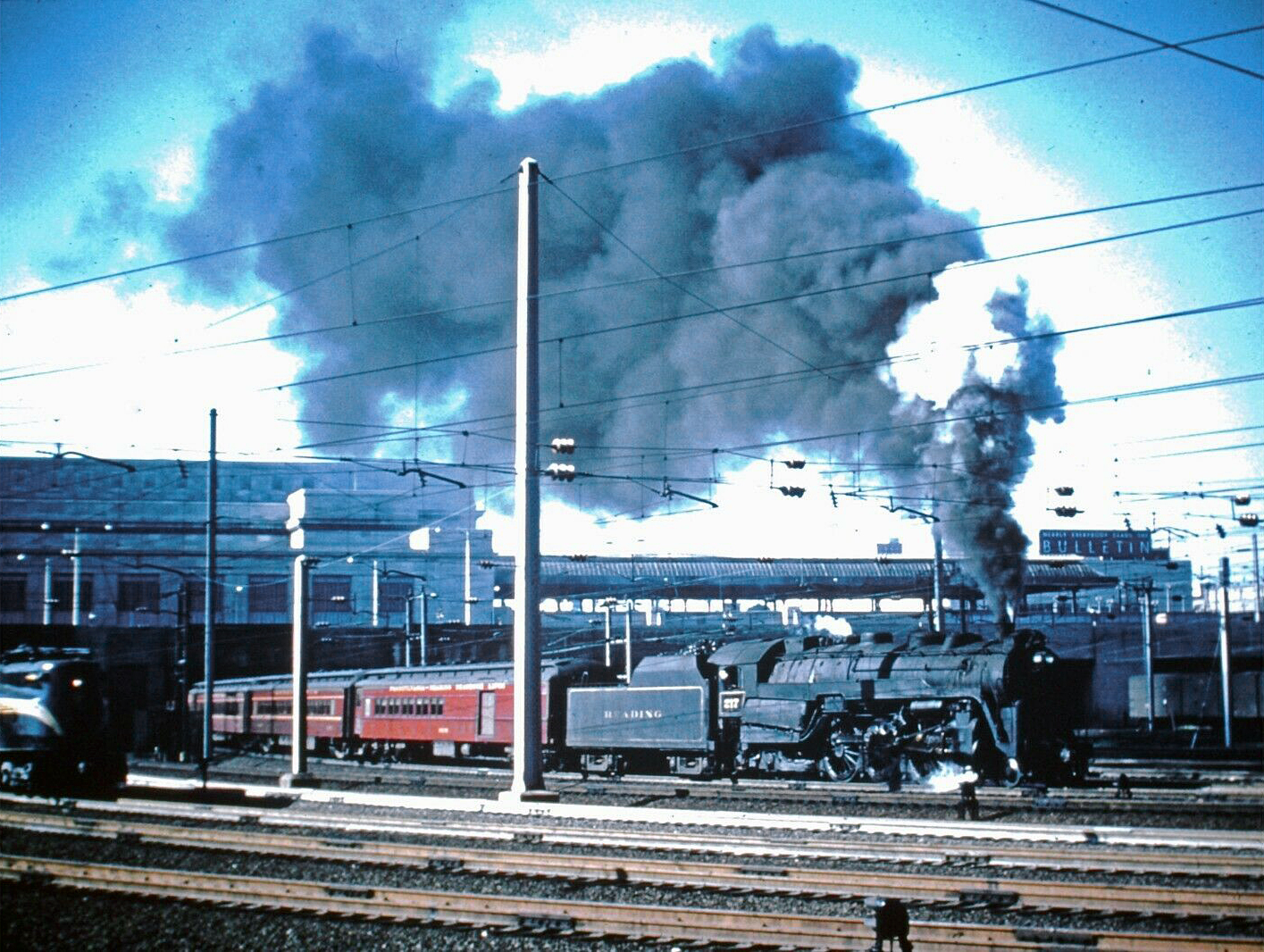 Reading 4-6-2 #217 (Class G3, manufactured by the Reading Shops in 1948) steams northbound out of Philadelphia's 30th Street Station with a Pennsylvania-Reading Seashore Lines train on August 8, 1955. The train will soon turn east at Frankford Junction, cross the Delaware River and arrive in Camden, New Jersey. From there it will continue on towards the coast.
In designing 30th Street Graham, Anderson, Probst & White conceived a beautiful Neoclassical style with Art Deco touches somewhat resembled previously mentioned Penn Station.  
The exterior featured grand Corinthian columns made from Alabama limestone, which rose 71-feet on the east and west façades.  The building's interior was also quite beautiful.  
The concourse measured 290 feet long by 135 feet wide and lined with chandeliers in the Art Deco style hanging from the 95-foot coffered ceiling.  
The main waiting room carried similar decoration with Travertine marble.  Overall, the station measured 700 feet long (over two football fields!) by 325 feet wide and featured more than 560,000 square-feet of interior space.
Also similar to Penn Station, 30th Street was designed so passengers boarded their trains below ground, completely away from the concourse.  In addition, 30th Street was split between commuter and intercity passenger trains to keep the flow of traffic more organized.
Construction of 30th Street began in 1927 and following several years finally opened for service in 1934.  As Amtrak's website "Great American Stations" notes the facility incorporated some rather unusual design features housing a chapel, mortuary, and 3,300 square-foot hospital.  
Finally, the roof line was reinforced with concrete to act as a small landing strip for aircraft! While the building served at capacity for the first 15 years or so since it was first opened the terminal was never truly successful, at least as the PRR originally intended.
The Great Depression saw traffic plummet and while things rebounded during World War II, between 1941 and 1945 things again tailed away following the war. During the 1950s more and more folks left the rails for their own, private automobiles.  
During the 1960s the building's use slumped further and if not for its heavy commuter traffic may have been in danger of demolition.
---
---
Streamliners, which you could find stopping at 30th Street included the Pennsylvania's own Colonial, Broadway Limited, Congressional, Senator, and countless other unnamed commuter runs.
Additionally, the Atlantic Coast Line and Seaboard Air Line's popular Northeast-Southeast trains like the Champion and Silver Meteor passed through the terminal.  
Today, 30th Street Station has been on the National Register of Historic Places since 1978 and holds a distinction as a major Philadelphia landmark.  
Between 1988 and 1991 Amtrak embarked on a major renovation of 30th Street and the building currently serves as the national carrier's primary headquarters.
It is perhaps the closest relative of New York City's once majestic Pennsylvania Station torn down during the 1960s in arguably the greatest examples of corporate vandalism.
Today, the facility continues to host long-distance trains and commuter traffic under NJ Transit and the Southeastern Pennsylvania Transportation Authority (SEPTA).  For more about 30th Street Station please click here to visit Amtrak's website.