Santa Fe 4-8-4 #3751

Last revised: May 14, 2023
By: Adam Burns

The Santa Fe #3751 is a 4-8-4 "Northern" steam locomotive of which the AT&SF once owned more than five-dozen such designs.

The Santa Fe originally employed all of its Northerns in passenger service, where their blend of power and speed was suited just right on a railroad that stretched more than 2,200 miles between Chicago and Los Angeles, and whose main line was quite rugged west of Texas.
Santa Fe 3751 was spared the scrapper's torch and donated to the city of San Bernardino where it remained on displays for many years before being restored back to operation by the San Bernardino Railroad Historical Society in the early 1990s.
Today, the locomotive occasionally makes an appearance from its home in Los Angeles to pull excursions or help to educate the general public about railroads.
While many railroads had different names for their 4-8-4s (such as Westerns, Greenbriers, and Niagaras), the AT&SF was one which chose to stick with the traditional "Northern" term.
Purely on looks the Northern Type, in general, was one of the most beautiful steam locomotive designs ever developed. While some of these handsome locomotives would receive streamlining even without such enhancements they were still a fine looking piece of machinery with a "streamlined" tender and centered headlight. 

Santa Fe 4-8-4 #3751 operated her final years in passenger service on the Los Angeles Division, as seen here in the early 1950s. She was placed into storage in 1953 at Redondo Junction and officially retired in 1957. American-Rails.com collection.
This steam locomotive gained its name from the Northern Pacific Railway due to the fact that to burn the low-grade coal found along the railroad the steamer needed a larger firebox.  
One particular feature that made the 4-8-4 wheel arrangement so successful was its versatility where it was just as capable of pulling a time-sensitive passenger train clipping along at 70+ mph as it was at lugging a heavy freight train over stiff grades.
This versatility, along with the locomotive being equipped with some of the latest technology, made the Northern Type one of the most successful designs of all time with over 1,000 built for 36 different railroads.
Perhaps the most well known Northerns to ever operate including the Norfolk & Western's handsome J Class, Southern Pacific's Golden States, and New York Central's Niagaras just to name a few (there were many others).
The Atchison, Topeka & Santa Fe Railway's (AT&SF) use of 4-8-4 Northerns began in 1927, just a year after the design had originally been developed by the Northern Pacific Railway in 1926. The Santa Fe 3751 was the very first 4-8-4 the railroad ever owned, built by the Baldwin Locomotive Works.
According to Lloyd Stagner of the San Bernardino Railroad Historical Society the AT&SF originally paid $99,713 for the #3751, an amount that would hardly touch maintenance and restoration efforts for such a locomotive in today's money! 
In all, the AT&SF would own fourteen 4-8-4s of its Class 3751, which ranged from road numbers 3751 to 3764. These locomotives, all built by Baldwin originally featured 73-inch drivers, boiler pressures of 210 pounds-per-square-inch, and 66,000 pounds of tractive effort. 
As Santa Fe's original 4-8-4, #3751 could produce maximum drawbar horsepower of 3,220 HP at 40 mph.   Its stated top speed from the manufacturer was 70 mph although it was clocked at 103 mph in 1941, its highest ever speed, after receiving new drivers of 80 inches that year.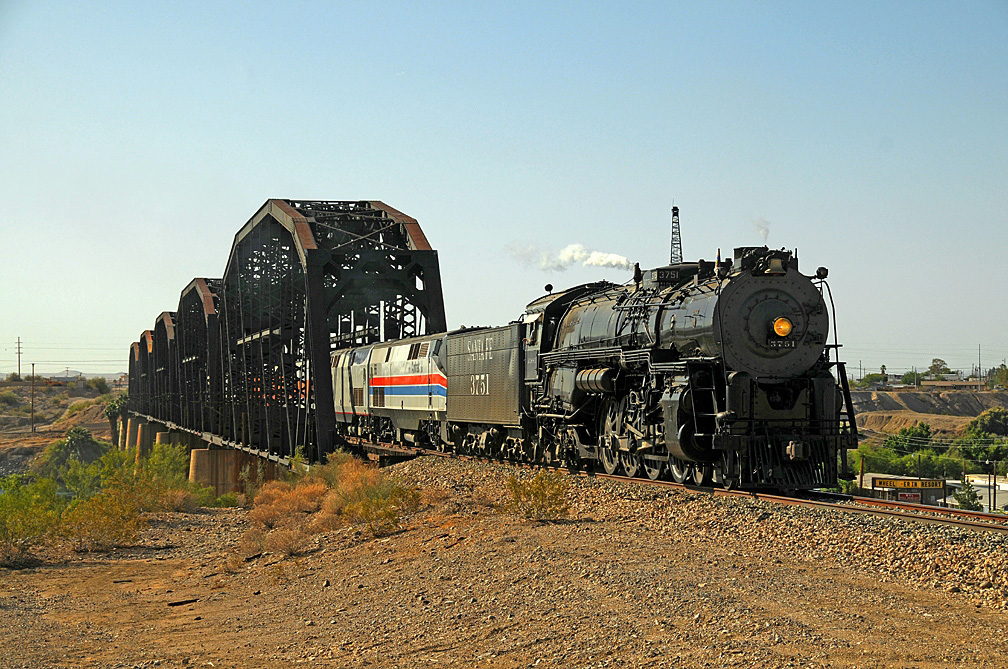 Santa Fe 4-8-4 #3751 is westbound with an Amtrak excursion crossing the Colorado River at Parker, Arizona over the ex-Santa Fe Transcon on May 19, 2012. The train was bound for Earp, California. Drew Jacksich photo.
While these early 4-8-4s featured rather low tractive efforts and boiler pressures compared to other railroads' 4-8-4s, the Santa Fe found them to be perfect, particularly after AT&SF 3751 successfully demonstrated its efficiency to a 4-8-2 Mountain along its main line between La Junta, Colorado and Albuquerque, New Mexico.
There the locomotive, according to Lloyd Stagner, used 19.4% less coal and could handle either 26 heavyweight passenger cars on level track or 15 on a 2% grade.  These types of savings proved the 4-8-4 was the locomotive of choice in passenger service between L.A. and Chicago, particularly through the rugged New Mexico Division.
Between 1938 and 1941 the AT&SF purchased 51 more 4-8-4s from Baldwin, which included Classes 3765, 3776, and 2900 (these names derived from the first road number in the series).
Santa Fe #3751's Whistle
The locomotive has featured a number of whistles over the years; as delivered from Baldwin in 1927 the 4-8-4 featured a Santa Fe 5-chime whistle (likely a LM-191 passenger whistle).  Soon after its 1941 rebuild it was equipped with a shorter LM-192 whistle which featured a higher pitch. 
Finally, in 1995 another change occurred when the LM-192 was replaced with a long bell Santa Fe 6-chime whistle (LM-540, manufactured by Locomotive Finished Material Company [LFM] of Atchison, Kansas), which came from a 2900-series 4-8-4 (manufactured by Baldwin in 1943/1944). 
The locomotive continues to feature this whistle today.  The reason for this change was apparently a move towards authenticity as the AT&SF is said to have utilized the LM-540 on all late era steam designs, post-1931.
They were more powerful than the original Class 3751s with 80-inch drivers, boiler pressures of 300 psi, and nearly 80,000 pounds of tractive effort.
However, the 3751s were upgraded, beginning in 1938, to more closely mirror the power of their later siblings. Also around this time, all early 4-8-4s which did not have roller bearings were equipped with such and other newer technologies, including switching from coal to oil burners.
For more information about the Santa Fe's 4-8-4s please refer to the chart below.   Just as with other late steam locomotive designs, Santa Fe 3751 and its siblings saw a relatively short operating career, and an even shorter stint as premier passenger power.
By the late 1930s with new streamlined EMD EA diesel locomotives arriving the Northerns were reassigned to other passenger trains, mostly operating along the main line between Los Angeles and Kansas City.

Santa Fe's 4-8-4 Northerns
| Class | Road Numbers | Date Built | Builder | Quantity |
| --- | --- | --- | --- | --- |
| 3751 | 3751-3764 | 1927-1929 | Baldwin | 14 |
| 3765 | 3765-3775 | 1938 | Baldwin | 11 |
| 3776 | 3776-3785 | 1941 | Baldwin | 10 |
| 2900 | 2900-2929 | 1943-1944 | Baldwin | 30 |
As the years progressed the 4-8-4s continued to be bumped in favor of diesels, especially after the war was over and restrictions on building them had ended. 
However, Santa Fe 3751 and her siblings remained in service to pull passenger trains until the end, which for the railroad's first 4-8-4 came in August, 1953 when she pulled her final train and was subsequently stored, serviceable at Los Angeles' Redondo Junction Roundhouse.
In 1957 she was officially retired by the Santa Fe and donated to San Bernardino.   Here she remained on static display for nearly 25 years before she was sold by the city to the San Bernardino Railroad Historical Society for $1 in 1985. The group had been formed in 1981 and had its sights set on restoring the locomotive back into operating condition.
---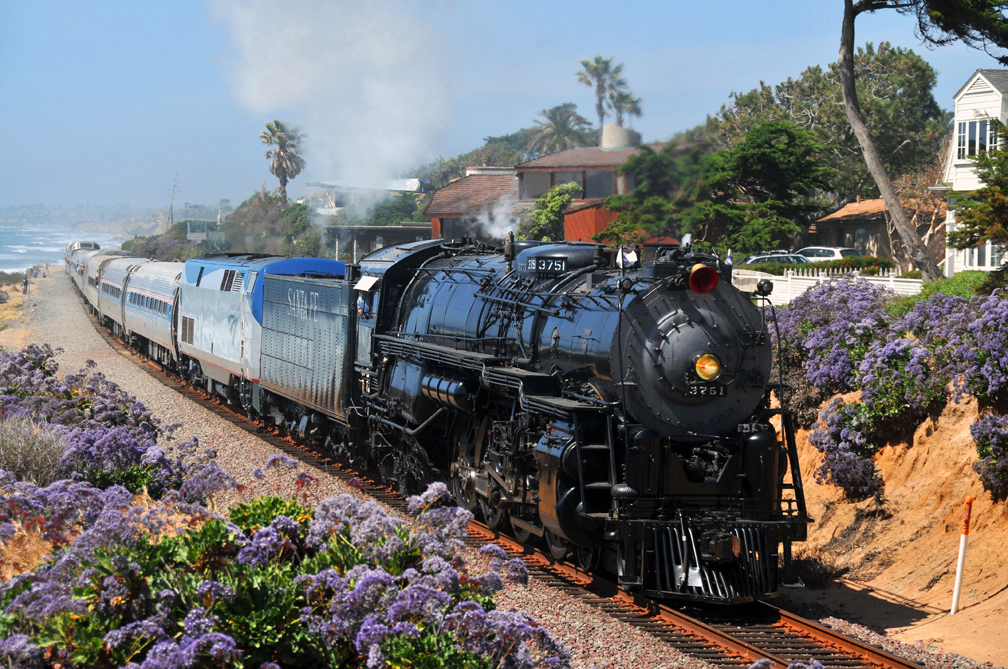 Santa Fe #3751 skirts the coast at Del Mar, California leading an Amtrak special on May 1, 2010. Drew Jacksich photo.
With the help of many volunteers, and even the Santa Fe Railway itself, AT&SF 3751 moved under her own power for the first time in nearly 40 years in 1991.
Likely because Santa Fe 3751 does not do as many excursions and promotional events as other large steam locomotives still operating, like Milwaukee Road 261 or Union Pacific 844, the 4-8-4 is often forgotten as being one of the few still-operating large steamers. 
For more information about the San Bernardino Railroad Historical Society and helping to keep this historic locomotive operating please visit their website by clicking here.