Union Pacific 4-6-6-4 #3985

Last Revised: December 18, 2021
By: Adam Burns
The UP 3985 is a 4-6-6-4 "Challenger"-type steam locomotive and the largest such locomotive still operating anywhere in the country. The Union Pacific Railroad once owned more than one-hundred of these locomotives but today only two remain preserved.
Interestingly, unlike sister steamer #844, #3985 did not always remain on the railroad's roster. It sat, retired for many years in Cheyenne before a volunteer effort by Union Pacific employees brought the locomotive back to life in the early 1980s.
Today, both #844 and #3985 call the Cheyenne roundhouse their home but alas only the former remains active.  
The big Challenger made its last run in 2010 and was officially retired in January, 2020 (retroactive to May, 2019) following 4-8-8-4 #4014's return to service. 
The Big Boy enjoyed an incredibly successful public relations campaign across the UP system in 2019 where more than 1 million spectators saw it thunder across the railroad that year.  Thankfully, #3985 will remain as part of the steam program, stored in the Cheyenne roundhouse.

Union Pacific 4-6-6-4 #3985 double-heads with 4-8-4 #8444 as the pair steams through California on their way to Railfair '81 in April, 1981. Author's collection.
The Challenger-type has its beginnings due to a need by the Union Pacific for a more powerful locomotive that could handle trains more efficiently over the stiff grades of the Wasatch Mountain Range in western Utah.
Working with the American Locomotive Company (Alco) the Union Pacific (with significant help coming from the railroad's chief mechanical engineer of the time, Otto Jabelman) came up with the 4-6-6-4 wheel arrangement that proved to be a great blend of power and speed and worked well for the railroad.
After the initial #3900 proved its worth the UP went on to purchase a total of 105 of the Challenger Type with 252 in all built. 
The Challengers were extremely powerful locomotives. UP 3985 was one of the last batch of 4-6-6-4s the railroad took delivery of from the American Locomotive Company, which built all of the railroad's Challengers.

More Reading...
Union Pacific, "Be Specific - Ship Union Pacific"
Northern (4-8-4) Wheel Arrangement 

Union Pacific 4-8-4 #844 

Union Pacific 4-8-8-4 "Big Boy" #4014 
Big Boys (4-8-8-4) 

Challengers (4-6-6-4)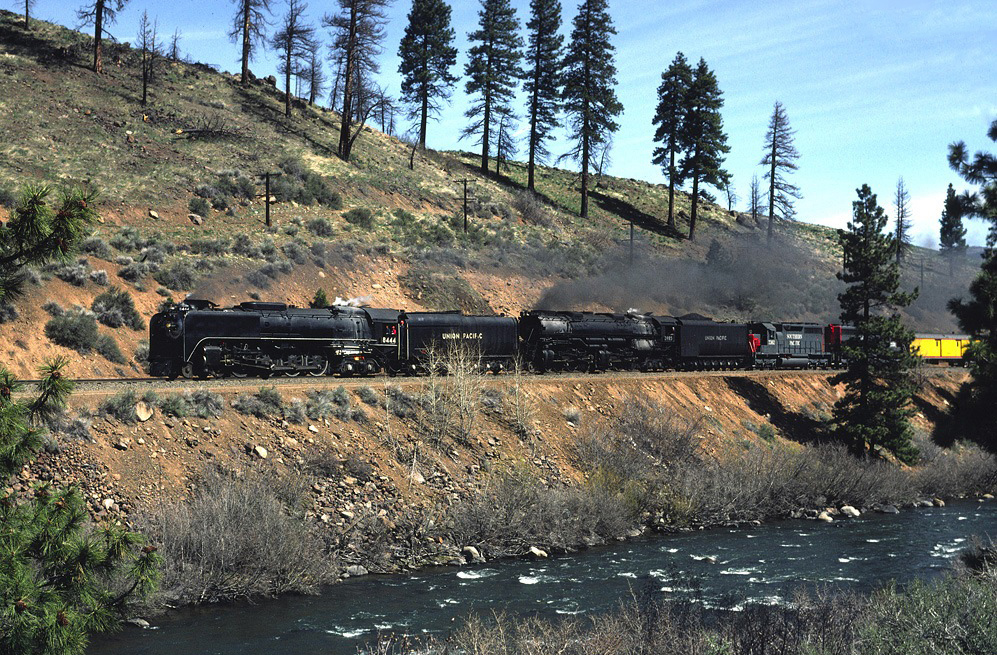 Union Pacific #8444 and #3985 doublehead a special excursion on its way to Railfair '81 at Sacramento, California heading upgrade through the Truckee River Canyon on Donner Pass during April of that year. Drew Jacksich photo.
As such it came equipped with the latest in steam locomotive technology, was heavier than its earlier sisters, and could produce more tractive effort at 97,350 pounds with a top speed of 70 mph. 
Despite their massive length and weight the Challengers could handle expedited freights and regularly cruised over 50 mph in service.
These final models were also more than ten-feet longer than earlier designs at nearly 122 feet!  Union Pacific classed their Challengers oddly; the first forty locomotives were classed CSA-1s and CSA-2s and were built between 1936 and 1937.
---
Union Pacific #3985 Schedule
Ed Dickens, who leads Union Pacific's steam program, announced in January, 2020 that #3985 would be retired.  It requires a complete overhaul and with "Big Boy" #4014 now in operation the Challenger will remain stored throughout the foreseeable future.
---
However, when UP returned for more 4-6-6-4s, beginning with road numbers 3950-3969 (which were delivered in 1942) the railroad assigned them a new class, 4664-3 with the final two classes following numerically; 4664-4 and 4664-5.
Another view of Union Pacific 4-6-6-4 #3985 and 4-8-4 #8444 double-heading to Railfair '81. Author's collection.
Still, this new classification was very simple with the "4664" designation simply stating the locomotive's wheel arrangement. In any event, for more information about UP's Challengers please refer to the chart below.

Union Pacific's Challengers
| Class | Road Numbers | Date Built | Builder | Quantity |
| --- | --- | --- | --- | --- |
| CSA-1 | 3800-3814 (Second Numbering) | 1936 | Alco | 15 |
| CSA-2 | 3815-3839 (Second Numbering) | 1937 | Alco | 19 |
| 4664-3 | 3950-3969 | 1942 | Alco | 20 |
| 4664-4 | 3975-3999 | 1943 | Alco | 25 |
| 4664-5 | 3930-3949 | 1944 | Alco | 20 |
As was the case with many late model main line steam locomotives operating on other railroads, the Union Pacific's Challengers had a short operating life.
The railroad's 4-6-6-4s saw only between 13 and 21 years of use before most were retired from active service in the late 1950s.  UP 3985 was officially retired in 1962 after it had remained in storage at Cheyenne, Wyoming since 1957.
After retirement Union Pacific continued to keep the locomotive at the roundhouse until 1975 when it was placed outdoors beside the Cheyenne depot.
However, it did remain here long. In 1977 UP offered to restore the locomotive with the stipulation that the work must be a volunteer effort.
---
Union Pacific #3985's Whistle
Union Pacific employed Hancock Inspirator Company's whistles on many of its locomotives, including all 4-8-4's, 4-6-6-4's, and 4-8-8-4's.  #3985 was fitted with the Hancock Long-Bell 3-Chime.  To learn more about this whistle please click here.
---
By 1981, with several UP workers helping with the project, one of the largest steam locomotives ever built again was moving under its own power. 
To celebrate UP 3985's restoration the railroad sent the locomotive to Railfair 1981 at the California State Railroad Museum, along with sister #844.
Since the 4-6-6-4 has been used in regular excursion service across the UP system as part of the railroad's heritage collection, which is housed at the Cheyenne roundhouse although the Challenger does not see as much use as sister #844. In 1990 the 4-6-6-4 was converted from a coal-burner to using oil as its primary fuel source. 
---
---
It continued leading excursions and business trains across Union Pacific's system over the following two decades.
By 2010 it was in need of a major overhaul, which never came after an announcement was made in 2012 Union Pacific planned to restore 4-8-8-4 #4014 back to operating condition. 

Ed Dickens, head of the steam program, announced in January, 2020 the Challenger was in need of a complete frame-up restoration itself, an investment the railroad was not willing to make at this time.  As a result, the locomotive will now remain stored inside the Cheyenne roundhouse indefinitely.