4-12-2 "Union Pacific" Locomotives

Last revised: February 3, 2022
By: Adam Burns
Only one railroad, the Union Pacific, put the 4-12-2 wheel arrangement into service and because of this the design was named after it. 
Curiously, despite its troubles with the 4-10-2 Southern Pacific/Overland it had purchased from the American Locomotive Company (Alco) a year earlier which utilized three cylinders UP still chose to purchase a design that featured the same setup. 
The railroad was after a more powerful locomotive, which could be used in main line freight service at higher speeds and apparently was willing to deal with the maintenance headache of three-cylinder steam.  

During the late 1920s UP went on to roster nearly 100 examples of this interesting wheel arrangement and overall the railroad turned out to be relatively pleased with its operational service. 
The 4-12-2s remained in use for nearly 30 years until they were finally retired in the 1950s.  Today, one example is preserved.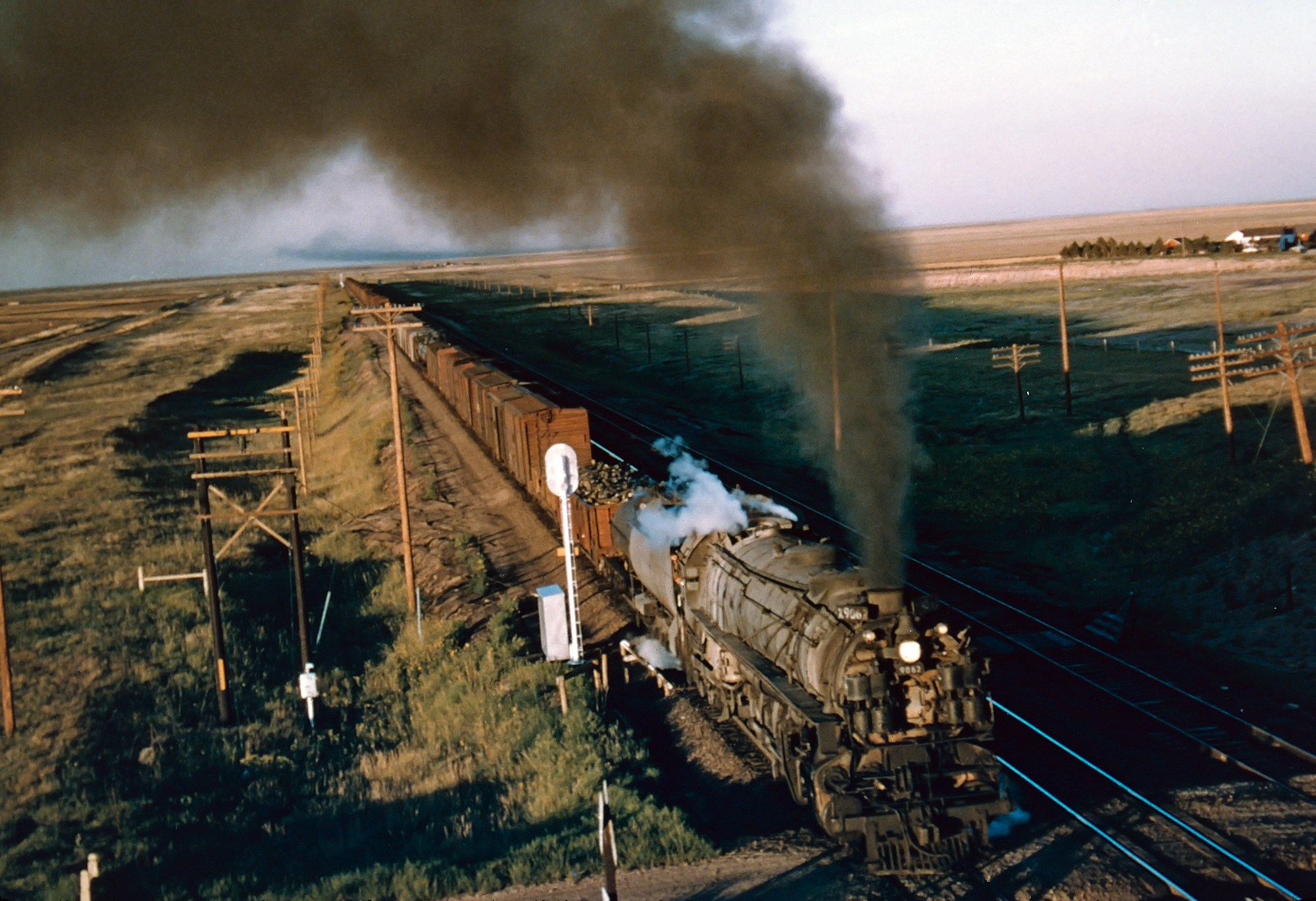 Union Pacific 4-12-2 #9062 hustles Extra 9062 westbound over Archer Hill (Wyoming) on the evening of August 31, 1955. J.E. Shaw photo. American-Rails.com collection.
A Brief History Of The 4-12-2
The idea behind the 4-12-2 wheel arrangement began in May of 1925 when Union Pacific took delivery of its first 4-10-2, #8000.  The locomotive was built by Alco, who was attempting to perfect three-cylinder steam technology believing it would offer more power. 
Early tests with the unit proved to be somewhat successful for UP as the railroad noticed it could pull more tonnage while using less fuel. 
Listed as Class FTT-1 the 4-10-2s were numbered 8000, 8800-8808 and were primarily used on the LA&SL (Los Angeles & Salt Lake) Division main line between Salt Lake City and California. 
The railroad and its maintenance department came to loath the third cylinder, however, and eventually removed one for a more conventional two-cylinder setup.  Overall, though, the 4-10-2s did prove to be reliable and powerful able to pull long, heavy freight trains.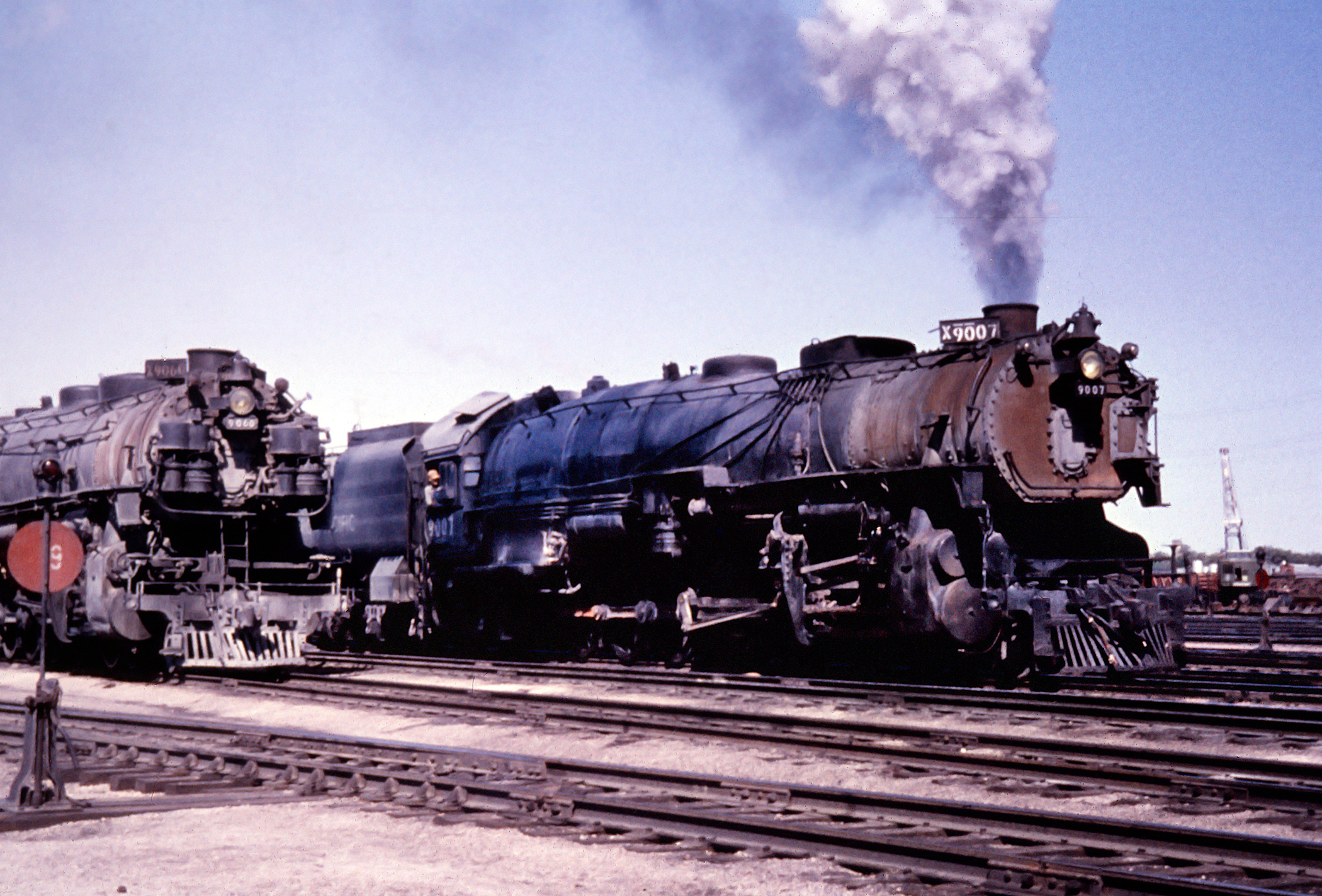 Union Pacific 4-12-2's #9007 is at work in Cheyenne, Wyoming while sister #9060 can be seen resting at left in the fall of 1955. A.C. Kalmbach photo. American-Rails.com collection.
As it turns out their one downside was not being powerful enough.  Looking for more, and a locomotive which could operate at higher speeds than the 20 mph offered by the 4-10-2s, Union Pacific went back to Alco. 
What the manufacturer conceived was the 4-12-2 that featured the longest wheelbase of a conventional steam locomotive ever operated in the United States at 102 feet and 7 inches. 
The first example put into service was #9000 and given its own subclass as UP-1.  Tests with the new Union Pacific design proved it was quite capable as a freight hauler, able to zip 120-car trains at 50-60 mph across the prairies of Nebraska and eastern Wyoming (despite only being rated to pull trains at around 35 mph). 
UP was especially impressed with the locomotive and later that year took delivery of its Class UP-2 examples (which were very similar mechanically to #9000), numbered 9001-9014.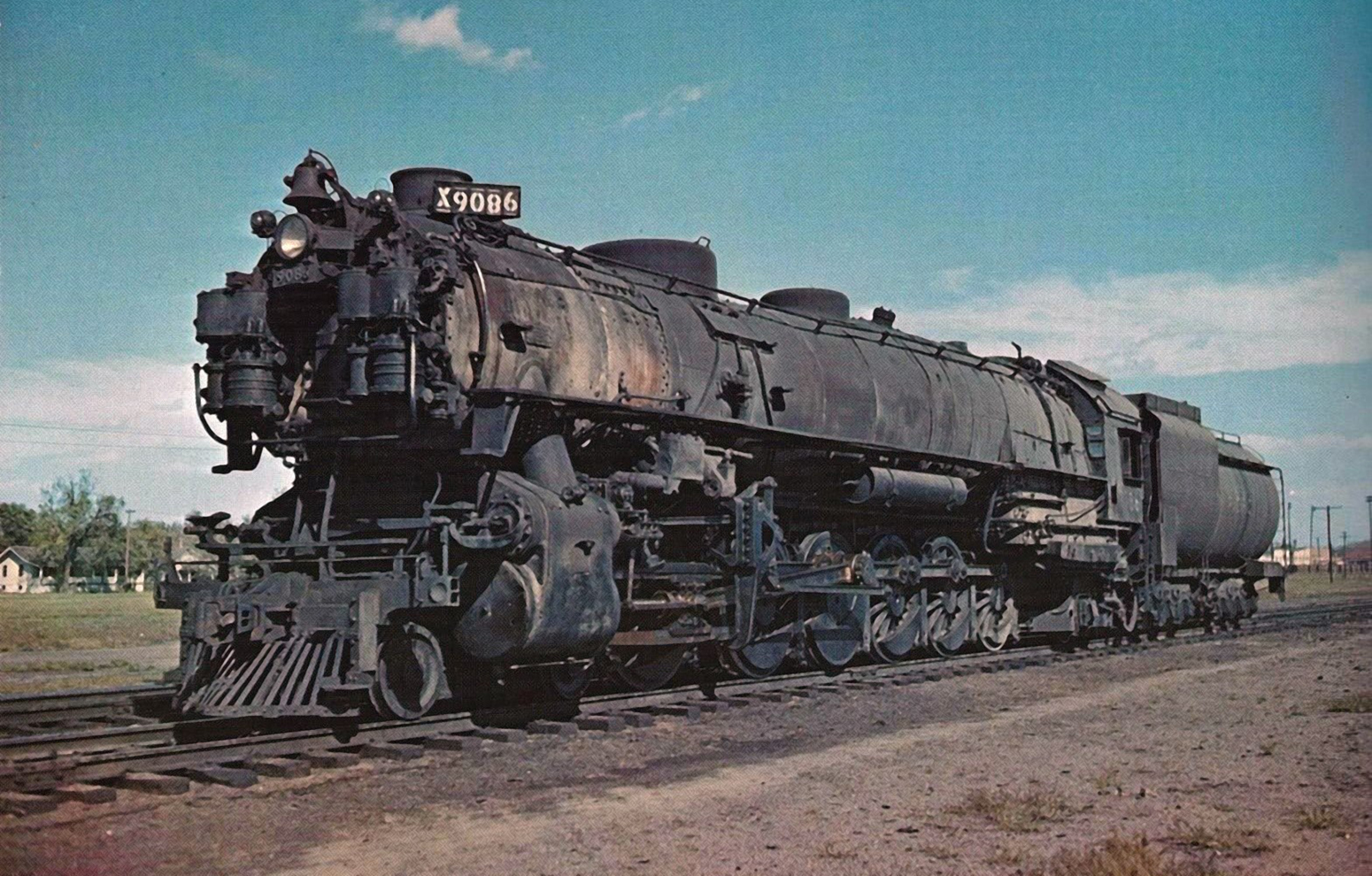 Union Pacific 4-12-2 #9086 (UP-5), a 1930 product of Alco. Designed for high-speed freight service they were operated by only UP or its subsidiaries (88 in all) and utilized three cylinders with the third located in the center of the steam chest. American-Rails.com collection.
In general, all Class UP 4-12-2s were similar in their overall design and mechanics.  The one exception began with Class UP-3, which included roller bearings, an ingenious design to late-era steam locomotives which greatly reduced wear and tear on the running gear. 
By the 1940s all of the Union Pacifics would feature this technological advancement.  From an operational standpoint the 4-12-2s utilized Walschaert valve gear (initially, the first examples used Gresley valve gear), 67-inch drivers, tractive efforts exceeding 96,000 pounds, and were designed to burn coal. 
Somewhat curiously, for all of the trouble UP had with its 4-10-2 Overlands in attempting to maintain the complicated three-cylinder setup the railroad seemed more willing to deal with the issue in its 4-12-2s, perhaps because they did run quite well while in service.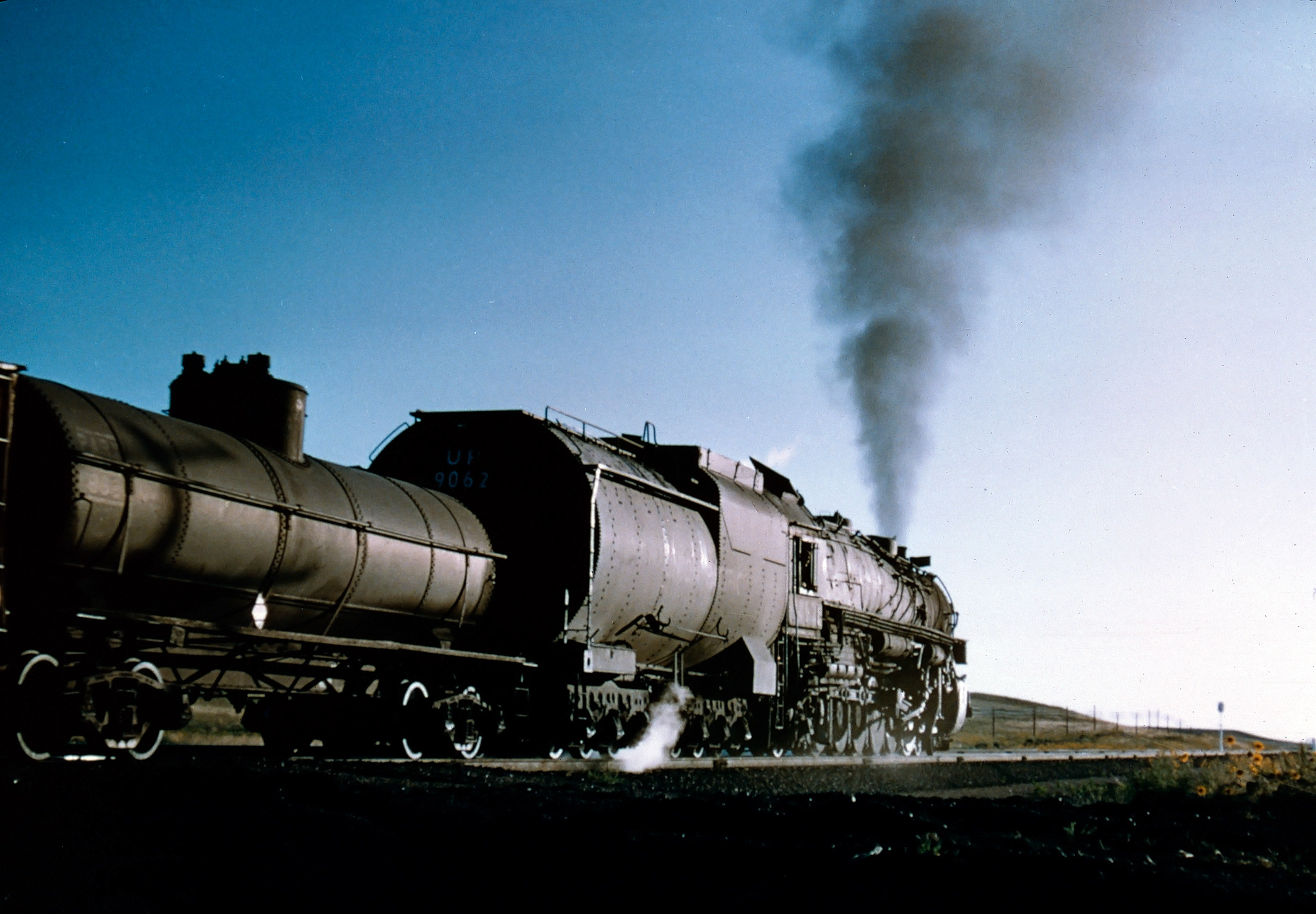 Union Pacific 4-12-2 #9062 leads a westbound over Archer Hill (Wyoming) on the evening of September 1, 1955. John Shaw photo. American-Rails.com collection.
By 1930 the railroad rostered 88 examples of the 4-12-2 among five different classes (Class UP-1 through UP-5) that were eventually numbered 9000-9087 in UP's roster. 
While most of the big freight haulers were relegated to the prairies two classes were used in the Pacific Northwest; Class UP-3 (#9700-9707) was assigned to subsidiary Oregon–Washington Railroad & Navigation Company (Oregon, Idaho, and Washington) and Class UP-5 (#9500-9514)  operated on the Oregon Short Line (Utah, Idaho, Wyoming, and Oregon). 
Perhaps due to the complication of the third-cylinder or the fact that the experimental Baldwin 4-10-2 #60000, a compound-expansion locomotive, proved a failure no other railroads found interest in the 4-12-2 Union Pacific.

---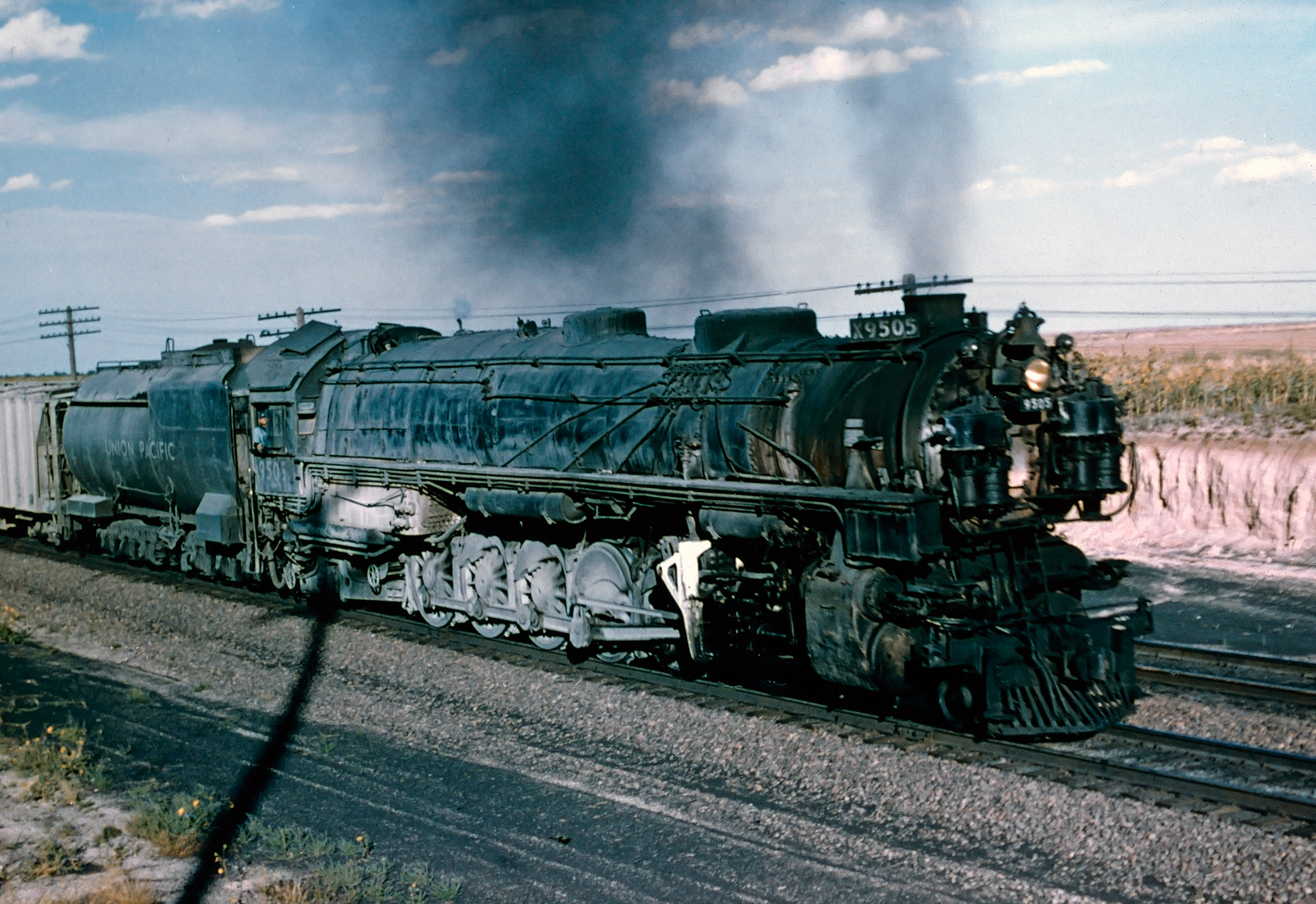 Union Pacific 4-12-2 #9505 negotiates Wyoming's Archer Hill with Extra 9505 on September 1, 1955. John Shaw photo. American-Rails.com collection.
Of course, to operate a steamer with a such a long wheelbase required long stretches of tangent, main line something not in great abundance for many eastern lines (which also likely led to none purchasing either the 4-10-2 or 4-12-2). 
In any event, despite the design's problems Union Pacific remained happy with their fleet of 88 units for nearly 30 years. 
Finally, diesels began replacing the steamers starting in 1953 and all were retired or scrapped by 1956.  Thankfully, UP's first example, #9000, was preserved and today sits on display at the Los Angeles County Fairplex in Pomona, California.