4-4-2 "Atlantic" Locomotives

Last revised: May 11, 2023
By: Adam Burns

In many ways the 4-4-2 Atlantic signaled the beginning of the "modern" era of steam locomotive design and development. While some new technologies would come later (such as super-heaters and piston valves) the Atlantic pioneered the successful application of the trailing truck in standard main line service.

The Atlantic was built expressively for one purpose, speed, and became an excellent locomotive for carrying many railroads' plush passenger trains.
With their very large driving wheels many Atlantics could reach speeds between 80-100 mph and sustain such speeds for long intervals during their journey. 
While the locomotive gained its now-common name early during its development a handful of railroads or builders chose to give the 4-4-2 their own description. 
The most famous, of course, were the batch of Class A's (pictured below) manufactured by American Locomotive for Milwaukee Road's original "Hiawatha" streamliners.  They were as fast as they looked and are still fondly remembered today.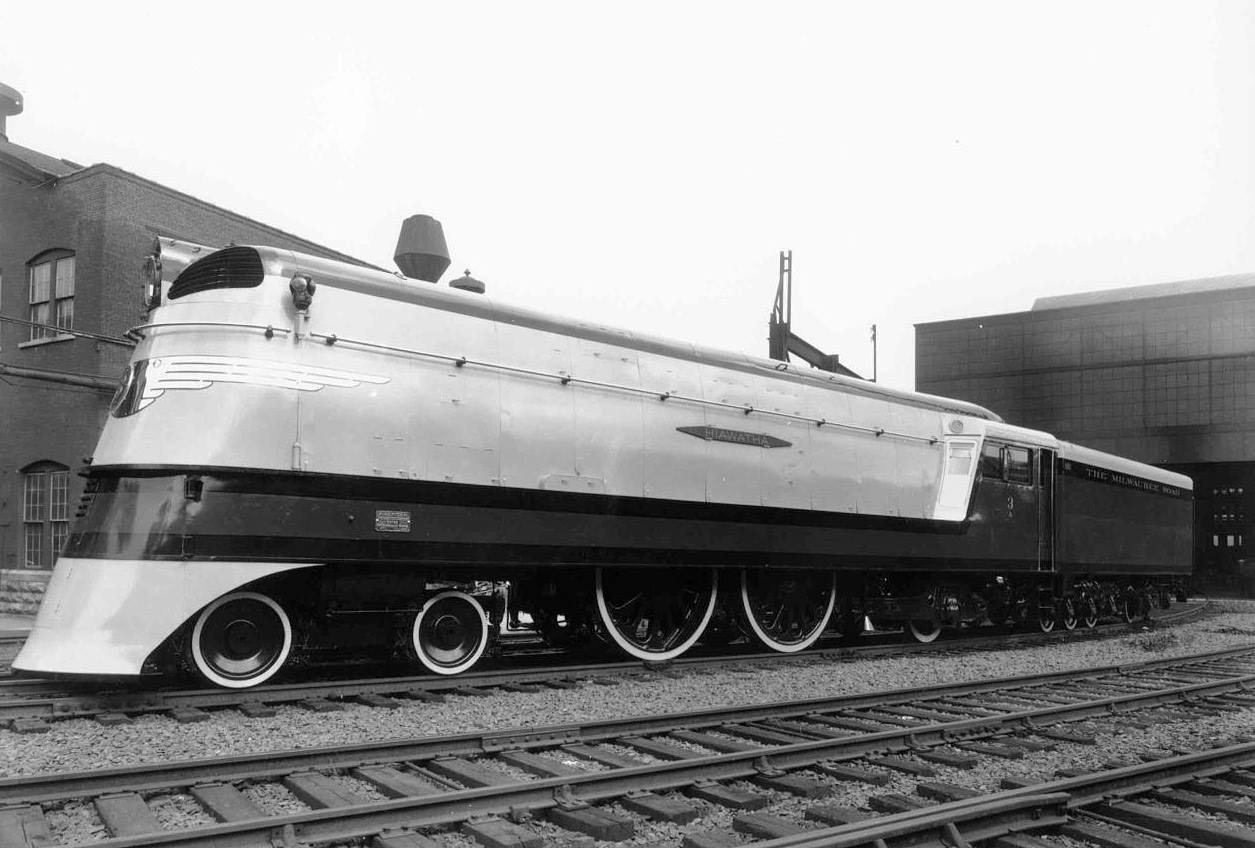 An American Locomotive builder's photo featuring Milwaukee Road 4-4-2 #3 (Class A) during May, 1936 (one of four built). According to Jim Scribbins' book, "The Hiawatha Story," she was capable of cruising along at speeds between 100-120 mph.
The Atlantic Type was originally designed in the last decade of the 19th century as railroads looked to increase speeds on their most prominent passenger trains.
Basically a 4-4-0 American Type design with an added trailing truck, the new feature on the Atlantic allowed for a larger firebox to be used, normally situated behind the driving wheels on standard designs that allowed for greater horsepower and higher speeds.
The first example of a 4-4-2 was tested on the New York, Providence & Boston Railroad (later part of the New Haven) in 1887 when the company experimented with an additional axle added to the rear of a 4-4-0.
The original purpose of this application by the NYP&B was simply to more evenly distribute the locomotive's weight over an additional axle, not to support a larger firebox.
A year later in 1888 the Hinkley Locomotive Works built its own custom 4-4-2, a center-cab design with a double-firebox. This proved unsuccessful and was soon scrapped.
The wheel arrangement truly came of age a few years later when the Atlantic Coast Line was hoping to improve upon the ubiquitous 4-4-0 with a larger firebox for increased steam and power.
After approaching Baldwin about the concept the manufacturer produced the now-common 4-4-2 design in 1894 and named the new locomotive after the ACL, coining it as the Atlantic Type.
The new 4-4-2 proved to be just what railroads were looking for and by the time production ended over 1,900 units had been built.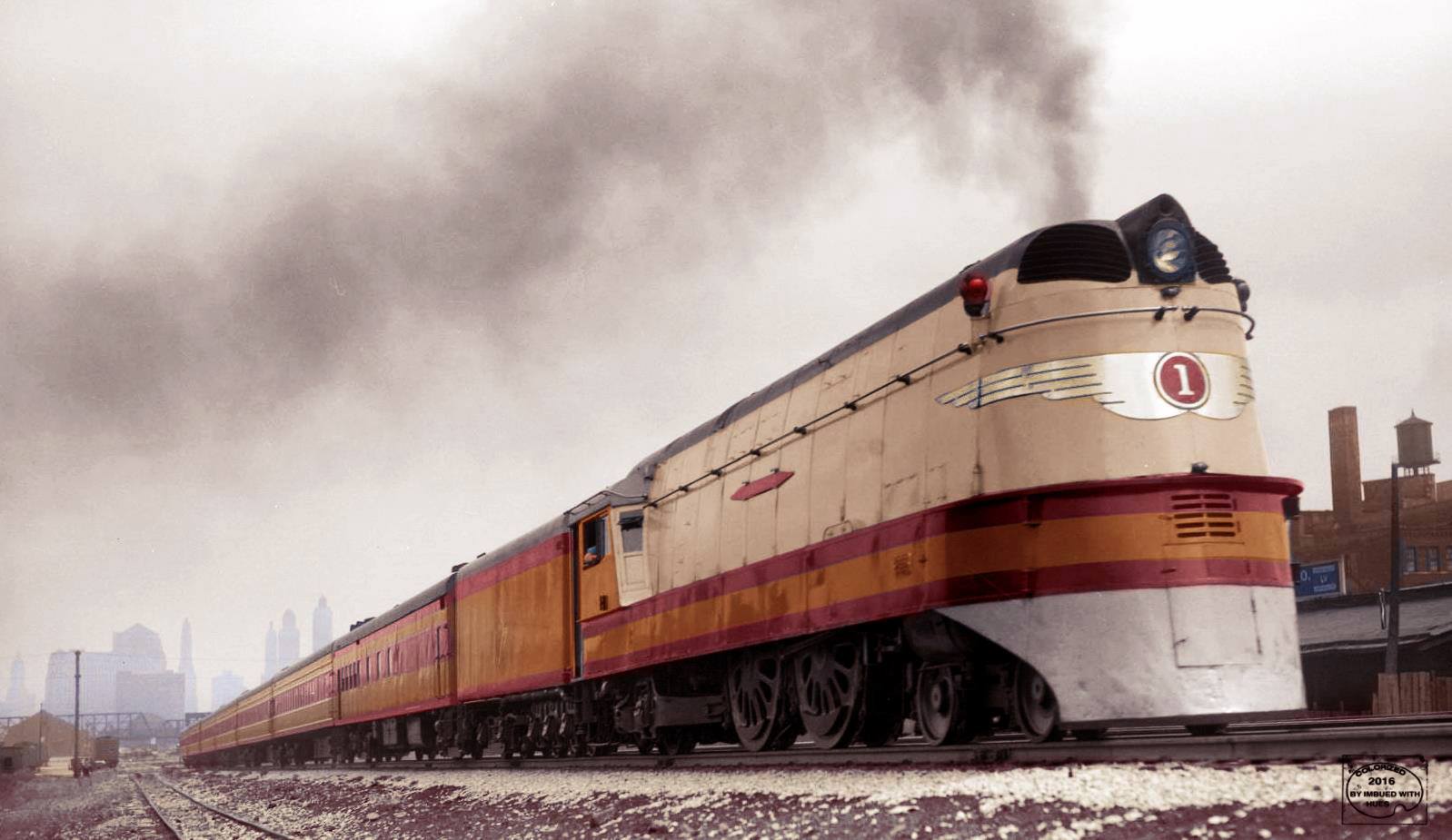 Milwaukee Road 4-4-2 (A) #1 steams out of Chicago with the westbound "Afternoon Hiawatha," train #101, on August 12, 1939. Otto Perry photo, colorized by Patty Allison.
While most railroads that came to operate 4-4-2s stuck with the Atlantic name (more than 50 altogether, excluding subsidiaries) some chose to give the design its own unique designation.
For instance, the Milwaukee Road's famous Class As were known simply as "Milwaukees" while the Brooks Locomotive Company decided to call theirs Chautauquas.
In the 20th century many Atlantics would receive upgrades such as superheaters and piston valves with the very last models built perhaps the most famous. Manufactured by the American Locomotive Company (Alco) for the Milwaukee Road in 1935 these new Atlantics were very likely the most technologically advanced and fastest of their kind to roam the rails.
Bedecked in customized streamlining courtesy of Otto Kuhler and the Milwaukee Road's own shop forces they were beautiful locomotives clad in a striking two-tone orange and cream livery.
Capable of speeds eclipsing 100 mph they were used on the Milwaukee only for a few years until replaced for the more powerful Hudson type, a 4-6-4 design.
This increase in power is essentially what brought all Atlantic Types into retirement or being bumped from main line status. While the Milwaukee Road's designs are often the most famous for their incredibly high speeds it was actually the Santa Fe that rostered the most, 178.
Additionally, by the time CMStP&P built its "Milwaukees" between 1935 and 1937 the 4-4-2 design had predominantly been replaced by more powerful wheel arrangements.
While very fast Atlantics did not have the horsepower or tractive effort of newer designs like Hudsons and Pacifics (4-6-2s) and with the advent of all-steel car construction after 1910, railroads began replacing 4-4-2s with these more advanced wheel arrangements to handle the longer, heavier trains (the Milwaukee's designs only powered short and lightweight trainsets).
Today, a number of Atlantic types have been preserved from coast to coast including two (ex-Pennsylvania) on display at the Railroad Museum of Pennsylvania, one (ex-Chicago & North Western) at the Museum of Transportation in St. Louis, and another (ex-Southern Pacific) at the Travel Town Museum in Los Angeles. 
---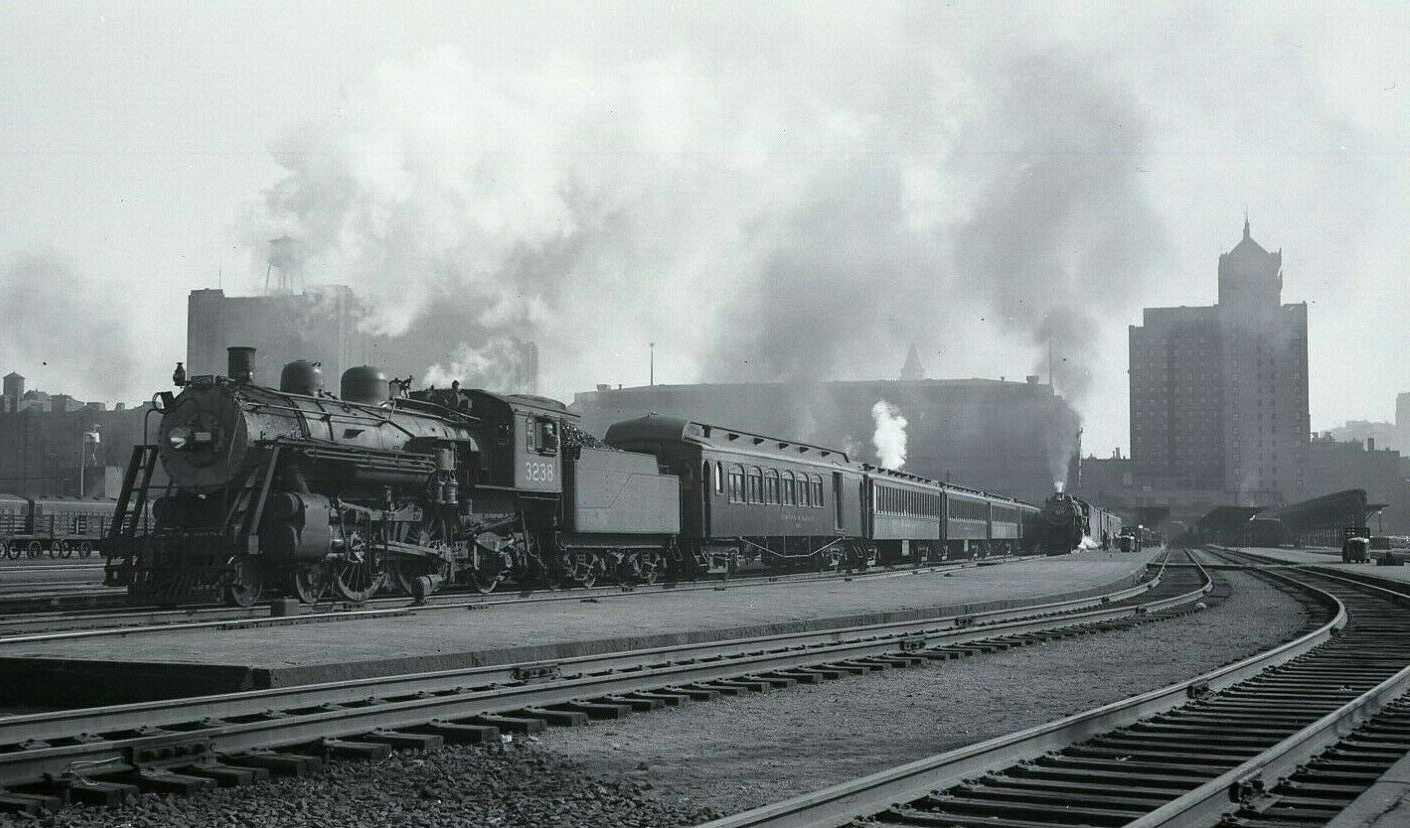 Working suburban service, Boston & Maine 4-4-2 #3238 (J-1) departs Boston's North Station. These Atlantic's were manufactured by several of American Locomotive's subsidiary works in 1902 and heavily modified over the years.
Currently, there are three 4-4-2s known to be in operation although all of these are custom-built designs used for entertainment, not originals.  
These locomotives include 15-inch gauge #400 Buckley Old Engine Show in Buckley, Michigan; 16-inch gauge "Whiskey River Railway" #12 operating at the Little A-Merrick-A Amusement Park in Marshall, Wisconsin; and finally the Milwaukee County Zoo #1916 named the "Harry J. Grant" in service at its namesake attraction.  
Finally, Pennsylvania Class E6s #460 is reportedly under restoration at the Railroad Museum of Pennsylvania in Strasburg but the extent of this project is unknown.