4-8-2 "Mountain" Locomotives

Last revised: June 23, 2023
By: Adam Burns

The Mountain was one of the more aesthetically pleasing designs ever built with a long, graceful boiler, two-axle front truck and eight primary drivers. The locomotive, a 4-8-2 design, was in many ways the predecessor to the highly successful and powerful Northern.

It can be argued that had engineers spent more time on the development of the Mountain it may have never even been built given the added power and speed offered in the 4-8-4, which first hit the rails in the mid-1920s.
The new 4-8-2 debuted on the Chesapeake & Ohio to replace its 4-6-2 Pacifics, which simply could no longer effectively handle the increased weight of passenger trains, particularly over steep grades. 

While the Mountain was initially designed for passenger service it also later saw use on fast freights as well. After the C&O's successful introduction of the 4-8-2 more than three-dozen other lines went on to use the design. Today, a handful are preserved but only one, in Canada, is currently operational.

Photos
Union Pacific 4-8-2 #7012 (MT-1) leads a mail/express train out of Cheyenne, Wyoming on August 20, 1950. American-Rails.com collection.
History
During the first decade of the 20th century the Chesapeake & Ohio began realizing its fleet of 4-6-2s was struggling to move passenger consists over the road's main line through the Alleghenies, without assistance.
This was somewhat surprising considering the company had only first put its Pacifics into service in 1902. Still, with the stiff grades, heavier equipment, and increased demand from the traveling public the locomotives could simply not keep up and more powerful designs were needed.
So, the railroad went back to the American Locomotive Company (Alco) in 1910, which had constructed its first batch of 4-6-2s, and requested something much larger than before to handle these heavier trains.
Initial Examples (1911)
After a lengthy study Alco determined that a 4-8-2 design, with eight main drivers and a two-axle front bogey would not only be sufficiently powerful but also operate at higher speeds with improved riding quality.
Upon these recommendations the C&O went ahead and purchased two, which arrived on the property in June of 1911 listed as Class J-1, #316-317.
The railroad was immediately impressed with these much more powerful locomotives that could not only produce almost twice the tractive effort of the Pacifics but also had the ability to operate at higher speeds.
The C&O decided to name the design as "Mountains" since they would be operating through its Allegheny Mountain territory. The company went on to purchase one more 4-8-2 in Class J-1 and seven additional examples listed as Class J-2 in 1918, which were somewhat larger and more powerful.
Rio Grande 4-8-2 #1527 (M-67) is seen here in helper service at Leyden, Colorado in 1955. Robert A. LeMassena photo. American-Rails.com collection.
The C&O came to realize, as did a number of other roads, that the 4-8-2 design was not only competent in passenger service but also due to its speed and power could be utilized in fast freight operations as well.
Of the many lines that used the Mountain type it was the New York Central that made them famous. After seeing the initial success of the 4-8-2 on the C&O and a few other railroads the NYC purchased a single example for test trials in 1916 from Alco.
The locomotive could produce tractive efforts in excess of 54,000 pounds and sustain speeds faster than their current Pacifics, just as had been the case on the C&O. The railroad was quite pleased with the design and quickly began placing orders on 4-8-2s.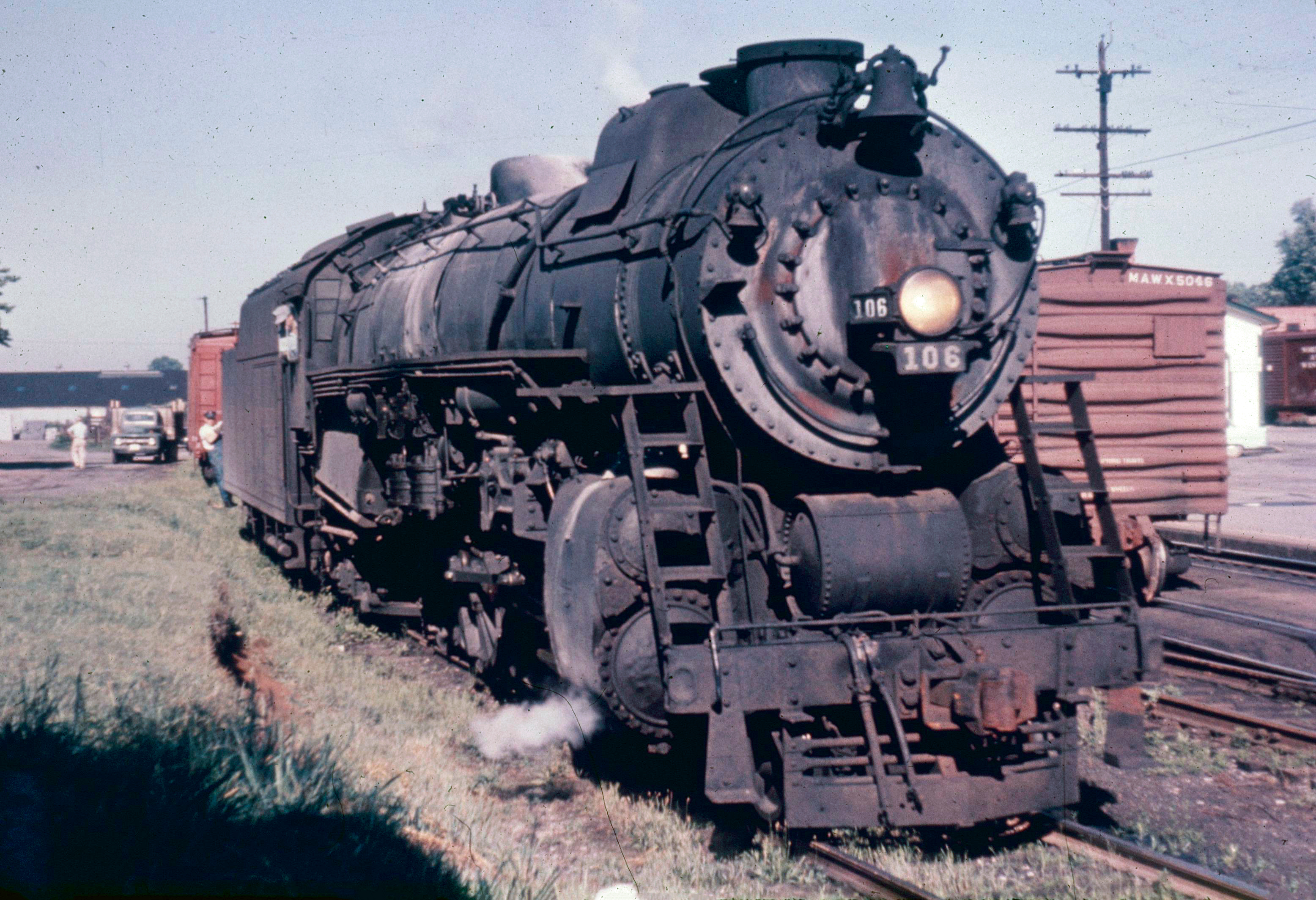 Norfolk & Western 4-8-2 #106 carries out switching work near the depot at Abingdon, Virginia during the 1950's. Photographer unknown. Author's collection.
New York Central
For the New York Central, however, it had saw the term "Mountain" rather useless since much of its railroad lay outside of any serious mountainous territory.
Because of this the company went a different route and decided to name their 4-8-2s as "Mohawks" after the Native American people who once inhabited eastern New York state and were a part of the Iroquois nation.
By far more than any other railroad the NYC went on to roster the most 4-8-2s; its Class L-1a units were built between 1916 and 1918, and totaled 185 alone (#2500-2684).
Following this the railroad continued to purchase Mohawks through 1943 built primarily between Alco and Lima. By the time its roster was complete the NYC owned a stunning 600 examples broken down into Class L-1a, Class L-2a/b/c/d, Class L-3a, and Class L-4b.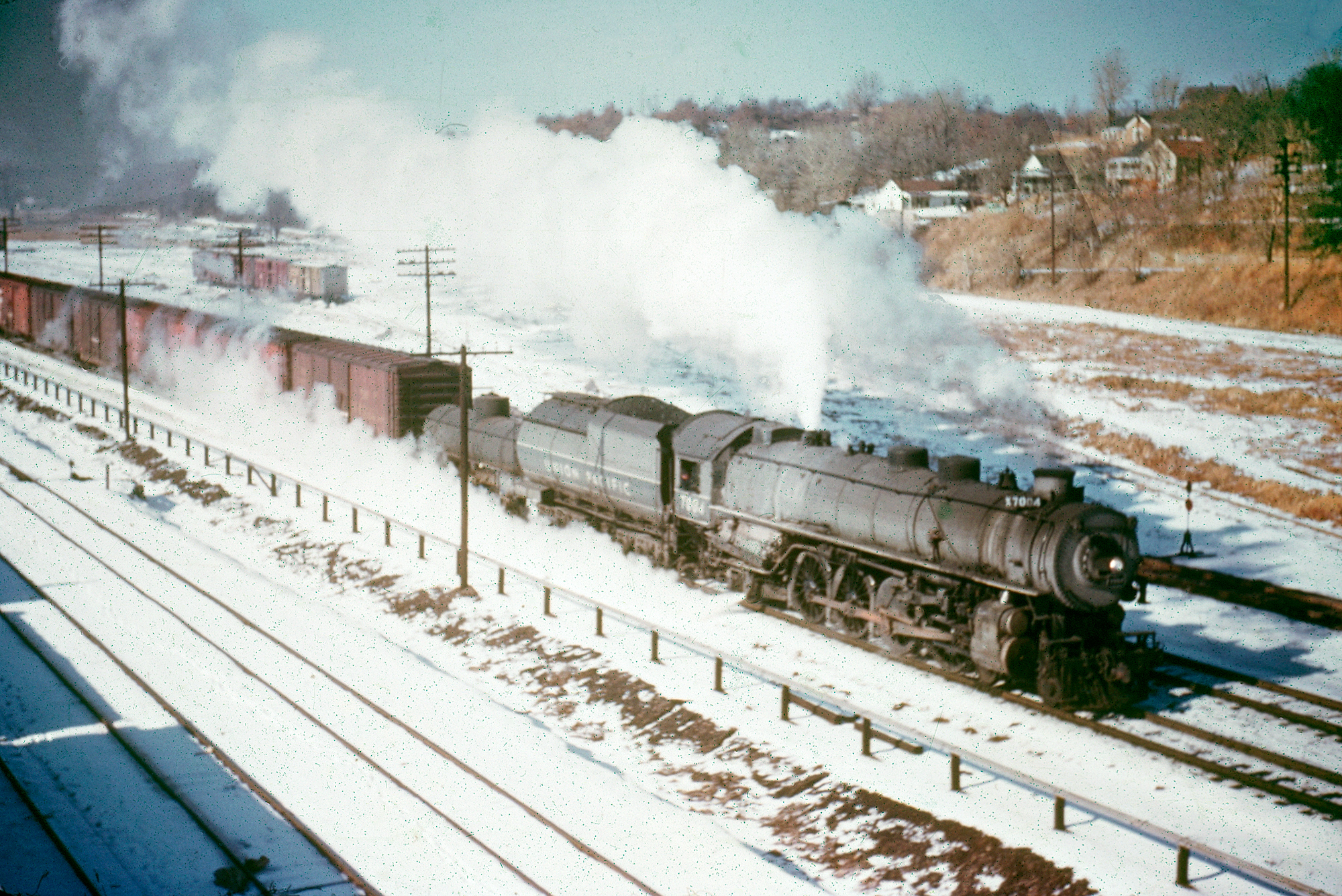 Union Pacific 4-8-2 #7004 (MT-1) steams eastbound and is about to pass beneath the 18th Street Viaduct at Armstrong Yard in Kansas City during the late 1940's. Author's collection.
Its final units were somewhat more powerful than the earlier models although in general the NYC utilized them in a wide range of expedited services, from pulling passenger trains to hustling timed-freights.
However, occasionally the railroad also relegated them to the inglorious duty of drag service, where they also excelled.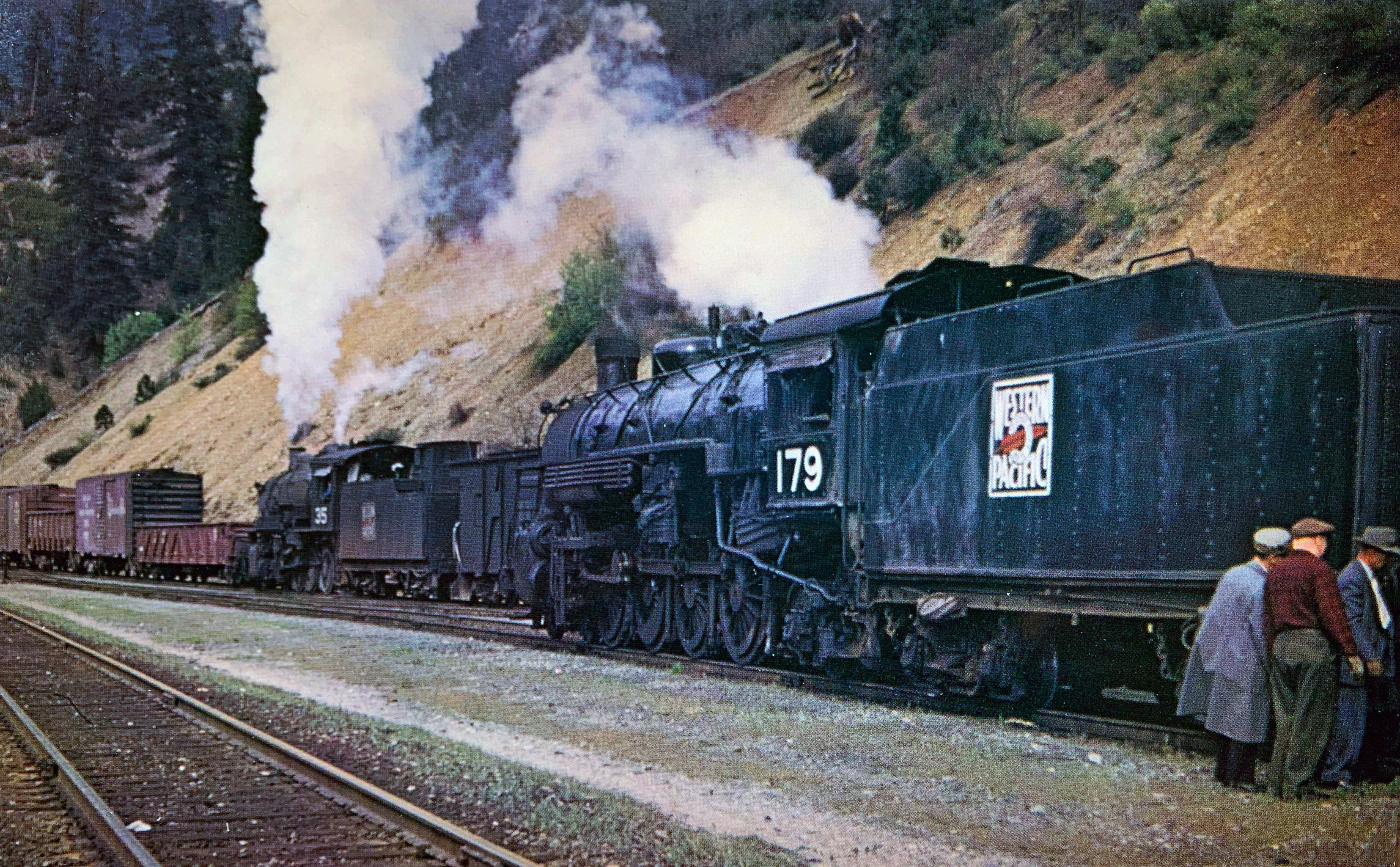 It's May 6, 1951 as Western Pacific's last 4-8-2 in service, #179, readies to leave the yard in Keddie, California for the last time before retirement. The locomotive is about to take its 6-car excursion train (Oakland-Portland) west to Oroville. In the background 2-8-0 #35 (Class C-43) carries out switching work. Guy Dunscomb photo. Author's collection.
Overall, in the history of steam locomotive designs the Mohawks certainly rank as another legendary class which were extremely reliable and efficient, excelling at virtually any tasked asked of them. Sadly, however, for the hundreds the NYC owned only two of these magnificent machines remain preserved today.

---
Canadian National 4-8-2 #6070 has eastbound train #102 at Merritton, Ontario on its way to Niagara Falls during the 1950's. Paul Meyer photo. Author's collection.
Preservation
Currently, there are nineteen examples of these beautiful locomotives surviving in some shape or form. 
Aside from the New York Central units they include; six from the St. Louis-San Francisco Railway (the Frisco), two from the Illinois Central, and one each from the Pennsylvania, Great Northern, Grand Trunk Western, and Spokane Portland & Seattle.
Additionally, there are five survivors of Canadian National heritage, one of which is still operational Class U-1-f #6060 built by the Montreal Locomotive Works in 1944.  The Mountain is owned by the Rocky Mountain Rail Society based in Calgary, Alberta.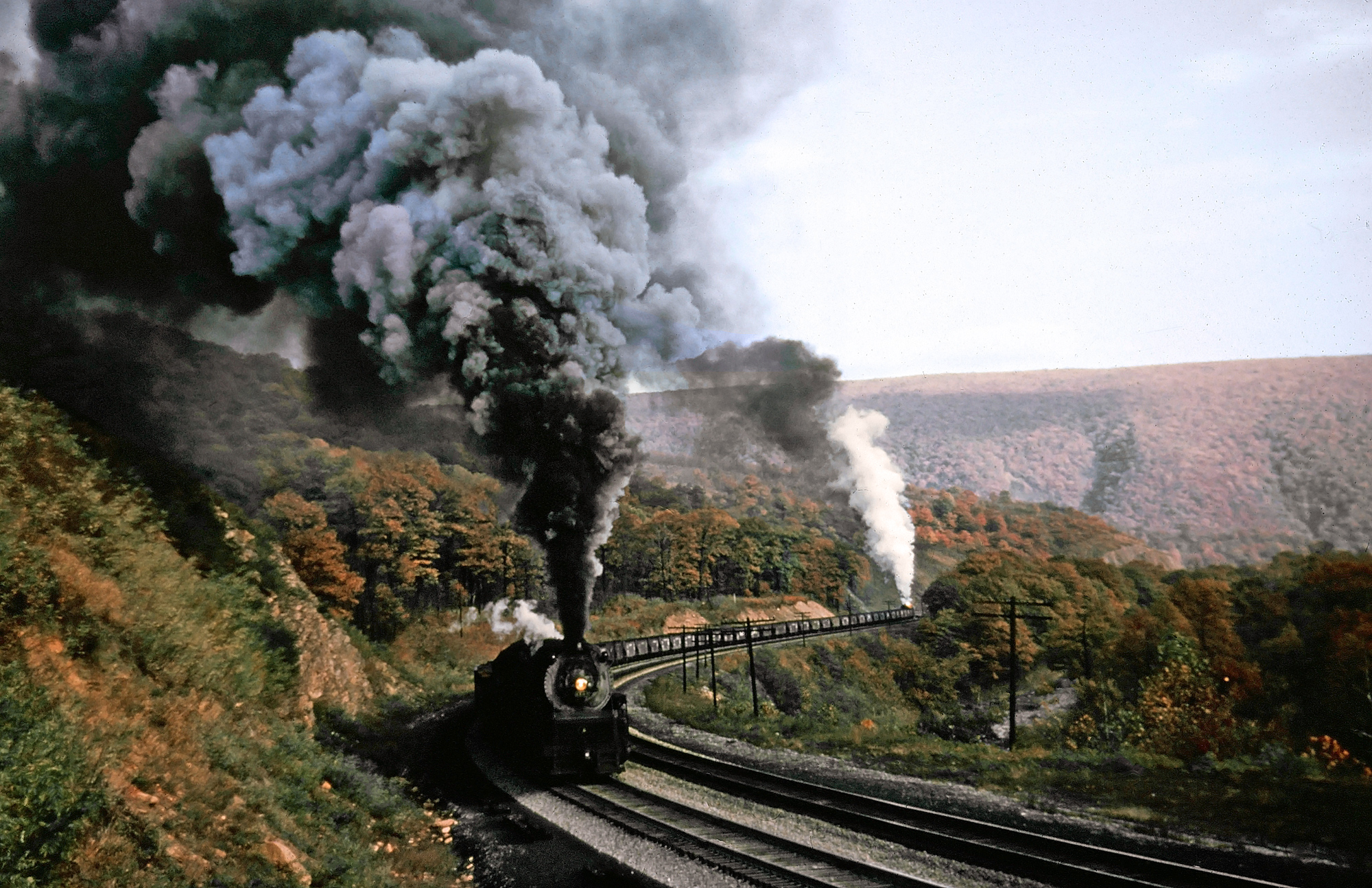 A Baltimore & Ohio 4-8-2 (Class T-3b), with assistance, leads a string of coal hoppers westbound over Sand Patch, circa 1955. American-Rails.com collection.
Sources
Dixon, Thomas W. Norfolk & Western Steam:  The Last 30 Years.  Forest:  TLC Publishing, 2013.
Edson, William D. Steam Locomotives Of The Baltimore & Ohio: An All-Time Roster.  Potomac: William D. Edson, 1992.
Grenard, Ross and Krause, John. Steam In The Alleghenies. Carstens Publications.
Mainey, David. Baltimore & Ohio Steam In Color. Scotch Plains: Morning Sun Books, 2001.
Simpson, Walter. Steam Locomotive Energy Story, The.  New York: American University Presses, 2021.
Solomon, Brian. Classic Locomotives, Steam And Diesel Power in 700 Photographs. Minneapolis:  Voyageur Press, 2013.
Solomon, Brian.  Majesty Of Big Steam, The.  Minneapolis:  Quarto Publishing Group, 2015.