4-8-4 "Northern"

Last revised: September 20, 2023
By: Adam Burns

Purely on looks the Northern was one of the most aesthetically beautiful steam locomotive designs ever developed.

While some of these handsome locomotives would receive streamlining even without such enhancements they were still a fine looking piece of machinery with a "streamlined" tender, long sweeping boiler, symmetrical wheel arrangement, and centered headlight.
The 4-8-4 gained its name from the Northern Pacific where the locomotive was first operated in the 1920s. However, of all the popular steam designs ever put into service the 4-8-4 was the most widely renamed, from "Greenbriers" on the Chesapeake & Ohio to "Westerns" on the Denver & Rio Grande Western. 
Overview
In many ways the 4-8-4 was the pinnacle of steam power power and technology, which utilized only a single set of drivers. Before the diesel era caught on in the late 1930s, three-dozen of largest railroads in America put the locomotive into service in both passenger and freight operations. Surprisingly, despite their size, more than a half-dozen Northerns remain in operation today and several others are preserved.

Union Pacific 4-8-4 #838, featuring classic elephant-ear smoke deflectors, appears to be slowly backing towards the water plug in Council Bluffs, Iowa on September 21, 1958. By the date of this photo the locomotive was finishing up its last days in freight service before retirement. Bernard Corbin photo. American-Rails.com collection.
History
The decade of the 1920s (the "Roarin' '20s") saw the railroad industry experiencing unbelievable demand among the traveling public. Additionally, all-steel, heavyweight cars were replacing common and lighter wooden-built equipment.
These two factors put together meant that standard designs of the day were struggling to keep up, notably the ubiquitous 4-6-2 Pacific and to some extent the 4-8-2 Mountain.
Realizing this, the Northern Pacific approached the American Locomotive Company (Alco) about developing an even more powerful wheel arrangement to cope with the growing surge. After a lengthy study Alco recommended what was essentially a modified Mountain with a larger firebox for increased steam pressure and power.
Rio Grande 4-8-4 #1803 with the "Scenic Limited" at Wolhurst, Colorado in 1950. Robert LeMassena photo. American-Rails.com collection.
This firebox would feature a 115 square foot grate area and to accommodate this the locomotive would be fitted with two rear axles instead of only one. In December of 1926 the NP took delivery of 12 of these beauties, listed as Class A and given road numbers 2600-2611.
Compared to the railroad's Class Q Pacifics (it owned no Mountains) the 4-8-4s were at least 50 tons heavier, had boiler pressures nearly 50 psi higher, tractive efforts that were roughly 40% more, and could cruise at higher speeds while pulling heavier loads.
Since the locomotive was first tested and used on the NP it was named the "Northern Pacific" but later shortened as just "Northern."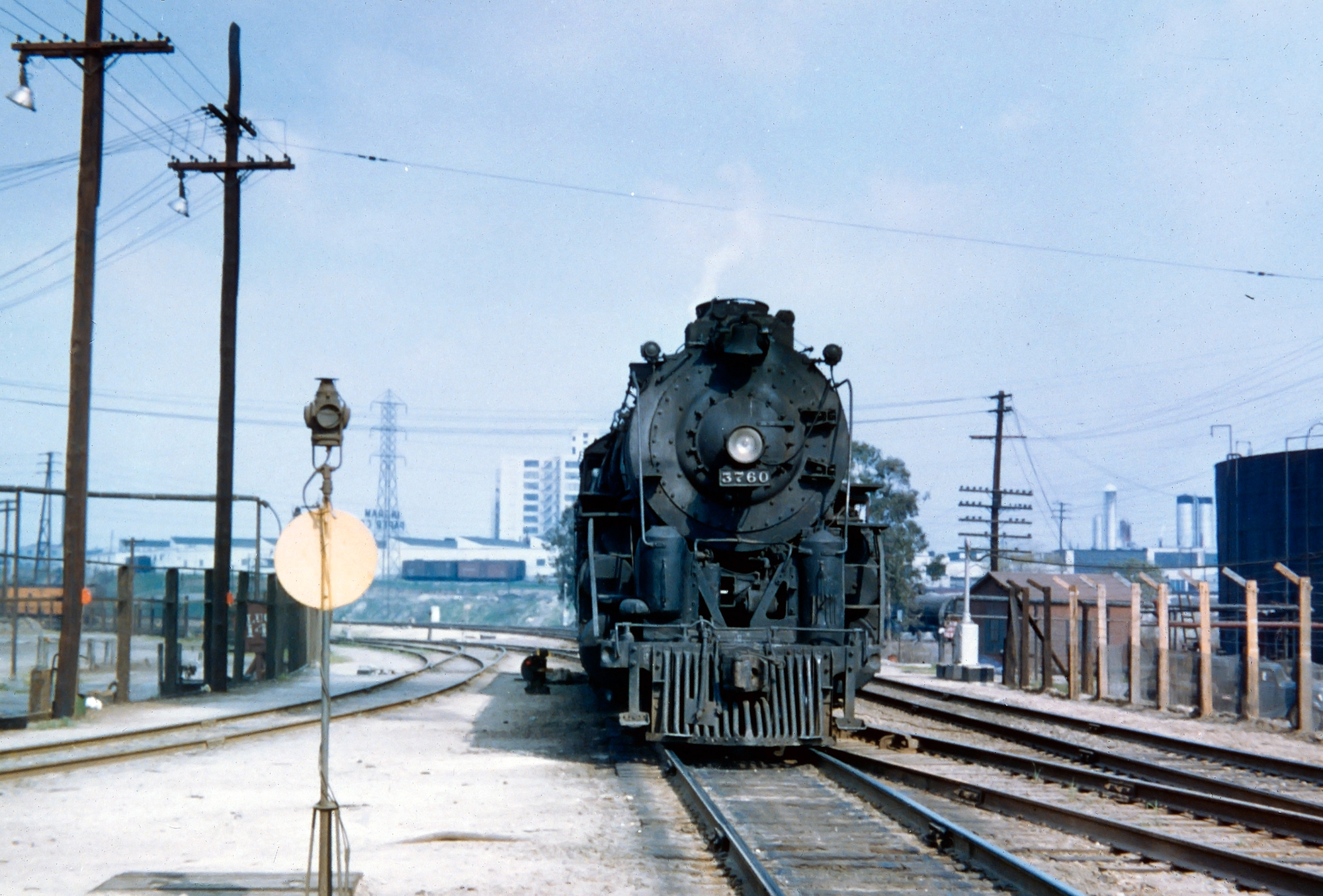 Santa Fe 4-8-4 #3760 is seen here in Los Angeles during November of 1952. American-Rails.com collection.
Top Speed
One particular feature that made the 4-8-4 wheel arrangement so successful was its versatility where it was just as capable of pulling a time-sensitive passenger train clipping along at 70+ mph as it was at lugging a heavy freight train over stiff grades.
This versatility, in addition to the locomotive being equipped with the latest technologies (including superheaters, mechanical stokers, roller bearings on all axles after 1930, and outside valve gear) made the Northern one of the most successful designs of the late-steam era.
Among "Super Power" locomotives more than 1,000 4-8-4' s were built for 36 different railroads. Of special note was the development of roller bearings mentioned above.  
Nicknames By Railroad
Atlantic Coast Line: 1800s
Canadian National: Confederations
Central of Georgia: Big Apples
Chesapeake & Ohio: Greenbriers
Denver & Rio Grande Western: Westerns
Grand Trunk Western: Confederations
Lackawanna: Poconos
Lehigh Valley: Wyomings
Nashville, Chattanooga & St. Louis: Dixies
Norfolk & Western: J Class
New York Central: Niagaras
Richmond, Fredericksburg & Potomac: Generals, Governors, Statesmen
Southern Pacific: Golden States
Western Maryland: Potomacs
Roller Bearings
In 1930 the Timken Roller Bearing Company worked with Alco in producing 4-8-4 Timken #1111, which featured roller bearings on all axles including the tender.
After logging roughly 100,000 miles Timken successfully demonstrated the reduced wear and maintenance of roller bearings and all future steam locomotives were equipped with them (the #1111 was sold to the NP in 1933 and renumbered 2626).
Some of the most well known classes of Northerns to ever operate included the Norfolk & Western's handsome J Class, Southern Pacific's Golden States, and New York Central's Niagaras just to name a few (there were many others).
While this steam locomotive design is best remembered as the Northern not every railroad thought such a name was appropriate for their models, such as those mentioned above.

---
Santa Fe 4-8-4 #3776 goes for a spin on the turntable at Redondo Junction (Los Angeles) during the 1950's. Edwin Olsen photo. American-Rails.com collection.
Operational Northerns
Today, many Northern Types survive and several still remain in operation with the most famous including:
Norfolk & Western #611


Union Pacific #844 (the last steam locomotive ever purchased by the UP and the only steam locomotive to never be retired by a Class I railroad)


Milwaukee Road #261
Southern Pacific #4449


Spokane, Portland & Seattle #700


 Santa Fe #3751
Of all the large steamers that still remain in operation the Northerns are the most prolific so you have ample opportunities to see these beautiful ladies in action from coast to coast!