Southern Pacific 4-8-4 #4449

Last revised: May 17, 2023
By: Adam Burns

The Southern Pacific 4449 is quite a celebrity among the railfan community today and even with the general public. However, when Southern Pacific (SP) originally ordered the locomotive it was just one of nearly six-dozen the railroad would come to own.

These Northern-type steam locomotives with a 4-8-4 wheel arrangement were used in all types of service on the SP but the class in which the 4449 was built was meant to be used primarily in passenger services, thus allowing it and its companions to be adorned in the railroad's famed "Daylight" livery.
After retirement in 1957 the 4449 was donated a year later to Portland, Oregon where it remained on static display for nearly 20 years.
Ironically, its saving grace was entirely by happenstance.  When donated to the city it was chosen only because the locomotive was easy to remove from the deadline by being at the head of the line. 
Otherwise, this fabulous example of streamlining and steam technology would likely have been scrapped. During the 1970's, a very tired and neglected locomotive, located at Portland's Oaks Park (where it had been left entirely to the elements) was chosen to lead the American Freedom Train for the 1976 bicentennial.
Southern Pacific 4-8-4 #4449 shows off her restored "Daylight" colors at Railfair '81 in Sacramento, California during May of 1981. William Meyers photo. American-Rails.com collection.
Overview
Its success during this trips, which saw the train visit every corner of the country (led by different locomotives), enabled #4449 to remain operational beyond this event.  Today, she sees limited excursions each year and is housed in a state-of-the-art facility in Portland.   
The "Northern"-type steam locomotive gets its name from the railroad which first developed it, the Northern Pacific in the mid-1920s. However, in the case of the SP 4449 and the other 4-8-4s used by the railroad, Southern Pacific designed its own 4-8-4 wheel arrangement from a 4-8-2 Mountain-type and named it the Golden State or "GS" for short.
One particular feature that made the 4-8-4 wheel arrangement so successful was its versatility where it was just as capable of pulling a time-sensitive passenger train clipping along at 70+ mph as it was at lugging a heavy freight train over stiff grades.
This versatility, along with the locomotive being equipped with some of the latest technology, made the Northern Type one of the most successful designs of all time with over 1,000 built for 36 different railroads. 
Perhaps the most well known Northerns to ever operate including the Norfolk & Western's handsome J Class, Southern Pacific's Golden States, and New York Central's Niagaras just to name a few (there were many others).
The SP 4449 was built as one of the railroad's later orders of Golden States, not built until 1941 as part of the railroad's GS-4 Class manufactured by the Lima Locomotive Works as an order of twenty locomotives.
The first ten the railroad received arrived in 1930 from Baldwin Locomotive Works as Class GS-1 and generally worked in freight service with 73.5" drivers producing between 62,000 and 76,000 pounds of tractive effort.

Southern Pacific 4-8-4 #4449 poses for a photo on the New Orleans Public Belt Railroad during its visit to New Orleans for the "World's Fair" on June 2, 1984. Perched above the locomotive is Monorail train #5. Author's collection.
However, beginning with Class GS-2 (built by Lima), Southern Pacific requested 80" drivers, streamlining, and the locomotive's adorned in the railroad's "Daylight" scheme. This setup would last until SP's final order of 4-8-4s, Class GS-6. 
Interesting, Southern Pacific did not take another order for 4-8-4s between 1930 and 1937, when their Class GS-2 designs were put into service. There was little differences amongst all the models save for differing driver sizes along with the fact that each new class was a little heavier than the previous, thus allowing for an improvement in tractive effort.
Schedule (2022)
Due to the ongoing COVID-19 Pandemic, Southern Pacific #4449 currently has no excursions scheduled and none planned for the 2021 season.
As noted and earlier above SP 4449 was delivered in 1941 as part of Class GS-4, the largest single class of 4-8-4s on the railroad's roster. Upon arriving on the railroad, SP 4449 quickly went to work on May 30, 1941 hauling the popular Coast Daylight between San Francisco and Los Angeles.
A year later in 1942, SP 4449 began service on the Sunset Limited and Golden State passenger trains. Through the mid-1950s SP 4449 remained on the point of these trains until it lost its Daylight livery and was reassigned to the San Joaquin Daylight and used in freight service. 
An interesting side note is the "GS" classification used by Southern Pacific. Until World War II it had always stood for Golden State but since the War Department was limiting the use of steel, it would not allow SP to build more 4-8-4s simply for passenger service.
---
Whistle
Over the years #4449 has carried a number of different whistles, in part due to the manufacturer's original (a Hancock 3-chime) being stolen while the locomotive sat on display in Oaks Park. 
The builder's plate was also removed during this time (it's interesting to wonder whose collection these items belong to today).  When first returned to service, #4449 sported (both a Hancock 3-chime from a Spokane, Portland & Seattle 4-6-6-4) as well as s Southern Pacific 6-chime. 
Later, around 1990, the locomotive was equipped with a Northern Pacific Hancock 3-chime.  It continued to this whistle until 2010 when its age (whereupon only 1 chime was still working) led its retirement.  In its place, the locomotive was equipped with a Hancock 3-chime like it had received from the manufacturer.  It still boasts this whistle today.
---
So, the railroad re-classified the designation as "General Service" allowing it to have more 4-8-4s constructed, and were built with specifications for use in freight or passenger service. 
The locomotive was finally retired in early October, 1957 after finally being bumped entirely for diesel locomotives. A year later in April, 1958 it was donated to the city of Portland, Oregon and ironically was only saved because of its place in Southern Pacific's dead line allowing it to be easily switched out. 
The locomotive remained exposed to vandals and the elements in Portland's Oaks Park for fifteen years before being considered to pull the American Freedom Train in 1974. Luckily, since the 4-8-4 was still in good condition mechanically it was ultimately chosen to pull the train and restoration began later that year, and was completed by April, 1975.

Southern Pacific #4449 and Other "Golden State" Class 4-8-4s
| Class | Road Numbers | Date Built | Builder | Quantity |
| --- | --- | --- | --- | --- |
| GS-1 | 4400-4409 | 1930 | Baldwin | 10 |
| GS-2 | 4410-4415 | 1937 | Lima | 6 |
| GS-3 | 4416-4429 | 1937 | Lima | 14 |
| GS-4 | 4430-4457 | 1941-1942 | Lima | 28 |
| GS-5 | 4458-4459 | 1942 | Lima | 2 |
| GS-6 | 4460-4469 | 1943 | Lima | 10 |
---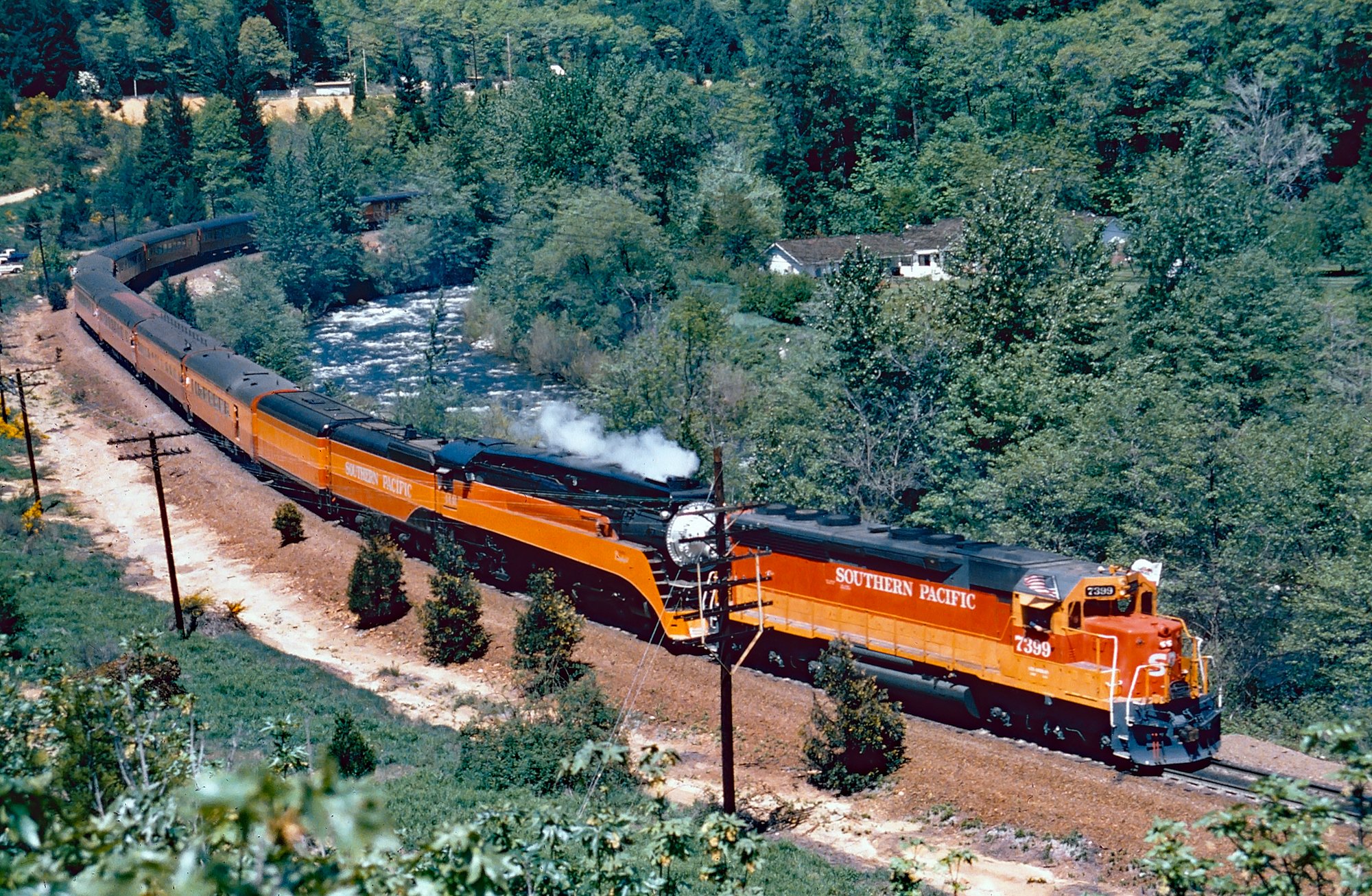 Southern Pacific SD44R #7399 and 4-8-4 #4449 with the "World's Fair Daylight" bound for New Orleans in the spring of 1984. Mike Bledsoe photo. American-Rails.com collection.
Hauling the Freedom Train gave SP 4449 an entirely new life and with a new red, white, and blue livery the locomotive became an instant celebrity throughout the 1970s.
Following the completion of the Freedom Train the 4-8-4 it returned to Portland but this time was kept in a secure location and out of the weather, remaining in operating condition.
Since that time SP 4449 has become one of the most famous steam locomotives in the country and returned with its fabled Daylight livery in 1981 for the California State Railroad Museum's inaugural Railfair that year.
Over the years the locomotive has starred in numerous shows and events and today is maintained by the Friends of the 4449 and Doyle McCormack who oversees its well-being in Portland.   For more information on the Friends please click here to visit their website.