Southern No. 4501
Published: October 26, 2023
By: Adam Burns

Southern 4501 is a steam locomotive built in 1911 by the Baldwin Locomotive Works for the Southern Railway. It is a 2-8-2 "Mikado" type locomotive, which was commonly used for freight work.
The 4501 was retired in 1966 but was restored and is now used for special excursion trains and railfan events. It is currently owned and operated by the Tennessee Valley Railroad Museum.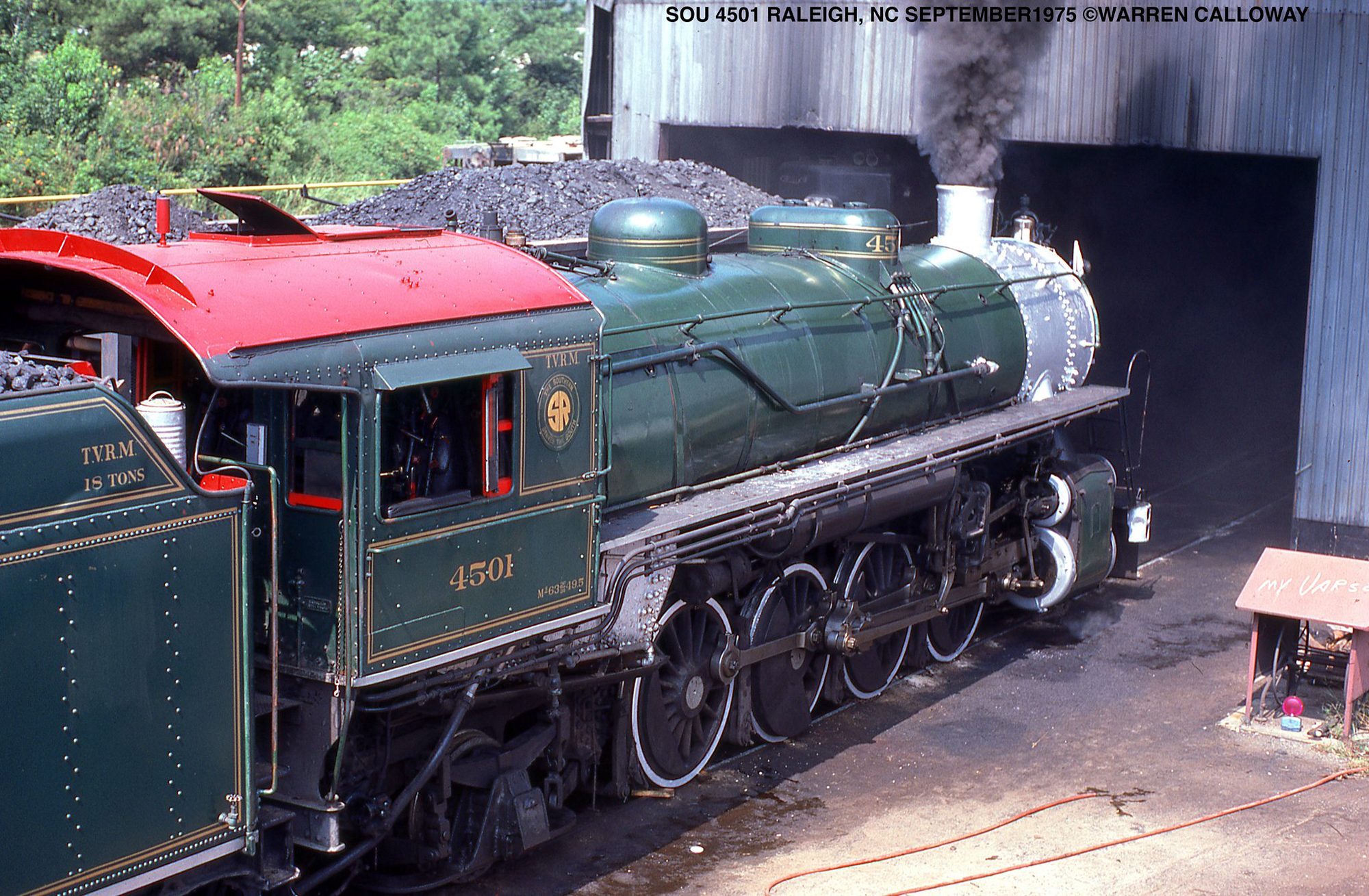 Southern 2-8-2 #4501 is seen here at Raleigh, North Carolina between excursion runs during the Southern's steam program in September, 1975. Warren Calloway photo.
Operational History
Southern 4501 is a historically significant 2-8-2 Mikado type steam locomotive built by the Baldwin Locomotive Works, one of the most preeminent locomotive manufacturers of its time. Born in October of 1911 at a cost of $23,182, 4501 began its life as an exemplary feat of early 20th-century machining and engineering.
The operational history of locomotive is as rich as the Southern Railway itself. For over three decades, it served varied roles within the vast southern railway network, regularly hauling freight and passenger services across Georgia, Alabama, Kentucky, and Tennessee.
4501 belongs to the Mikado type of locomotives, detailed by a 2-8-2 wheel arrangement under the Whyte notation.
This setup is named after Japan's emperor, referring to the class of locomotives with two small leading wheels, eight large driving wheels, and two small trailing wheels. The 4501 sparkles as one of the prevalent locomotives from the Class Ms - the Southern's distinguished roster of Mikados.
The Southern acquired 182, Ms class 2-8-2s for freight service between 1911 and 1917. These locomotives were developed by three premier locomotive manufacturers namely; the American Locomotive Company, the Lima Locomotive Works, and the Baldwin Locomotive Works. The locomotives were designated in the 4501-4635, 6250-6284, and 6600-6611 series.
Engineered with 63-inch driving wheels and an operating boiler pressure of 200 psi, these locomotives showcased impressive capabilities. They boasted a tractive effort averaging 53,900 lbs that allowed for significant hauling capacity. Their tenders were designed to accommodate 12 tons of coal and 8,000 gallons of water.
At A Glance
| | |
| --- | --- |
| Builder | Baldwin Locomotive Works |
| Serial Number | 37085 |
| Completion Date | October, 1911 |
| Class | MS |
| Whyte Notation | 2-8-2 |
| Driver Diameter | 63" |
| Overall Wheelbase (Engine + Tender) | 67' 0" |
| Horsepower | 2,700 |
| Weight (Engine + Tender) | 272,900 Lbs |
| Valve Gear | Walschaerts |
| Fuel Capacity (Coal) | 16 Tons |
| Water Capacity | 13,000 Gallons |
| Tractive Effort | 53,900 Lbs |
| Cylinder Size | 27" × 30" |
| Factor of Adhesion | 4.00 |
Within this fleet, there is a discernable difference in the valve gears. While locomotives numbered 4501-4603 and 4624-4635 were equipped with Walschaerts valve gears, others in the series 4604-4623 were fitted with Southern valve gears.
In the 1940s, the Southern Railway undertook an initiative to amplify the locomotives' performance, leading to a series of modifications. These encompassed the installation of Worthington feedwater heaters, mechanical stokers, and multiple-bearing crossheads. Additionally, bigger sand domes were introduced, and tender sizes were increased to accommodate more fuel and water.
Technically, the 4501 stood out for its effective combination of power, speed, and reliability. With a boiler pressure of 200 psi, gross tractive effort of 53,900 lbs, and coupled driving wheels of 63 inches, the 4501 was not only resilient but also highly efficient in handling both freight and passenger cars.
By the 1940s, the advent of diesel-electric technology began to render steam locomotives obsolete. Southern 4501 was officially retired from Southern Railway service in 1948. This retirement, however, paved the way for the next exciting chapter of the legendary 4501.
Kentucky and Tennessee Railway
After its retirement from Southern, 4501 was sold to the Kentucky and Tennessee Railway (K&T) on October 7, 1948, which acquired the locomotive for $8,225. While at K&T, it carried the number "12" and showed its mettle by handling daily coal trains up steep grades and tight curves.
Paul H. Merriman
In 1964, the 4501's life took an exciting turn. Enthusiast Paul H. Merriman purchased the locomotive for $5,000, rescuing it from the grips of potential scrapping. As the steam era vanished across the country, Merriman's bold intervention marked the beginning of the locomotive's second lease on life.
Tennessee Valley Railroad Museum
His acquisition marked the beginning of a significant restoration phase carried out by the Tennessee Valley Railroad Museum (TVRM) volunteers. The process, which took place at the Lucey Boiler Company facilities in Chattanooga, involved a complete disassembly and refurbishing of the aged locomotive's infrastructure.
The TVRM team breathed new life into the locomotive, catalyzing its rebirth as an excursion locomotive.  Critical units replaced include the thin cab floor, decayed ash pan, and rusty smokebox front. With mechanical operations amplified, the locomotive was aesthetically overhauled with Southern passenger Virginian green and gold paint scheme.
Southern Steam Program
The rigorous restoration culminated in August, 1966, following which 4501 inaugurated its journey across the Chattanooga-Richmond, Virginia route, signaling the launch of Southern's steam excursion program.
The program aimed to foster a deeper appreciation for railway heritage by organizing excursion trips across the Railway's expansive network.   With a resplendent shine, the locomotive led numerous memorable trips, crisscrossing Tennessee, Georgia, and South Carolina and attracting thousands of railway enthusiasts from all corners of the nation.
4501's operational capabilities experienced considerable enhancements when fitted with a larger tender in 1969. With increased capacities for coal and water, the locomotive's operating range improved significantly. The same year, locomotive was featured in the Southern Railway's 75th-anniversary event, "Steam-O-Rama," held in Anniston, Alabama.
Further demonstrating its service endurance, 4501 operated numerous excursion trips across the Midwest in 1973, facilitated by requests from Trains Magazine's editor David P. Morgan and Chicago and North Western officials. Significantly, 4501 demonstrated its traction prowess on the Schlitz Circus World Museum train between Baraboo and Madison, Wisconsin.
On March 28, 1979, the locomotive added another feather to its cap, being listed on the National Register of Historic Places. Despite suffering a setback due to a cracked flue sheet, 4501 underwent a long-term rebuild from April 1981 until November 1984 at the Irondale Workshop in Birmingham.
Post-restoration modifications included a decrease in coal capacity, and an increase in the water storage capacity of the tender, along with a change in the tender's pilot trucks.
Though retired from the mainline excursion service in 1985 due to Norfolk Southern's enhancements in their steam program, 4501 returned to service five years later on mainline routes inaccessible to other locomotives.
In 1991, during the Southern Steam program's 25th anniversary, 4501, along with other locomotives, made a remarkable spectacle, pulling a 28-car train from Chattanooga to Atlanta.
However, amid mounting concerns for safety, rising maintenance costs, and a surge in freight traffic, the Norfolk Southern steam program was discontinued in 1994. Consequently, 4501 operated its last public NS mainline excursion trip on April 30, 1994.
Even after the discontinuation of the steam program, No. 4501 continued its service at TVRM operating excursion runs through Northern Georgia on the Chattooga and Chickamauga Railway shortline until September
Second Restoration
However, all great things must eventually pause, and in 1998, the 4501 was retired once again from excursion service. The locomotive was showing signs of age, and with mainline steam operations becoming increasingly challenging, it was deemed time to withdraw it from service.
Miraculously, the 4501 would not remain dormant for long. In 2012, it underwent a comprehensive, second-stage restoration to operate in Norfolk Southern's new 21st Century Steam program. The tireless team at TVRM meticulously restored the locomotive, ensuring that it conformed to all modern safety and efficiency standards.
---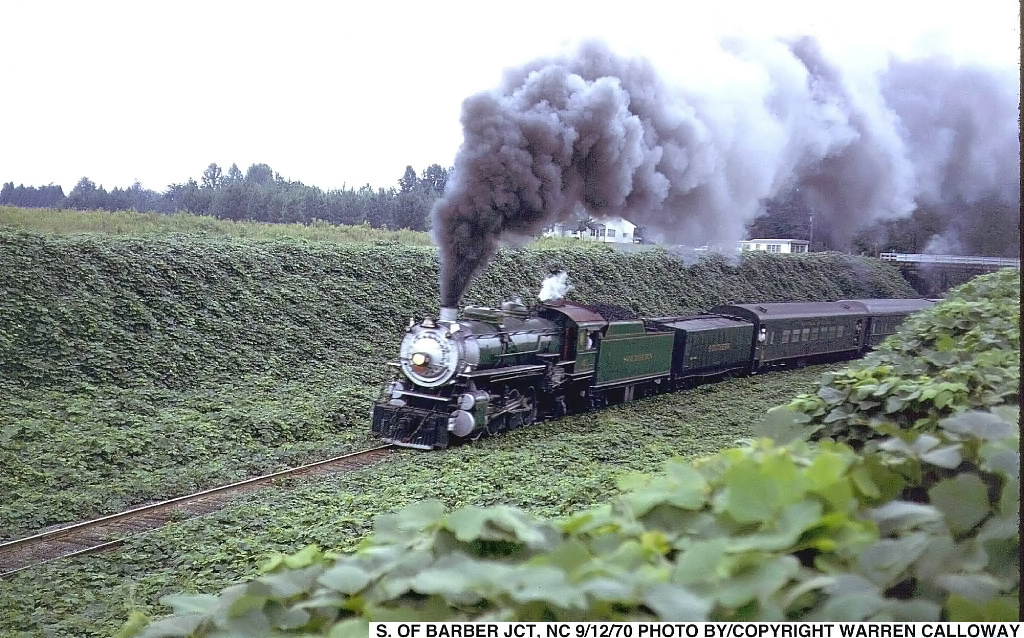 Southern 2-8-2 #4501 leads an excursion south of Barber Junction, North Carolina on September 12, 1970. Warren Calloway photo.
Today, Southern 4501 holds a place of honor at the Tennessee Valley Railroad Museum. Embraced as a living testament to railway history, the locomotive continues to educate and inspire visitors. It makes occasional appearances on special trips, offering patrons a rare glimpse into the bygone steam era.
Remembered today as one of the most iconic steam locomotives of the 20th century, locomotive has left an indelible mark on the pages of American railway history. As it stands enthrallingly at the TVRM, the resounding chuff of the 4501 continues to echo, a powerful reminder of a time when steam was king.