Chicago, Burlington & Quincy 2-8-2 #4960

Last revised: May 17, 2023
By: Adam Burns

Chicago, Burlington & Quincy 2-8-2 #4960 was one of just hundreds the railroad once operated on its system.  The Mikado was perhaps the workhorse of the steam era during the 20th century and most roads rostered at least a few. 

In the case of #4960 it first gained fame during the late 1950s hosting fantrips on the railroad and then continued hauling excursions on the CB&Q for nearly a decade. 
The CB&Q's steam-powered excursions of the 1960's are still fondly remembered today.  They were largely the idea of President Harry Murphy, a nostalgic individual who loved the iron horse.  Such events remained commonplace until his 1965 retirement at which point the locomotives were sold off.
Incredibly, even after the Burlington canceled such events #4960 found work elsewhere over the years until it was eventually purchased for use on the Grand Canyon Railway hosting excursions there.   
Today, it still resides in Arizona and while it is not used as extensively as in years past the Mikado continues to handle trains to the Grand Canyon each year.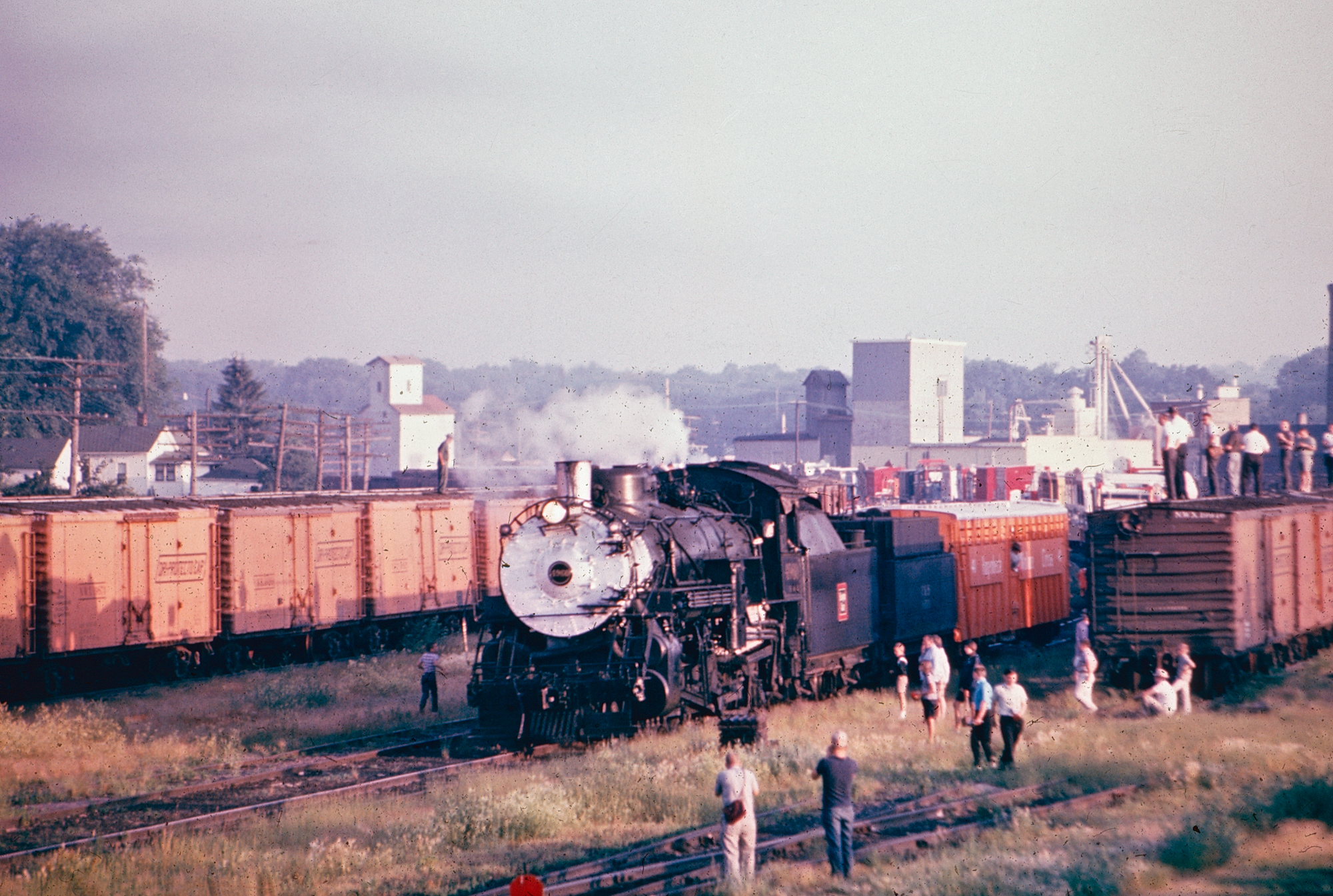 Chicago, Burlington & Quincy 2-8-2 #4960 leads the "Schlitz Circus Train" out of Baraboo, Wisconsin on the Chicago & North Western during June, 1966. Author's collection.
The Chicago, Burlington & Quincy was one of the preeminent railroads operating through the Midwest and thanks to owning several subsidiaries boasted a system that stretched from Chicago and Minneapolis to Denver and Dallas. 
This large network prompted a need to have a likewise vast fleet of steam locomotives.  From the start of the 20th century the CB&Q relied on a large roster of 2-6-2 Prairies to handle much of its daily freight assignments. 
However, as traffic increased the railroad need a more powerful workhorse and went to Baldwin in 1910 for an order of larger 2-8-2 Mikados (or "Mikes" for short). 
This first fleet of 50 was given Class O-1 and numbered 5000-5049.  Over the next 13 years the CB&Q continued acquiring new Mikes until by the end of 1923 it owned some 388 units!
These steamers were classed from O-1 to O-4 (along with a batch of five, 800-804, classed E-4/A) and were used in both passenger and freight service.  In the case of #4960 it was among the final batch of 2-8-2s the railroad would purchase, Class O-1A's 4940-4999 acquired in 1923. 
The entire fleet of Mikados was built by the Baldwin Locomotive Works, except for Class O-2A and O-2B, which were the Class O-2's rebuilt by the Burlington in 1925. 
The CB&Q's Mikes remained in regular service for more than 30 years (some even longer) before the railroad began retiring them in the mid-1950s. 
By 1957 all had been scrapped except for #4960, #4963 (this unit was acquired by Richard Jensen and hosted excursions during the 1960s and today sits on display at the Illinois Railway Museum) and #4978 (all were among Class O-1A).   

On December 28, 1958 #4960 began hosting fantrips on the Burlington, which was sponsored by the Illini Railroad Club and ran along the railroad's main line between Chicago and Ottawa. 
That era was far different than today's litigious society; railfan clubs and NRHS (National Railroad Historical Society) groups would often sponsor such excursions, which were hosted by the railroads and usually powered by steam locomotives that had not, yet, been sent to the scrap line. 
The CB&Q was one of the most notable large systems to offer these trips but others included the Baltimore & Ohio, Santa Fe, and Chesapeake & Ohio (railroads also allowed patrons to stand on active rail lines and even climb signal bridges to photograph trains, something that would never be allowed today!). 
Burlington's Fleet Of Mikados
| Class | Road Number(s) | Quantity | Date Built | Manufacturer |
| --- | --- | --- | --- | --- |
| E-4/A | 800-804 | 5 | 1911 | Baldwin |
| O-1 | 5000-5059 | 60 | 1910-1911 | Baldwin |
| O-1A | 4940-4999, 5060-5147 | 148 | 1917-1923 | Baldwin |
| O-2 | 5200-5299 | 100 | 1912-1913 | Baldwin |
| O-2A/B | 5200-5299 | 100 | 1925 | CB&Q |
| O-3 | 5300-5359 | 60 | 1915-1919 | Baldwin |
| O-4 | 5500-5514 | 15 | 1919 | Baldwin |
By the end of the1960s these events had largely died out but throughout that decade #4960 continued to pull excursions along the CB&Q.  During 1961 the railroad overhauled the Mikado with new arch bricks, arch tubes, flues, and tires among other improvements. 

Two years later in 1963 the locomotive pulled a special 50th Anniversary excursion (where she wore a special gold livery for the occasion and was dubbed the Tenshodo Mikado by Trains Magazine) to Casper, Wyoming on October 20, 1963 marking the time since the railroad first opened service to the city. 

Fantrips on the CB&Q powered by the Mike continued for another few years until her final run took place on July 17, 1966.  Afterwards she was donated to the Circus World Museum and then found her way to the Mid-Continent Railway Museum in North Freedom, Wisconsin.

---
In 1980 the 2-8-2 was again leading excursions when it was leased to the startup Bristol & North Western short line based in Bristol, Virginia.  This short-lived operation lasted only until 1984 when it was abandoned leaving the #4960 with an uncertain future. 
During 1985 the Mikado was acquired by the Grand Canyon Railway based in Williams, Arizona.  Four years later in the fall of 1989 the locomotive was completely disassembled and rebuilt practically to like-new status with all-new components and an entirely overhauled boiler.  She was ready for service by July of 1993. 
Today, #4960 continues to haul excursions on the Grand Canyon Railway but now wears a livery of its current owner and not its traditional Burlington scheme.