Burlington (CB&Q) 5632
Published: November 15, 2023
By: Adam Burns

Chicago, Burlington and Quincy 5632 is 4-8-4 steam locomotive built in July, 1940 by the railroad's own shop forces in West Burlington, Iowa.

It was one of the six locomotives of the "O-5B" class, which were converted to burn oil from O-5As 5614, 5620, 5626-5627, 5629 and 5632.
The 5632 was primarily used for fast freight and passenger service between 1940-1955.  It was notable as being one of the final steam locomotives to pull a revenue freight west of Lincoln, Nebraska on September 17, 1955.
The locomotive became famous when it was overhauled in late 1958 for excursion service, operating in this capacity between 1959-1964.  Tragically, in a serious of unfortunate events it was illegally scrapped in 1972.
Photos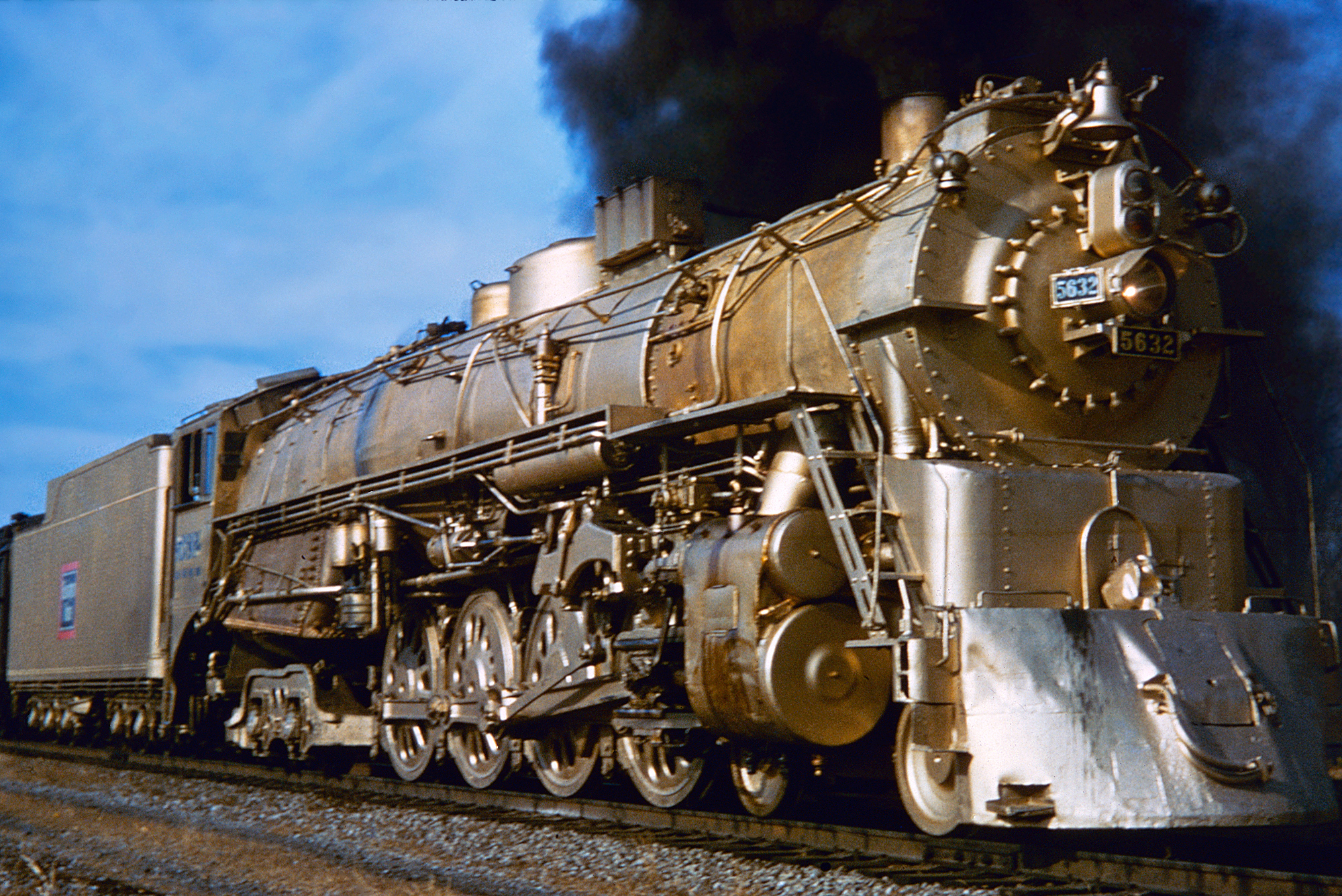 Chicago, Burlington & Quincy 4-8-4 #5632, in an all-gold livery, is seen here in Kansas City on November 1, 1964 to celebrate Kansas City Union Station's 50th anniversary. She also wore solid gold earlier that year to honor the opening of Burlington's Chicago-Aurora main line. American-Rails.com collection.
Operational History
5632 was one of twenty eight 4-8-4s, numbered 5608-5635, produced by the CB&Q's own West Burlington Shops between September, 1936 and October, 1940.
They were based from eight earlier examples, numbered 5600-5607 (O-5), the railroad had purchased from Baldwin in 1930.  The builder was heavily involved in the Shops' construction of these locomotives by providing the boilers for the new engines.
Specifications
| | |
| --- | --- |
| Builder | West Burlington Shops |
| Whyte | 4-8-4 |
| Fuel Type | Oil |
| Build Date | 7/1940 |
| Serial Number | 6610-7 |
| Number | 5632 |
| Class | O-5B |
| Driver Diameter | 74" |
| Engine Wheelbase | 45' 6" |
| Wheelbase (Engine + Tender) | 90' 8 9/32" |
| Length (End Of Couplers) | 103' 3 1/8" |
| Width | 10' 7" |
| Height | 16' 2" |
| Boiler Pressure | 250 psi |
| Axle Loading | 69,340 Lbs |
| Weight On Drivers | 279,030 Lbs |
| Engine Weight | 474,620 Lbs |
| Tender Weight (Loaded) | 359,000 Lbs |
| Engine + Tender Weight | 833,620 Lbs |
| Valve Gear | Baker |
| Fuel Capacity (Oil) | 7,300 Gallons |
| Water Capacity | 18,000 Gallons |
| Tractive Effort | 67,541 Lbs |
| Cylinder Size | 28" × 30" |
| Factor of Adhesion | 4.13 |
| Horsepower | 4,100 |
| Top Speed | 75 mph |
| Retirement | November 1, 1964 |
| Disposition | Scrapped: November, 1972 |
In addition, these 4-8-4s featured Worthington SA feedwater heaters with Timken roller bearings fitted on all engine and tender axles.  
5632 was tasked with handling both freight and passenger trains, primarily operating the western end of the CB&Q system in the states of Iowa, Nebraska, Wyoming, and Colorado.  As an active member of the CB&Q roster, the locomotive exhibited impeccable performance and durability.
The 5632 did not just transport goods and people; it carried an era—a time when steam locomotives were the pulse of the nation's transportation network, an age of industrial revolution and progressive modernization.
Excursion Service
Following the locomotive's 1955 retirement it was stored serviceable before leading a railroad-sponsored on November 2, 1958 featuring the reenactment of the "Aristocrat" between Chicago and Galesburg.
The success of this trip, which saw around 1,100 guests, convinced Burlington president Harry C. Murphy - who was a self proclaimed steam enthusiasts and railfan - to initiate such public trips on a wider scale.
These excursions began on June 7, 1959, sponsored by the Illinois Railroad Club between Chicago and Lincoln, Illinois.  Over the next five years the 5632 was frequently sighted leading multiple excursions.
Ironically, the CB&Q was forced to cutback their steam program in 1964 due to lack of qualified personnel to maintain the locomotives.  By then, most of the railroad's steam mechanics and retired or passed away. 
The locomotive's most iconic period, however, occurred just before it was officially retired.  In May, 1964 the big 4-8-4 was painted solid gold to commerate the railroad's centennial of its Chicago-Aurora main line. 
5632 remained in this scheme and more than five months later led special fan trips on October 31st and November 1st to celebrate the 50th anniversay of Kansas City Union Station's opening.
Retirement and Sale
The November 1st trip was the last for the locomotive as it was due for an overhaul.  Murphy ordered the work to be carried out but he retired on July 1, 1965 before the project was completed.
Incoming president Louis W. Menk had no interest in steam-powered excursions and quickly ended the public relations program with the final trips occurring in the summer of 1966.  In addition, he stopped work on 5632 which was then partially disassembled.
The disinterest of Louis Menk in steam excursions was a significant turning point in the locomotive's journey. 5632, once revered, was then viewed as redundant. 
Not willing to let this gem fade into oblivion, rail enthusiast Richard Jensen purchased 5632 directly from the railroad.  The CB&Q also provided several boxcars worth of spare parts to allow for the locomotive's restoration if Jensen so chose.
His passion subsequently led to locomotive's storage, under lease, at the Chicago and Western Indiana's (C&WI) 47th Street Roundhouse in Chicago thanks to his friendship with the railroad's then-president Robert McMillan.
Unfortunately, McMillan left the C&WI in 1968 and the new owners sent notice to Jensen that 5632 and the boxcars must be out of the deteriorating roundhouse by February 27, 1969.
The deadline was later pushed back to June 1st as Jensen scrambled to find a new home for his locomotive.  With still no change throughout most of the summer the C&WI moved 5632 on its own to the nearby 88th Street Yard.
Chicago, Burlington & Quincy 4-8-4 #5632 (Class O-5B) sits in a weed-covered siding while hosting excursions at Longmont, Colorado in August, 1963. American-Rails.com collection.
Illegal Scrapping
A dark shadow in the locomotive's history occurred on September 25, 1969 when the C&WI illegally sold 5632 - and the boxcars of spare parts - to Erman-Howell, a division of the Luria Brothers Scrap Company, for $5,800.  Jensen attempted to reacquire the equipment, offering a price commensurate with the scrap value.
However, Erman-Howell declined and the engine, and boxcars, sat at their 83rd Street scrapyard for a few more years.  During a move around the grounds during November, 1972 the engine derailed and with no immediate means of rerailing 5632 the company elected to scrap it on the spot.
This move drew flak from the railroad enthusiasts' community, tarnishing 5632's history.  In 1973, Jensen filed a lawsuit against both the C&WI and Erman-Howell.  The C&WI first offered $6,000 for the engine's scrap value.  Once this was declined the offer was increased to $150,000.  Jensen also declined this amount.  He was later awarded $1.7 million but never received the full amount of this money.
Legacy
The unauthorized scrapping of the 5632 is seen as a black dot on the otherwise illustrious canvas of the locomotive's heritage. This incident stirred up strong sentiments within the railroad community leading to widespread disapproval.
5632 carried an aura of invincibility and grace throughout its operational years. Its structure, resilient and elegant, spoke volumes about the craftsmanship of the days when steam-powered the nation's transport systems.
The journey of the 5632 transcends its mechanical identity to signify the spirit of an era. With every surge of steam and every spin of its wheels, it gave life to the journeys it undertook, moving not just trains, but the dreams of a progressing nation.
5632's rebirth as an excursion locomotive was a tribute to its mighty legacy. It was an opportunity for a new generation to relive the splendors of the bygone steam era.
Every excursion led by 5632 was a journey through time. Back to an era where the rhythm of life was accompanied by the chant of steam and the clanging of metal on tracks.
The golden repaint was not merely aesthetic, but symbolic; it was also brought to life a real "brass" model engine.
The retirement episode of 5632 was seen as a symbolic transition, witnessing the phasing out of steam and the growing dominance of diesel-electric locomotives. But, even then, 5632 stood as a staunch reminder of the unforgettable steam era.
Richard Jensen's move to buy 5632 underlines his commitment towards preserving this significant piece of American railway heritage. It is this zeal that keeps the spirit of steam alive, even in the wake of modernization.
The illicit scrapping of the locomotive by Luria Brothers Scrap Company evoked widespread shock and disappointment. The loss resulted in a renewed appreciation of the timeless heritage these steam locomotives represent.
---
Comparing it with modern locomotives, 5632 witnessed an era where steel, steam, and coal shaped the nation's progress. Its legacy continues to dominate the conversations in the railway community.
Every excursion service from 1959 to 1964 embarked upon by this majestic locomotive reflects an era of grandeur. The comfortable carriages, the melodious rhythm of the steam, and the scenic landscapes make these voyages unforgettable.
The journey of 5632, marked by its inception, service, golden run, retirement, resurrection, and illicit scrapping, provides an enriching insight into the American railway saga. Despite its untimely end, 5632 continues to live on in our memories, making it a treasured piece of our rich industrial heritage.