Norfolk & Western #611

Last revised: February 28, 2022
By: Adam Burns
Norfolk & Western 611 is a 4-8-4 "Class J" steam locomotive and perhaps the most advanced such Northern ever built (generally the 4-8-4 design was known as Northerns but the N&W built their own and classed them as Js).
The N&W began building its 4-8-4s around the start of World War II in 1941 and would ultimately come to own fourteen such designs, which were built exclusively for passenger service receiving streamlining either when they were first out-shopped or later, after the war.
An extremely well-built variant of the 4-8-4 arrangement, the variant was a product of Norfolk & Western's own shop forces in Roanoke, Virginia. 
Ultimately, only one was preserved, #611, which later saw service as part of Norfolk Southern's original steam program.  After its retirement in 1994 it joined a renewed program in 2015.  
In the spring of of that year #611 was fired up and pulled excursions for the first time in 21 years as part of Norfolk Southern's 21st Century Steam Program.  Alas, it only pulled trips for one season before this reincarnated version was also canceled.  Today, she hosts trips when and where possible.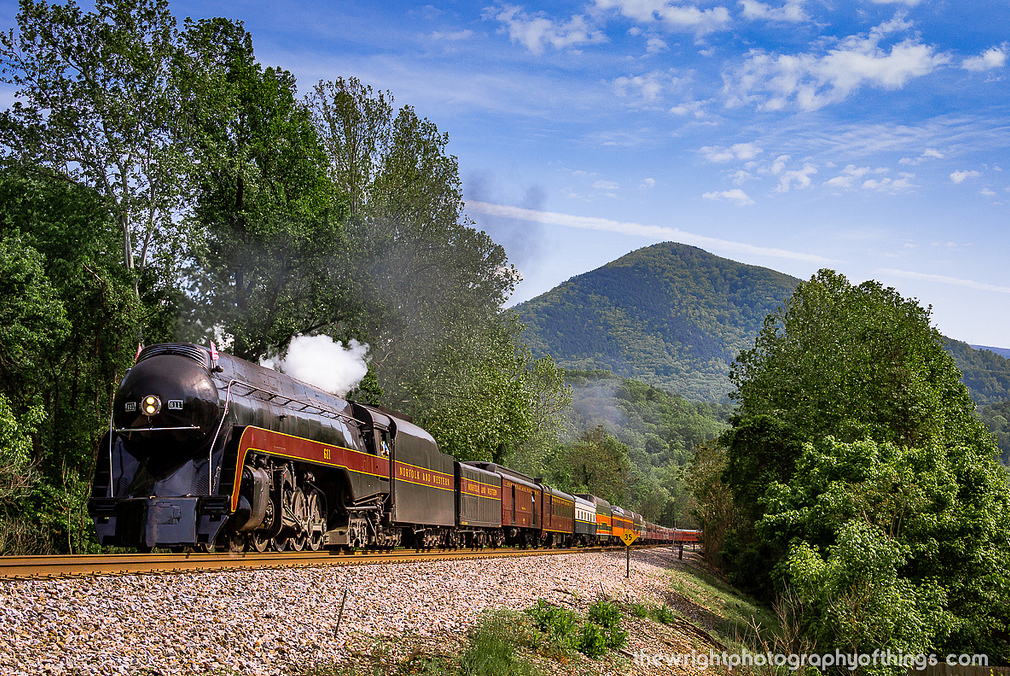 Norfolk & Western 4-8-4 #611 (J) drifts downgrade near Montgomery, Virginia on the Christiansburg Grade with the "Pelican" on Sunday May 8, 2016. Jon Wright photo.
An Overview Of Norfolk & Western #611
Purely on looks the Northern Type, in general, was one of the most beautiful steam locomotive designs ever developed. While some of these handsome locomotives would receive streamlining even without such enhancements they were still a fine looking piece of machinery with a "streamlined" tender and centered headlight.
This steam locomotive gained its name from the Northern Pacific Railway due to the fact that to burn the low-grade coal found along the railroad the steamer needed a larger firebox. 
One particular feature that made the 4-8-4 wheel arrangement so successful was its versatility where it was just as capable of pulling a time-sensitive passenger train clipping along at 70+ mph as it was at lugging a heavy freight train over stiff grades.
Norfolk & Western #611 steams through rural Rockfish, Virginia with a matching string of maroon and gold cars as it leads another excursion on May 15, 1993. Wade Massie photo.
This versatility, along with the locomotive being equipped with some of the  latest technology, made the Northern Type one of the most successful designs of all time with over 1,000 built for 36 different railroads.
Perhaps the most well known Northerns to ever operate including the Norfolk & Western's handsome J Class, Southern Pacific's Golden States, and New York Central's Niagaras just to name a few (there were many others). 
Many years ago Norfolk & Western #611 would have used N&W's former coaling tower at Vicker, Virginia but today continues on its way, hustling beneath the abandoned structure on May 7, 2016. Jon Wright photo.
The N&W's shop forces in Roanoke, Virginia were masters at building steam locomotives, likely even better at the craft than the "Big Three" steam builders (the Baldwin Locomotive Works, American Locomotive Company, and Lima Locomotive Works).
They were always looking for ways to improve a locomotive's operation and efficiencies and regularly built their own steamers instead of purchasing them.
Norfolk & Western 611 And The Other J Class 4-8-4s
| Class | Road Numbers | Date Built | Builder | Quantity |
| --- | --- | --- | --- | --- |
| J | 600-604 | 1941 | N&W | 5 |
| J-1 | 605-610 | 1944 | N&W | 6 |
| J-1 | 611-613 | 1950 | N&W | 3 |
In the case of Norfolk and Western 611 and its sibling "Class J" 4-8-4 locomotives, the railroad was looking for a fast, reliable, and efficient steamer which could pull a passenger train consist over its rugged main line through western Virginia and southern West Virginia.

Norfolk & Western #611 stretches her legs as she hustles eastbound towards Lynchburg near Montvale, Virginia on May 8, 2016. Jon Wright photo.
The N&W's first group of these locomotives was built between 1941 and 1942 numbered 600-604. They featured 70-inch drivers and could produce 80,000 pounds of tractive effort with a boiler pressure of 275 pounds-per-square-inch (this was later increased to 300 psi in 1950).

The locomotives also came equipped with the very latest in steam technology such as roller bearings on all rods and axles, which greatly reduced wear and friction.  
Being used in passenger service the N&W gave its original five Js a beautiful streamlining with a front, bullet-shaped nose and clean sheathing over the boiler with a tender that likewise matched the locomotive.
The railroad's second group of Js did not originally feature streamlining but they, too, would later receive such. In all the N&W would come to own some fourteen Class J 4-8-4s with Norfolk and Western 611 part of the final three built in 1950.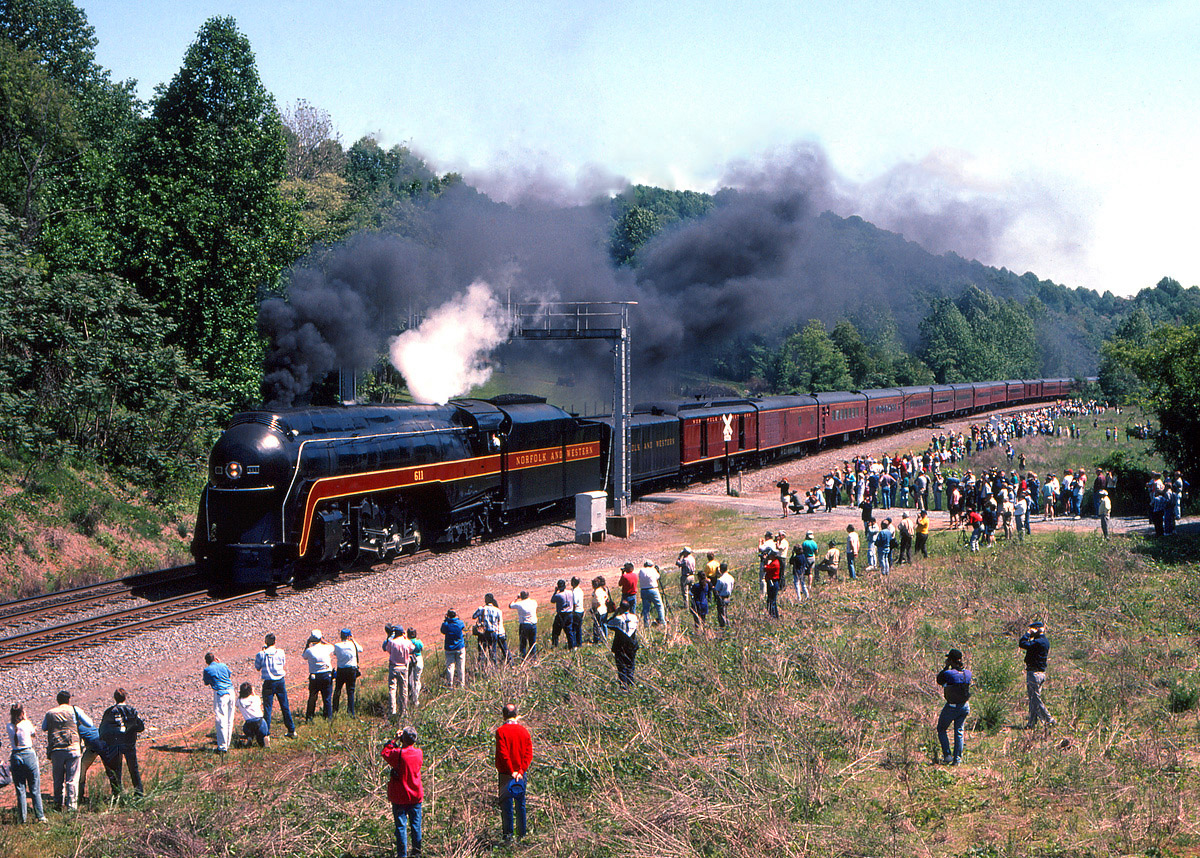 Crowds have gathered to see Norfolk & Western #611 as the big J steams beneath the signals at Red Hill, Virginia near the end of her first steam program on May 15, 1993. Wade Massie photo.
Perhaps most impressive the N&W's J Class with the precision with which they were built. The locomotives had been engineered so well with their counterbalancing nearly perfect that they could easily reach speeds of 90 mph on the N&W's rugged main line.
However, after World War II N&W #610 performed and even more impressive feat. When tested on the Pennsylvania Railroad's Fort Wayne Division, the railroad's flat and straight main line through Indiana, the locomotive reached speeds over 110 mph! 
Unfortunately, Norfolk and Western 611 and her sister Js had a relatively short operating life carrying the railroad's most prestigious trains like the Powhatan Arrow, Pocahontas, and Cavalier.
By the 1950s the N&W was testing diesel locomotives and even with all of the efficiencies that railroad was able to achieve with steam, operating diesels was still more efficient even though it did require more of them to pull a train. By the late 1950s most of the N&W's steam fleet had been retired.
Norfolk & Western #611 charges westbound past the signals at Villamont, Virginia with the "Powhatan Arrow" on May 8, 2016. Jon Wright photo.
N&W #611's Restoration And Excursions In The Modern Era
If it was not for the efforts of preservationists and Mr. O. Winston Link, all of the N&W's Js would likely have been scrapped. As a gesture of goodwill Norfolk and Western 611 was donated to the Virginia Museum of Transportation in Roanoke in 1960.
Here, this machine of precision engineering sat for more than 20 years on static display until the N&W contemplated a steam program in the early 1980s, just prior to its merger into Norfolk Southern.
Then president Robert Claytor, brother to the Southern's former president W. Graham Claytor, gave the go ahead to lease N&W 611 from the museum in 1981 for a complete overhaul.
Norfolk & Western #611 Schedule (2021):

Updated!
Strasburg Railroad:  The locomotive will be visiting Strasburg throughout the 2021 operating season during select weekends from May 22 - October 3. 
During her visit she will be hosting excursions, offering cab tours, whistle blowing, "Fire Up" experiences, and more. 
To purchase tickets and learn more please click here.
Work was completed at the Southern's Norris Yard Steam Shop in Birmingham, Alabama and N&W 611 was again under steam in 1982, the same year N&W and Southern disappeared into Norfolk Southern.
The 4-8-4 was used much in the same manner as Union Pacific's #844 and #3985 as part of that railroad's steam program, for promotional events and in general excursion service.
In 1987 Norfolk and Western 611 was joined by sister #1218, a 2-6-6-4 articulated locomotive that was built in 1943 by the N&W (as part of its Class A steamers) for use in regular freight service.

Norfolk & Western #611 passes beneath the long-abandoned Virginian trestle at Wabun, Virginia ahead of the "Pelican" on May 8, 2016. Jon Wright photo.
With now two large steam locomotives in its program the Norfolk Southern was a celebrity in the railfan community and a fascination to the general public when the steamers appeared in operation on excursions or fan trips.
However, the NS steam program was sadly short-lived. Norfolk and Western 611 had the unfortunate luck of having cars in its train derail twice, once in the spring of 1986 and again in the fall of 1994.
No one was killed in either accident but with rising insurance costs NS management decided to end the program shortly thereafter.
Interestingly, sister #1218 was having overhaul work performed when the decision was made, so she was literally thrown back together and returned to Roanoke to be put on display with the #611, where today both remain.
Incredibly, however, Norfolk Southern again decided to restart its steam program in the summer of 2010 (which lasted through 2015) using locomotives (leased) from the Tennessee Valley Railroad Museum (two Southern steamers, a 2-8-2 and 2-8-0 along with a former Army 2-8-0). 
After this announcement many long wondered if either #1218 or #611 would be a part of this new program.  The idea of operating #1218 is unlikely, at best, due to its current condition and being partially gutted inside, missing many components (resulting from the never-completed overhaul). 
---
---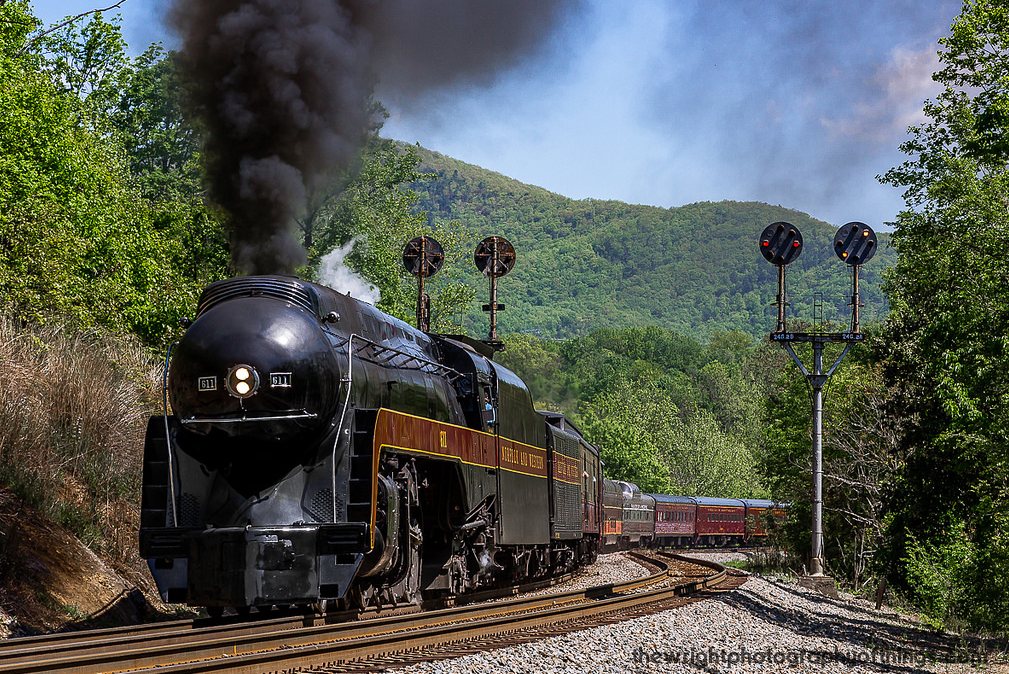 Norfolk & Western #611 has the "Powhatan Arrow" as the train descends into Roanoke, Virginia on Saturday May 7, 2016. Jon Wright photo.
However, the long-awaited idea of operating #611 came to light on February 22, 2013 when the Virginia Museum of Transportation announced that it had created the Fire Up 611 Committee to launch a feasibility study to look at potentially operating the locomotive once more. 
The panel is made up of some of the best minds from the railroad industry, preservation, and steam locomotive fields.    After three months of study it was determined that the full restoration of #611 would move forward. 
The museum projects the plan will cost $3.5 million for the locomotive's overhaul and construction of a permanent maintenance shop facility.  The hope was to have the necessary funds in place by October 31, 2013 with the full restoration requiring another six months and the locomotive operating by 2014.  
Funding for the maintenance shop could not be secured in time but the locomotive was brought back under steam in the spring of 2015.  
Alas, Norfolk Southern ended their second steam program that same year which left the VMT in limbo regarding the restored locomotive.
It has since bounced around at places like the North Carolina Museum Of Transportation and Strasburg.