Chesapeake & Ohio 4-8-4 #614

Last revised: April 28, 2023
By: Adam Burns

Chesapeake & Ohio 614 is a 4-8-4 Greenbrier is a well-known big steamer that spent significant time in excursion service during the 1980s and 1990s.  The locomotive remains owned and maintained by Ross Rowland/Iron Horse Enterprises although her chances of restoration appear dim.
The big 4-8-4 has not been operated in excursion service since 1999..  Following her days of operation the big Greenbrier was moved to a handful of different locations, never under her own power. 
In 2010 the idea began to use the locomotive as a steam-powered service to the Greenbrier Resort in White Sulphur Springs, West Virginia.  With no support from CSX this plan quickly evaporated. 
In January, 2011 she was put on display at the Virginia Museum of Transportation in Roanoke as part of the Thoroughbreds of Steam exhibit. 
Later that year, in May, she was moved to her current location, the C&O Railway Heritage Center, Clifton Forge, Virginia still wearing a dark green livery intended for the still-born resort service.   There are currently no restoration plans at this time.
Photos
Chesapeake & Ohio 4-8-4 #614 departs Parsons Yard in Columbus, Ohio with the "Chessie Safety Express" on May 17, 1981. The big 'Greenbrier' was bound for Russell, Kentucky that day. Roger Beighley photo. American-Rails.com collection.
History
Purely on looks the Northern Type, in general, was one of the most beautiful steam locomotive designs ever developed.
While some of these handsome locomotives would receive streamlining even without such enhancements they were still a fine looking piece of machinery with a "streamlined" tender and centered headlight.
This steam locomotive gained its name from the Northern Pacific due to the fact that to burn the low-grade coal found along the railroad the steamer needed a larger firebox.
However, it received many other names as well from "Greenbriers" on the C&O to "Westerns" on the Denver & Rio Grande Western. 
One particular feature that made the 4-8-4 wheel arrangement so successful was its versatility where it was just as capable of pulling a time-sensitive passenger train clipping along at 70+ mph as it was at lugging a heavy freight train over stiff grades.

Specifications
| | |
| --- | --- |
| Builder | Lima Locomotive Works |
| Class | J-3a |
| Serial Number | 9306 |
| Order Number | 1201 |
| Build Date | June, 1948 |
| Valve Gear | Baker |
| Wheelbase (Engine) | 47 Feet, 31/32 Inch |
| Wheelbase (Drivers) | 19 Feet, 3 Inches |
| Wheelbase (Engine & Tender) | 98 Feet, 7 11/16 Inches |
| Engine Weight | 482,200 Lbs |
| Tender Weight | 386,130 Lbs |
| Weight on Drivers | 285,200 Lbs |
| Axle Loading | 71,700 Lbs |
| Total Weight | 868,330 Lbs |
| Tender Fuel Capacity | 25 Tons |
| Tender Water Capacity | 21,500 Gallons |
| Driver Diameter | 74 Inches |
| Boiler Pressure | 255 psi |
| High Pressure Cylinders (Diameter x Stroke) | 27 ½" x 30" |
| Maximum Tractive Effort | 66,453 Lbs |
This versatility, along with the locomotive being equipped with some of the latest technology, made the Northern Type one of the most successful designs of all time with over 1,000 built for 36 different railroads.
Perhaps the most well known Northerns to ever operate including the Norfolk & Western's handsome J Class, Southern Pacific's Golden States, and New York Central's Niagaras just to name a few (there were many others).  
The Chesapeake & Ohio's use for the 4-8-4 was in passenger service, where it intended to use the locomotive pulling high priority trains like its flagship the George Washington. In 1935 the railroad took delivery of its first five, numbered 600-604, which were built by the Lima Locomotive Works and classed J3.
The C&O's Greenbriers (named after the resort in which the railroad owned in White Sulphur Springs, West Virginia) were as good as advertised. Weighing in at 477,000 pounds they could produce over 68,000 pounds of tractive effort and had little trouble hauling passenger trains at speed over the C&O's stiff grades through West Virginia and western Virginia.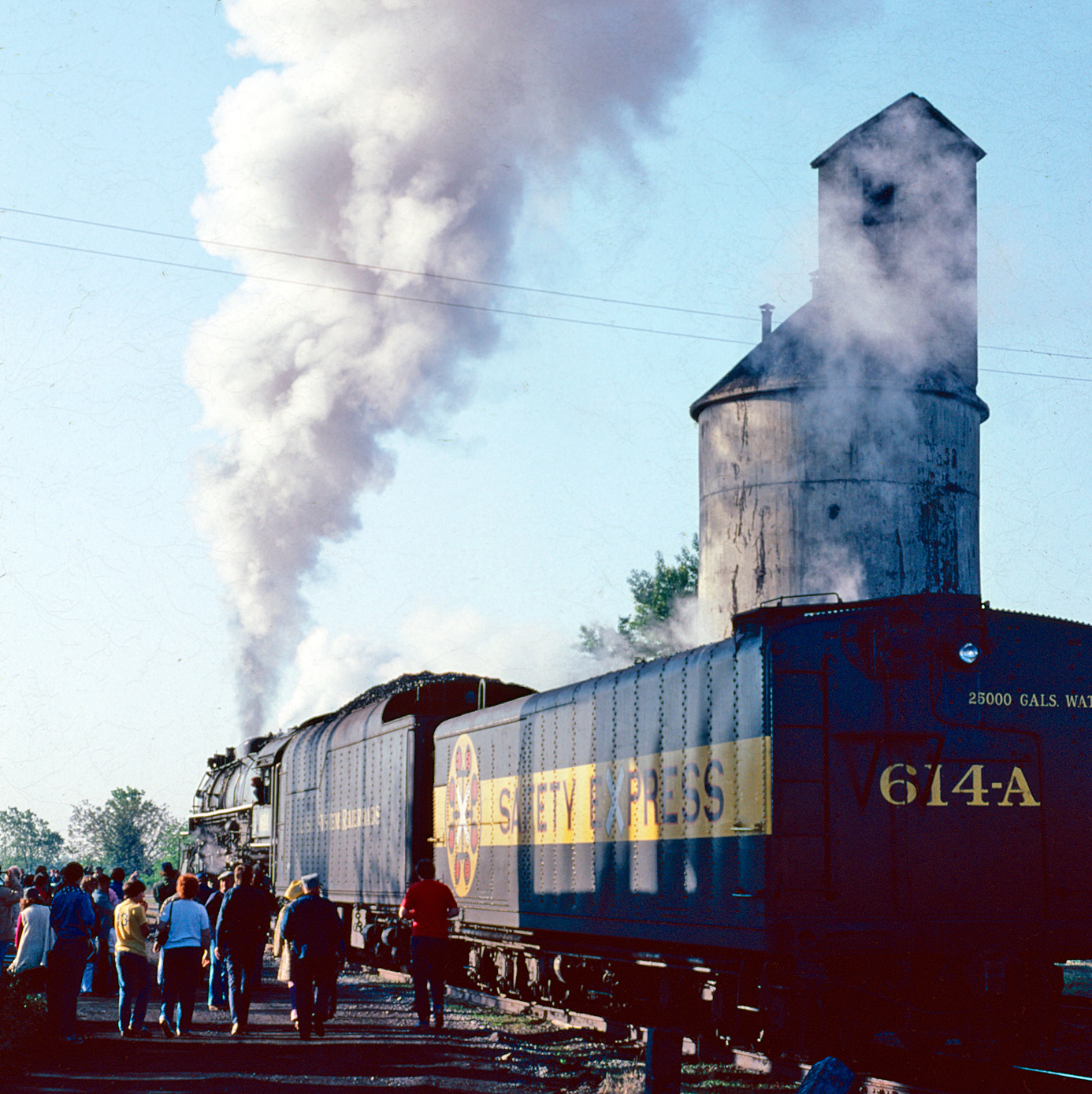 Folks mingle around Chesapeake & Ohio 4-8-4 #614 as the 'Greenbrier' eases out of Parsons Yard in Columbus, Ohio on May 17, 1981. The locomotive will soon couple onto its train and head for Russell, Kentucky. Roger Beighley photo. American-Rails.com collection.
#614 was the final Greenbrier built and delivered by Lima in 1948, giving the railroad a total of 12 such units. Unfortunately for C&O 614 and her other four J3a siblings (the final batch numbered 610-614) they saw just 5 years of service life before being retired in 1952. 
Luckily, #614 was saved from the scrappers torch (unlike her 11 other sisters), and eventually went to the B&O Railroad Museum in Baltimore to be placed on static display in 1975. It remained there for only four years when Ross Rowland approached the museum about trading his damaged Reading 4-8-4 #2101 (Class T-1) for the 614, which they agreed to do.
Roster
| Class | Road Numbers | Date Built | Builder | Quantity |
| --- | --- | --- | --- | --- |
| J3 | 600-604 | 1935 | Lima | 5 |
| J3 | 605-606 | 1942 | Lima | 2 |
| J3a | 610-614 | 1948 | Lima | 5 |
Restoration
After the locomotive's swift restoration she operated for two years as part of the Chessie System's Chessie Safety Express in 1980 and 1981.
However, her most famous jaunt was ACE 3000 test project in 1985, funded by American Coal Enterprise which was attempting to develop a highly efficient new steam locomotive to combat rising oil prices at the time.
The test took place between between Huntington and Hinton, West Virginia in the winter of 1985 and while successful (save for issues with her firebox and booster that occurred), the new locomotive project never developed further than the planning stages.  During the 1990s #614 completed a series of successful excursion trips, notably in New Jersey and New York.
---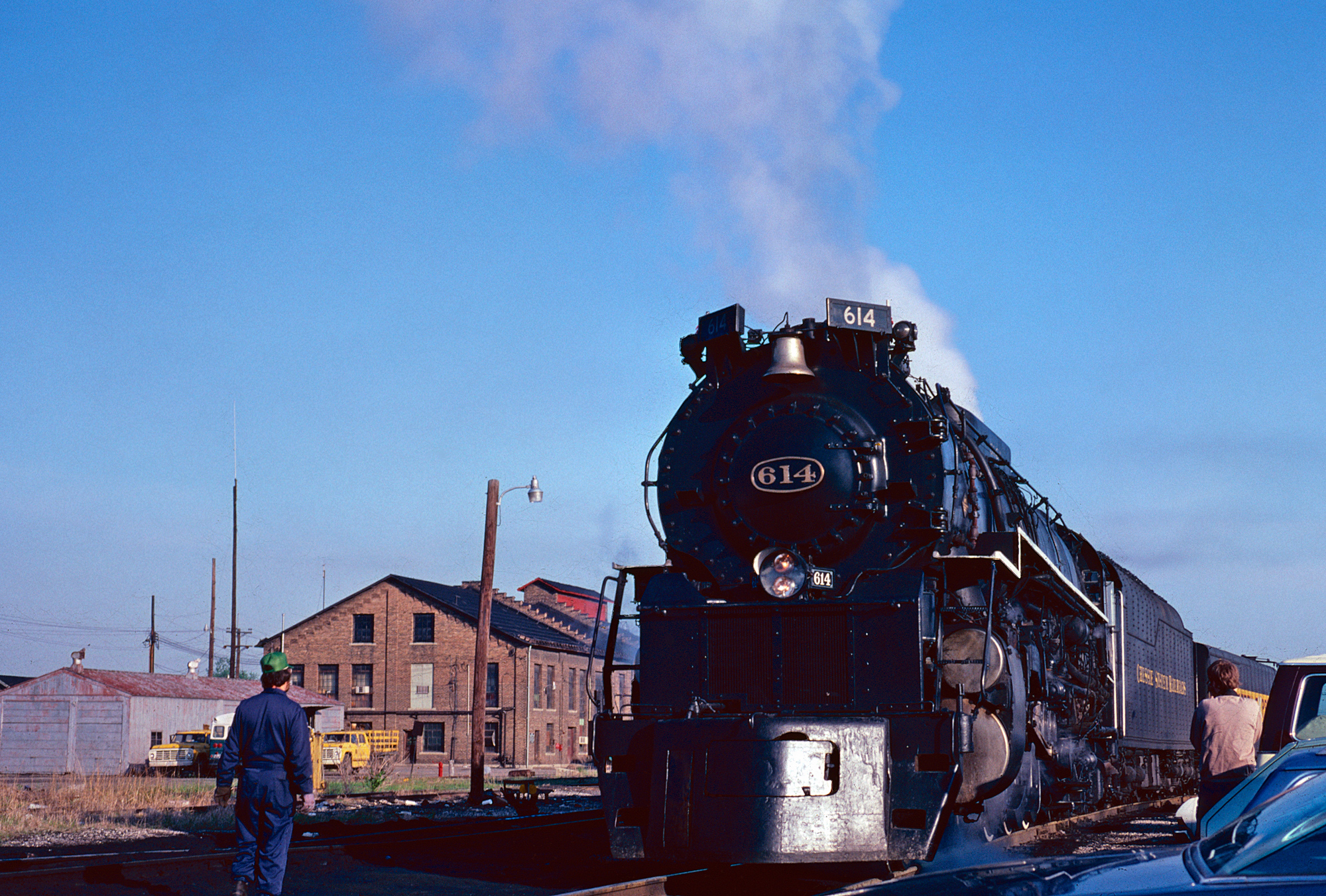 In this scene of Chesapeake & Ohio 4-8-4 #614, the big 'Greenbrier' eases out of the engine terminal at Parsons Yard in Columbus, Ohio on May 17, 1981. Roger Beighley photo. American-Rails.com collection.
Current Status
Mr. Rowland has attempted to continue operating the locomotive but with CSX holding a very stubborn outlook of steam locomotives, the locomotive has sat dormant since last hosting excursions in 1999.
She continues to be maintained by Rowland and his Iron Horse Enterprises with hopes that one day she will again find use.  It has been reported the locomotive was last serviced in 2006 and would now a need a complete rebuild to returned to service. Unfortunately, until CSX changes its stance towards steam locomotives, 614's chances of restoration and operation are highly unlikely.
In 2011 she spent time at the Virginia Museum of Transportation in Roanoke as part of their Thoroughbreds of Steam exhibit.  Then, in 2012, the big Greenbrier was returned to C&O Railway Heritage Center in Clifton Forge.  She remains painted in the deep Forest Green and gold livery of the never-launched "Greenbrier Presidential Express."
The locomotive is located just off Cary Street and Railroad Avenue at the east end of the old Chesapeake & Ohio yard in Clifton Forge, near the Jackson River.  There she can be found on display along with several other pieces of rolling stock.
Sources
Dixon, Thomas W. Chesapeake & Ohio Passenger Service:  1847-1971.  Clifton Forge:  Chesapeake & Ohio Historical Society, 2013.
Dixon, Thomas W. Chesapeake And Ohio Railway:  A Concise History And Fact Book.  Clifton Forge:  Chesapeake & Ohio Historical Society, 2012.
Schafer, Mike. More Classic American Railroads. Osceola: MBI Publishing, 2000.