Nickel Plate Road 759
Published: October 25, 2023
By: Adam Burns

Nickel Plate Road 759 is a preserved steam locomotive that was built in August, 1944 by the Lima Locomotive Works in Lima, Ohio.
It was one of the last steam locomotives built in the United States and was used for heavy freight work until it was retired in 1958.
The locomotive was restored to operating condition in 1966 and used in excursion service until 1973. It is currently on static display at the Steamtown National Historic Site in Scranton, Pennsylvania.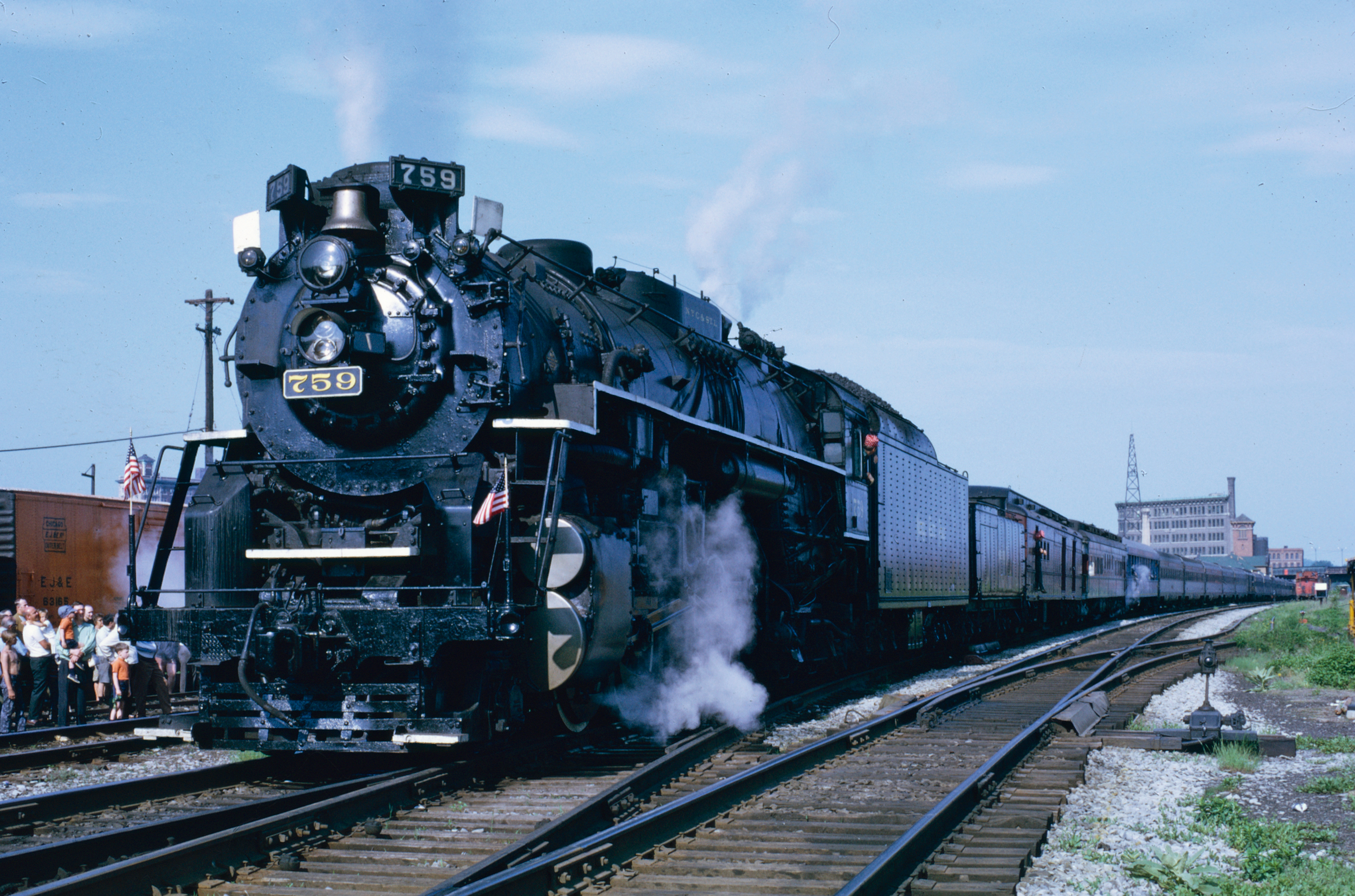 Nickel Plate Road 2-8-4 #759 departs Binghamton, New York with an eastbound excursion over the Erie Lackawanna over Memorial Day Weekend, 1970. R.J. Kalmbacher photo. American-Rails.com collection.
Construction
Nickel Plate Road 759 is a historically significant 2-8-4 type steam locomotive that owes its origin to the Lima Locomotive Works, a prominent locomotive manufacturer of the era. The locomotive holds notable contributions to locomotive engineering and the rail transportation timeline of the 20th century United States.
The locomotive was outshopped in 1944, during a period when the global transportation sector was at its peak due to the competitive advancements of World War II. The 759, thus, was built to represent the pinnacle of Lima's Berkshire design - an apt reflection of the golden era of steam technology.
The Nickel Plate's eighty 2-8-4s were built over a 15-year period between 1934 and 1949 for expedient freight duties.  They were classed S through S-3 with the 759 representing the S-2. 
Interestingly, among the railroad's fleet of Berkshires, most preserved are ll from its S-2 class and include - along with 759 - 755, 757, 763 and 765.  In addition, 779 (the last steam locomotive built by Lima), also survives, on display at Lincoln Park in Lima, Ohio.
At A Glance
| | |
| --- | --- |
| Builder | Lima Locomotive Works |
| Serial Number | 8667 |
| Completion Date | August, 1944 |
| Class | S-2 |
| Whyte Notation | 2-8-4 |
| Driver Diameter | 69" |
| Length (Engine + Tender) | 100' 8 ¾" |
| Height (Engine) | 15' 8" |
| Weight (Engine) | 356,000 Lbs |
| Weight (Engine + Tender) | 772,000 Lbs |
| Valve Gear | Baker |
| Fuel Capacity (Coal) | 22 Tons |
| Water Capacity | 22,000 Gallons |
| Minimum Rail Weight | 106 Lbs |
| Tractive Effort | 64,135 Lbs |
| Maximum Speed | 70 MPH |
Service History
Once completed, the 759 could regularly be found leading expedited freights throughout the Nickel Plate system in with fast freight service in Ohio, Indiana, and Illinois.  It featured roller bearings on all drivers and the lead truck while friction bearings were still utilized on the trailing truck.
Retirement and Preservation
In May, 1958, 759 was consigned to the Nickel Plate's Conneaut, Ohio shops for extensive overhaul.  Ironically, this venture turned out to be the final instance of steam locomotive overhaul conducted by Nickel Plate, as 759 was tucked into storage post-restoration and did not resume operation.
However, the locomotive found a new lease on life when steam locomotive and rail enthusiast F. Nelson Blount purchased it on October 16, 1962.
Subsequent to the transfer of ownership, it was relocated to Blount's Steamtown, U.S.A. collection, initially in North Walpole, New Hampshire and, later, across the Connecticut River to Bellows Falls, Vermont.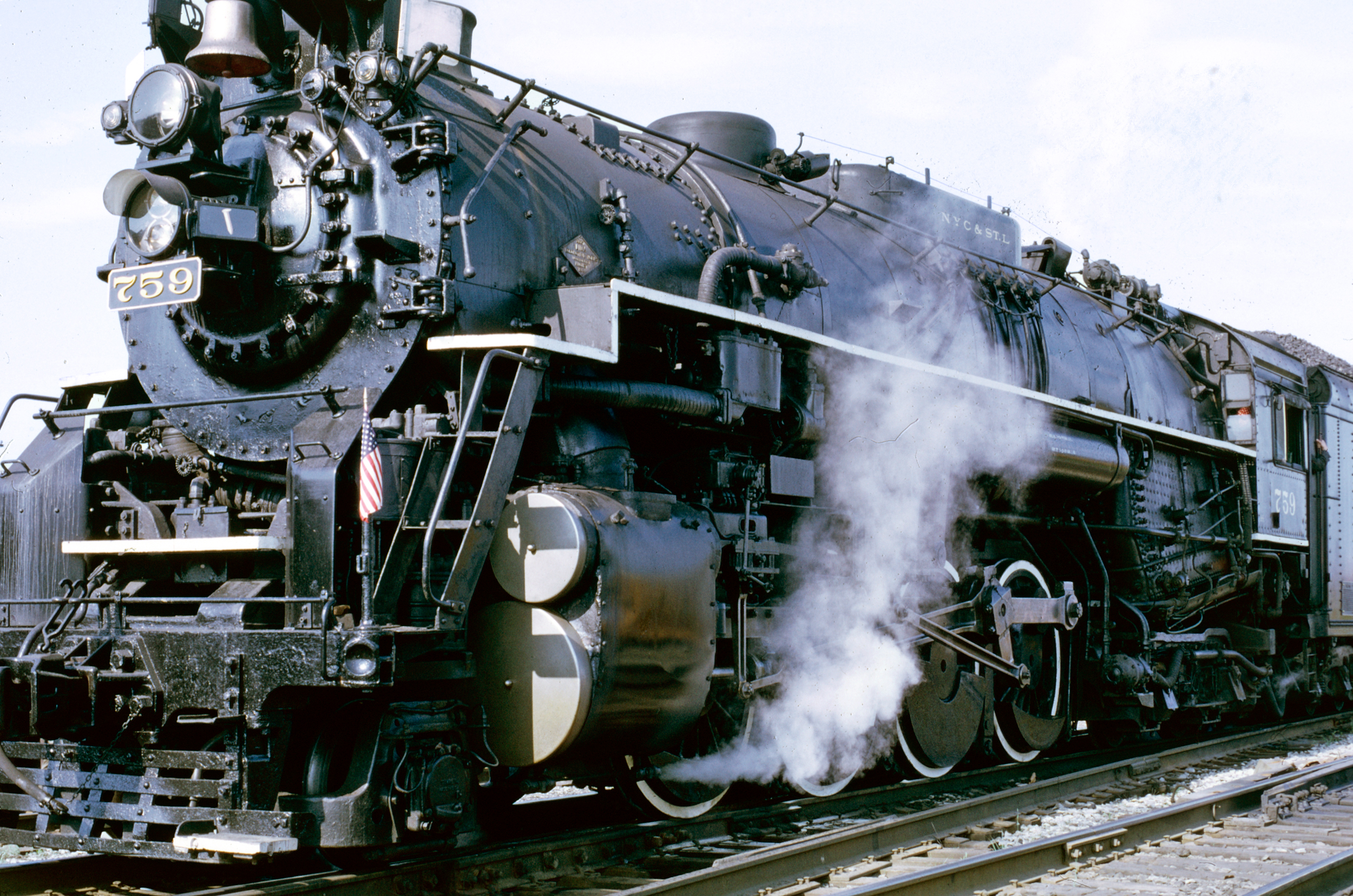 Nickel Plate Road 759 at Binghamton, New York leading an excursion on the Erie Lackawanna in late May, 1970. R.J. Kalmbacher photo. American-Rails.com collection.
Excursion Service
In 1967, New York commodities broker Ross E. Rowland made an agreement to restore 759 to active service for steam-powered fan trips hosted by his High Iron Company.
759 was selected for restoration on rational grounds; Rowland's previous engagements with Canadian Pacific 4-6-2 locomotives 1238, 1286, and Blount's 1278 failed to match the hauling caliber required for his larger excursion trains.
To rectify this, 759 was transported to the Norfolk and Western's former Nickel Plate roundhouse in Conneaut, Ohio, for restoration and pre-excursion testing.
In 1968, the 759 was restored to active service by Rowland. Ross is best known for his involvement in several high-profile steam locomotive excursions and noted as a significant figure in the 'steam era' revival movements during the 1960s and 70s.
Between 1968 and 1973, 759 led numerous memorable excursions under Ross Rowland's guidance. This period was one of the locomotive's most active, attracting thousands of rail enthusiasts and helping many to relive the vanished glory of steam railroading.
In 1969, the locomotive underwent aesthetic transformations as it was painted blue and gold for the special Golden Spike Centennial Limited.
The train was a symbolic representation of the 100th anniversary of the driving of the golden spike, traveling as far as Omaha, Nebraska.
Upon the train's return, 759 was restored to its original Nickel Plate Road livery and ran two excursions for Steamtown, one of which was to Steamtown's future home in Scranton, Pennsylvania.
The Pocahontas
A significant moment in 759's history arose on May 1, 1971, the day Amtrak began operations. 759 was commissioned to haul the final run of the Norfolk and Western's (N&W) Pocahontas passenger train from Roanoke to Norfolk, Virginia.
For this run, 759 bore a glistening black coat with "NORFOLK AND WESTERN" emblazoned on its tender, along with a Hancock long-bell 3-chime whistle, salvaged from streamlined N&W class J 4-8-4 steam locomotives.
In 1973, 759 was relegated to storage for the winter at the Delaware and Hudson's roundhouse in Rouses Point, New York. Failures in precautionary measures resulted in extensive damage to 759's boiler tubes when the water left inside them froze.
The extent of the damage marked a turning point for the 759, altering its course from active service to preservation. Steamtown triumphantly emerged from the ensuing litigation, and significant repairs on 759 were launched by D&H as part of the settlement terms.
Numerous factors contributed to 759 being placed on permanent static display in 1977. These included the increasing operational and maintenance costs associated with steam locomotives, along with the changes in the legal and regulatory environment for mainline steam operations.
---
Another view of Nickel Plate Road 759 at Binghamton, New York on Memorial Day Weekend, 1970. R.J. Kalmbacher photo. American-Rails.com collection.
Today
Today, 759 is displayed at Steamtown National Historic Site in Scranton, Pennsylvania, as a key witness to the steam era. Despite its static display, it continues to engage railroad enthusiasts and reminds thousands of visitors about the important phase of American railroading history it represents.
The 759 leaves behind a legacy of excellent pneumatic, mechanical, and thermal efficiency, rivalling that of diesel-electric locomotives.
Its robust design, superheating and large firebox capacity allowed it to produce impressive power while expending less fuel and reduced maintenance.