Nickel Plate Road #765

Last revised: May 18, 2023
By: Adam Burns

The Nickel Plate Road 765 is one of the more well known large steam locomotives in the country due to its long operating service hauling excursions since the late summer of 1979.

Over the years the 2-8-4 Berkshire has been operated all across the Midwest and eastern United States. Following a 12-year period and 4-year rebuild NKP 765 returned to operation in the fall of 2005.
Today, the steam locomotive, owned and operated by the Fort Wayne Railway Historical Society, finds itself used in a variety of showcased events and trips such as photo ops and other specials (including Santa Trains during the Christmas season).
One of the most celebrated recent showings of the 765 was when she teamed up and double-headed with Pere Marquette 1225 for TrainFestival 2009. 
Additionally, the Norfolk Southern's jaunts with #765 through Pennsylvania and around legendary Horseshoe Curve for the Class I's steam program in 2012 and 2013 are also fondly remembered.  The big Berkshire was able to stretch her legs and run wide open on a main line rails.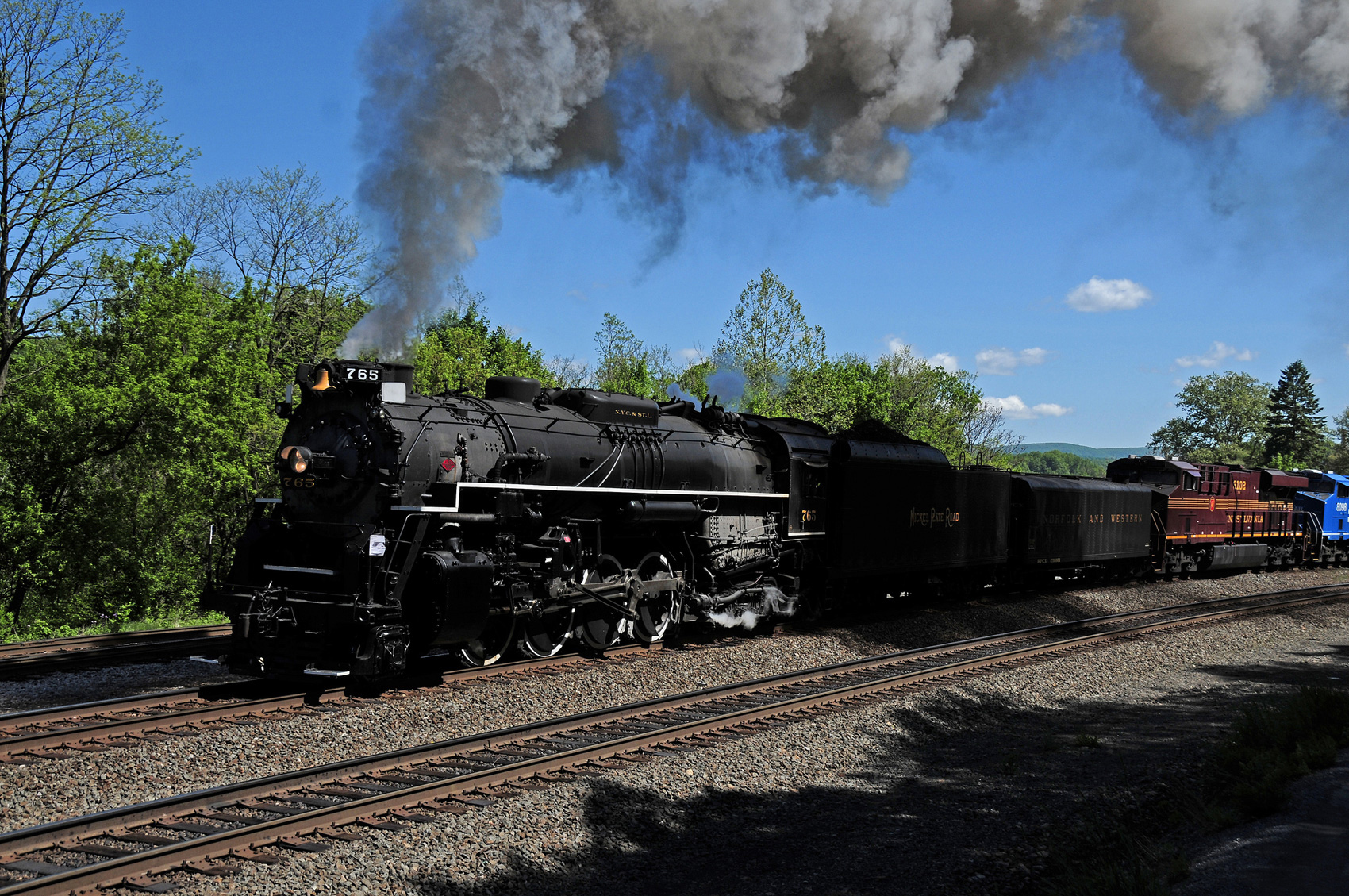 Nickel Plate Road 2-8-4 #765 during her excursions over the Norfolk Southern in Pennsylvania during the spring of 2013. Drew Jacksich photo.
The Berkshire locomotives of the 2-8-4 arrangement were perhaps one of the most beautiful steam designs ever built for medium-heavy duty. Of course, not only were these locomotives aesthetically pleasing, they could lug a heavy freight train as well!
While the locomotive class was very successful and purchased by a number of different railroads when it debuted in the 1920s, it is best remembered for its work on the little Boston & Albany Railroad where it also received its name when the model was being tested in the Berkshire Mountains of New England. 
The Berkshire locomotive came about because of the hope of the Lima Locomotive Works, an established and well-known manufacturer of steam locomotives, to improve the USRA Mikado design (2-8-2), which lacked sufficient speed and horsepower.
Based initially from a New York Central Railroad H-7 Mikado design, what Lima ultimately came up with was a locomotive that included a larger, 100 square foot firebox that necessitated the need for an extra trailing axle giving the locomotive (designated a Class A-1) a 2-8-4 wheel arrangement.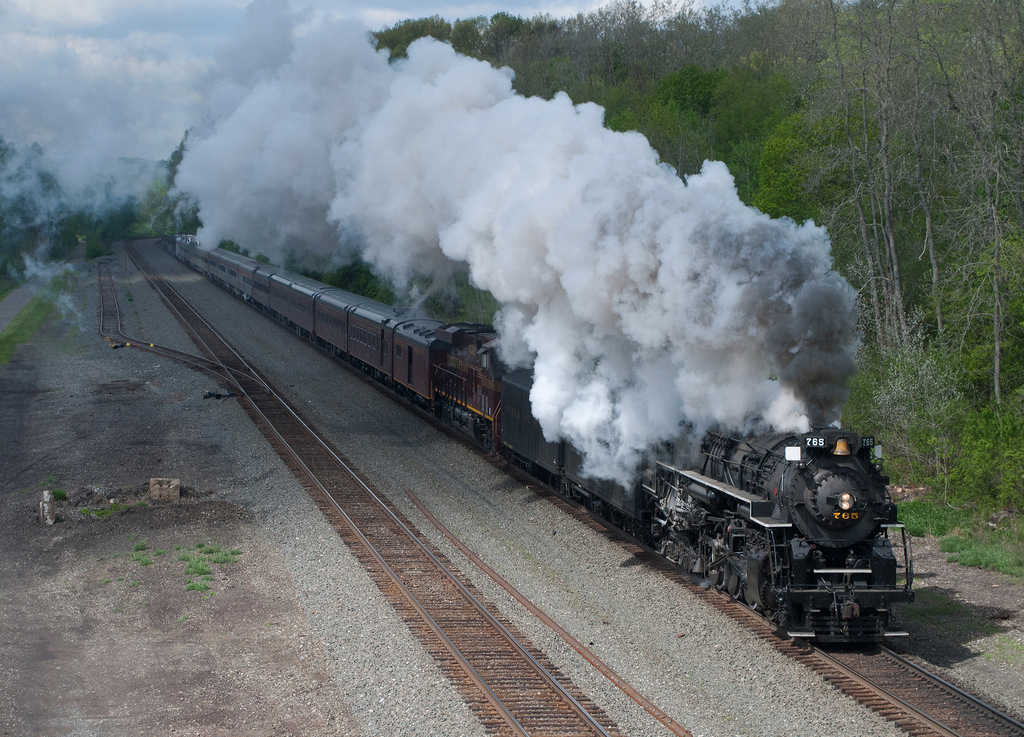 Nickel Plate Road #765 steams through Leetonia, Ohio with Norfolk Southern's Employees Special on May 12, 2013. Tom Granville photo.
Schedule (2023)
Check out the Indiana Rail Experience for more information regarding where and when you can find #765 operating in 2023.
The New York, Chicago & St. Louis (the Nickel Plate Road) quickly took a liking to these powerful and aesthetically pleasing locomotives. Between 1934 and 1949 the Nickel Plate took delivery of some 80 2-8-4s, all built locally by the Lima Locomotive Works.
Nickel Plate Road #765 was part of the railroad's S-2 class and was assigned to hauling main line freight trains around Bellevue, Ohio (the Berks became the railroad's flagship locomotives hauling virtually all of its high priority freight and passenger trains). 
Overall the Nickel Plate's Berkshires could produce just over 64,000 pounds of tractive effort, 245 psi of boiler pressure, and held a top speed of around 70 mph. Being one of the most technologically advanced steam locomotives built during the late 1930s and through the early/mid-1940s the Berkshire saw a relatively short service life on most railroads, including the NYC&StL.
Nickel Plate Road 765 remained in regular service for only about 15 years before she was retired in June, 1958 (as you may note in the chart below, the railroad's S-3 Class of 2-8-4s saw less than 10 years of service!).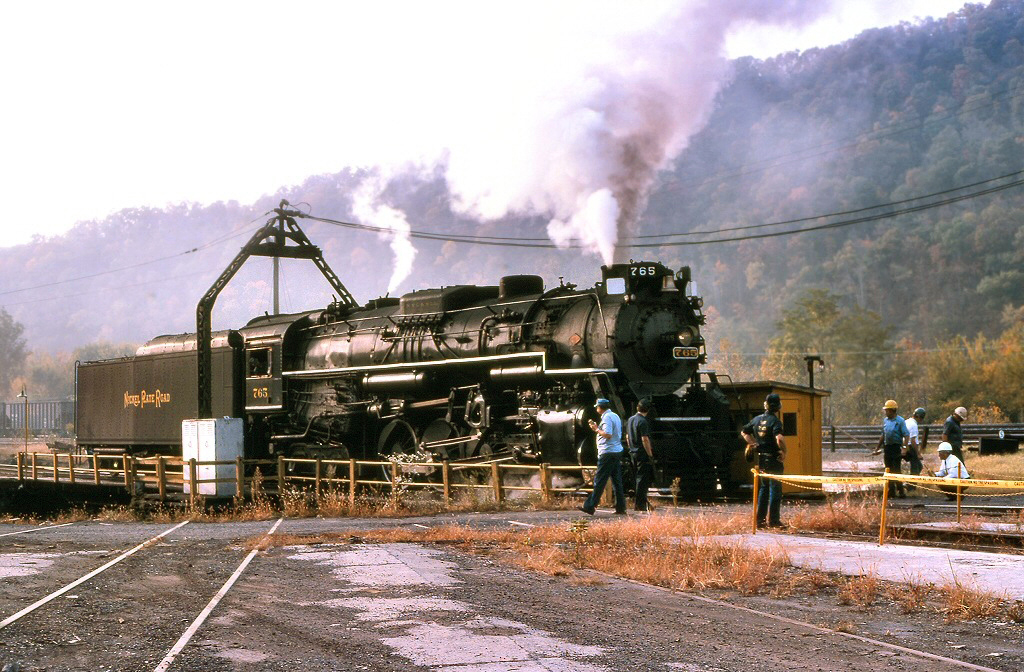 In this scene of the big Berkshire the locomotive takes a spin on the turntable at Hinton, West Virginia during October of 1983 to head back towards Huntington. Today, the yard is gone. Rob Kitchen photo.
NKP 765 survived the fate of most of her sisters and other steam locomotives when the railroad, as a gesture of good will, asked if the city of Fort Wayne would like one of its 2-8-4s to be preserved on static display.
The city accepted the offer but received the 765 instead of sister 767 as it had requested. Efforts to return NKP 765 back to operational status began in October, 1975 after the Fort Wayne Railroad Historical Society had been formed in 1972 to restore the locomotive. 
After about four years of work Nickel Plate 765 returned to steam on the first day of September, 1979. Between that time and 1993 she logged over 52,000 miles of excursion service in more than half of states east of the Mississippi River.
Her most celebrated jaunts during these years was likely pulling the New River Train hosted by the Collis P. Huntington Chapter of the NRHS along the New River in West Virginia during the fall seasons of 1986 and 1993 (it was not long after this time that CSX disallowed steam locomotives to be operated on its railroad citing rising insurance costs).
Whistle
The locomotive's original whistle, as delivered from Lima, was a Nathan 5-chime variant, featuring brass on the bowl and bottom with cast iron on the top.  It was a departure from the original S class of 1934 that featured all brass, constructed during a time before the world was at war and brass in short supply. 
The original whistle is preserved but no longer in use; it was damaged during a blowing session during the late 1960's/early 1970's and is missing an internal valve.  Today, #765's whistle of choice is an all-brass variant from sister #700.  The locomotive has also operated with a number of guest whistles over the years.
After her 1993 operating season NKP 765 was shopped for a general overhaul of her running gear although her owners instead decided to give her a full rebuild.
This effort took much longer than expected, mostly because of the astronomical cost involved in carrying out the rebuild. It took the Fort Wayne Railroad Historical Society eight years to raise the money needed for her rebuild, which began in 2001 and was completed by October, 2005 when she officially returned to steam. 
With fewer states to now operate in due to CSX's policy NKP 765 has nevertheless remained successful hauling various excursions and participating in other events, where she continues to draw large crowds. 
Nickel Plate Road's 2-8-4 Berkshires
| Class | Road Numbers | Date Built | Builder | Quantity |
| --- | --- | --- | --- | --- |
| S | 700-714 | 1934 | Lima | 15 |
| S-1 | 715-739 | 1942 | Lima | 25 |
| S-2 | 740-769 | 1944 | Lima | 30 |
| S-3 | 770-779 | 1949 | Lima | 10 |
---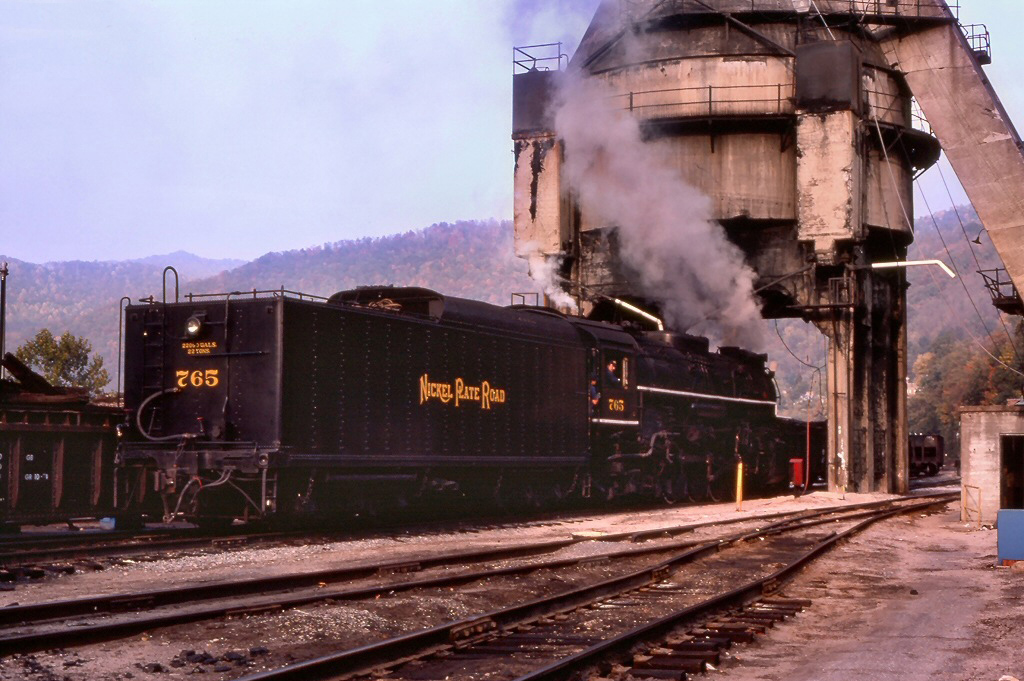 Another view at Hinton as the Berkshire passes under the old coaling tower, which is the only visible reminder today that a yard was ever located here. Rob Kitchen photo.
If you would like to NKP 765 in operation please visit the Fort Wayne Railroad Historical Society's website to learn when her next scheduled excursion will be.  
For more reading about the Nickel Plate's fleet of Berkshires a good book on the subject is, "Berkshires Of The Nickel Plate Road," by author Kevin Holland.  
The title explores the road's entire fleet of 80 Class S 2-8-4s from the time they were delivered until retirement and disposition of those units which were preserved for posterity, such as #765.   The book is 124 pages and features more than 150 pictures.