Union Pacific 4-8-4 844

Last revised: October 25, 2023
By: Adam Burns

Union Pacific 844 is a 4-8-4 steam locomotive which the Union Pacific dubbed, originally enough, "Four-Eight-Fours" and classed them as such (Class FEF-1 through FEF-3).

The locomotive was simply one of nearly four-dozen 4-8-4s the railroad had built between 1937 and 1944, and were used originally in passenger service but during their later years served as freight power.
The UP saved the locomotive from scrapping in 1959 and a few years later it was being used around the system for promotional tours and in general, as a good public relations tool. 

The idea has been phenomenally successful for the railroad and 844 operates excursions regularly each year all over the Union Pacific system, from the Midwest to Pacific Coast, making it one of the most famous steam locomotives in the country. 
It appears the locomotive's task in this regard will remain for years, and likely, decades to come as Union Pacific continues to utilize steam as a history and teaching tool.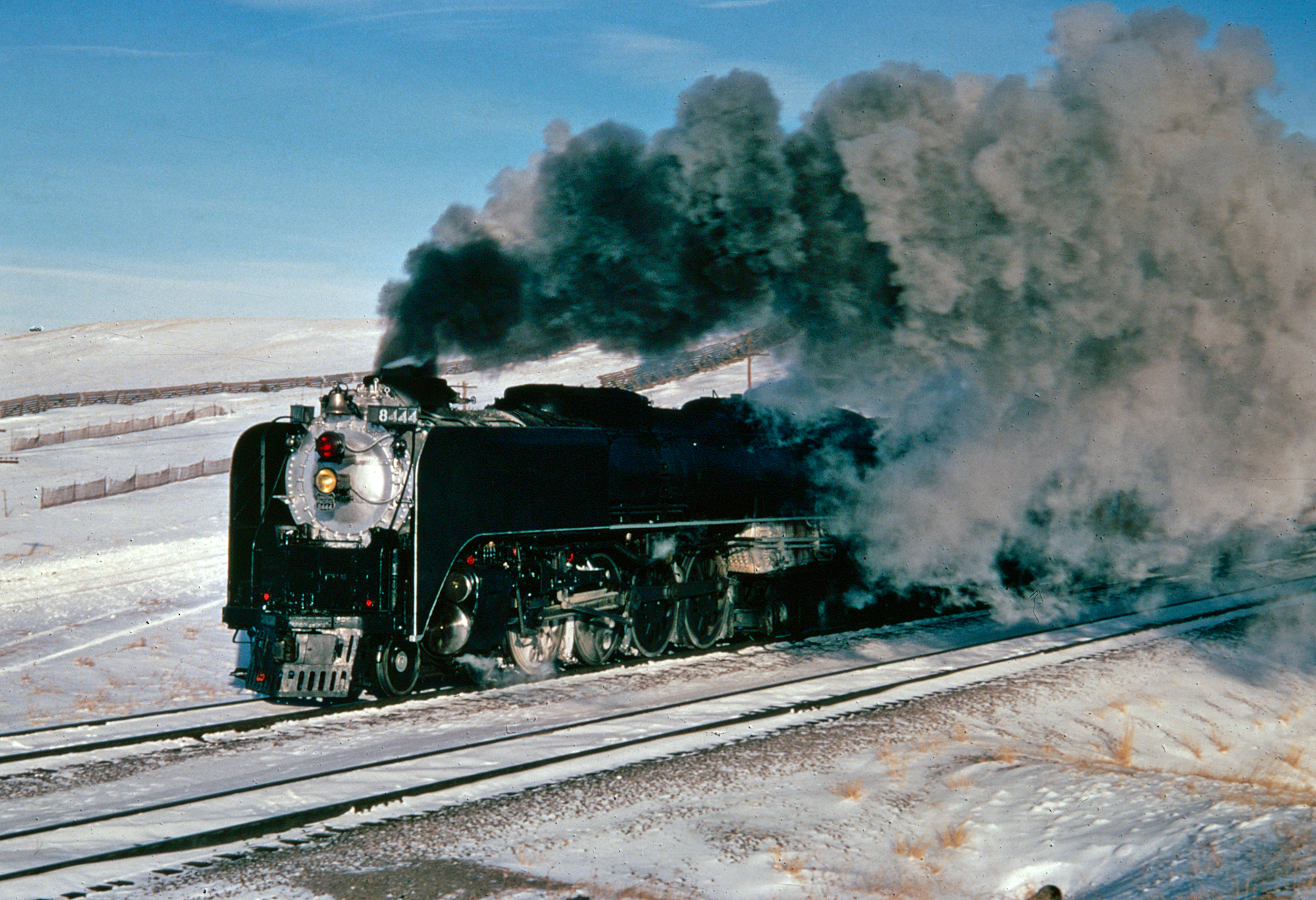 Union Pacific 4-8-4 #8444 leads a special fan trip over Sherman Hill (Wyoming) in January, 1972. American-Rails.com collection.
Background
Union Pacific 844 was the last 4-8-4 design the railroad received. It arrived in a batch of ten, road numbers 835 to 844, and having been constructed in 1944 received the latest in steam locomotive technology.
UP's entire fleet of Northerns consisted of 45 engines, all of which were built by the American Locomotive Company. One particular feature that made the 4-8-4 wheel arrangement so successful was its versatility where it was just as capable of pulling a time-sensitive passenger train clipping along at 70+ mph as it was at lugging a heavy freight train over stiff grades. 
Top Speed
Union Pacific's Northerns were officially rated for a top speed of around 90 mph. 
However, the locomotives frequently eclipsed this figure, reaching speeds as high as 120 mph and regularly running for several miles over 100 mph.  In addition, one unit even pulled a 1,000-ton passenger train at 100 mph.
This versatility, along with the locomotive being equipped with some of the latest technology, made the Northern Type one of the most successful designs of all time with over 1,000 built for 36 different railroads.

Union Pacific 4-8-4 #8444 has arrived in Sacramento, California for "Railfair '81" in April, 1981. Author's collection.
Class FEF
Perhaps the most well known Northerns to ever operate including the Norfolk & Western's handsome J Class, Southern Pacific's Golden States, and New York Central's Niagaras just to name a few.
The Union Pacific's 4-8-4 designs were primarily meant to be used in passenger service with their 77" to 80" drivers. As mentioned earlier the railroad designated their 4-8-4s as Class FEF (which stood for Four-Eight-Four) and UP 844 was the last locomotive in Class FEF-3.
---
Schedule (2024)
The 2024 schedule has not yet been released.
---
All three classes featured a bit of streamlining and weighed roughly the same although each subsequent class was a tad lighter than the previous. All three classes could produce 300 psi of boiler pressure and between 63,600-63,750 pounds of tractive effort. 

Being the last 4-8-4s purchased by and delivered to the railroad, #844 and her siblings saw the shortest service life. They were used on UP's secondary named trains like the Challenger, Portland Rose, and Overland Flyer until 1957 at which point they were bumped into freight service.
Here they remained until 1959 when UP had fully dieselized and, all but one, were retired permanently from service.  As early as 1960 Union Pacific realized the benefits of having a steam program and chose #844 to head the new division. 
---
Whistle
Union Pacific, like many railroads, was quite fond of the the Hancock Inspirator Company's whistles.  #844, along with all of UP's 4-8-4's (in addition to its 4-6-6-4's and 4-8-8-4's), was fitted with the Hancock Long-Bell 3-Chime.  To learn more about this whistle please click here.
---
The locomotive was restored to active service in 1962 and since then has been a wildly successful PR tool for Union Pacific running numerous excursions over the railroad each year, usually in the name of safety such as the "Operation Lifesaver" program.

4-8-4 Class
| Class | Road Numbers | Date Built | Builder | Quantity |
| --- | --- | --- | --- | --- |
| FEF-1 | 800-819 | 1937 | Alco | 20 |
| FEF-2 | 820-834 | 1939 | Alco | 15 |
| FEF-3 | 835-844 | 1944 | Alco | 10 |
Today 844 operates alongside 4-8-8-4 "Big Boy" 4014, restored in 2019 by the railroad.  Its former stable mate, 4-6-6-4 3985 was officially retired in May, 2020 and sold to Railroading Heritage of Midwest America based at the old Rock Island shops in Silvis, Illinois. 
This group, which also maintains Milwaukee Road 261, will restored the Challenger back to operating condition.
Some interesting facts about 844 include that the locomotive has never been officially retired from the railroad's roster, ever since its purchase from Alco in 1944.
Also, the locomotive was originally a coal-burner but was later converted to run on oil while still hauling freight and passengers for the UP, which it continues to use today.
Lastly, between 1962 and 1989 the locomotive's number had to be changed to 8444 as UP's numbering system bumped the steamer for an EMD GP30 which used the 844 number.
---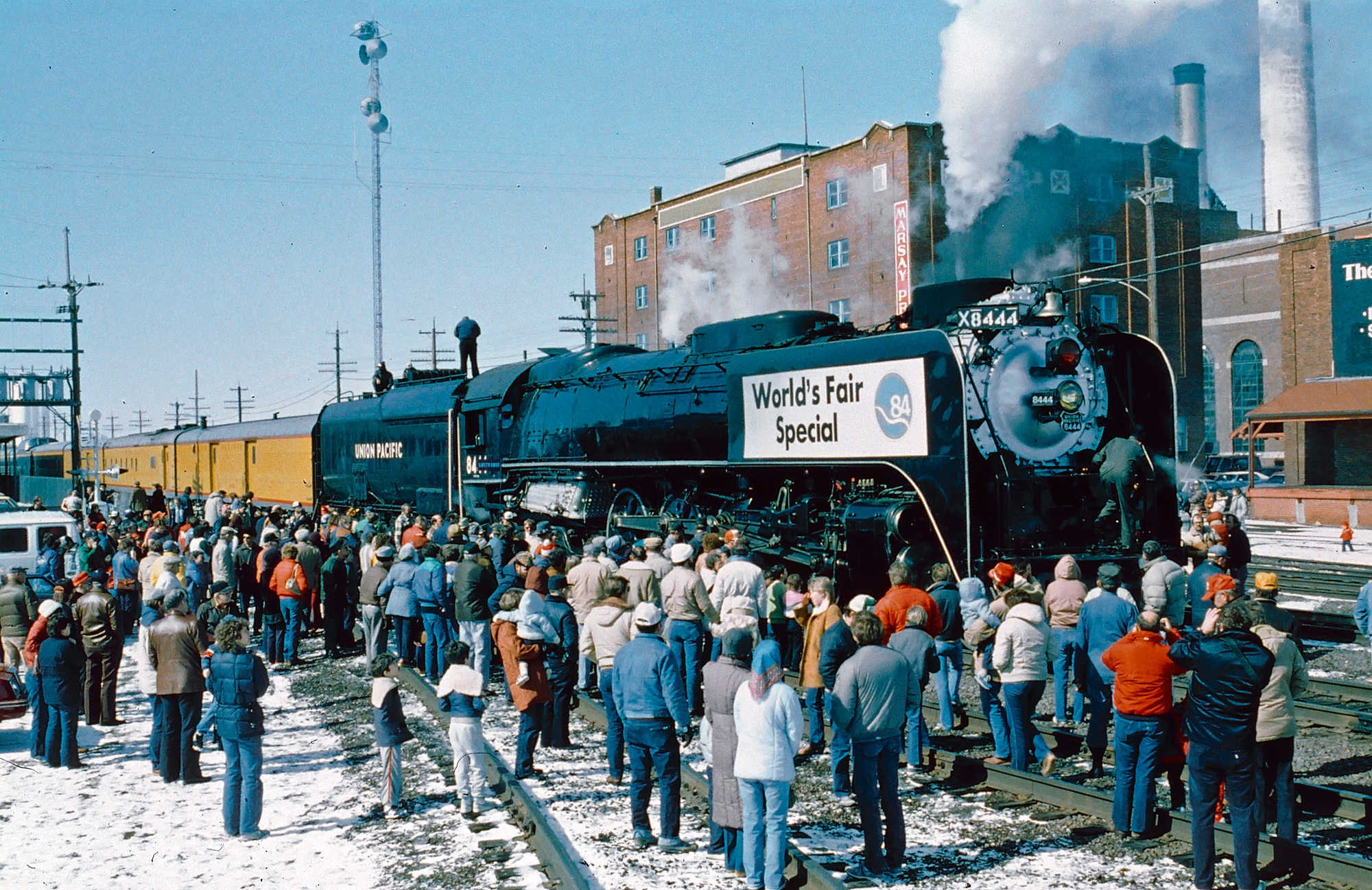 Union Pacific 4-8-4 #8444 with the "World's Fair Special" stopped in Grand Island, Nebraska in 1984. Mike Bledsoe photo. American-Rails.com collection.
In 1989, the 4-8-4 was returned to its original 844 numbering and now the railroad has reserved it exclusively for the steamer.
Normally restoring and operating steam locomotives is an endeavor that most groups have a hard time just being able to pull off and maintain year after year (must always tip their cap to them for accomplishing such a difficult task).
However, when seemingly endless funding is available, as in the case of the Union Pacific's steam program, it's truly amazing what can be accomplished.