Alabama Railroads In "The Heart of Dixie"

Last revised: June 14, 2023
By: Adam Burns

auAlabama railroads have been operating since 1832 and the state became an important source of traffic in later years for railroads with its many natural resources.

During railroad's "Golden Age" the state was home to well over 5,000 miles of trackage although today that number has been sharply reduced. 
Abandonments have sadly a been carried out a grand scale in almost every state in the continental U.S.  Alabama has lost over 2,000 miles although its decline has been less severe than many others. 
Much of its loss has been via short lines and secondary corridors as the state's main lines remain active. 
History
From a railfan perspective the state has an interesting mix of operations from the southern coastal lowlands near the Gulf of Mexico to its northern mountains where one of the state's only tunnels near Carara is located. 

Alabama's rail network is, not surprisingly, dominated by the Class I railroads.  However, the state is also home to several short lines and one regional to railfan. All of this information, and much more, is listed below. 
Also be sure to check out the graph illustrating Alabama's rail mileage throughout the years, including its very first railroad.
Photos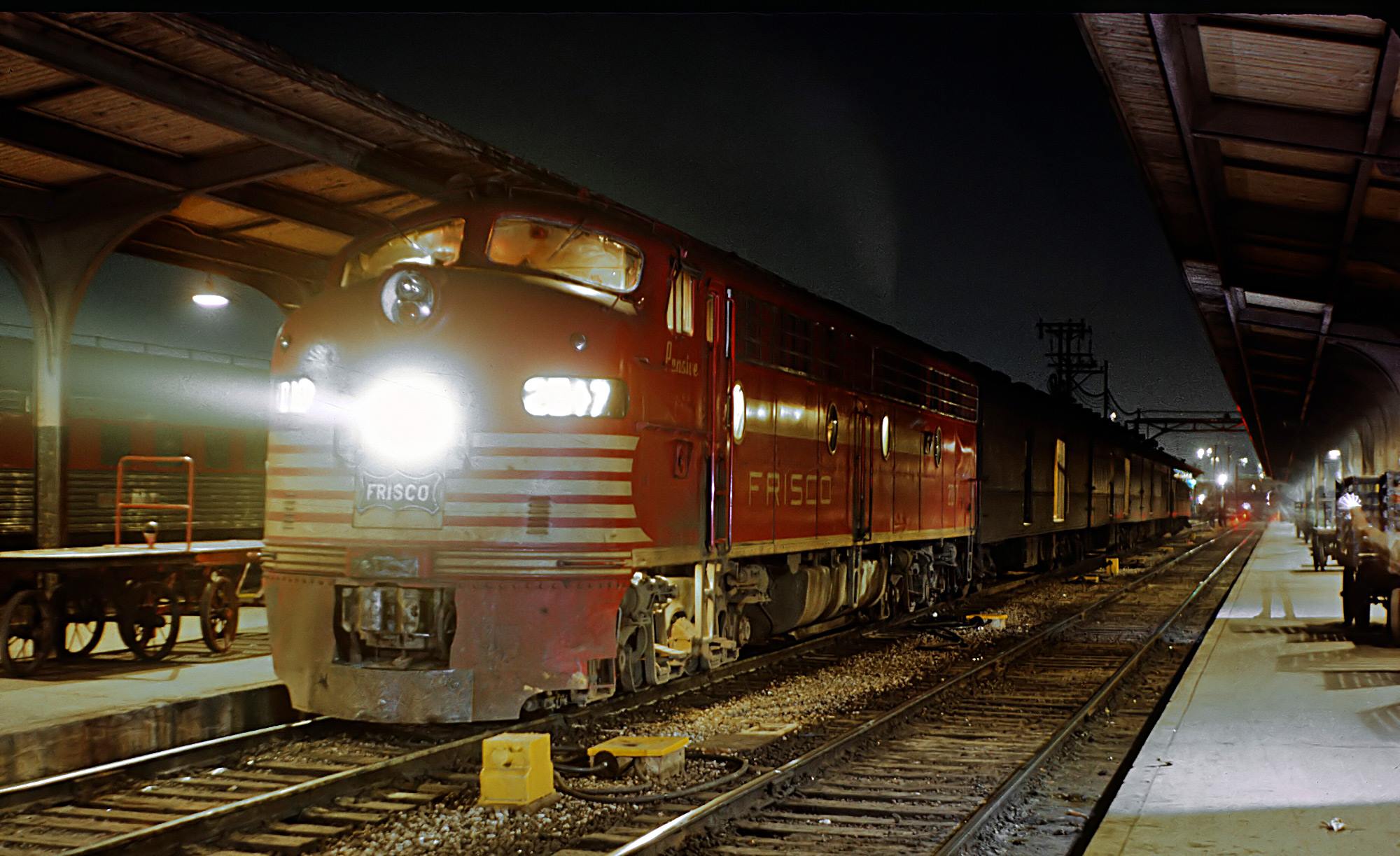 St. Louis-San Francisco's train #108, the "Sunnyland," led by E8A #2017 (the "Pensive," named for the chestnut Thoroughbred that won the 1944 Kentucky Derby and Preakness Stakes), is seen here at Birmingham Union Station on April 15, 1963. Roger Puta photo.
The state of Alabama has its beginnings with railroads in 1830 when the little Tuscumbia Railway, originally horse-powered, was chartered on January 16th of that year to connect Tuscumbria with the nearby Tennessee River.
Overall, the little line was just 2.1 miles in length although it successfully served its purpose of moving cotton bales to the river.
The railroad was the fourth incorporated railroad in the country and was the first built west of the Alleghenies. With the success of the line it was reorganized in 1832 as the Tuscumbia, Courtland & Decatur Railroad, connecting its namesake cities just a few years later.
Statistics
| | |
| --- | --- |
| First Railroad | Tuscumbia Railway (1830) |
| Peak Mileage | 5,378 (1920) |
| Current Mileage | 3,227 (2020) |
| Current Railroads | 26 |
| Originated Rail Tons (2019) | 38.2 million |
| Terminated Rail Tons (2019) | 42.8 million |
| Originated Carloads (2019) | 464,916 |
| Terminated Carloads (2019) | 447,835 |
The railroad eventually became part of the Memphis & Charleston Railroad, a system that would come under the ownership of the Southern Railway. Interestingly, today, the original TC&D route is still operated by Class I, Norfolk Southern.
---
Abandoned Lines
The state of Alabama has lost 2,100 miles of railroads since the 1920's; most (1,400 miles) has been removed since only the mid-1960s.  
During this era, and through the 1980's, many Class I's were truncating unprofitable branches and secondary corridors while historic short lines were also shutting down.
Every notable railroad to serve the state has shuttered at least a few miles of trackage.  One particular standout was the old Alabama, Tennessee & Northern Railroad which became Gulf, Mobile & Ohio's Mobile Division.
This route ran from Aliceville to Mobile and was largely abandoned after the swing bridge over Tombigbee River collapsed in the summer of 1973.
The GM&O elected not to rebuild and the line was subsequently abandoned in stages.  Another notable abandonment was the Tennessee, Alabama And Georgia Railway, the "TAG Route."
This small line linked Chattanooga, Tennessee with Gadsden, Alabama.  The Southern Railway purchased the TAG in 1971 then began abandoning segments in the 1980's.
If you are interested in doing a little research, check out the state's once extensive logging operations.  Not all were common-carrier systems making them difficult to find any information about.
---
In any event, as Alabama's network became established its natural resources began to be tapped with railroads finding sources of traffic from such things as timber, coal, and iron.
In later years Alabama would be accessed by several classic fallen flag railroads including (the links below provide a brief history of each company):
State Mileage Chart
First Railroad
* Alabama's first operational was the Tuscumbia Railway, a horse-powered system chartered in 1830, the first chartered and opened west of the Appalachian Mountains.  It's initial 2.1 miles opened in 1832 to haul cotton bales from downtown Tuscumbria to a new wharf on the Tennessee River.  The system was later merged with the connecting Tuscumbia, Courtland & Decatur and eventually wound up as part of the Southern Railway.
In terms of overall mileage, currently Alabama railroad mileage ranks somewhere in the middle of the pack.
During the heyday of the railroad industry Alabama was home to around 5,300 route miles of rails although today that number has dropped by about 48% to slightly over 3,300 miles.
Current Railroads
Today, through mergers, abandonments, and acquisitions Alabama has been reduced to just two Class I railroads, CSX and Norfolk Southern which command 86% of the state's rail mileage although BNSF Railway, Canadian National and Kansas City Southern also have a presence (although their total mileage is less than 400 combined).
However, they are not the only two railroads still operating within the state as there are several short lines found there, including regional Alabama & Gulf Coast Railway.
State Map
The state's railroads, in all, include:
CSX Transportation


Norfolk Southern


BNSF Railway


Canadian National


Kansas City Southern
Alabama & Florida Railway


Alabama & Gulf Coast Railway



Birmingham Southern Railroad


Eastern Alabama Railway


Huntsville-Madison County Railroad Authority


Jefferson Warrior Railroad


Alabama Southern Railroad


Alabama & Tennessee River Railway


Alabama Warrior Railway


Bay Line Railroad


Birmingham Terminal


Chattahoochee Bay Railroad


Conecuh Valley Railroad


Georgia Southwestern Railroad


Luxapalila Valley Railroad


Meridian & Bigbee Railroad


Redmont Railway


Mississippi Central Railroad



Sequatchie Valley Railroad


RJ Corman/Childersburg Line



Tennessee Southern Railroad


Three Notch Railroad


Wiregrass Central Railroad


Terminal Railway-Alabama State Docks
Regarding the Class I carriers, major facilities in Alabama can be found in Birmingham - Boyles Yard for CSX, Norris Yard for Norfolk Southern and Thomas Yard for BNSF Railway - as well as another for NS, Sheffield Yard.

While Alabama railroads do not include many passenger trains, Amtrak does currently operate one train through the state, the Crescent, which stops at Anniston, Birmingham, and Tuscaloosa along the Norfolk Southern's main line through the state.

---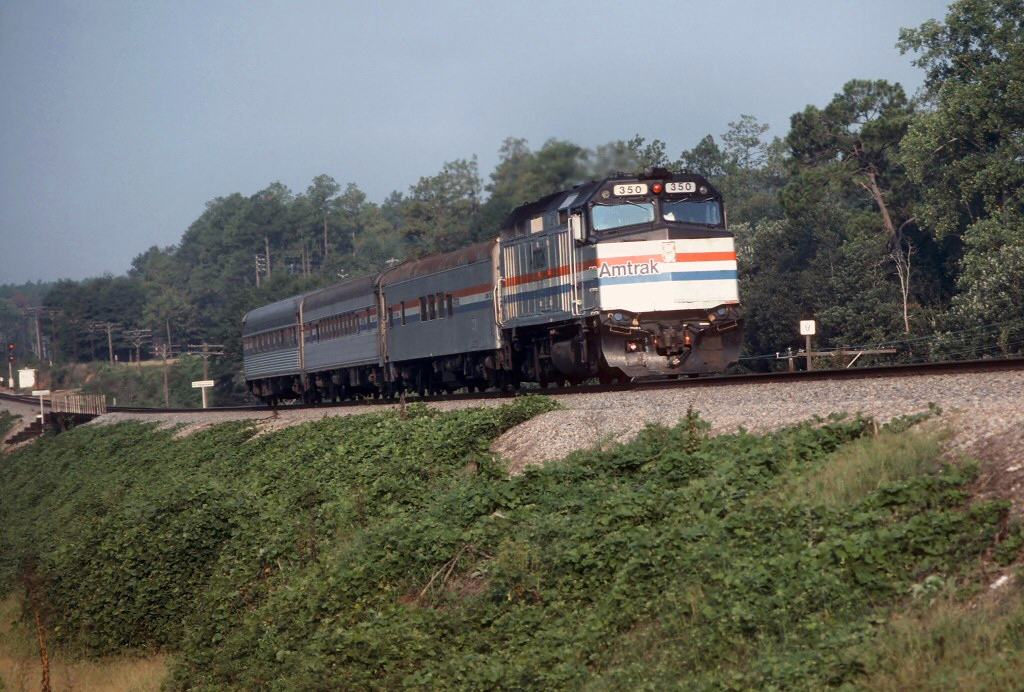 Amtrak F40PH #350 has the northbound "Gulf Breeze" near Atmore, Alabama on the ex-Louisville & Nashville during July of 1990. Gary Morris photo.
There are also plenty of tourist railroads and museums dotting Alabama.
These include the Foley Museum, Heart of Dixie Railroad Museum, Historic Huntsville Depot, and the North Alabama Railroad Museum. Lastly, Alabama has a few relic stations still standing, Montgomery Union Station and Mobile & Ohio Gulf Terminal in downtown Mobile (for any history, rail, and/or architecture buff these railroad stations are worth the drive to see).
So, if you are interested in either Alabama's railroad history or just looking for something to do you may want to visit one of these places.