The Alco C425 was a 2,500 horsepower unit that employed Alco's 251C prime mover. The model had only a two year production run from the fall of 1964 through December of 1966. Unfortunately only 91 units were built for six different Class I railroads including the Pennsylvania; Spokane, Portland & Seattle; Norfolk & Western; New Haven; Chicago & North Western; and Erie Lackawanna (virtually all of these lines were already loyal Alco customers, purchasing at least a few of nearly every model it manufactured). Interestingly, even as late as the mid-1960s Alco continued to use internal components from now-competitor GE (including the model 752 traction motor and GT598 main generator, the latter of which could also be found in the U25B).
It could be argued that the iconic builder was merely losing interest in attempting to remain competitive or that management was not in tune with what railroads were after.  Whatever the case, even in Alco's last few years it made no real attempt to offer anything new and/or innovative to stay in the market against EMD and GE. Perhaps it was only Alco's perception as a marginal locomotive builder with its troublesome early prime mover designs or maybe railroads simply did not like their models, choosing instead the simplicity and known reliability of those from the two other builders.  In the end, Alco could find little success selling locomotives throughout the 1960s with fewer than a thousand units produced across the entire Century line.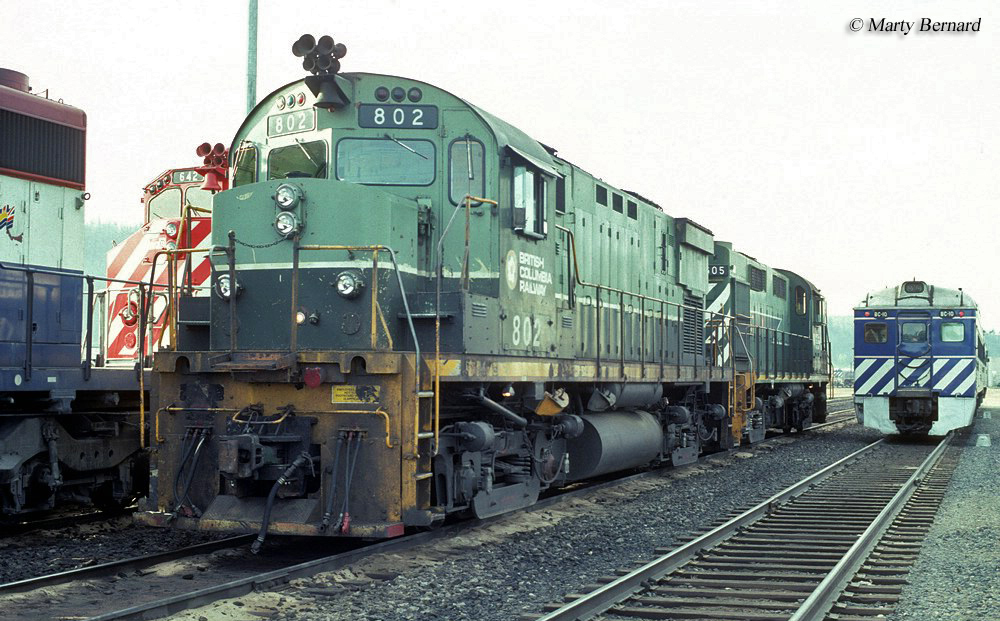 Overall, the C425, as with all of the Century series in general were well built, reliable, and rugged locomotives despite Alco's reputation. The model featured phenomenal pulling power, an Alco trademark, and offered the most available tractive effort of any four-axle design it had cataloged up until that time, 57,200 pounds. All of these factors resulted in many railroads using their C425s for several years before retirement, trade-in, or resale. Several were still in use through the late 1980s and you can still find C425s hauling freight on short lines like the Navajo Mine Railroad; Livonia, Avon & Lakeville; and New York & Lake Erie.  Finally, for technical information about the C425 please click here.  
Alco C425 Production Roster
| Owner | Road Number(s) | Quantity | Date Built |
| --- | --- | --- | --- |
| Chicago & North Western | 401-404 | 4 | 1966 |
| Erie Lackawanna | 2451-2462 | 12 | 1964 |
| New Haven | 2550-2559 | 10 | 1964-1965 |
| Norfolk & Western | 1000-1017 | 18 | 1964-1965 |
| Pennsylvania | 2416-2446 | 31 | 1964-1965 |
| Spokane, Portland & Seattle | 310-317, 320-327 | 16 | 1965-1966 |
For a comprehensive look at the American Locomotive Company and all of the motive power types it built from steam, diesel, to electrics consider the book Alco Locomotives by Brian Solomon. Covering more than 175 pages Mr. Solomon's book details the history of Alco from its esteemed 4-6-4 Hudsons and 4-6-6-4 Challengers to vaunted RS and PA series diesel locomotives. If you have any interest in Alco this book is a must have!  Also consider Mike Schafer's Vintage Diesel Locomotives which looks at virtually all of the classic builders and models from Alco PAs to early EMD Geeps. If you're interested in classic Alcos, or diesel locomotives in general, this book gives an excellent general history of both.   To read more about other Century models please visit the Diesel Locomotives section of the site, which can be reached from the top of this page.

Home

›

Diesel Locomotives

› C425