The
Ambassador
Last revised: May 6, 2023
By: Adam Burns

The Baltimore & Ohio's Ambassador served its Baltimore/Washington, D.C. to Detroit market, formed during the era of the Great Depression.  The railroad considered the train one of its premier and most important, behind only the Capitol Limited and National Limited. 

It regularly carried notable clientele aboard during its peak years, included all of the B&O's top services, and continued to see a high level of patronage far beyond the end of World War II. 
As the traveling public began leaving the rails for automobiles and airlines after the war the B&O curtailed its passenger services starting in the early 1950s. 
Interestingly, despite its status as a first-tier train the Ambassador would not survive to see 1965 as the railroad combined the run with others in an effort to reduce rising deficits.

History
The first appearance of the name Ambassador on the Baltimore & Ohio's timetable occurred during the spring of 1930 when it replaced the railroad's former Detroit-Washington Limited/Washington-Detroit Limited (westbound train #19, eastbound #20) that had only been in service itself since June of 1925. 
As one of the B&O's most important trains the Ambassador was one of the first to tout air-conditioning in 1932 via a heavyweight diner and prior to World War II the entire consist was air-conditioned. 
At the time such a luxury was an entirely new technology and rarely found in public places let alone private homes. 
Aside from full dining services the rest of the train's consist at this time included a baggage-coach, reclining-seat coaches, a standard lounge, several sleepers, and a lounge-observation (all heavyweight equipment).  It also carried some head-end, mail and express.
Passengers could also enjoy luxuries such as those found on its other important trains including valet service (for Pullman customers), a stewardess-nurse who tended to any need, a maid manicurist for the ladies, and a secretary for the gentlemen. 

Consist (1948)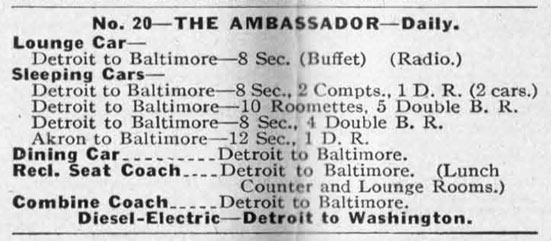 While the train saw a high-level of patronage throughout the war years the B&O officially marketed the Ambassador towards business clientele and automobile executives who needed to be in Washington, D.C. for government-related affairs.
This was not considerably surprising since during that era Detroit was a booming metropolis thanks to its status as the automobile capital of the world.  The train's status earned it top priority, enabling it to make the trip in just over 15 hours, departing Baltimore at 4:45 P.M. and arriving in the Motor City the next morning at 7:50 A.M.

Streamlined Equipment
During April of 1946 the train changed its termini in Detroit, moving from Fort Street Union Depot to Michigan Central Station, which saved an additional 15 minutes. 
After World War II the B&O embarked on a plan to update all of its top trains that were not already streamlined through either new purchase, overhauling additional heavyweight equipment, or purchasing surplus lightweight cars from other roads. 
At the time the Ambassador also remained steam powered using the railroad's handsome Presidential class 4-6-2 Pacifics. 
However, by the end of the decade the train sported streamlining and diesels (E6As/Bs).  Thanks to its continued popularity during the early 1950s it also received its first lightweight cars at that time in the form of two observation cars, Dana and Metcalf.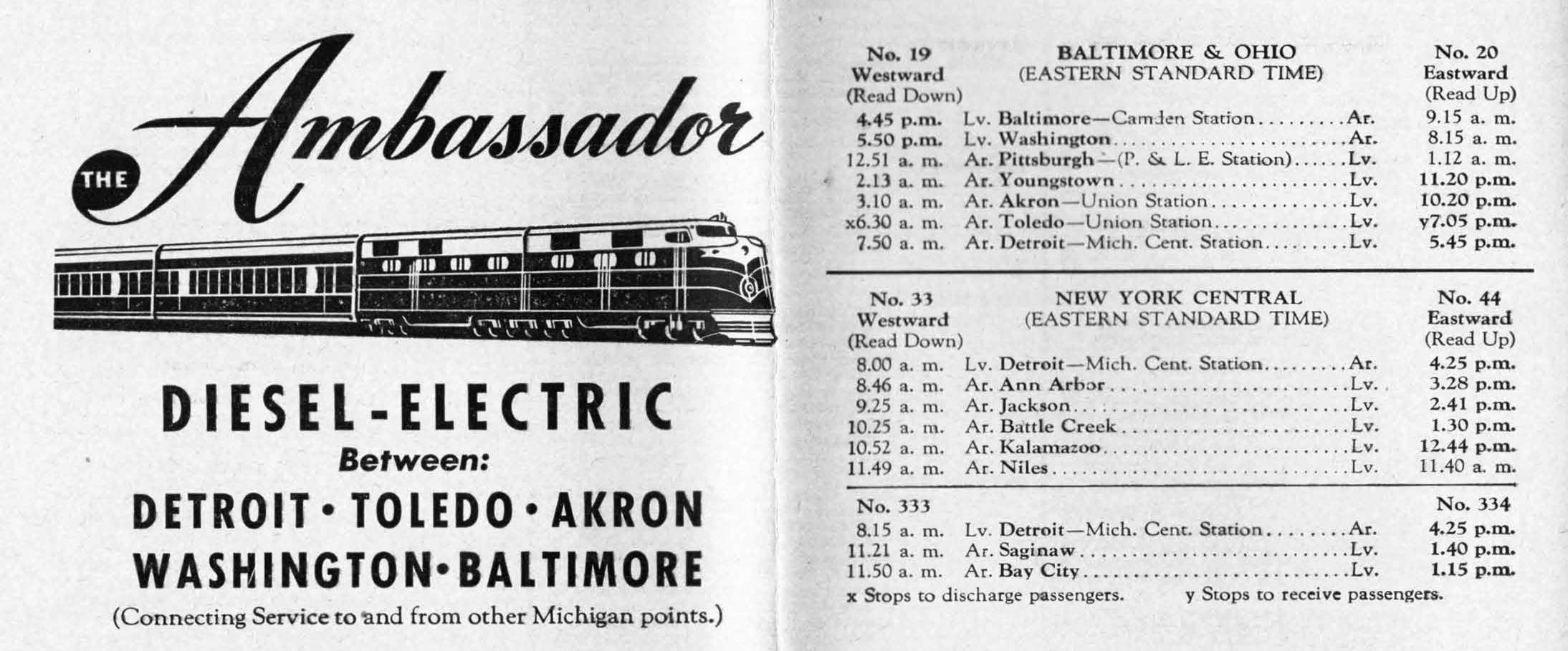 Newer and more powerful diesels also followed in the '50s including E7As and E8As/Bs.  Despite the train's high ridership through the Korean War the B&O was forced to cutback its passenger fleet by the mid-'50s as patronage began to decline, coupled with the railroad's increasingly weak financial state. 
After January 10, 1954 the B&O began combining the Ambassador and Columbian (Washington/Baltimore - New York - Chicago) between Washington and Willard, Ohio on an occasional basis but also continued to run each train independently when spikes in traffic warranted the need. 
After the B&O gave up the New York market to the Pennsylvania during late April of 1958 it combined the Ambassador, Columbian, and Capitol Limited permanently between Baltimore and D.C.

Timetable (1948)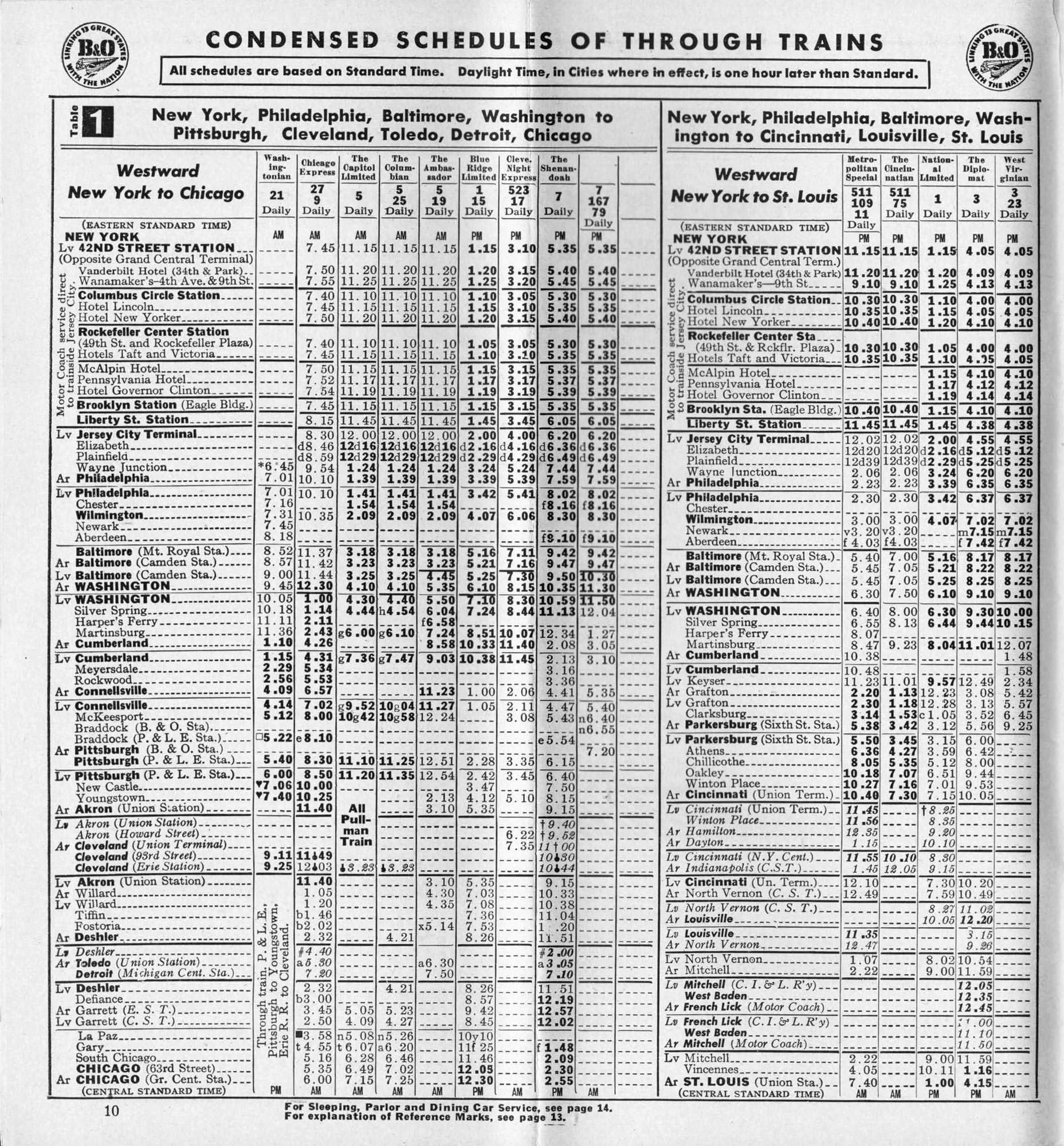 It is rather incredible, in comparison to some of the B&O's other trains, how quickly the Ambassador declined.  The train was one of the railroad's most popular and most important during the early 1950s but within a decade had become only a section of the Columbian after 1961. 
At this time its consist included merely a coach, sleeper, and sleeper-lounge and all of the luxuries it once offered had been abolished.  A few years later the name disappeared altogether from the B&O's timetable in 1964 and its remaining cars and equipment were picked up by the Capitol Limited.  
In addition, the railroad continued to serve Detroit but did so via far less fanfare and a slower schedule under the Cincinnatian.  This train had once been a highly publicized streamliner as well, serving the Baltimore/D.C. to Cincinnati market beginning in the late 1940s. 
Timetable (July, 1963)
(By this date the train was only a section of the Capitol Limited between Willard and Detroit.)

Read Down Time/Leave (Train #5/Capitol Limited)
Milepost
Location
Read Up
Time/Arrive (Train #6/Capitol Limited)
3:50 PM (Dp)
0.0

Baltimore, MD (Camden Station) (ET)

11:05 AM (Ar)
4:35 PM (Ar)
36.8

Washington, DC (Union Station)

10:25 AM (Dp)
5:00 PM (Dp)
36.8

Washington, DC (Union Station)

10:00 AM (Ar)
5:14 PM
43.7

Silver Spring, MD

9:39 AM
6:05 PM
91.9

Harpers Ferry, WV

6:33 PM
110.1

Martinsburg, WV

8:20 AM
8:05 PM (Ar)
182.7

Cumberland, MD

6:45 AM (Dp)
8:13 PM (Dp)
182.7

Cumberland, MD

6:38 AM (Ar)
10:35 PM (Ar)
274.9

Connellsville, PA

4:08 AM (Dp)
10:38 PM (Dp)
274.9

Connellsville, PA

4:05 AM (Ar)
11:35 PM
317.9

McKeesport, PA

F 3:02 AM
12:00 AM (Ar)
332.7

Pittsburgh, PA (P&LE Station)

2:35 AM (Dp)
12:17 AM (Dp)
332.7

Pittsburgh, PA (P&LE Station)

2:32 AM (Ar)
1:23 AM
379.9

New Castle, PA

1:25 AM
1:47 AM
398.2

Youngstown, OH

1:02 AM
2:51 AM
452.0

Akron, OH (Union Station)

12:04 AM
3:00 AM (Ar)
525.9

Willard, OH

9:55 PM (Dp)
Time/Leave (Train #19/Ambassador)
Milepost
Location
Time/Arrive (Train #20/Ambassador)
3:30 AM (Dp)
525.9

Willard, OH

9:30 PM (Ar)
F 3:55 AM
550.1

Tiffin, OH

F 9:04 PM
F 4:15 AM
562.6

Fostoria, OH

F 8:53 PM
F 5:00 AM
589.1

Bowling Green, OH

F 8:16 PM
5:55 AM
625.1

Toledo, OH

7:40 PM
7:25 AM (Ar)
682.7

Detroit, MI (Michigan Central Station) (ET)

6:15 PM (Dp)
---
Final Years
However, lack of ridership on the sparsely populated route shifted it to the Detroit-Cincinnati corridor where it remained until the start of Amtrak during the spring of 1971. 
For more reading and history about the B&O and its fleet of passenger trains and streamliners you might want to consider the book, Baltimore & Ohio Railroad, written by Kirk Reynolds and David Oroszi.
While there are several more excellent titles with superb information and illustrations out there covering different aspects of the B&O this piece includes a fine general history of the railroad with wonderful historical photos (many in color).