"Developing The Pacific Northwest, The Life And Work Of Asahel Curtis" By William Wilson
Last revised: February 24, 2023
"Developing The Pacific Northwest, The Life And Work Of Asahel Curtis" was written by William H. Wilson, a professor emeritus at the University Of North Texas.  
The book, released in 2015 and the first of its kind on the subject, details the life and work of Mr. Curtis.  
While he is best known for his photography Curtis was also heavily involved in movements to improve the roads of Washington as well as preserve the state's scenic beauty.  
Most often his goal of the former was aimed at opening nature's breathtaking wonders to the public.  Curtis was able to accomplish much in this regard, including the preservation of notable Washington landmarks before he passed in the early 1940s.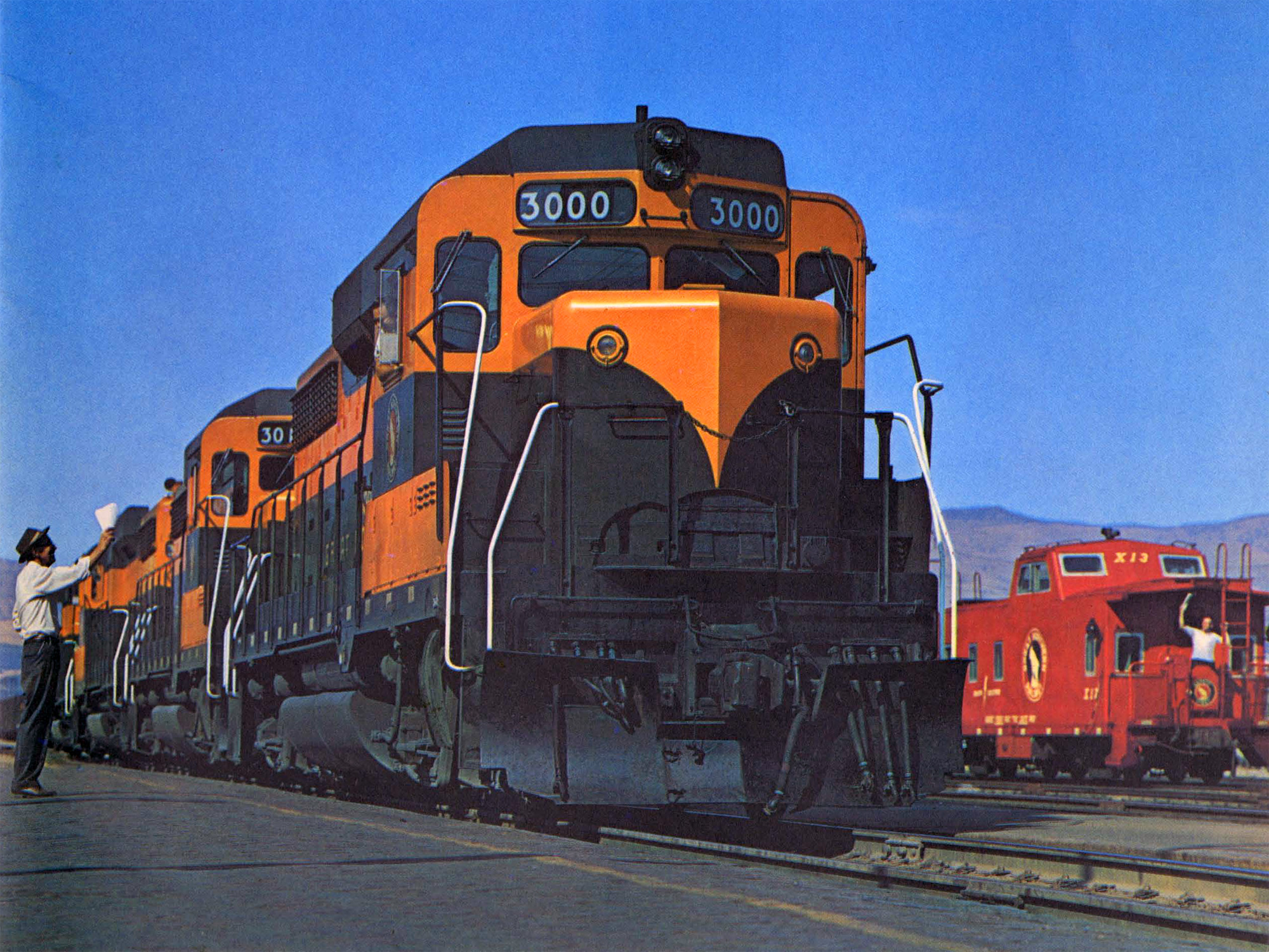 From the Great Northern's 1963 annual report, new GP30's with eastbound time freight #82 (Seattle - Twin Cities) at Wenatchee, Washington in September of 1963.
Most reviews featured on this website concern railroad subjects.  However, after being asked by the folks at Washington State University Press I was more than happy to look at something a bit different, in this case William Wilson's biography of Asahel Curtis (the author notes the family pronunciation of his name was "A-Shul").  
Mr. Curtis may not have been directly involved with anything to do with railroads but he did well understand them and their role as an important transportation artery during his lifetime.  
He was even employed by all three of the Pacific Northwest's transcontinental lines at one time or another as their official photographer which included the Northern Pacific, Great Northern, and Milwaukee Road.
Dr. Wilson covers the life of Curtis in twelve chapters, as well as an Introductions and Acknowledgements.  The early part of the book speaks about Curtis's family history, how he arrived in the Pacific Northwest, and his father's involvement in the American Civil War.  
One of the most interesting aspects of the entire book, and Curtis in general, is the Introduction's very first paragraph when you learn that he never drove a car despite his hard work at improving roads across Washington State during the early 20th century.  
His purpose behind these efforts were largely geared towards the public at large for easy access to experience the state's natural beauty while promoting the economy in the process.
For all of his many public endeavors and the numerous influential people he knew, ironically Curtis was a relatively shy man who had a dry, understated sense of humor.  He was also conservative, a Republican, and firmly believed in the idea of hard work to advance one's standing in life.  
At the same time he often found himself sided with conservationists and Democrats in the pursuit of preserving the outdoors for all to enjoy.  As Dr. Wilson points out Curtis was not without his contradictions.  
While he actively promoted preservation of nature he was also not against the harvesting of natural resources.  Not surprisingly, this often made him a target of criticism.
Long before his involvement in conservation and the "good roads movement" Curtis spent his early career in photography.  His brother Edward is often considered the better photographer of the two.  
However, Asahel was accomplished in his own right, as he proved during the many photos he took during the Klondike Gold Rush between September 1897 and mid-1899.  
This was also the time during which the two siblings had an irreparable falling out.  After various stints of photography work, studios, and partnerships, Curtis settled into his own photography business by 1917.  
He spent the rest of his life working to improve Washington's roadways, continuing his photography, focused on family,  enjoying the outdoors, and spending time at his farm/ranch in eastern Washington's Yakima Valley.
Dr. Wilson's book generally follows a linear timeline and the biography spends most of its chapters looking at Curtis's involvement in the promotion of highways and parks beginning with the creation of the Washington State Good Roads Association, which eventually led to the centralization of highway control on the state and federal level.  
After Mount Rainier National Park was signed into law by President William McKinley on March 2, 1899 Asahel  was a considerable driving force behind the Mountaineers Club formed in 1906, a popular hiking organization.  
Curiously, while Curtis welcomed the creation of the Mount Rainier park he later fought vigorously against what became Olympic National Park believing the Forest Service could manage the grounds just as effectively.
---
In any event, when it came to creating parks and preserving nature Curtis had an unlikely ally in the railroads who equally supported and promoted them as a tourist attraction to improve ridership on their passenger trains.  
All three Pacific Northwest railroads would own and operate resorts near western national parks for this purpose.
The book concludes by highlighting Curtis's ranch land in eastern Washington, his involvement in the Yakima Valley, and his later years in life.  
Whether you are interested in photography, the history of Washington state, or the development of western national parks the biography of Mr. Asahel Curtis is an interesting read concerning a man who promoted all three tirelessly in his life's work.