The 
Auto Train
Last revised: March 17, 2023
By: Adam Burns

The popular Amtrak Auto Train was not actually created by the carrier with a heritage tracing back to a privately owned company.

In the early 1970s this service was launched by the Auto-Train Corporation, which used other railroads' tracks to operate a mixed train carrying both passengers and automobiles.
It even sported is own livery of red, white, and purple.  Surprisingly, the Auto Train became quite popular during an era when the public had seemingly lost all interest in rail travel. 
As the newfangled train continued to gain support, and even boasted a profit for a time, it appeared the operation would prove a financial success. 
Unfortunately, the company attempted to expand too quickly and the enterprise collapsed during the early 1980's. Recognizing its potential, Amtrak picked up the pieces and re-inaugurated the Auto Train in 1983. 
Today, passengers can still conveniently tote their cars or small trucks by rail between Lorton, Virginia (Washington, D.C.) and Sanford, Florida. 
In addition, the train is Amtrak's most prosperous services, even achieving a slight profit; a rare feat for the quasi-government entity.
History
It was a for-profit enterprise known as the Auto-Train Corporation which launched the now widely recognized Auto Train.
To avoid the astronomical expense of building its own line the company leased other railroads' routes between its primary terminals at Lorton, Virginia (near Washington, D.C.) and Sanford, Florida (Orlando). 
These systems included the Seaboard Coast Line and Richmond, Fredericksburg & Potomac.  The concept was the vision of Eugene Kerik Garfield who spent his early career practicing law. 
He later served in a number of various government level capacities, eventually earning distinction as an Assistant to the White House Chief of Staff and Assistant to the Secretary of Transportation during President Lyndon Johnson's administration. 
As such, he carried some clout and was able to secure financial backing to launch the Auto-Train Corporation in 1971.  Service began on December 6th, interestingly just a few months after Amtrak itself was launched. 
Due to the train's unique nature it became quite successful and even began turning a profit.  For power, the Auto Train was equipped with brand new locomotives from General Electric (U36B's totaling 17 units,  #4000-4016). 
These could produce a respectable 3,600 horsepower (only the Auto Train and Seaboard Coast Line, which purchased 108, acquired the U36B).
The rolling stock, however, was not new; to transport the vehicles former Canadian National 75-foot, bi-level autoracks were acquired, later replaced by tri-levels in 1976.
The passenger equipment came from a mixture of different railroads such as the Atchison, Topeka & Santa Fe; Western Pacific; and Union Pacific. 
A pair of Amtrak P40DC's, led by #803, have the "Auto Train" somewhere in Florida on January 6, 1994. American-Rails.com collection.
While the purpose of the Auto Train was chiefly to handle vehicles it also featured luxurious accommodations; Garfield spared no expense in making sure passengers enjoyed their 855-mile trip in a relaxing and comfortable manner. 
The on-board accommodations were second-to-none including domes, sleepers, diners, and coaches. Interestingly, the train even sported baggage cars and a caboose.
During its first few years the Auto Train proved quite successful; in 1974, for example, it earned profits of $1.6 million on revenues of $20 million. 
Realizing he was on to something, Garfield sought to expand operations.  It was a sound business decision although poorly chosen route.  In May, 1974 the Auto Train inaugurated service between Louisville, Kentucky and Sanford, Florida.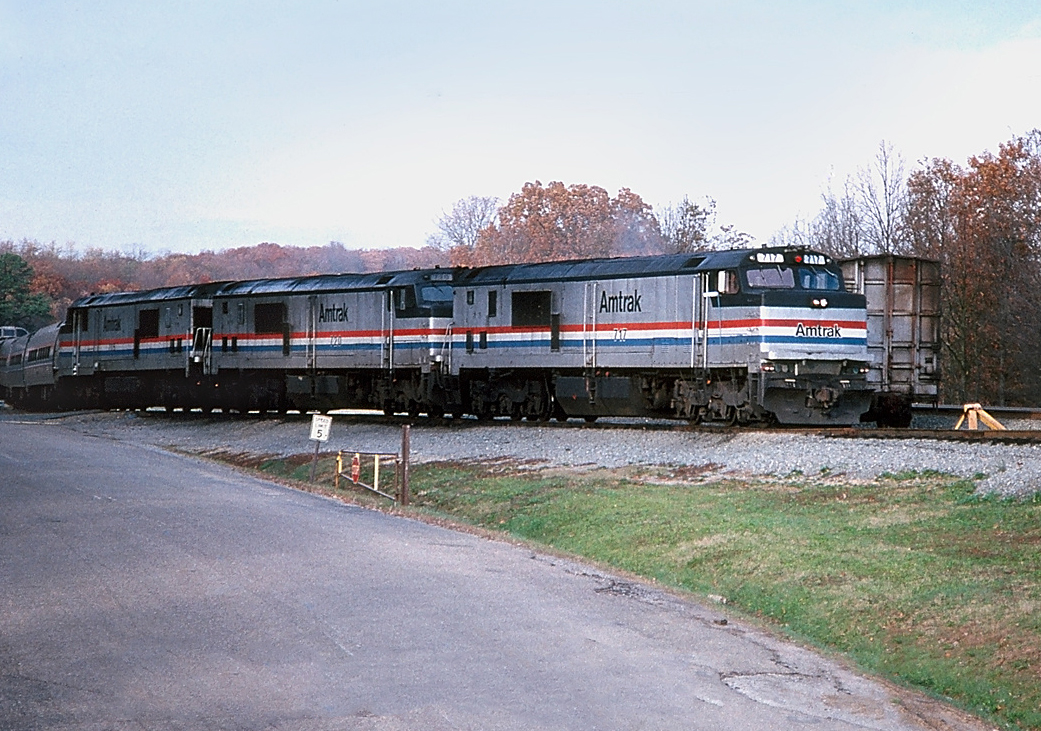 Amtrak P30CH's await departure from the "Auto Train" terminal in Lorton, Virginia with the southbound run on November 11, 1989. Wade Massie photo.
Along this corridor, the Auto Train was contracted to utilize the Louisville & Nashville between Louisville and Atlanta. 
Historically, the L&N was a strong carrier that had never experienced either considerable financial difficulty or bankruptcy. 
Its system stretched nearly 5,000 miles at its peak reaching such locations as Chicago, Louisville, St. Louis, Cincinnati, Memphis, Nashville, and New Orleans. 
Unfortunately, the L&N had allowed parts of its network to decline by the 1970's (in part due to the discontinuance of passenger service), resulting in slower transit times. 
Amtrak "Auto Train" car carrier #9110 is seen here in Sanford, Florida on August 5, 1987. Author's collection.
The aging infrastructure and deferred maintenance also directly resulted in two Auto Train derailments; one occurred near Florence, South Carolina that injured two-dozen passengers and scattered nearly half the cars along the right-of-way (a typical Auto Train consisted of between three to five dozen cars).
Not surprisingly, this incident also cost the company millions in liability and cleanup.  Both setbacks hit the company so hard the Auto-Train Corporation was forced into bankruptcy. 
Despite continued strong patronage the final trains ran in April, 1981. Recognizing the success of Garfield's vision, Amtrak decided to revive the service a few years later.  
U36B Locomotives
Engine:                   FDL16
Traction Motors:   GE-752
Horsepower:          3,600
Tractive Effort:      64,000 Pounds (Continuous)
Weight:                    254,800 pounds (127.4 Tons)
Length:                   60 Feet, 2 Inches
Top Speed:              70 MPH
Amtrak Era
According to the book, "Amtrak: An American Story," it was re-inaugurated on October 30, 1983. 
As part of the deal the national carrier acquired the terminals in Lorton and Sanford and also a good portion of the rolling stock (although not the locomotives, which were sold for scrap a few years later).
At first the carrier offered tri-weekly service but within a year this had been upgraded to daily service, a result of growing demand. 
In conjunction with the original equipment, Amtrak supplemented consists with "Heritage Fleet" cars, handed-down from the freight railroads but upgraded with modern standards. 
During this early era power consisted of F40PH's, Electro-Motive's successful replacement to its previously trouble-prone SDP40F's of the 1970's.
Beginning in the late 1980's Amtrak acquired its fourth roster of brand new cars. Its first were ordered in October, 1973 when it purchased 492 Amfleet cars from the Budd Company, which were 84-seat coaches.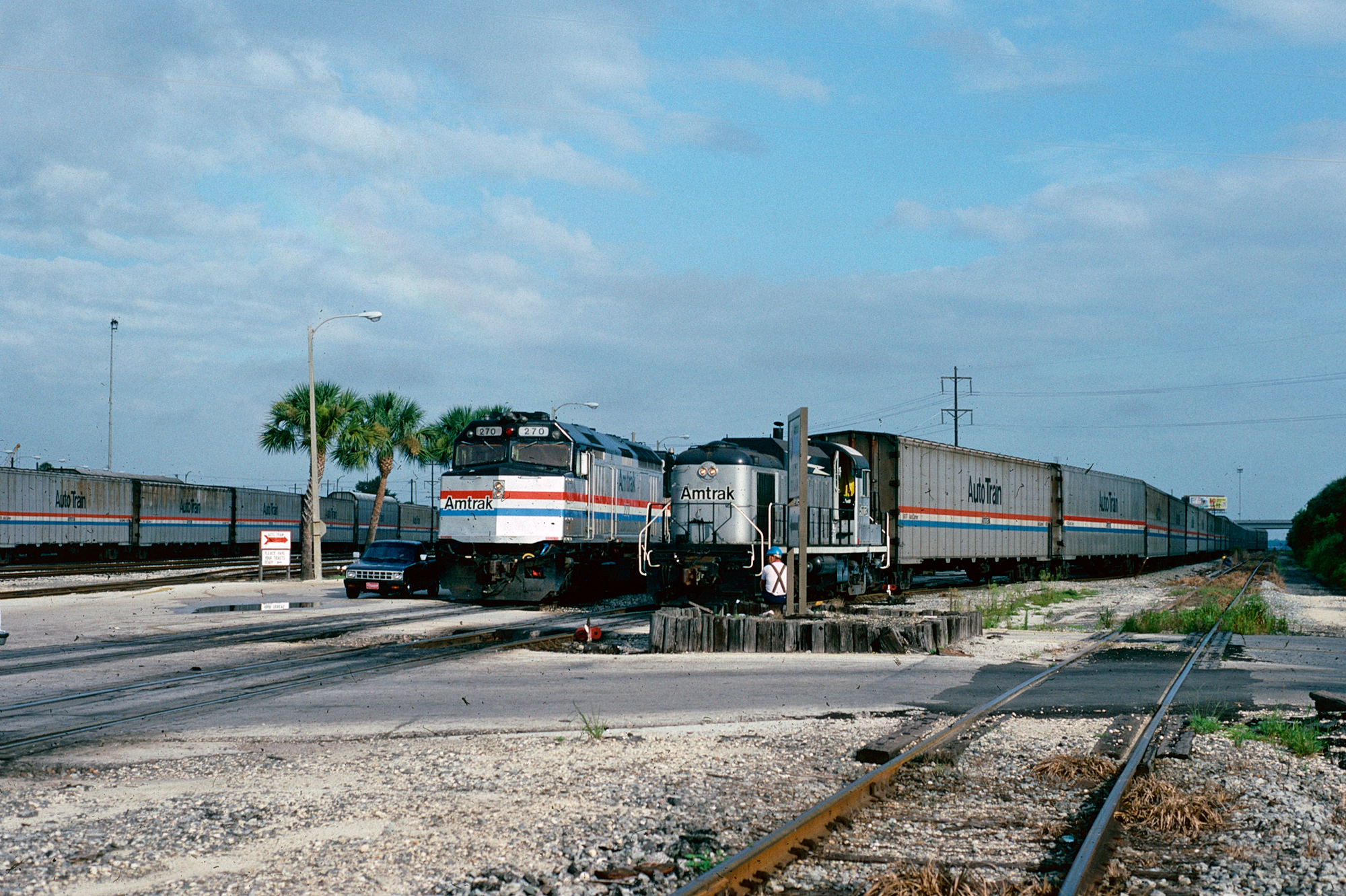 An Amtrak RS3 switches out the "Auto Train" which has arrived in Sanford, Florida on a July morning in 1991. Author's collection.
All were delivered by June, 1977.  These were followed by the so-called "Amfleet II's."  Delivered in 1981 they included 125 additional coaches and 25 "Amlounges." 
At around the same time, Amtrak bought 284 of the now highly-regarded Superliners, the final passenger product of renowned builder Pullman, which were based from the successful line of Hi-Levels built by the Budd Company for Santa Fe's El Capitan in 1956. 
The Superliners cost a total of $241 million and the final unit, a sleeper, was delivered in June, 1981.  It was the very last car the company ever built and was named for founder George Pullman.
As Brian Solomon notes in his book, "Amtrak," by that time the traditional car manufacturers (Pullman, Budd, and American Car & Foundry) had long since exited the railroad industry. 
The only means of purchasing new equipment was through Canadian builder Bombardier which had picked up the Budd and Pullman patents. 
In 1988, Amtrak ordered 104 of what were dubbed Horizon cars, single level units that included 86 coaches and 18 food-service cars.
In addition to new equipment, between 1987 and 1988 the railroad's Beech Grove Shops manufactured a trio of what were dubbed Viewliners, a stainless-steel concept similar to what Budd built during rail travel's "Silver Age." 
There was one diner configuration and two sleepers, the latter of which were assigned to the Auto Train in 1988.  They were built largely to replace decrepit "Heritage Fleet" cars, which were several decades old even before Amtrak's creation and completely worn out. 
The railroad would go on to purchase 50 Viewliners from Morrison-Knudsen in late 1992.  The order was completed four years later under M-K successor, American Passenger Rail Car Company.
---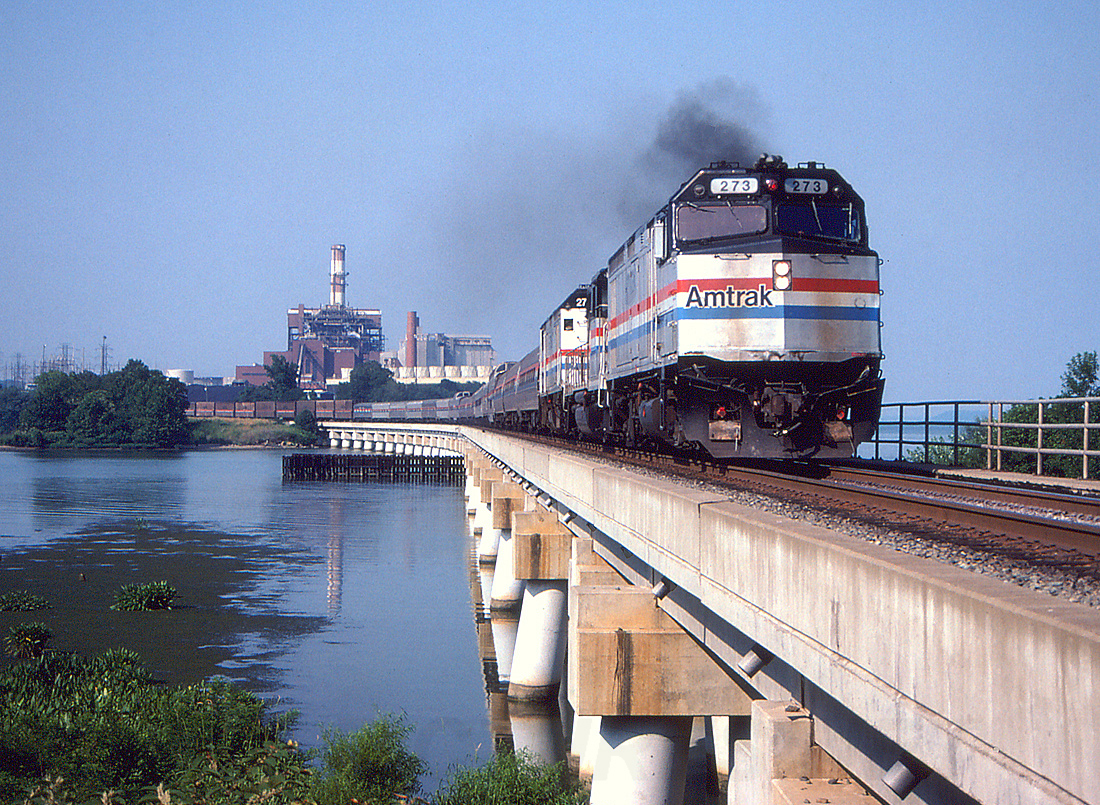 An interesting mix of power, led by F40PH #273, head south over Quantico Creek at Quantico, Virginia with the "Auto Train" on July 20, 1992. Wade Massie photo.
In the 1990s the service was upgraded significantly with the new and popular Superliners as well as new General Electric P42 diesels. 
A standard consist for the modern Auto Train has not really changed considerably since the 1970's.  It still boasts diners, sleepers, roomettes, and standard coaches.
Today, the route is 855 miles in length (requiring about 17.5 hours of travel time) with only the two terminals mentioned as stopping points. It is one of Amtrak's only trains that operates as a completely through train.
Over the years the Auto Train has held a steady demand although it has never grown significantly during that time. In a typical year it will see about a quarter-million riders. 
As of 2016 the Auto Train had a ridership eclipsing 238,000 with revenue totaling $75.169 million. This ranks it first among all long-distance trains. 
It is also the longest with consists typically ranging between 30-40 cars, which includes both the autoracks and standard passenger accommodations.