Arizona Railroads
Arizona railroads are known for flat deserts, high mountains, and trains that range from speeding loads of intermodal to slow drags of coal, copper, agriculture, and wood products. The state's history with trains began in the latter half of the 19th century although because of its lack of natural resources and major markets few classic lines ever operated there. Today, while the state may be home to less than 2,000 route miles of railroad but it offers a little of everything from main line railroads (the West's two largest systems still operate important routes through Arizona) to railroad museums and tourist lines. In any event, included here is a brief overview of the state's railroads, covering their history as well as present-day operations. Additionally, links to other pages here at the site covering related subjects are also featured.
A Santa Fe publicity photo featuring the fabulous "Super Chief" making a quick stop at Winslow, Arizona circa 1950.
Railroads in the state got their start in 1877 when the Southern Pacific arrived in Yuma on its way to completing its line to Tucson in 1880. Over the years Arizona would become home to seventy-six different railroads although most of those have since been either abandoned, sold, or merged (actually, many disappeared during the industry's early years due to poor management, economies, or other factors). One thing that has not changed, however, is the natural resources it has been known for which include coal, copper, and (to a lesser extent) timber/wood products.  Arizona has been one of the few states to primarily retain its original number of Class I railroads, dropping from three to only two. Prior to the mid-1990s Arizona railroads included Class Is Southern Pacific and the venerable Atchison, Topeka & Santa Fe Railway both of whom had their main lines running east-west across the state. 
More Reading About Arizona...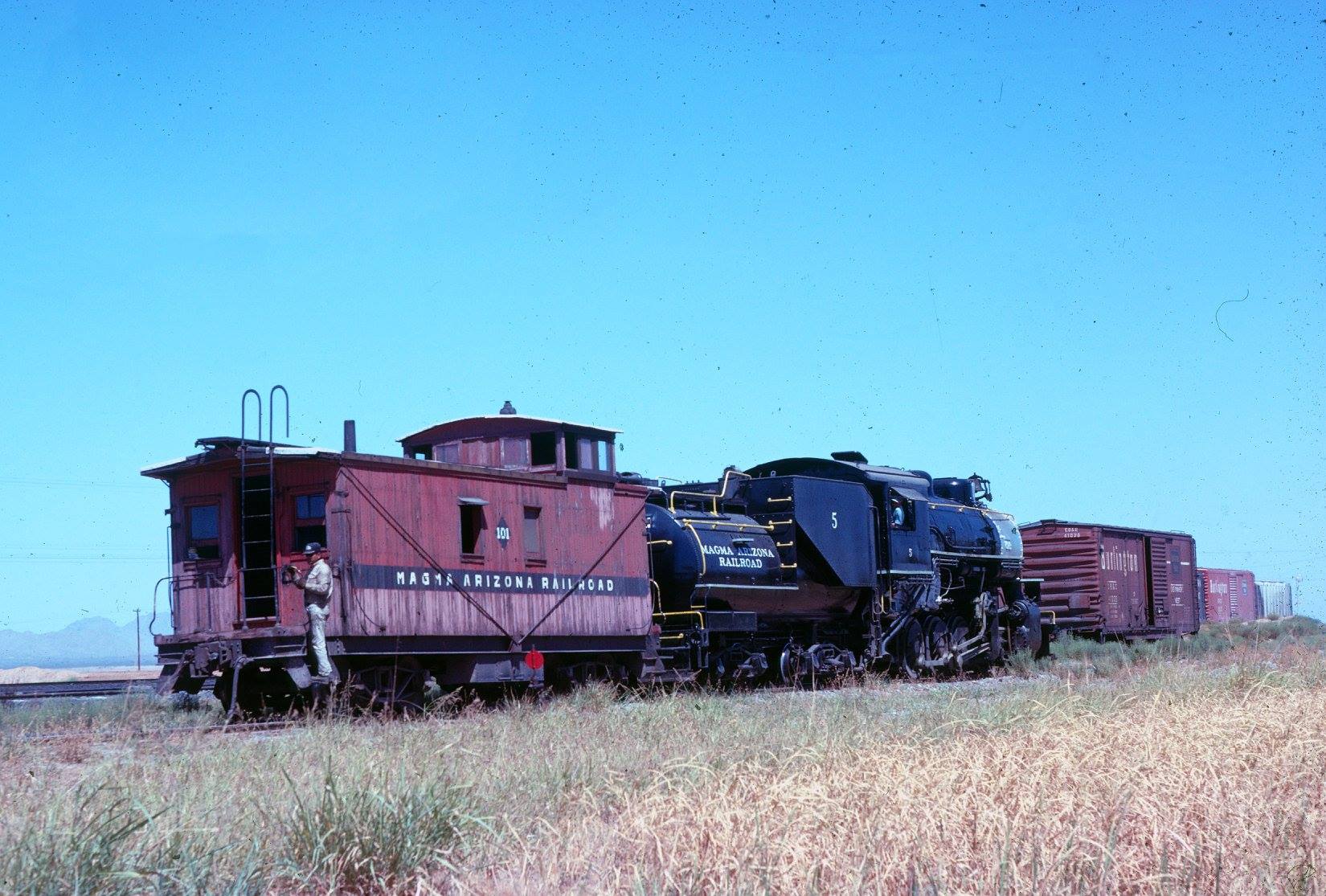 Magma Arizona 2-8-0 #5 is seen here switching the Southern Pacific interchange at Magma Junction, Arizona in June, 1967. Drew Jacksich photo.
And before the fall of 1924 this also included the oft forgotten El Paso & Southwestern, a later SP subsidiary.  After 1995 that all changed when the Santa Fe merged with Burlington Northern Railroad becoming the Burlington Northern Santa Fe Railway (today simply known as the BNSF Railway) and Southern Pacific was purchased by Union Pacific Railroad in 1996. Today, Arizona is still home to both original owners' main lines with Union Pacific's former SP Sunset Route a major corridor between California and Texas and BNSF Railway's Transcon between California and Chicago (this route is also the state's busiest). For more information about Arizona's "classic lines" please visit the links listed below to learn more about them:
Apache Railway C420 #81 departs Snowflake, Arizona for the BNSF interchange at Holbrook on August 6, 2015. Drew Jacksich photo.
In terms of overall mileage, currently Arizona ranks somewhat low at just over 1,800 route miles. However, during the "Golden Age" of the railroad industry the state was home to about 2,500 miles. As such, Arizona has lost about 28% of its rail infrastructure, which actually is much less than other states. In any event, the short table below lists its mileage rise and decline.  Although Arizona has only ever had two Class I systems the state is also home to many shortlines, which include the historic Apache Railway (and its fleet of large Alcos), Arizona & California Railroad, Arizona Eastern Railway, Arizona Central Railroad, Magma Arizona Railroad (currently dormant but still on the books), San Manuel Arizona Railroad, San Pedro Southwestern Railroad, Bauxite & Northern Railway, the Copper Basin Railway, and perhaps the most interesting of all the Black Mesa & Lake Powell Railroad a 78-mile entirely electrified railroad that operates E60C electric locomotives on a 50,000-volt catenary system (the line is used exclusively to move coal from the Black Mesa Mine to a power plant at Lake Powell, where the railroad gets its name).
* Arizona's involvement with the railroad began in 1877 when Collis Huntington's new Southern Pacific, striking out eastward from Los Angeles, arrived in Fort Yuma, Arizona in May, 1877 (about 5 miles across the California border).  The SP would go on to reach New Orleans through a series of new construction and acquisition; a corridor which became famously known as the "Sunset Route."
Regarding the Class I railroads their larger terminals in Arizona include Tucson, Phoenix, Casa Grande, and Yuma along the Union Pacific and BNSF has yards in Phoenix, Flagstaff, and Winslow. Today, passenger service is still available in the state with the Los Angeles-Chicago Southwest Chief along the BNSF Railway stopping at Winslow, Flagstaff, Williams Junction, and Kingman. Also, the Sunset Limited along the UP stops at Benson, Tucson, Maricopa, and Yuma. Finally, Phoenix operates a light rail system known as the Valley Metro Light Rail. The line serves Tempe, downtown Phoenix, and terminates to the north at 7th Avenue and Camelback Road (the route makes a rough "L" shape).
Seen from the fireman's side of the cab, a Santa Fe FT heads west as it passes a steam-powered, eastbound manifest near Ash Fork, Arizona during March of 1943. Jack Delano photo.
As far as museums and tourist lines are concerned, take your pick! There are plenty to choose from and include the Arizona Railway Museum, Gadsden-Pacific Division Toy Train Operating Museum, McCormick-Stillman Railroad Park, Southern Arizona Transportation Museum, the popular and well-known Grand Canyon Railway, Verde Canyon Railroad, Sierra Madre Express, Old Pueblo Trolley, Paradise & Pacific Railroad, Superstition Scenic Railway, and the Yuma Valley Railway.

---
---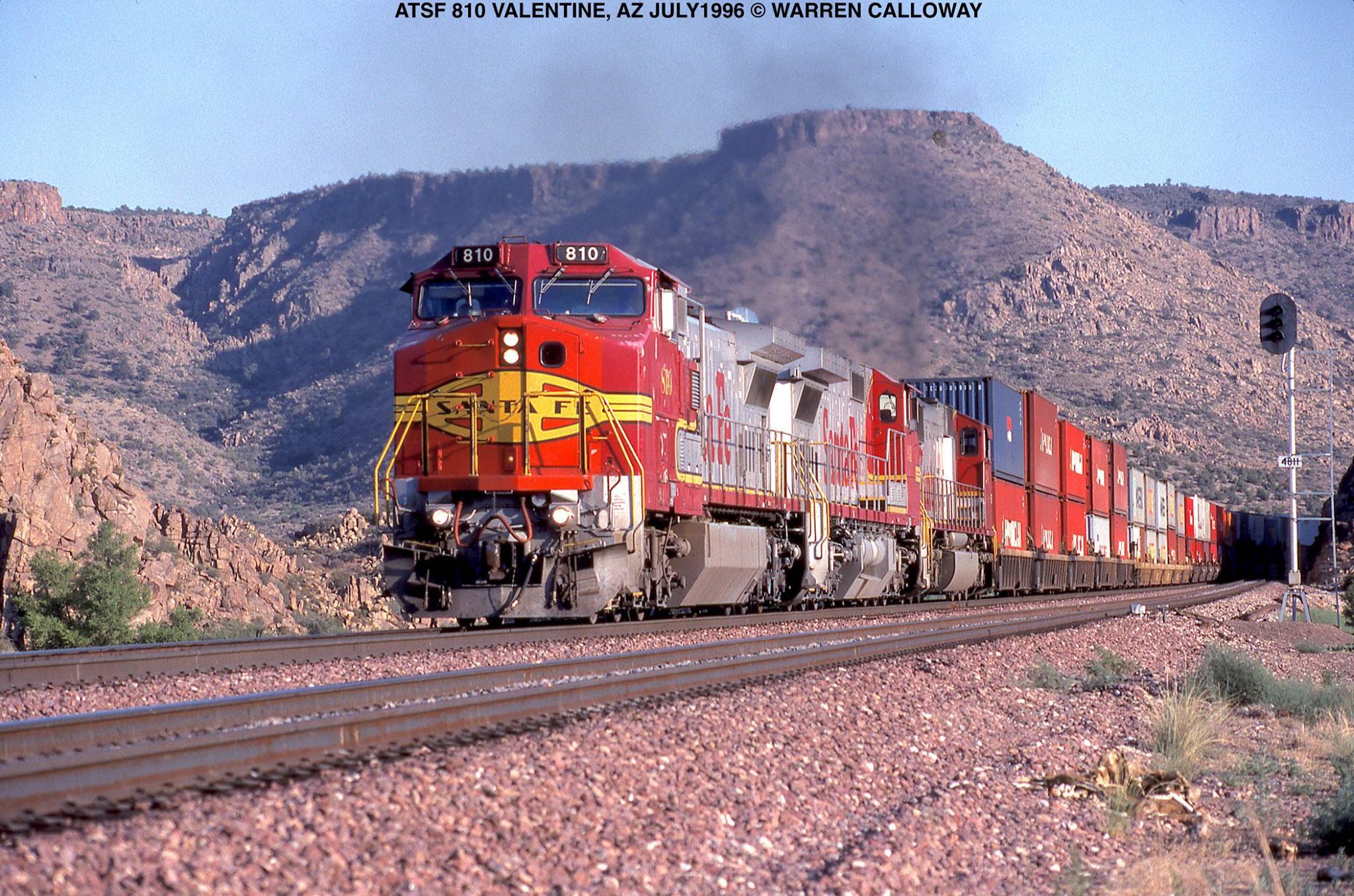 A pair of Santa Fe C40-8W's and what appears to be an Electro-Motive unit lead containers on the Transcon near Valentine, Arizona during July of 1996. Warren Calloway photo.
For more information regarding the state's railroads please click here. This excellent website covers most aspects of the state's rail history broken down through a number of sections.  It's well worth checking out!  You can also learn more about the state's current short line services by visit this section of the website.    All in all Arizona railroads are well worth the trip to see with the backdrop of beautiful deserts and mountains. So, whether you plan to ride the tourist railroads, visit the railroad museums, or just go out and railfan one of the state's many shortlines or two Class I railroads you should have a wonderful time!
---
---
---
Home

›
The States
› Arizona