The Belpaire Firebox

Last revised: May 4, 2023
By: Adam Burns

The Belpaire Firebox was first developed by Alfred Belpaire of Belgium before the Civil War as a simpler means of manufacturing steam locomotives (through a more basic design) while also offering more overall power. 

The first use of the firebox in the United States did not occur until the mid-1880s when the Pennsylvania Railroad put one into service.  The PRR came to love the Belpaire and it became synonymous with the design employing the firebox in much of its locomotive fleet. 
However, aside from the Great Northern (which also rostered a larger fleet of Belpaires) most of the American railroad industry shied away from the design, instead opting for more standard fireboxes.  
Likely due to where it was first developed the design was used widely throughout Europe as well as in Australia. The history of the Belpaire Firebox begins in 1860 when it was first invented by Alfred Jules Belpaire of Belgium who was a locomotive engineer.  

Pennsylvania 4-4-4-4 "Duplex Drive" #5539 (T-1) at St. Louis Union Station circa late 1940's/early 1950's. The locomotive's streamlining largely hid its massive Belpaire firebox
The design, however, was not used in America until 1885 when the PRR outshopped one of its new, Class R 2-8-0 Consolidations that year (#400) which featured a Belpaire. 
According to the Pennsylvania Railroad Technical & Historical Society the origins and decision in applying this firebox within a Pennsy steamer are somewhat unclear.  
However, what is clear is that the Belpaire was certainly used first on the PRR.  There are two prevailing theories as to its origins on the PRR.
One holds that it first tested on the Camden & South Amboy Railroad, a PRR subsidiary based in New Jersey.  Around 1870 Isaac Dripps came over from the C&A to be the PRR's Master of Machinery and through his oversight the Belpaire was developed as an outgrowth of the then standard Altoona Boiler.
The other, according to "Haps And Mishaps:  The Autobiography of R. P. C. Sanderson," states that the firebox was first used on the Shenandoah Valley Railway, another PRR subsidiary.  
It is credited to R. P. C. Sanderson, a naturalized U.S. citizen from England, who worked for the railroad and held an engineering degree from Germany.
During his time in Europe he learned about the Belpaire and through a friend who was employed at the Henschel & Son locomotive works in Cassel, Germany (renamed Kassel in 1928) obtained a drawing of the design.  
Sanderson then showed this to Charles Blackwell, Superintendent of Motive Power for the Shenandoah Valley.  
He was impressed with the firebox and placed an order for two passenger locomotives, numbered 94 and 95, and later also acquired five others for freight service, numbered 56 through 60, all of which were equipped with the Belpaire.
Belpaire's purpose behind his invention was to create a firebox that was easier to manufacture by utilizing fewer staybolts and simplfying the overall design.  However, in doing so this resulted in the squarish contraption being somewhat harder to attach to a circular boiler. 
Additionally, the flat design caused cleaning to be a much more difficult process.  Still, it also had other advantages over standard designs of the day that were concave and molded roughly to the shape of boiler; due to its greater surface area at the top (also known as the crown sheet) the Belpaire offered better heat transfer and increased steam production. 
In general, the firebox was more efficient.  Aside from its operational advantages the design is also said to have been less stressful on the staybolts, which attached the steel plates of the firebox at right angles instead of at perpendicular angles on concave plates.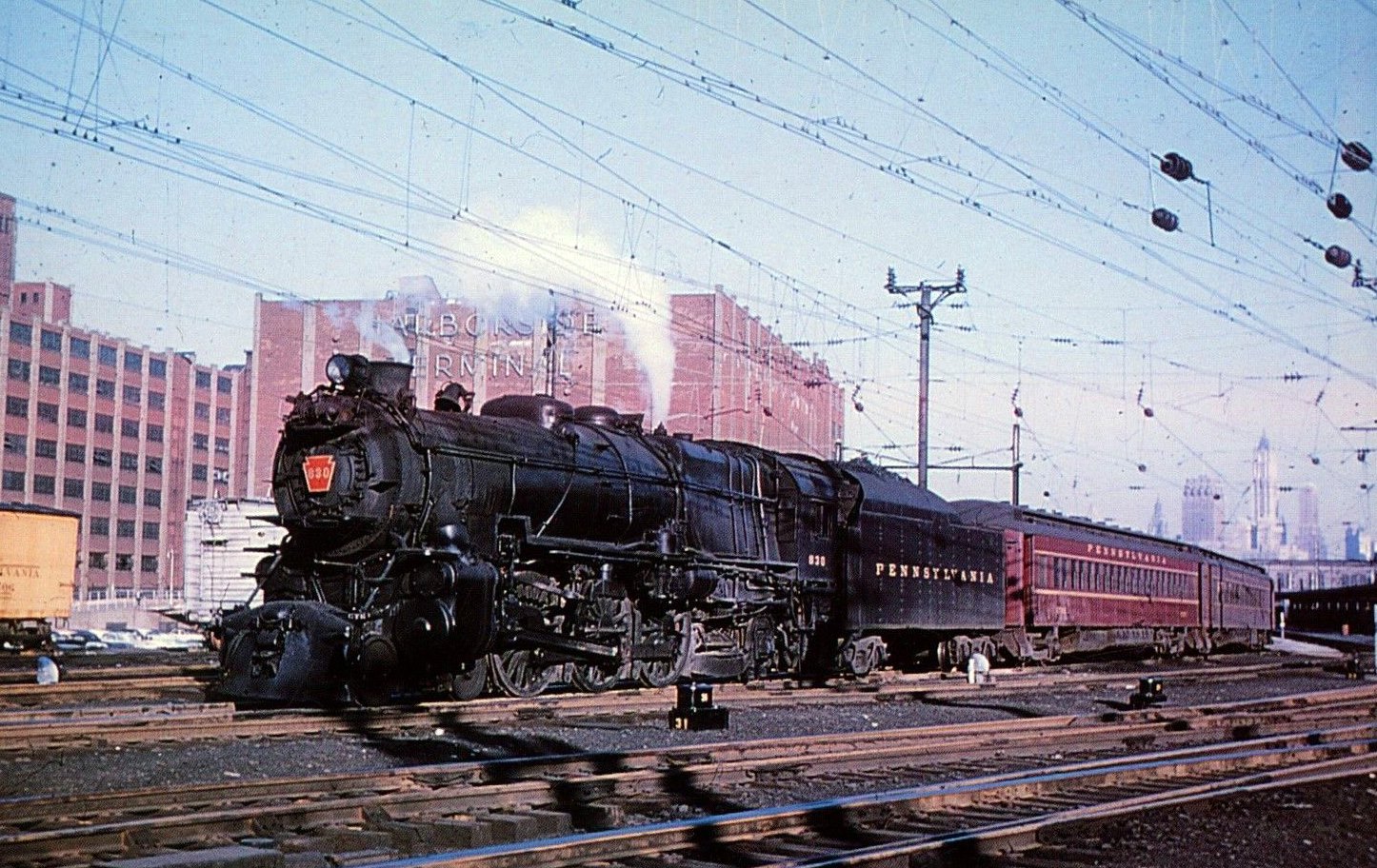 Pennsylvania 4-6-2 #830 (K-4s) is seen here working suburban service at Exchange Place Terminal in Jersey City, New Jersey during the 1950's. This was PRR's original station serving New York City, prior to the opening of Pennsylvania Station in downtown Manhattan (the skyline can be seen in the background, the tallest structure appears to be the Woolworth Building). This scene has changed drastically today; part of the facility is currently used by PATH's subway services but all signs of above-ground infrastructure are gone. Mac Owen collection.
In any event, the Pennsylvania was unconcerned with any potential setbacks the Belpaire Firebox may have possessed.  The railroad's famous Altoona Shops in the Keystone State outshopped virtually all of its home-built steam locomotives after 1885 with its own version of the Belpaire. 
Wheel arrangements of the Pennsy that featured the firebox included 0-4-0s, 2-6-0 Moguls, 2-8-2 Mikados, 2-10-2 Sante Fes, 2-10-0 Decapods, 4-4-2 Atlantics, 2-8-8-0 Consolidation Mallets, and of course the classic 4-6-2 Pacifics among others. 
The Great Northern was the only other road to utilize the Belpaire (which designed its own custom version like the Pennsy) in vast numbers operating them on 2-6-0s, 2-8-2s, 4-6-2s, 2-10-2s, 4-8-2 Mountains, 4-8-4 Northerns, 2-6-6-2s, the unique Class M-2 2-6-8-0, and others.
Notable other roads (or their predecessors) that fitted the Belpaire to at least one of their steamers included:
Chicago, Burlington & Quincy (0-10-0s, 4-6-0, 0-6-2s, 2-6-0s, 2-6-2s and 2-6-6-2s)


Soo Line (4-6-0s, 2-8-0s)


Chesapeake & Ohio (4-4-0s, 2-8-0s)


Union Pacific (4-8-0 Mastadon/Twelve-Wheelers)


Louisville & Nashville (2-6-0s)


Toledo Peoria & Western (2-8-0s)


Pere Marquette (4-4-2s, 2-6-0s, 2-8-0s)


Spokane Portland & Seattle (4-4-2s, 4-6-2s), Grand Trunk Western (4-6-2s), Southern (2-6-0s)


Minneapolis & St. Louis (2-8-0s)


Illinois Central (2-8-0s, 4-8-0s)


Pittsburgh & West Virginia (2-6-6-2s)


Rock Island (4-4-2s)


Richmond Fredericksburg & Potomac (2-6-0)


Buffalo Rochester & Pittsburgh (4-8-0s)


Monon (4-8-0s)


New York Central (4-6-0)
---
Other Western Hemisphere railroads to use the design outside of the United States included the Canadian Pacific, Cuban Central, Mexico Cuernavaca & Pacific, Temiskaming & Northern Ontario, and the Mexican Railway. 
Most applications of the Belpaire could be found in Europe where it was originally invented and saw widespread use on British lines such as the Great Western Railway and London, Midland & Scottish Railway.  Additionally, Australia's Victorian Railways fitted many of its steamers with Belpaires. 
(Thanks to Peter Getz for help with the information and history regarding the Belpaire Firebox.)