2-8-4 "Berkshire" Locomotives

Last revised: September 20, 2023
By: Adam Burns

The 2-8-4 Berkshire is perhaps one of the most beautiful steam designs ever built for medium/heavy duty service. Of course, not only were these locomotives aesthetically pleasing, they could lug a heavy freight train as well!

While the locomotive class was very successful and utilized by several railroads, it is best remembered for its initial work on the little Boston & Albany.
It is here where the locomotive received its name during testing within the Berkshire Mountains of New England (the B&A would eventually purchase a sizable fleet of 2-8-4s). 
As the first of the "Super Power" designs, 2-8-4s were popular on several railroads; used in standard freight service they could be found in multitude of roles, from coal drags to merchandise trains. 
Today, numerous examples of this locomotive survive and two are currently operational making them one of the largest designs the public can see in service.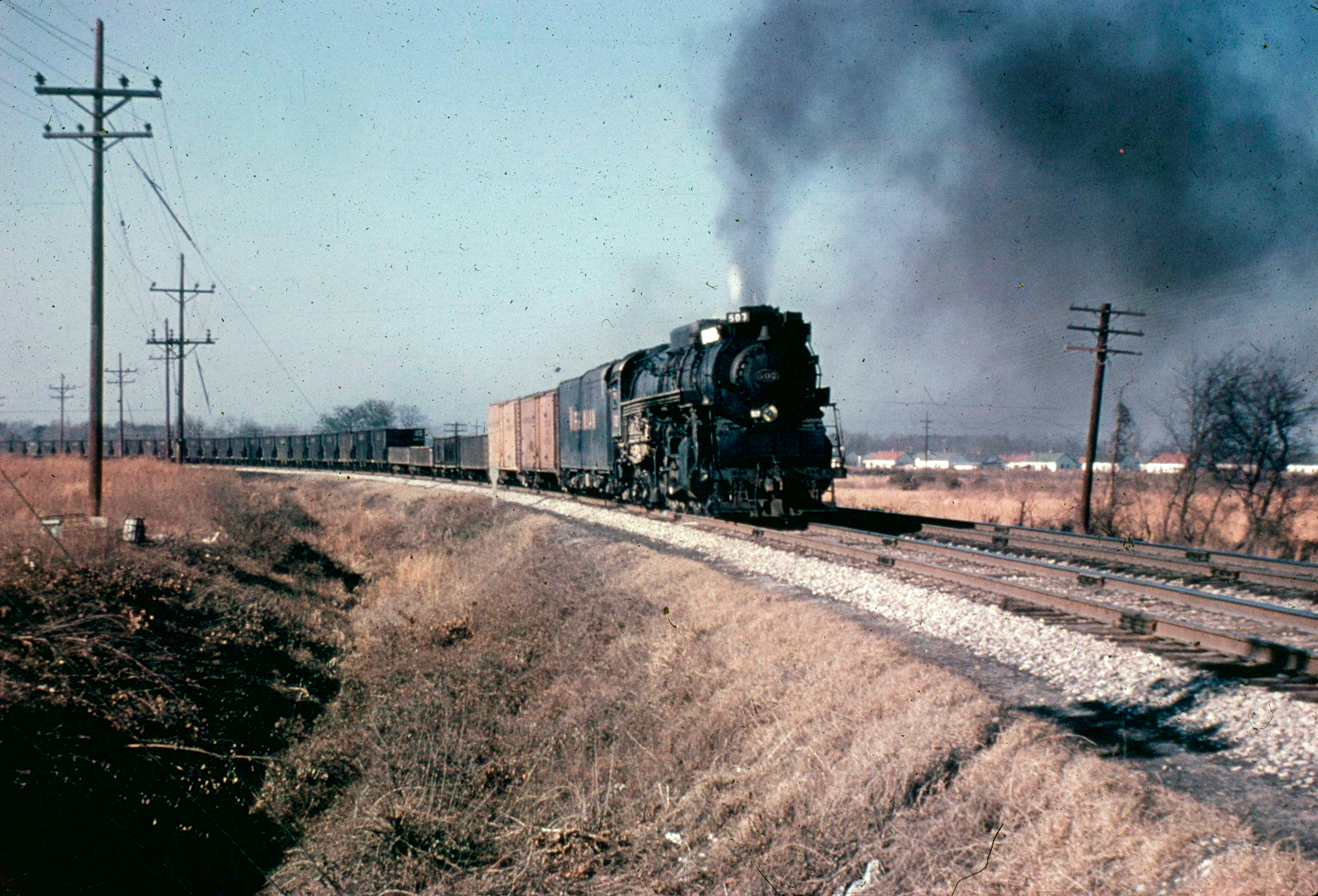 Virginian Railway 2-8-4 #507 (Class BA) rolls through Simpson's Curve in Norfolk, Virginia during the spring of 1954. Author's collection.
The Berkshire was born by the Lima Locomotive Works, an established albeit then-small manufacturer of steam locomotives, which hoped to improve the USRA Mikado design (2-8-2) that lacked sufficient speed and horsepower.
The Mikado proved to be a reliable and efficient workhorse within the industry but simply was not suited to move heavy tonnage particularly over any type of mountainous territory.
The initial idea for a 2-8-4 design came from Lima's engineering vice-president in 1924, William Woodward, which took it upon himself to improve upon the 2-8-2. In his tests he began with New York Central Class H-7e Mikado #8000 (built in 1922 by Lima), and believed that by simply adding a larger firebox more power could be achieved.
What resulted was a locomotive with a bigger, 100 square-foot firebox (briefly re-classed as an H-10) that necessitated the need for an extra trailing axle giving the locomotive a 2-8-4 wheel arrangement.
The new steamer was designated Class A-1 and not only included an upgrade firebox but was also equipped with other features to improve horsepower including a larger boiler, sufficient air-intake, booster, and limited cutoff.
The 2-8-4 (listed as #1) was then sent for testing along the stiff grades of the Boston & Albany in the Berkshire Mountains of northwestern Massachusetts in the spring of 1925.
After very successful tests against a Class H-10 Mikado on April 14th where the Class A-1 easily outperformed the 2-8-2.
- The 2-8-4 left Selkirk Yard nearly 50 minutes after the Class H-10 and pulling a train that was over 600 tons heavier, yet arrived at North Adams Junction ten minutes ahead of the Mikado! - 
The B&A quickly ordered 45 Berkshire locomotives. In all, the B&A would roster a fleet of 55 2-8-4s, Class A1a/b #1400-1444 and Class A1c #1445-1454.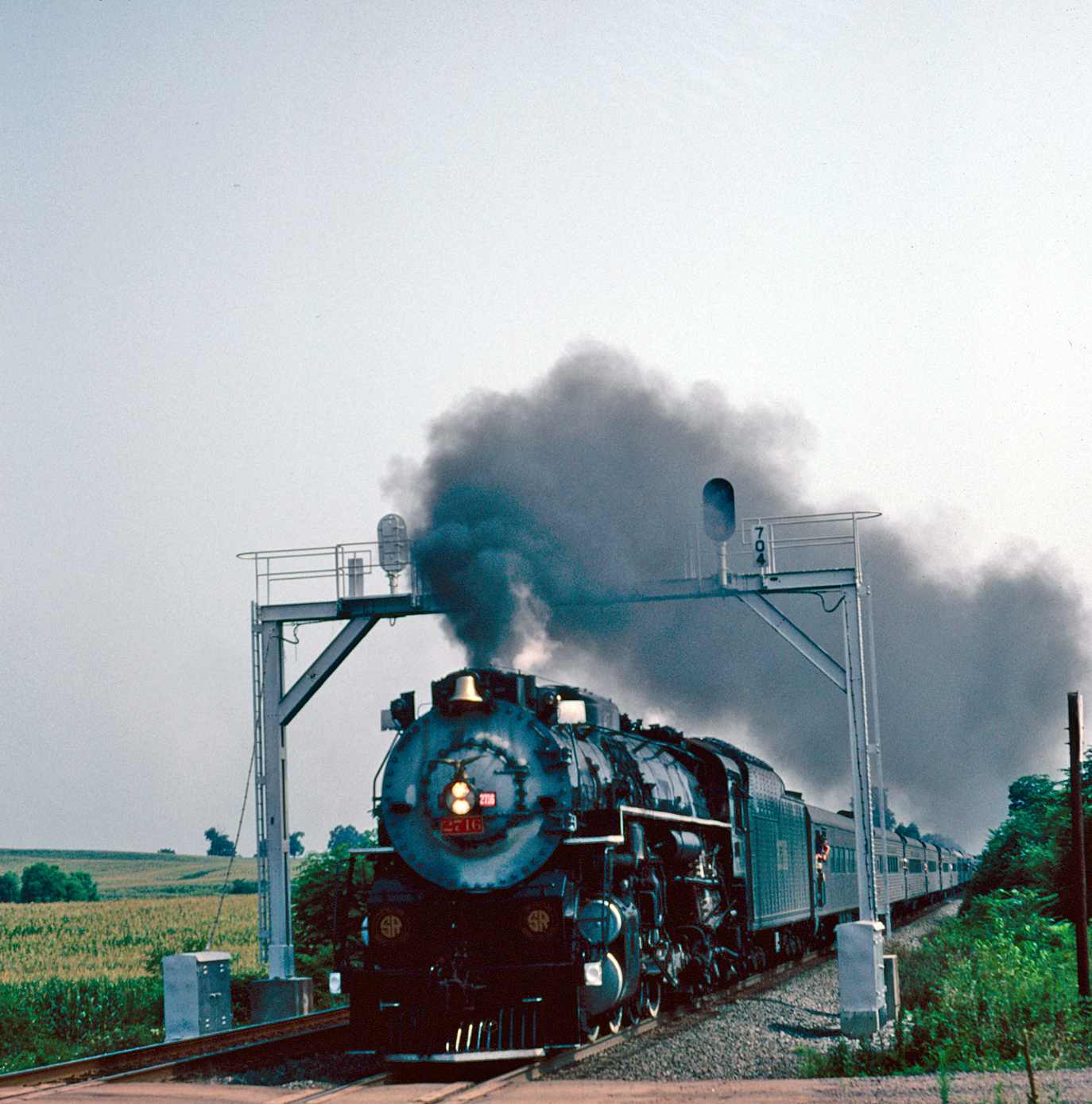 Chesapeake & Ohio 2-8-4 #2716 (K-4), dressed in Southern Railway colors, leads an excursion southbound just south of Culpeper, Virginia along Highway 522 on a July morning in 1982. The locomotive spent a few years in Southern's steam program at this time. American-Rails.com collection.
Thanks to these successful tests the 2-8-4 was named for the mountains where it first operated. Interestingly, the original Class A-1 #1 was not acquired by the B&A.
Instead, Lima used the big steamer as a demonstrator sending it around the country to be tried out on other railroads for testing, many of which were quite impressed. One in particular was the Illinois Central, which went on to purchase the demonstrator (where it became #7049), and in all acquired 50 examples of Berks in 1926 just a year after the initial test on the B&A.
The locomotives were also given Class A-1 on the IC and remained in service through the mid-1950s. In all some nineteen different railroads would purchase the successful 2-8-4s with the Erie Railroad owning the most, 105.
In, all over 600 of the locomotives were built from the three largest manufacturers; Alco, Lima and Baldwin. Of particular note was the 90 owned by the Chesapeake & Ohio which renamed theirs as Kanawhas (after the Kanawha River where part of its main line was located in southern West Virginia) and given Class K-4.
The C&O acquired its fleet of 2-8-4s, which were built by both Lima and Alco (it would also acquire the Pere Marquette's batch of 39 when it took over the Michigan line), after closely watching how the locomotives performed on the PM and Nickel Plate.
Chessie put their Kanawhas to good use in all types of main line freight service and the locomotives proved to be one of the heaviest and longest examples of 2-8-4s ever built with tractive efforts achieving nearly 70,000 pounds (which was fairly standard amongst most designs that generally ranged between 65,000 and 75,000 pounds).
It's also thanks to the C&O that so many of these beautiful steamers still exist as the railroad donated 13 examples to various municipalities along its system. Below are some general specifications for Nickel Plate's famous Berkshires, which are perhaps the most beautiful of all 2-8-4s ever built.

Specifications (Nickel Plate Road)
Builder – Lima, Baldwin, and Alco (NKP Berkshires were built by Lima)
Fuel - 22 tons
Cylinders (2) - 25" x 34"
Water - 22,000 Gallons
Weight – 802,500 Pounds
Diameter of Drivers – 69 Inches
Steam Pressure - 245 PSI
Tractive Effort – 64,100 Pounds
Nickel Plate Road 2-8-4 #759 departs Binghamton, New York with an eastbound excursion over the Erie Lackawanna over Memorial Day Weekend, 1970. R.J. Kalmbacher photo. Author's collection.
For Lima, which at the time was still a relatively small locomotive manufacturer, the 2-8-4 pushed it into the big leagues with Baldwin and Alco for main line steam designs.
While the builder always remained in third place it is often regarded as part of the "Big Three" and was widely respected for the high quality and superb craftsmanship of its designs. Ironically, the reign of the Berkshire was short-lived although the wheel arrangement continued to be manufactured through the early 1940s.
Just a few years after the 2-8-4's initial successful tests, Alco completed its own successful experiment with a 4-8-4 along the Northern Pacific in January of 1927. What became known as the "Northern" bumped the Berk as the top main line steam design of the era, and in many ways the very last before the age of the diesel arrived within the following decade.
---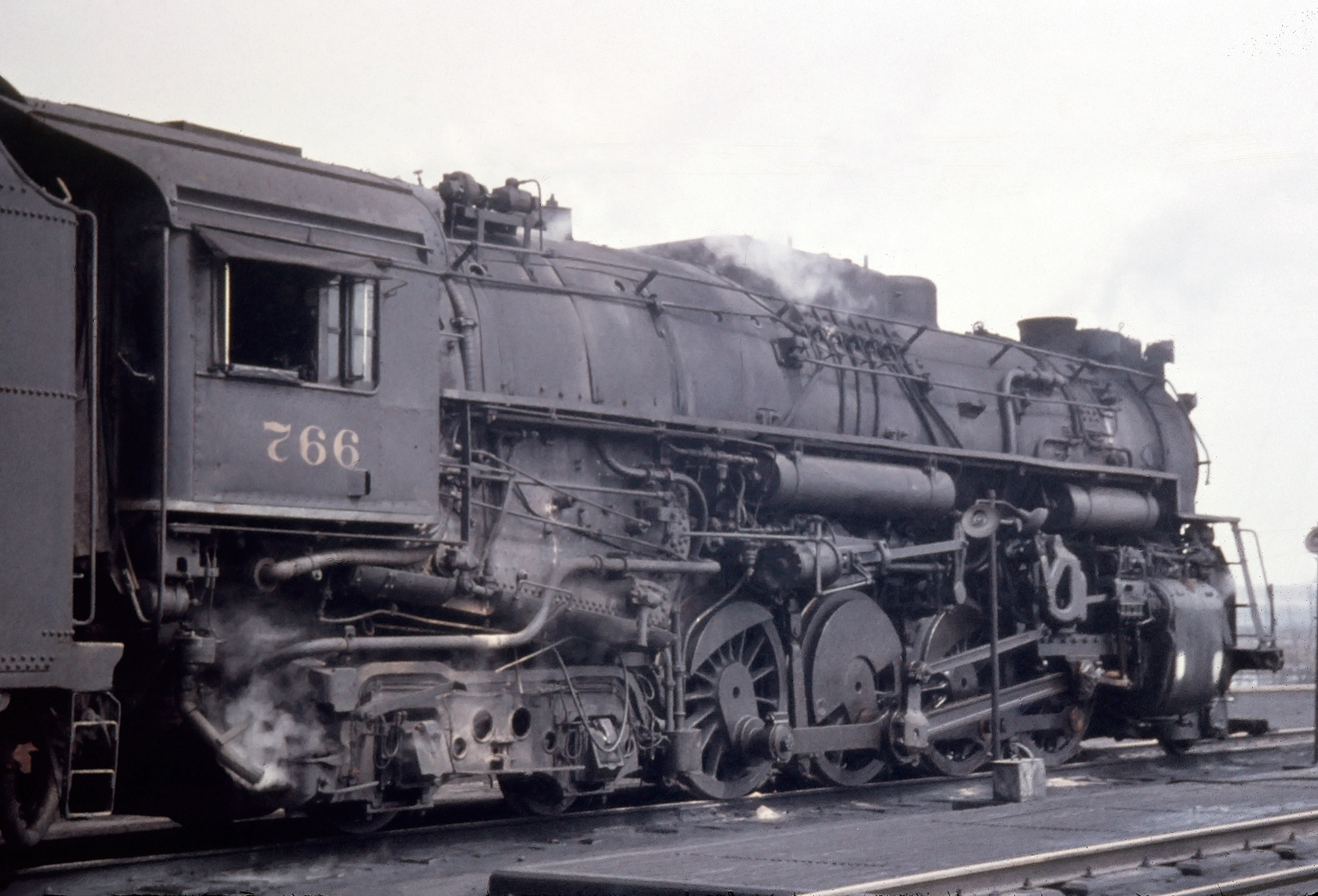 Nickel Plate Road 2-8-4 #766 takes on fuel at Calumet Yard on Chicago's south side during the 1950s. A.C. Kalmbach photo. American-Rails.com collection.
Today, impressively two of these large steamers still operate; Nickel Plate Road Class S2 #765 and Pere Marquette Class N-1 #1225 (who has become quite famous in recent years as the Polar Express).
There are also two others that are currently in a state of restoration including Nickel Plate Class S2 #763 owned by the Age of Steam Roundhouse in Sugar Creek, Ohio; and C&O Class K-4 #2789 owned by the Hoosier Valley Railroad Museum of North Judson, Indiana.
Along with these operational Berkshire locomotives another of Pere Marquette's survive and four other of the Nickel Plate's. Additionally twelve of the C&O's Kanawhas also survive.