Broad Street Station
Published: November 5, 2023
By: Adam Burns

Broad Street Station in Richmond, Virginia, was a historic railroad station and office building, known for its distinctive architecture.
Construction began in 1917 and the station was opened two years later; it primarily served as the main passenger station for the Richmond, Fredericksburg and Potomac and Atlantic Coast Line railroads.
The station was designed in the Beaux-Arts style and was noted for its large train shed, one of the largest ever built. The station ceased operations in 1975 and was later converted into the Science Museum of Virginia.
Photos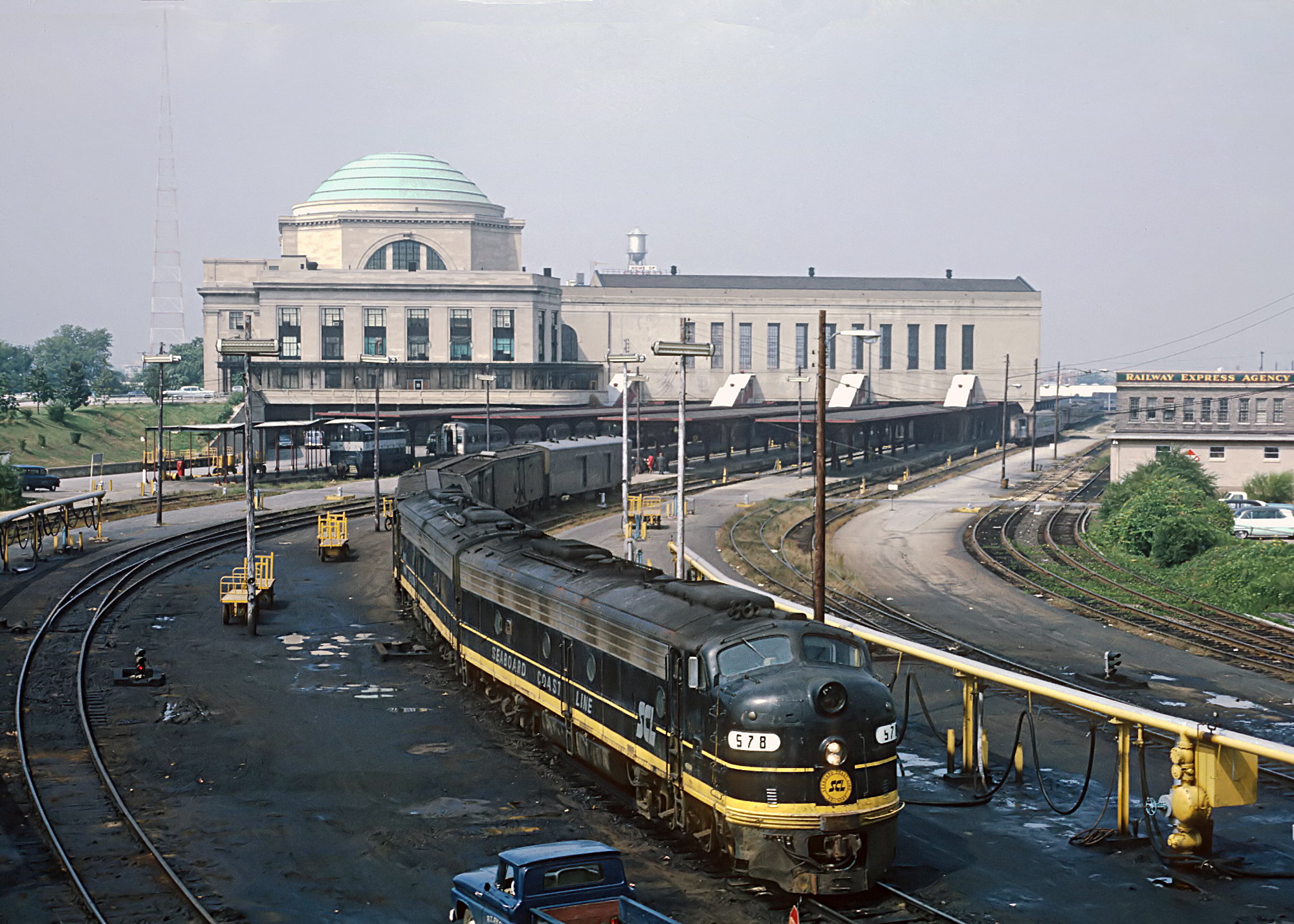 Seaboard Coast Line E8A #578 has train #85, the "Everglades," awaiting departure from Richmond's Broad Street Station on September 27, 1969. Roger Puta photo.
John Russell Pope
Broad Street Station in Richmond, Virginia, is a testament to the city's railway history, encapsulating chapters of growth, industry development, and socio-economic transformations.
This marvelous structure was designed by John Russell Pope, a prominent architect known for his neo-classical style that mirrored in the station's exquisite architectural panorama.  Interestingly, it was the only commercial building Pope would design. 
Some of his other notable buildings include the Branch House in Richmond as well as the Jefferson Memorial, National Gallery of Art, and National Archives in Washington, D.C.
Heralding a new age of transportation, Broad Street Station was officially inaugurated on January 6, 1919. Its opening was significant as it positioned Richmond as a central hub in the expansive railway network of the era.
Constructing this grand edifice came with a substantial cost, indicating the magnitude of Richmond's commitment to railway connectivity. The construction of Broad Street Station amounted to approximately $1.6 million, a hefty expenditure bearing testimony to its significance.
Beaux-Arts Style
Broad Street stood as a monument of architectural elegance of the Beaux-Arts style, showcasing Pope's signature neo-classical touch. An embodiment of grandeur, this style accentuated the city's progressive narrative and cultural sophistication.  Its signature feature is the building's 100 foot high rotunda.
Maine granite was the primary material used in the construction of the station. The robust yet sublime grey tones of this natural stone contributed to the station's classic aesthetic appeal.
Strategically located at 2500 West Broad Street in Richmond's heart, the Broad Street Station was accessible and conveniences for commuters, positioning the station as an essential part of the city's everyday life.
To ensure seamless movement of passengers and goods, Broad Street Station was equipped with four large covered outdoor platforms to serve the facility's many staging tracks. This setting anticipated the advent of mass transit, a progressive concept of the era.
Broad Street's track layout was interesting and unique; it was located off the RF&P's main line with the tracks forming a loop.
Peak Years
During its zenith, Broad Street Station was a bustling hub of activity. It facilitated the movement of around 32 trains daily and served approximately 10,000 passengers daily, underscoring its foundational role in Richmond's transportation ecosystem.
All of the notable trains operating over the RF&P, Atlantic Coast Line, Norfolk & Western, and later Seaboard Air Line all called at Broad Street.
Amtrak
The year 1971 marked a vital shift in the station's chronicle as it was acquired by Amtrak, the nation's foremost passenger rail service.  That same year the building was listed on the National Register of Historic Places.
Amtrak routes, including the notable Silver Star and Silver Meteor services, coursed through Broad Street. These trains, renowned for their speed and convenience, contributed to the station's popularity.
Despite its vibrancy and significance, Broad Street Station ceased its rail operations on November 15, 1975. Its transit services were then migrated to the new Staples Mill Road Station, marking the end of the station's life as a railway hub.
Broad Street Station, despite the closure of its rail services, wasn't left to oblivion. It was repurposed into the Science Museum of Virginia, heralding a novel era in its history. The station's transformation into a museum, a hub of knowledge, allowed the building to retain its social resonance and continue standing as a proud testament to Richmond's past.
The opening of the Science Museum of Virginia on January 13, 1977 barely two years after Broad Street Station's closure as a rail hub, meant that the building continues to live on, albeit in a different role. Its well-curated exhibits, interactive displays, and dynamic presentations continue to captivate Richmond's future generations.
Science Museum of Virginia
Today, Broad Street Station's progressive transformation underscores the city's adaptability and commitment to preserving its historical roots. Moreover, its relevance is bolstered by its affiliation with a renowned institution like the Science Museum of Virginia.
The museum features permanent and changing exhibits, a planetarium, and live science demonstrations. It covers a wide range of scientific topics, including health, energy, the environment, and space exploration. The museum also offers educational programs and hosts special events throughout the year.
Legacy
The story of Broad Street Station, woven within the fabric of Richmond's history, reflects the city's essence. Its tale is a timeless testament to Richmond's continuous strive for relevance amid changing times, symbolizing the ebb and flow of city life.
Broad Street Station, with its intricate architecture and historical significance, adds a unique layer to Richmond's urban narrative. The unique blend of its railway past and current educational role continues to shape Richmond's cultural identity.
As one explores the Science Museum of Virginia, it is essential to remember the vibrant history that the building - Broad Street Station - embodies. Its legacy is immortalized in Richmond's urban memory, a poignant chapter in the city's developmental journey.
The station's architectural brilliance and transformative history make it a significant fixture in any study or research revolving around Richmond's urban evolution or railway history, appealing to both train enthusiasts and academic scholars alike.
Broad Street Station remains a significant part of Amtrak's legacy, even though its function as a train station ceased long ago. Its past as an Amtrak station is an integral piece of the comprehensive story of railway connectivity in Richmond.
Uncovering Broad Street Station's rich saga allows one to delve into the undercurrents of Richmond's socio-economic fabric. The bustling scene of passengers boarding Amtrak trains and the present-day eager schoolchildren exploring scientific marvels intertwine to paint a vibrant tapestry of Richmond's dynamic urban narrative.
---
Richmond, Fredericksburg & Potomac E8A #1012 has train #85, the "Everglades," arriving at Broad Street Station on November 26, 1968. Roger Puta photo.
Broad Street Station, although silent, speaks volumes of the persistent progress and enduring relevance of Richmond. Its tale is one of transformation and adaptation, of embracing the new while preserving the old.
In effect, the iconic Broad Street Station stands as an enduring emblem of Richmond's urban tale. Its story – the founding, the bustling years as a railway hub, its closure, and its successful reincarnation as a science museum – beautifully encapsulates the spirit and resilience of Richmond city against the backdrop of time's relentless march.