Camelback Steam Locomotives

Last revised: January 28, 2023
By: Adam Burns

Camelbacks, while not necessarily the safest such design ever conceived were certainly one of the most unique.

The Camelback is not a named wheel arrangement like the 4-6-2 Pacific or 2-8-4 Berkshire but a term only meant to describe a distinctive design feature found on some steam locomotives.
While Camelbacks were banned citing safety concerns in the early 20th century they proved quite successful to the anthracite carriers, who could use them to burn a cheap and plentiful anthracite coal waste known as culm.
The design also made John E. Wootten famous for his patented Wootten firebox. Today, at least three of these unique designs remain preserved around the country although none are operational.
While Camelbacks were utilized by numerous anthracite roads such as the Jersey Central, Reading, Lackawanna, Delaware & Hudson, Lehigh Valley, Lehigh & New England, and others it was not exclusively found in the east. 
The interesting concept could also be found on lines well outside of anthracite territory including the Santa Fe; Baltimore & Ohio; Missouri-Kansas-Texas (Katy); Chicago & Eastern Illinois; Nashville, Chattanooga & St. Louis; New York, Susquehanna & Western; Southern Pacific; Union Pacific; and Wheeling & Lake Erie.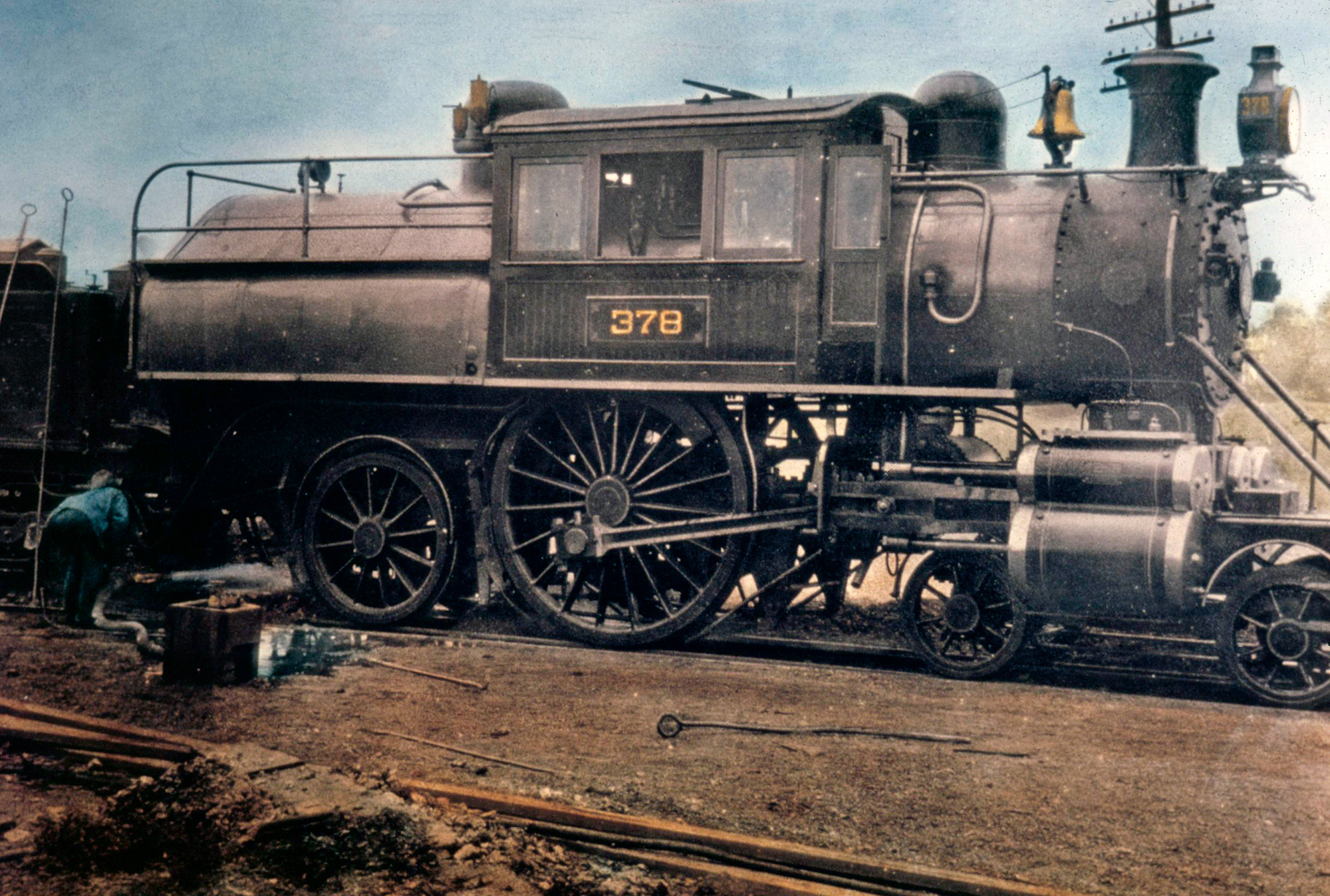 A colorized photo of Philadelphia & Reading 4-4-0 #378, circa 1904 soon after the locomotive was completed. Listed as Class D-10a she was built by Reading shop forces. Author's collection.
The Camelback received its name for the unique positioning of the locomotive cab which sat astride the boiler giving the design a center "humped" appearance.
While the Baltimore & Ohio Railroad developed something similar to the later Camelback in the 1840s, given the interesting name of "Muddiggers," it was not until John Wootten (who worked for the Philadelphia & Reading Railroad, a Reading Railroad predecessor) patented his Wootten firebox and boiler design in 1877 did the design really catch on.  
This particular designed allowed for the burning of the fuel the locomotive used by providing a very wide, large firebox that produced robust fires yet only utilized a consumed a small amount at a time with a low firing rate.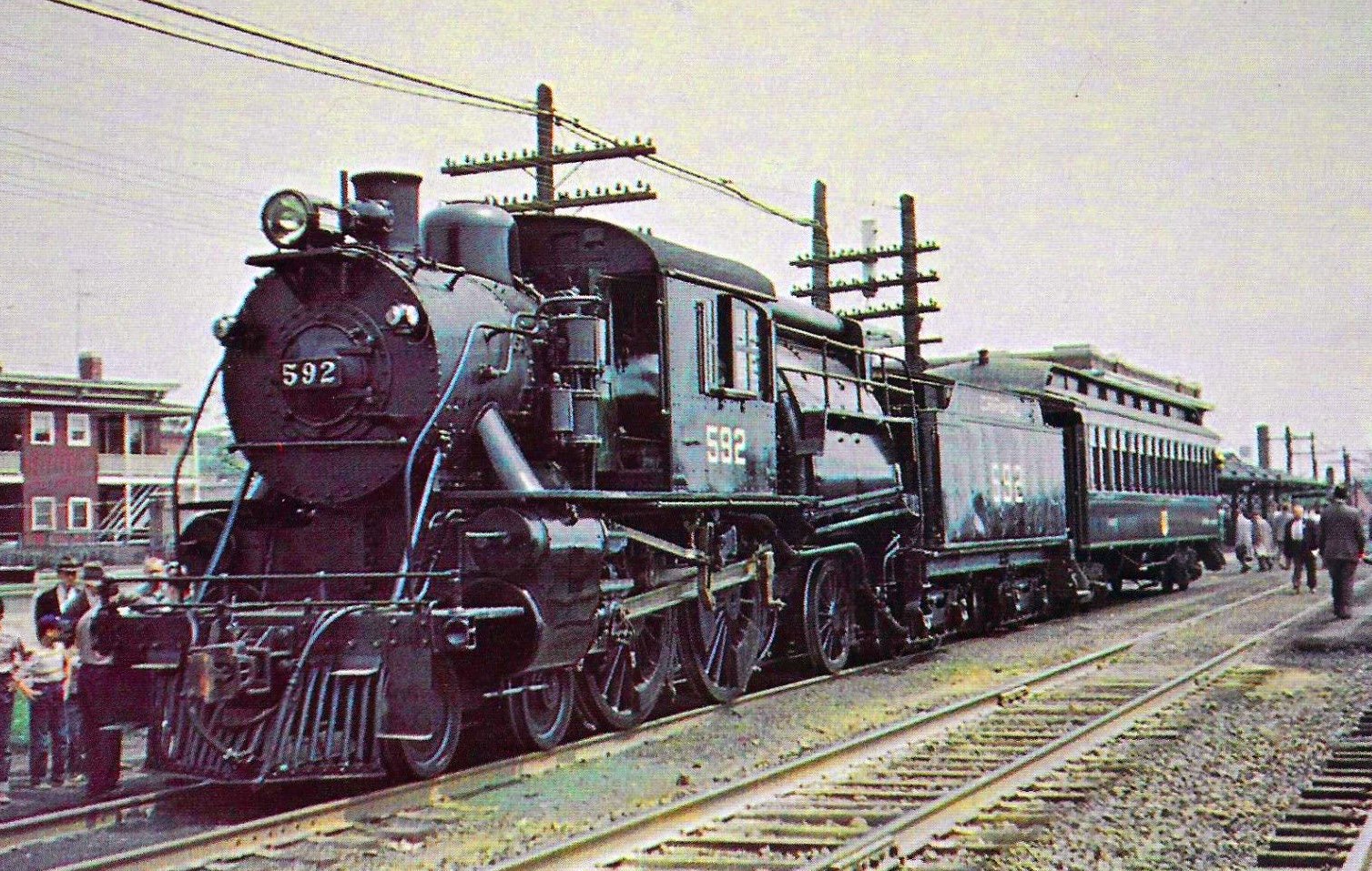 Jersey Central 4-4-2 #592, a "Camelback" design, makes a quick stop at Bound Brook, New Jersey as folks gather around on May 1, 1954. The locomotive was on its way to the Baltimore & Ohio Railroad Museum where it still resides today. Douglas Wornom photo.
Because the locomotive was developed to burn the very abundant anthracite coal waste, culm, Camelbacks became fantastically popular with the railroads which staked their livelihoods on the resource.  These included the:
Central Railroad of New Jersey


Delaware, Lackawanna & Western


Lehigh Valley


Lehigh & New England Railroad


Lehigh & Hudson River
Other lines which came to use the the Camelback design included the B&O, Erie, Union Pacific, Southern Pacific, Santa Fe, Pennsylvania, Wheeling & Lake Erie, and Maine Central.
Jersey Central 4-6-0 #774 (Class L7as) with its massive Wootten Firebox is seen here at the engine terminal in Jersey City, New Jersey on March 2, 1956. Despite being all shined up, eight days later the "Camelback" was scrapped. Don Wood photo.
Some railroads like the Lehigh & New England rebuilt common wheel arrangements as large as 2-8-0 Consolidations into Camelbacks and the Erie Railroad's 0-8-8-0 articulated design (Class L-1) was the largest ever built (and only articulated design ever developed).
In total, nearly 3,000 Camelback steam locomotives were either rebuilt from conventional designs, custom-built by individual railroads, or purchased from manufacturers. 
While Wootten's design allowed railroads, particularly the anthracite carriers, to gain huge savings on fuel costs it also came at an increased safety risk.
Because the firebox on Camelbacks was so large, as to gain the necessary and needed fire temperatures, it forced the cab to be placed astride the boiler and over the driving wheels (so the engineer could gain proper clearance).
Delaware & Hudson 2-8-0 #810, a Camelback Consolidation sporting a huge Wootten firebox so common with this design, is seen here ahead of a short passenger consist at French Mountain, New York during the summer of 1946. Arthur Martin photo.
This not only made for an extremely uncomfortable and hot ride during warmer months for engineers it also made them more at risk to injury if any part of the driving wheel assembly failed while at-speed. 
To make matters worse the fireman was left exposed to the elements back by the firebox, where of course he had to remain to feed fuel to the locomotive.
Due to these safety issues the Interstate Commerce Commission began to seriously look at the hazards Camelback steam locomotives exposed to train crews and by 1927 the agency had completely banned new or rebuilt locomotives which featured the Camelback design. 

---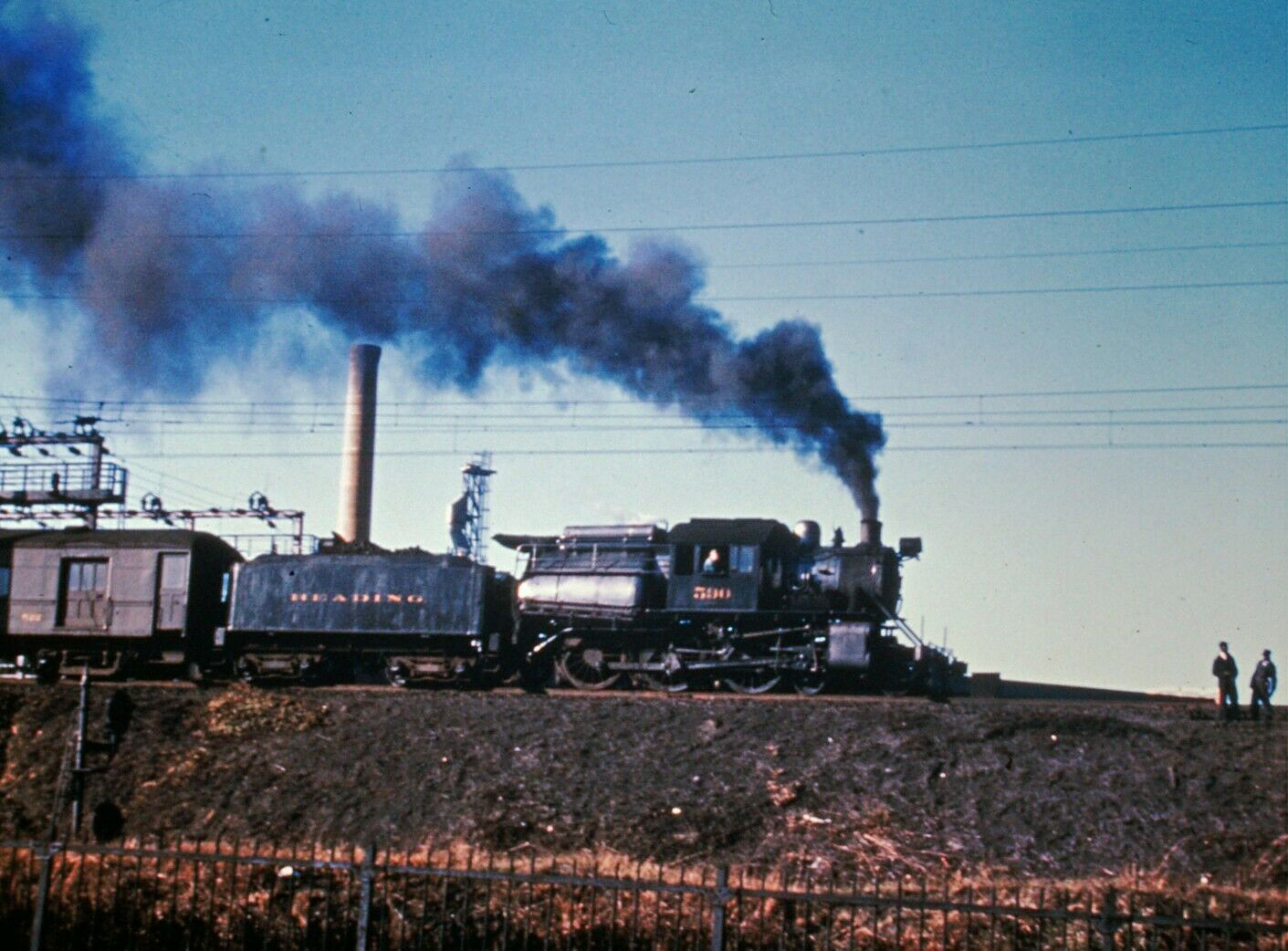 Reading 4-6-0 "Camelback" #590 is seen here with what appears to be a short passenger train at Camden, New Jersey on December 11, 1946.
For more reading about steam locomotives you might want to consider Perfecting the American Steam Locomotive by author J. Parker Lamb.
In this book you will learn how the motive power was refined over the years with newer technologies that improved the efficiency of steam to haul trains, such as the superheater. There are certainly many more books on the subject of steam than this particular title.  
However, Mr. Lamb's book provides a wonderfully detailed look at the legendary locomotive over the years, spanning more than 200 pages of information in the process.