The 
Grand Canyon
Last revised: March 29, 2023
By: Adam Burns

The Grand Canyon was part of the Santa Fe's transcontinental fleet serving California and Chicago, which included names like the El Capitan, The Chief, Super Chief, and others. 

The Grand Canyon, of course, was named after one of our country's great natural wonders that passengers could reach directly by rail through a connection at Williams, Arizona. 
After providing service to the national park via other trains for more than two decades, complete with its own resort, the AT&SF inaugurated the Canyon during the late 1920s. 
Despite retentions in rail service after World War II the Santa Fe continued offering travel to the park until the coming of Amtrak in 1971 (albeit by bus only during the final years).  Today, one can still enjoy riding the rails directly to the canyon by way of the Grand Canyon Railway.
Photos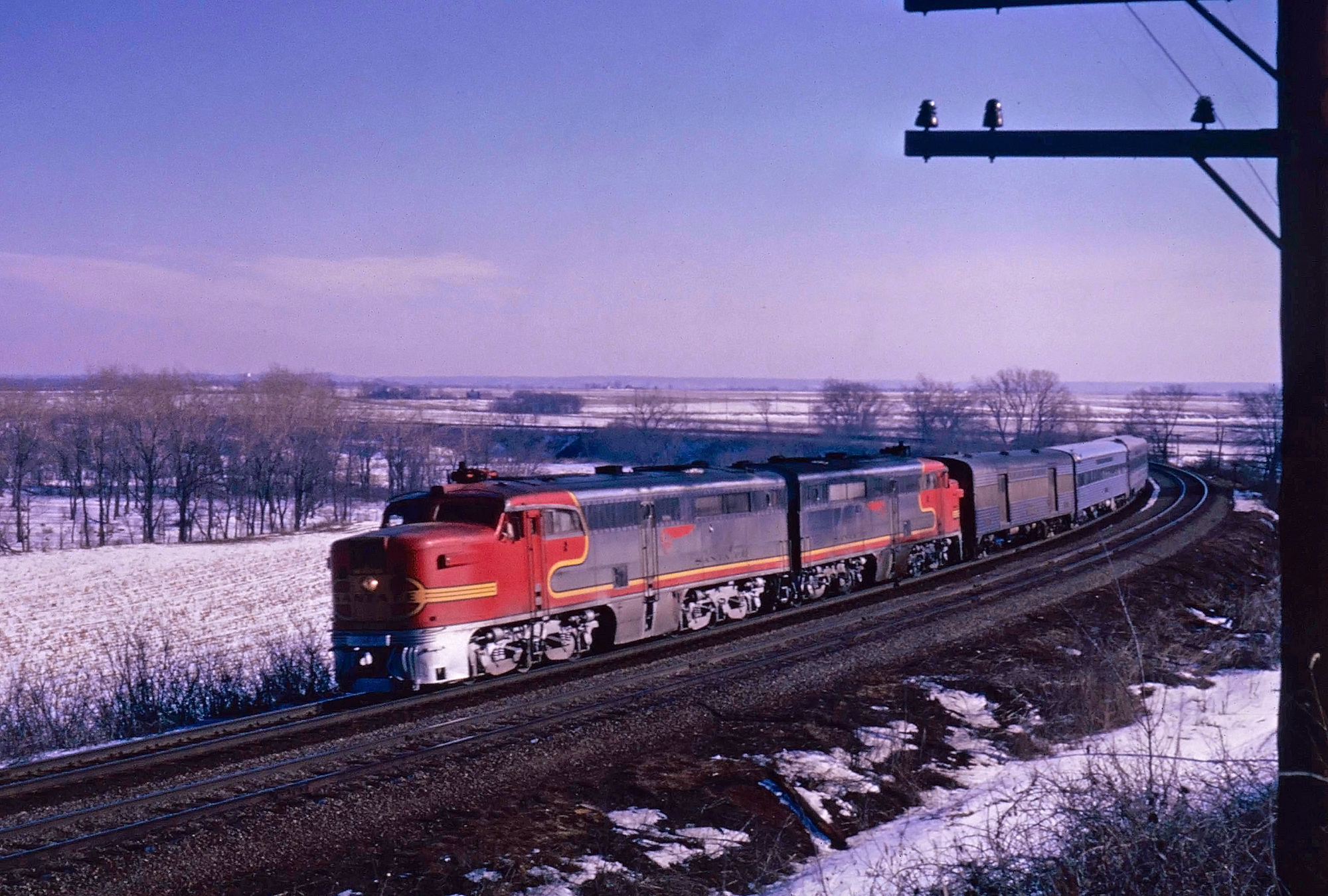 A pair of Santa Fe PA-1's, led by #67-L, have what remains of train #23, the "Grand Canyon," hustling westbound out of Chillicothe, Illinois, circa 1967. American-Rails.com collection.
History
Like most western roads the Atchison, Topeka & Santa Fe (or Santa Fe for short) offered travelers its own spin on experiencing one of our beautiful national parks, the vast 277-mile Grand Canyon. 
This incredible natural wonder was first discovered by Don Pedro de Tovar, who was part of a Spanish expedition led by Francisco Vasquez de Coronado in 1540.  For years the local Indians had referred to as Kaibab or, "Mountain Lying Down," while the Spanish called it "Grand Canon." Later, American expeditions stumbled upon the location in 1857 and referred to it as the Grand Canyon. 
The area officially became the Grand Canyon National Park under President Woodrow Wilson, signed into law on February 26, 1919.  The Santa Fe's transcontinental main line would pass slightly to the south of the canyon running through Flagstaff and Williams, Arizona. 
The latter was reached by the AT&SF in 1883 and even at that time folks would take the additional, arduous 60 mile northward journey by either horseback or carriage to see the canyon firsthand for themselves. 
The railroad, of course, quickly understood the marketing potential the location offered and officially opened a branch to the South Rim of the canyon on September 18, 1901.  According to Bill Yenne's book, "Santa Fe Chiefs," during its first year in operation the South Rim terminus provided travelers with little in the way of accommodations save for a tent camp known as the Bright Angel Lodge. 
Of course, if the railroad ever hoped to attractive high-dollar travelers and vacationers a proper resort must be constructed.  Wasting little time on this endeavor the Santa Fe broke ground on such a structure during 1902.

What became known as the El Tovar Hotel (named for the Spanish explorer Don Pedro de Tovar) was designed by architect Charles Whittlesey and opened to the public on January 14, 1905.  The building's location was as impressive as its offerings situated right along the edge of the South Rim. 
At A Glance
Route

Chicago - Kansas City - Los Angeles

Travel Time (Los Angeles Section)

51 Hours and 10 Minutes (Westbound)

48 Hours (Eastbound)

Service History

June 29, 1929 - April 30, 1971

Train Numbers

23 (Westbound)

24 (Eastbound)

Distance

2,223.7 Miles (Los Angeles Section)

2546.7 Miles (San Francisco Section)

End Terminals

Union Passenger Terminal (Los Angeles)/40th & San Pablo Avenue (Oakland)*

Dearborn Station (Chicago)
* Connecting bus service to San Francisco.

The breathtaking views it affords still makes the resort a popular getaway today.  Since the branch's opening Santa Fe had provided service to Williams via its early transcontinental flagship, the California Limited, with a connecting train reaching the canyon. 
This changed in 1929 when the road formally launched the Grand Canyon between Chicago and Los Angeles listed as trains #23, westbound, and #24 eastbound. 
The AT&SF never intended on it running a fast schedule such as with the Super Chief flagship launched a few years later (boasting a cool travel time of only 39 3/4 hours). 
Timetable (1969)
Read Down Time/Leave (Train #23)
Milepost
Location
Read Up
Time/Arrive (Train #24)
9:00 AM (Dp)
0.0

Chicago, IL (Dearborn Station) (CT)

9:00 PM (Ar)
9:55 AM
38

Joliet, IL (Union Station)

8:04 PM
10:45 AM
90

Streator, IL

11:25 AM
130

Chillicothe, IL

6:20 PM
12:15 PM
177

Galesburg, IL

5:25 PM
1:25 PM
232

Fort Madison, IA

4:25 PM
2:58 PM
311

La Plata, MO

2:55 PM
3:35 PM
346

Marceline, MO

2:20 PM
4:17 PM
385

Carrollton, MO

1:44 PM
6:00 PM
449

Kansas City, MO (Union Station)

12:30 PM
6:40 PM
489

Lawrence, KS

11:15 AM
8:30 PM
576

Emporia, KS

9:25 AM
9:45 PM
649

Newton, KS

8:05 AM
10:30 PM
682

Hutchinson, KS

7:20 AM
11:58 PM
767

Kinsley, KS

6:01 AM
12:10 AM
803

Dodge City, KS

5:35 AM (CT)
1:05 AM
852

Garden City, KS

3:30 AM (MT)
2:46 AM (CT)
952

Lamar, KS

1:55 AM
4:00 AM (MT)
1005

La Junta, CO

12:40 AM
5:18 AM
1086

Trinidad, CO

11:15 PM
6:18 AM
1109

Raton, NM

10:15 PM
8:08 AM
1219

Las Vegas, NM

8:15 PM
9:50 AM
1283

Lamy, NM

6:25 PM
11:10 AM
1350

Albuquerque, NM

5:10 PM
12:54 PM
1449

Grants, NM

3:20 PM
2:05 PM
1511

Gallup, NM

2:20 PM
4:35 PM
1639

Winslow, AZ

12:30 PM
5:45 PM
1698

Flagstaff, AZ

11:15 AM
7:30 PM
1782

Seligman, AZ

9:25 AM
8:58 PM
1870

Kingman, AZ (MT)

7:40 AM
9:05 PM
2099

Needles, CA (PT)

5:10 AM
11:40 PM
2097

Barstow, CA

2:00 AM
3:20 AM
2180

San Bernardino, CA

11:10 PM
4:20 AM
2205

Pomona, CA

10:20 PM
5:20 AM
2230

Pasadena, CA

9:40 PM
6:00 AM (Ar)
2239

Los Angeles, CA (Union Passenger Terminal)

9:00 PM (Dp)
Instead, a complete trip normally requiring 48 3/4 hours between Chicago and Los Angeles (running via Amarillo although a westerly section via La Junta, Colorado and Albuquerque was also offered as trains #123 and #124) and 55 1/4 hours between the Windy City and San Francisco. 
The northbound connection to San Francisco ran via Barstow and Bakersfield.  Passengers may not have realized it unless they closely read their ticket but while the Santa Fe listed the section as the Grand Canyon it was actually operated by the Golden Gate, trains #60 and #61. 
Consist and Route (1952)
As a transcontinental train its original consist included reclining seat coaches, a diner (typically not offered, however, to San Francisco), and Pullman sleepers.  
Interestingly, but not terribly surprising given Santa Fe's strong reputation for quality service, the Canyon continued offering numerous accommodations through the late 1960s including reclining seat coaches, sleepers, a lounge, and lunch counter car (diner).
---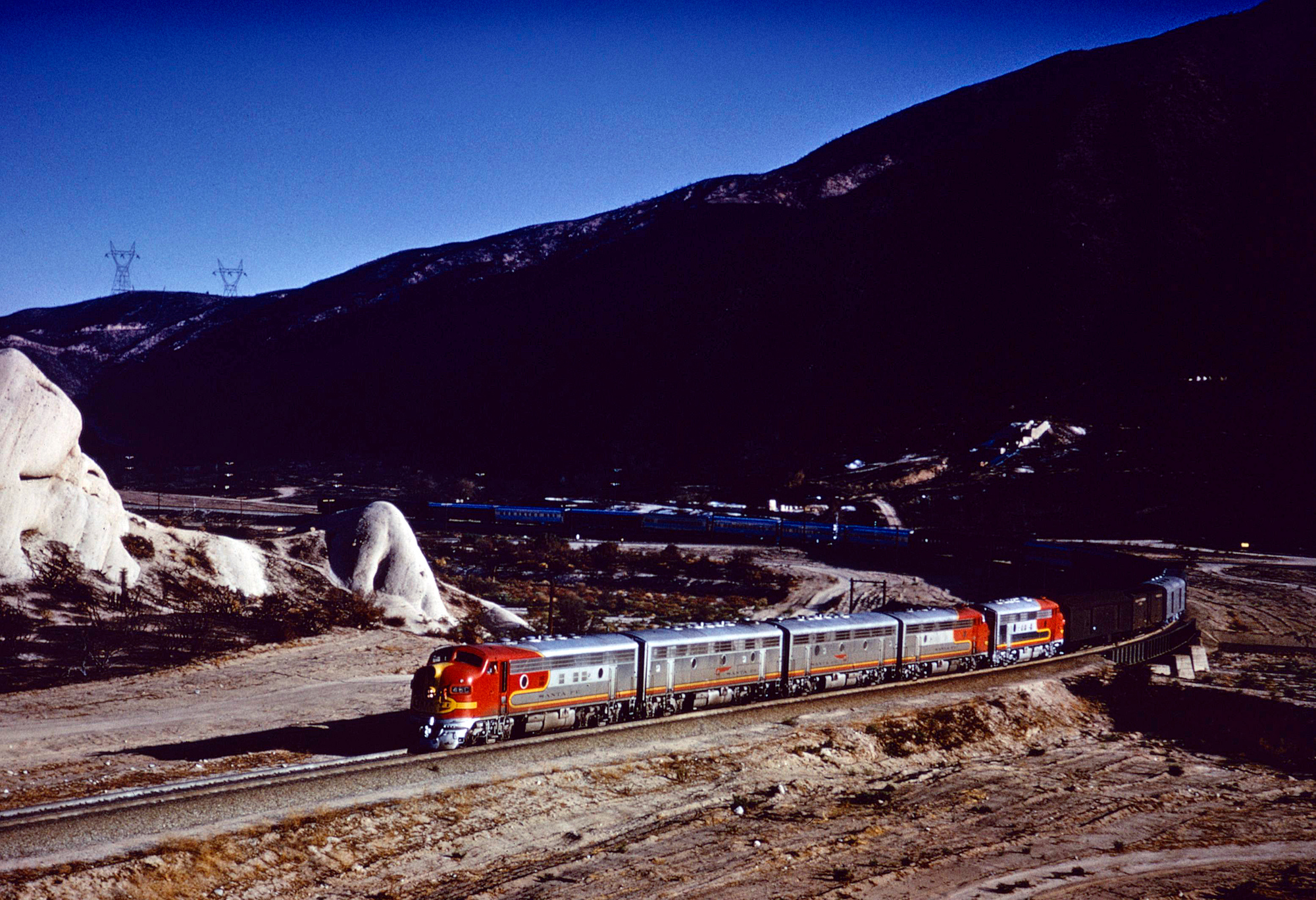 Santa Fe's train #24, the eastbound "Grand Canyon," negotiates Cajon Pass near Alray, California on the early evening of August 16, 1964. American-Rails.com collection.
Final Years
The train's only noted drawback was the connection at Williams, at least for travelers aboard the westbound leg.  Train #23 arrived at 10:30 PM for the departure north but to keep costs down and operations efficient the railroad had the train wait for the arrival of eastbound #24 at 3:40 AM. 
From that point the northbound section to the South Rim departed at 4:15 AM and arrived at the canyon by sunrise at 7:00 AM. 
As ridership declined the Grand Canyon lost its South Rim section during 1968, after which time travelers could catch a bus to the park. 
Despite waning patronage the train remained part of Santa Fe's fleet until the end, making its final run the day before Amtrak on April 30, 1971. 
Today, you can still travel by train to the South Rim thanks to the popular Grand Canyon Railway which provides top-notch accommodations (including dome cars) that are sometimes powered by steam locomotives.
Sources
Glischinski, Steve. Santa Fe Railway. St. Paul: Voyageur Press, 2008.
Schafer, Mike. Classic American Railroads. Osceola: MBI Publishing, 1996.
Yenne, Bill.  Santa Fe Chiefs.  St. Paul: TLC Publishing Company, 2005.