The "Chili Line"
Last revised: May 4, 2023
By: Adam Burns

The Denver & Rio Grande Western's so-called "Chili Line" certainly held a catchy title and was appropriately-named given its location in the United States' southwestern region.  

The corridor officially became known by the D&RGW as the Santa Fe Branch and when originally built in the late 19th century was envisioned as the road's primary route from Denver to the Mexican border.  
Unfortunately, a number of factors precluded this from ever happening although the Rio Grande did prosper into a profitable railroad thanks to leadership that took the company in a different direction and opened new lines to the west.  
Over time the Chili Line saw decreasing use as competition increased and was eventually abandoned during the early 1940s.
The history of the Rio Grande has been thoroughly covered over the years in countless books, articles, and other publications highlighting everything from its construction and operation to motive power and individual lines.  
The D&RGW holds a mystique and fascination for a multitude of reasons, largely due to its once expansive narrow-gauge operations.  
The railroad was originally conceived as a three-foot system but its principal routes were later upgraded to standard-gauge for more efficient service and interchange with other carriers.  
However, a collection of its southerly network, located west and south of Alamosa, Colorado maintained its three-foot status until abandonment during the 20th century.  One such corridor was the so-called "Chili Line."
What later became a stub-end branch was envisioned by William J. Palmer, original promoter of the Denver & Rio Grande Railway incorporated on October 27, 1870, as part of a through extension to the Mexican border.  
The D&RG began construction on July 28, 1871 and as George Hilton notes in his book, "American Narrow Gauge Railroads," was the first to employ the three-foot gauge in the United States, the most widely adopted of the narrow-gauge layouts.  
Palmer's plan would entail running a line south through New Mexico and reaching El Paso, Texas where an interchange would be established with the Mexican Central Railway.  Ultimately, the dream was to have rail service established to Mexico City made up entirely of three-foot gauge.
While Palmer's primary interest with the D&RG did encompass this southern connection what is often unknown is that the railroad was originally projected to stretch west as well to Salt Lake City via Grand Junction, Colorado just as it would eventually do some years later.
This effort began soon after rails reached Pueblo in 1872 when a branch was constructed to Cañon City along the Arkansas River to tap coal mines.  
After the financial Panic of 1873 slowed work things resumed in 1876 when Palmer pushed the line south to Cucharas and west to Alamosa, reaching the latter town by July of 1878.
 It was then that warfare broke out with the Atchison, Topeka & Santa Fe as both roads staked claim to Raton Pass, a prize AT&SF ultimately claimed.  
Unfortunately, the fighting did not end here as both companies then began battling for access into the lucrative mining region near Leadville.
After Jay Gould acquired a large interest in the D&RG he was able to negotiate a treaty between the two parties that led signing the Tripartite Agreement on March 27, 1880.  
In this document the companies agreed to a number of stipulations; the D&RG would not attempt to build south of Trinidad, Colorado or Espanola, New Mexico while the Santa Fe turned over its subsidiaries located west of Cañon City to the D&RG and stayed out of Denver and Leadville for 10 years.  
While Gould steered the D&RG westward, Palmer did not give up his intentions of completing a southern routing.  
With work already underway towards Alamosa, with a goal of reaching Albuquerque, he finished the line as far south as he could at Espanola on December 30, 1880.  However, to complete the route to Santa Fe required a bit of corporate ingenuity.
A group of independent businessman, hoping to see the Rio Grande reach the city formed the Texas, Santa Fe & Northern Railroad.  
During 1881 grading for the 34-mile line was predominantly completed but funding was exhausted.  In 1886 it came under the control of General L.M. Meily which finished the project on January 8, 1887.  
It was renamed as the Santa Fe Southern on January 4, 1889 but financial difficulties led to bankruptcy at which point it was acquired by D&RG and renamed again as the Rio Grande & Santa Fe Railroad.  The RG&SF was then merged into its parent on August 1, 1908.  
Under Rio Grande operation the line became known officially as the Santa Fe Branch although it quickly earned a nickname as the "Chili Line" due to the propensity by local farmers to ship their red chili crop by train.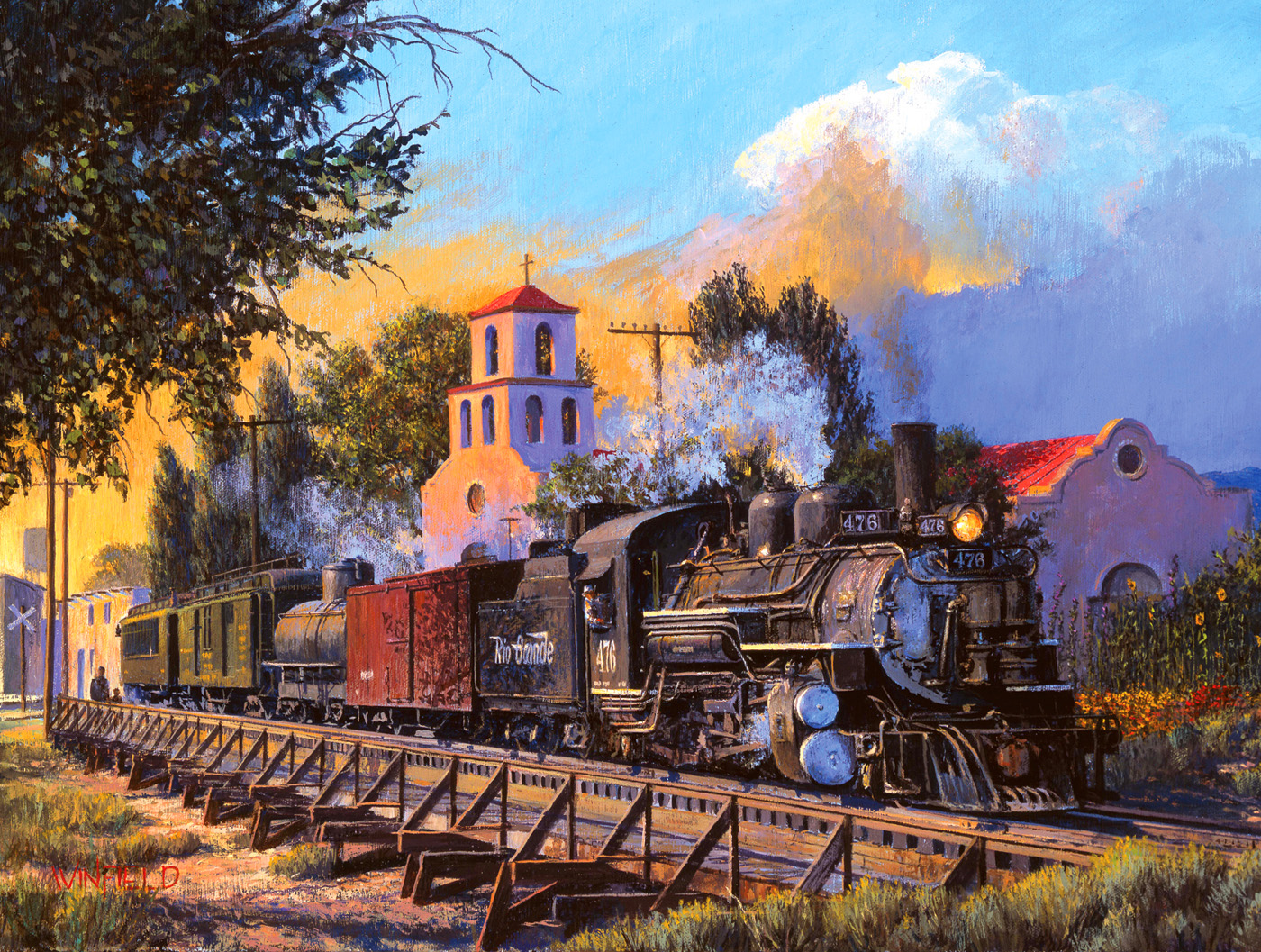 While agriculture, and some manufactured goods, comprised part of the line's traffic base according to Dr. Hilton's book it was fed largely by timber and related products.  
Unfortunately, while the Rio Grande eventually boasted a system stretching more than 2,400 miles, reaching as far west as Salt Lake City and Ogden, the Chili Line wasn't particularly profitable.
The route ran 153 miles between Alamosa-Santa Fe and was plagued by stiff grades (as high as 4% between Embudo and Barranca) with curves as sharp as 22 degrees.  
Aside from the main line there were two short branches; one ran between No Agua, New Mexico and Stewart Junction while another extended 16 miles between La Madera via Taos Junction.  
The latter was constructed in 1914 to ship out finished lumber from the Halleck & Howard company.
Alas, this operation was brief; unhappy with the quality of timber its mill was shuttered in 1927 along with rail operations soon afterwards.  
For whatever reason the Rio Grande chose to leave the Chili Line as a narrow gauge corridor although a third-rail was added along the 28 miles between Alamosa and Antonito in 1901. 

---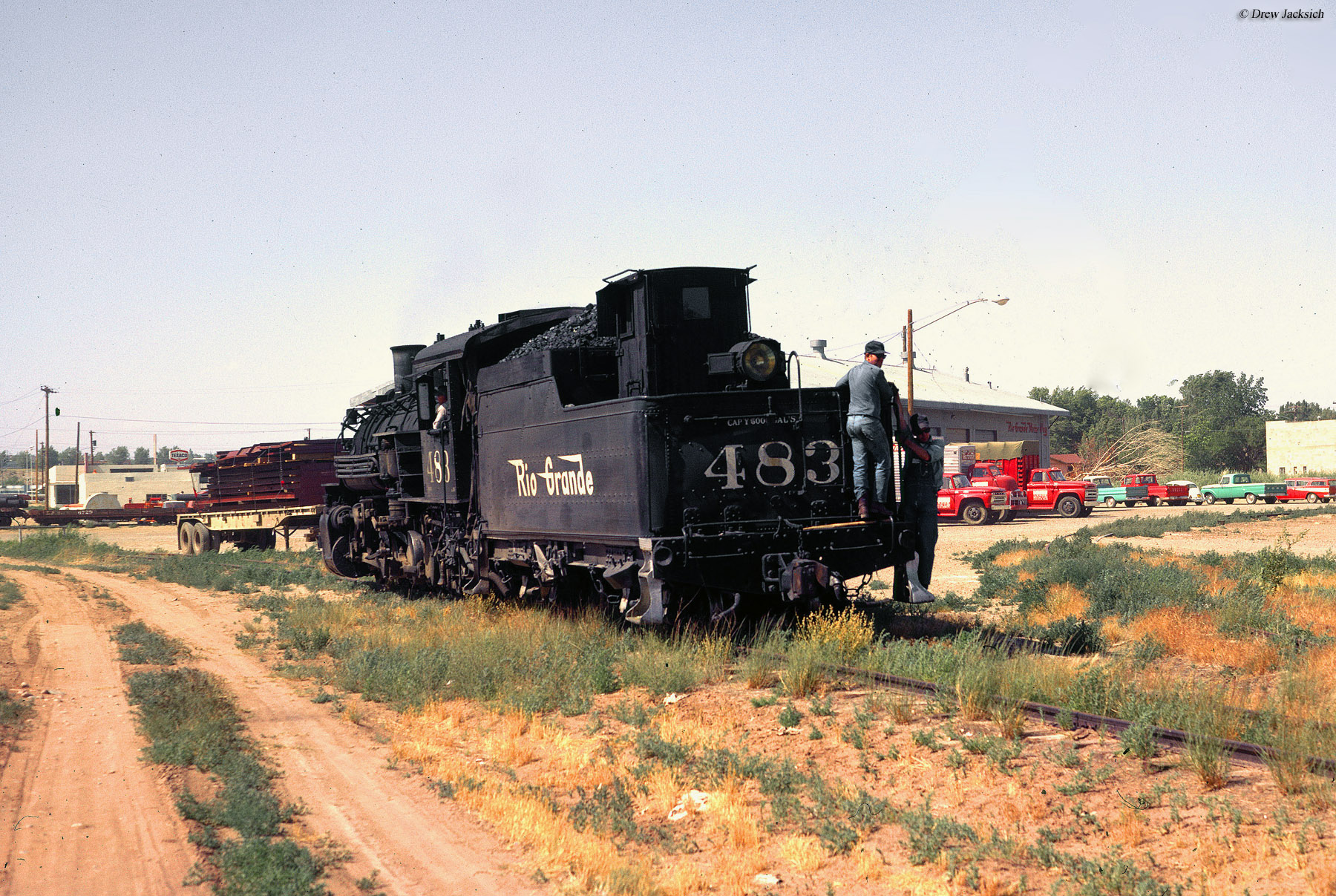 Additional infrastructure upgrades included the installation of heavier rail, which allowed larger Class K 28 Mikados to use the line.  In any event, the decision to leave most of the route narrow-gauge certainly hurt additional interchange traffic potential with the Santa Fe.
Despite its inherent problems the line has drawn a lot of interest over the years from enthusiasts and historians due to its narrow-gauge operations. 
Passenger service remained until the very end with mixed trains, #425 and 426, running until all operations ceased after September 1, 1941.  The Rio Grande had received permission to abandon line earlier that January and tracks were removed within days of the final runs.