California Railroads In "The Golden State"
California railroads are, in a nutshell, entirely in a class by themselves.
While the state was late in being accessed by the nation's ever growing rail grid compared to states like New York, Maryland, and Pennsylvania all of whom had over 300 miles of trackage by 1840.
- It's first railroad did not appear until the 1850s although much of this is due to the then territory's obscurity, until the Gold Rush of the 1840s changed everything. -

It did not take long for California to catch up!  After the Gold Rush and completion of the Transcontinental Railroad, California's railroads exploded to over 2,000 miles by 1880.
Today, the state remains one of the top in the country with key main lines crisscrossing the state carrying both passengers, daily commuters, and plenty of freight.
As can be seen in the below graph, California has abandoned roughly half of its all-time rail mileage.  Defunct lines litter the state, many of which were secondary branch lines and agricultural corridors. 
At one time a great deal of the state's booming farming industry, including perishables, shipped their product by rail.  Today, much of this has been siphoned away by the trucking industry.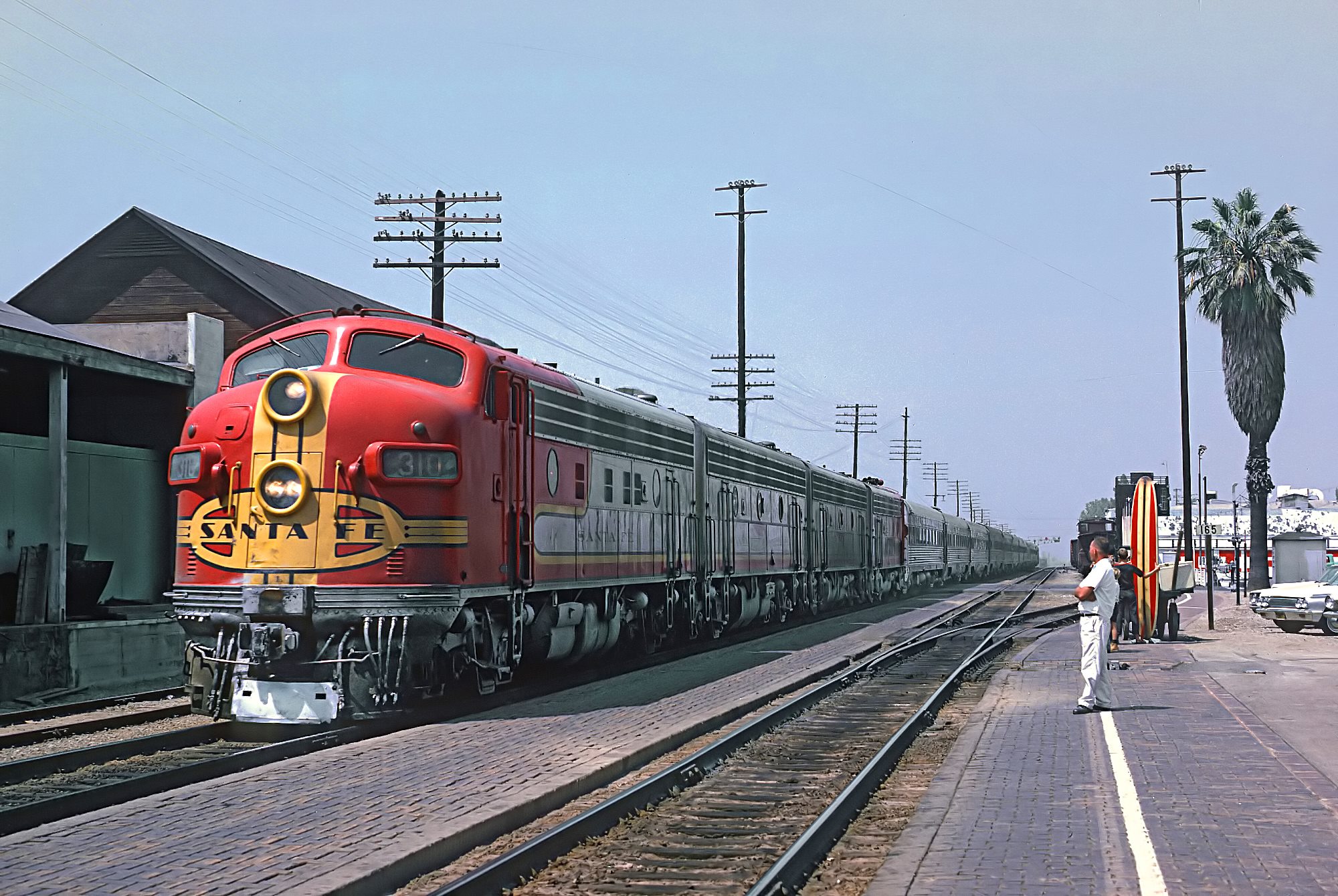 Santa Fe F7A #310-L has arrived in Fullerton, California with train #76, a southbound "San Diegan" (Los Angeles - San Diego) on August 20, 1967. Note the fellow with the surfboard. Roger Puta photo.
A Brief History Of California Railroads
Standard-gauge railroads in California have their official beginning in 1856 when the Sacramento Valley Railroad completed its 22-mile line connecting Sacramento with Folsom, California.
However, it was the completion of the Transcontinental Railroad in 1869 between the Central Pacific (which would become part of the Southern Pacific) and Union Pacific that actually kicked off the state's explosion of railroads and more importantly, its economy, as people began flocking to California in droves.
The Central Pacific Railroad got its start by the Pacific Railroad Act of 1862, created by Congress and signed into law by President Lincoln.
Surrounding State Histories
More Reading...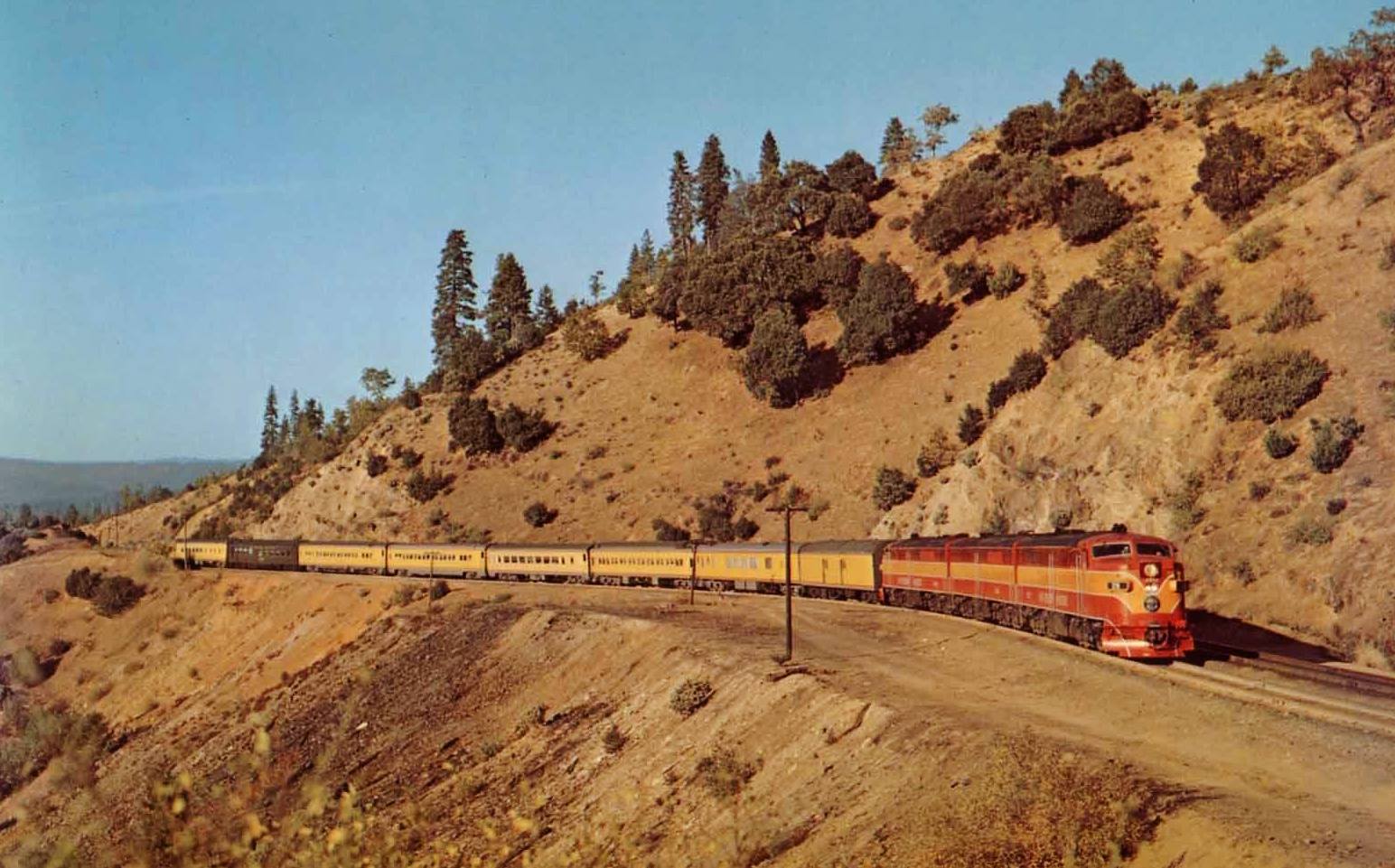 A Southern Pacific publicity photo featuring train #28, the eastbound "San Francisco Overland" (San Francisco - Chicago), approaching Cape Horn in the Sierra Nevada's near Colfax, California during the 1950's.
The CP was planned by Theodore Judah and financed by what became known as the "Big Four"; Leland Stanford, Collis Huntington, Charles Crocker, and Mark Hopkins.
The railroad began construction in 1863 and the rest, as they say, is history. 
---
California's Abandoned Railroads
California has lost roughly 3,500 miles of its infrastructure since the 1920's.  Like most states, most of these abandonments occurred after 1965.
Despite such a large loss, most of the state's removed lines consist of secondary or agricultural branches operated predominantly by Southern Pacific.  In addition, some Santa Fe and Union Pacific trackage has also been removed.
Notable abandonments include:
SP's fabled "Modoc Line" through northeastern California (which acted as inside gateway from its Cascade Line to Overland Route)


Northwestern Pacific Railroad running the northwestern coast to Eureka (officially out of service but unlikely to see trains ever again)


Pacific Electric Railway (the largest interurban in the U.S. operating 1,100 miles and serving Los Angeles and its suburbs of San Bernardino, Long Beach, Pasadena, Santa Ana, Hollywood, Redondo, Pomona, Riverside, Santa Monica, and San Fernando)


Most of the Sacramento Northern between San Francisco and Oroville


Logging operations, in particular the McCloud River Railroad and West Side Lumber


Most of the Tonopah & Tidewater Railroad which ran from a connection with the Santa Fe at Ludlow to Goldfield, Nevada.  All operations ceased in 1940.
---
By 1880, eleven years after the completion of the transcontinental line California featured a staggering 2,185 route miles of railroads!
Today, the state holds over 6,000 miles of trackage with much of it concentrated around the its ten largest cities (the rest of which mostly fans outward north, south, east, and west in the way of key main lines).
* California's very first railroad actually put into service was the Arcata & Mad River Railroad.  According to Dr. George W. Hilton's book, "American Narrow Gauge Railroads," it was organized in 1854 by the Union Company as the Union Wharf & Plank Walk Company for the purpose of moving lumber from schooners docked at a pier in Union (Arcata) along Humboldt Bay near Eureka. 
It used wooden rails via a horse tramway system and was built to a gauge of 3 feet, 9 1/4 inches. In 1855, 2 miles of this track was in service. In 1875 its name was changed to the Union Plank Walk & Railroad Company.  It became the Arcata & Mad River Railroad in 1880 and throughout its corporate existence handled timber traffic.

By the early 20th century California was booming and so were its railroads. In all the state would find itself home to some of the most legendary and celebrated Class I railroads of all time.
These include names like the Union Pacific, Western Pacific, Santa Fe, and Southern Pacific. Of all these classic systems, the Southern Pacific stands far above the rest as it completely dominated California.
The "Espee" is as synonymous with the Golden State as the Pennsylvania Railroad is with the State of Pennsylvania.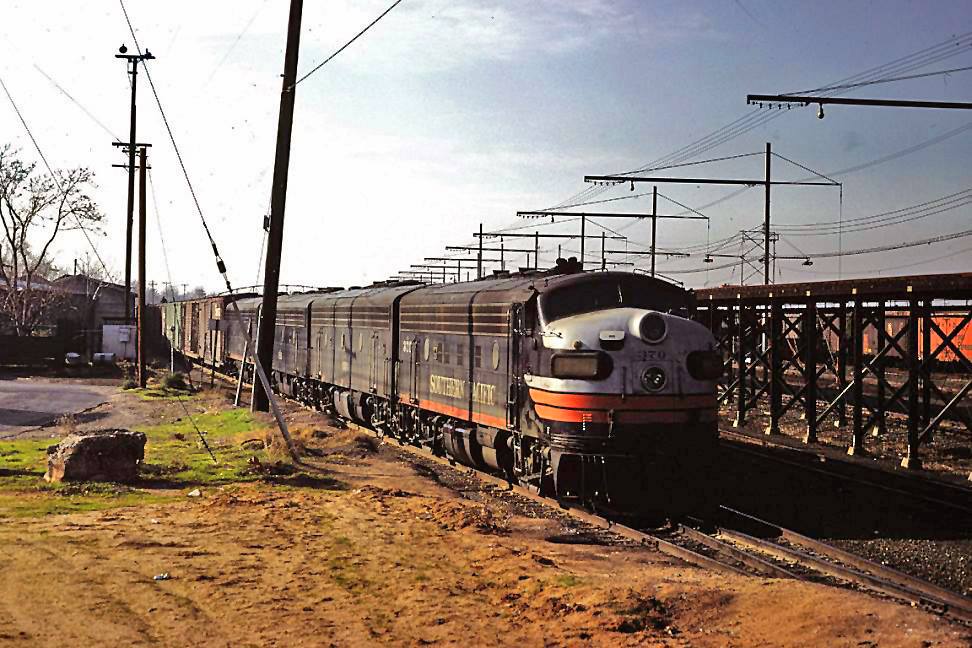 An A-B-B-B set of Southern Pacific's "Black Widow" F7's pass the old ice dock (now gone) at Roseville, California with an eastbound freight about to battle Donner Pass during January of 1966. Drew Jacksich photo.
The SP served every large market in the state and likewise moved about every type of freight imaginable heading east.
Some of this included things like perishables from the San Joaquin Valley, a once massive operation that provided significant profits for the SP.
Today, however, these are little more than abandoned spurs and buildings dotting the valley where the railroad used to load and ice its cargo (the service died upon SP's poor service in the late 1970s which today, while making a small comeback, still almost exclusively relies on trucks to move fresh goods such as lettuce, carrots, and cabbage).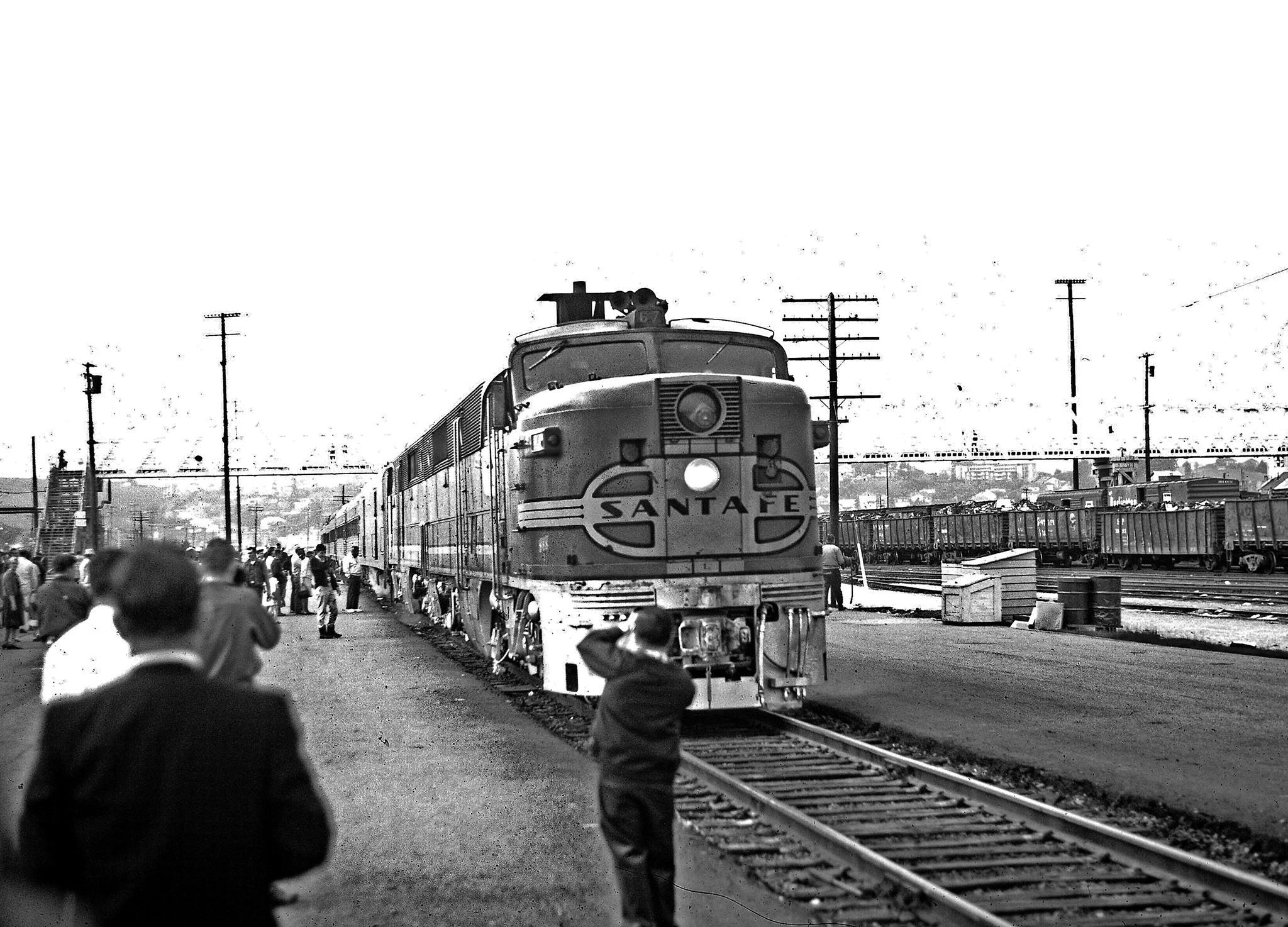 Santa Fe PA-1's #67 and #58 host their own farewell excursion (sponsored by the Pacific Locomotive Association) at Richmond, California in March of 1968. Drew Jacksich photo.
Other traffic included merchandise, intermodal, and automotive parts.
While the former two are still bustling, automotive parts are another traffic source that has mostly dried up particularly in the once industrialized booming and bustling San Francisco bay area.
Classic Railroads To Serve California
Great Northern (Bieber, "Inside Gateway")
At one time Southern Pacific dispatched several trains a day in and out of the city. However, by the 1970s this traffic began to disappear as plants in the area closed.
Today, San Francisco is completely devoid of almost all freight rail service and all that remains is commuter and light rail operations. 
Even the Southern Pacific itself is gone. A once extremely dominate and profitable large western railroad, the Espee began to lose its way in the 1970s and by the 1980s was a mere shell of its former self.
One aspect of California's railroad history often overlooked as its interurban/streetcar industry.  In the West these systems were scattered and fewer in number than throughout the Midwest and East. 
However, the Golden State boasted 1,295 miles of interurbans during its peak in the early 1900's. 
According to the book, "The Electric Interurban Railways In America" by authors George Hilton and John Due, this ranked the state 3rd in all-time mileage.  The  most notable systems included:
Sacramento Northern Railway


Sacramento Valley West Side Electric Railway


Central California Traction Company


Tidewater Southern Railway


Petaluma & Santa Rosa Railroad


San Francisco, Napa & Calistoga Railway


Peninsular Railway


Visalia Electric Railroad


Pacific Coast Railway


Nevada County Traction Company


Watsonville Traction Company


Pacific Electric Railway
Alas, all were largely gone by World War II save for the Pacific Electric and Sacramento Northern which survived for a few more years as freight carriers.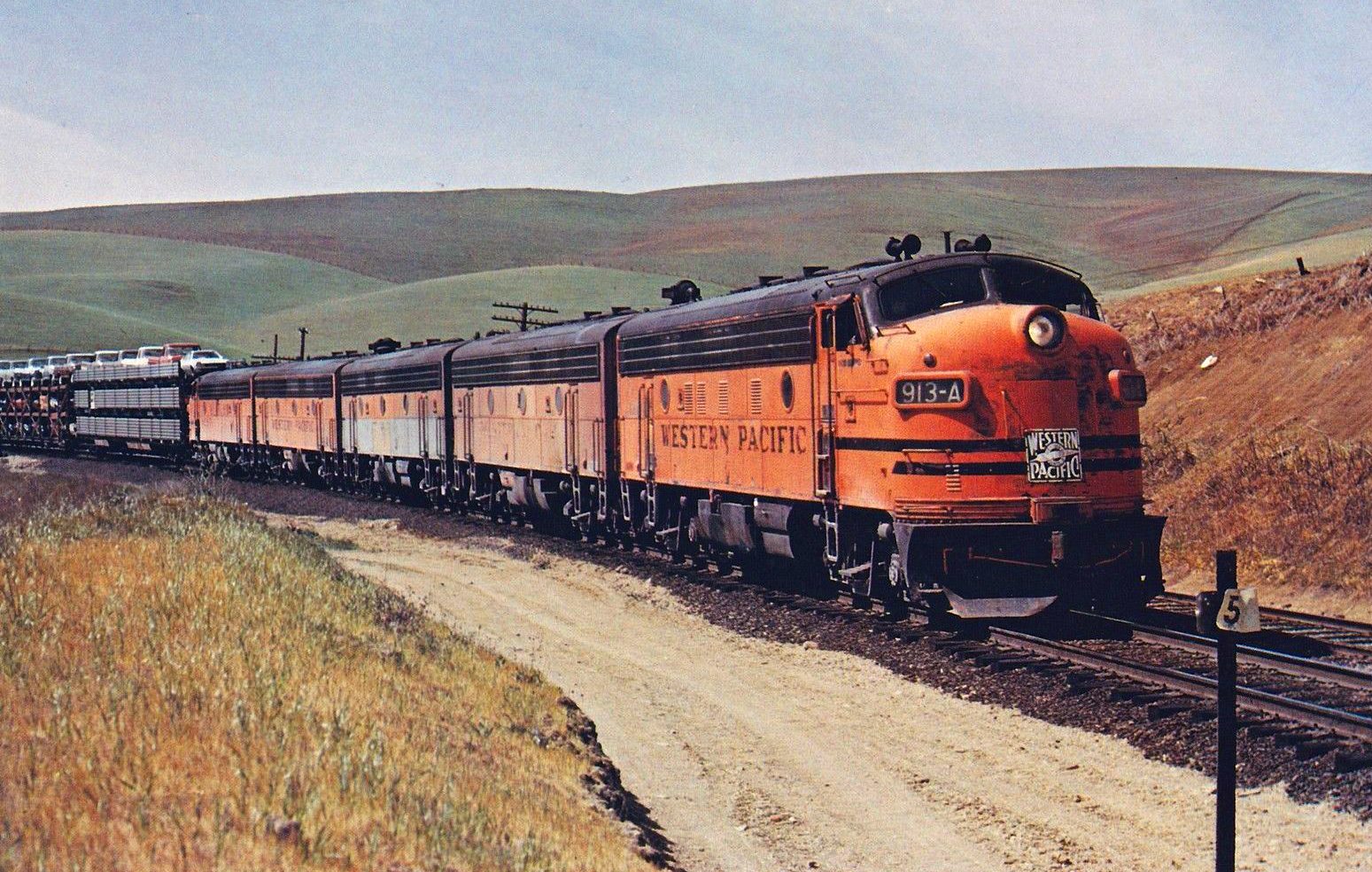 An A-B-B-B-A set of Western Pacific F7's appear to be rolling through California's Altamont Pass (?) with new autos circa 1970s.
The Denver & Rio Grande Western Railroad eventually purchased it in 1988, which assumed the Southern Pacific name.
In 1996 both of these venerable railroads disappeared into the Union Pacific fold. 
Although the SP disappeared in the 1990s it left behind, and is famous for, several California railroad landmarks.
These include its two famous main lines, the Overland Route connecting northern California with Ogden, Utah and its Sunset Route, connecting most of southern California with much of the Southwest and Deep South.
From point to point the Sunset Route connects New Orleans with Los Angeles!
In all the Southern Pacific would grow to a system of over 15,000 miles in length, almost twice the size of the Union Pacific prior to the merger movement.
The SP is also noted for its Donner Pass in the Sierra Nevada Range and Tehachapi Loop near Tehachapi, California.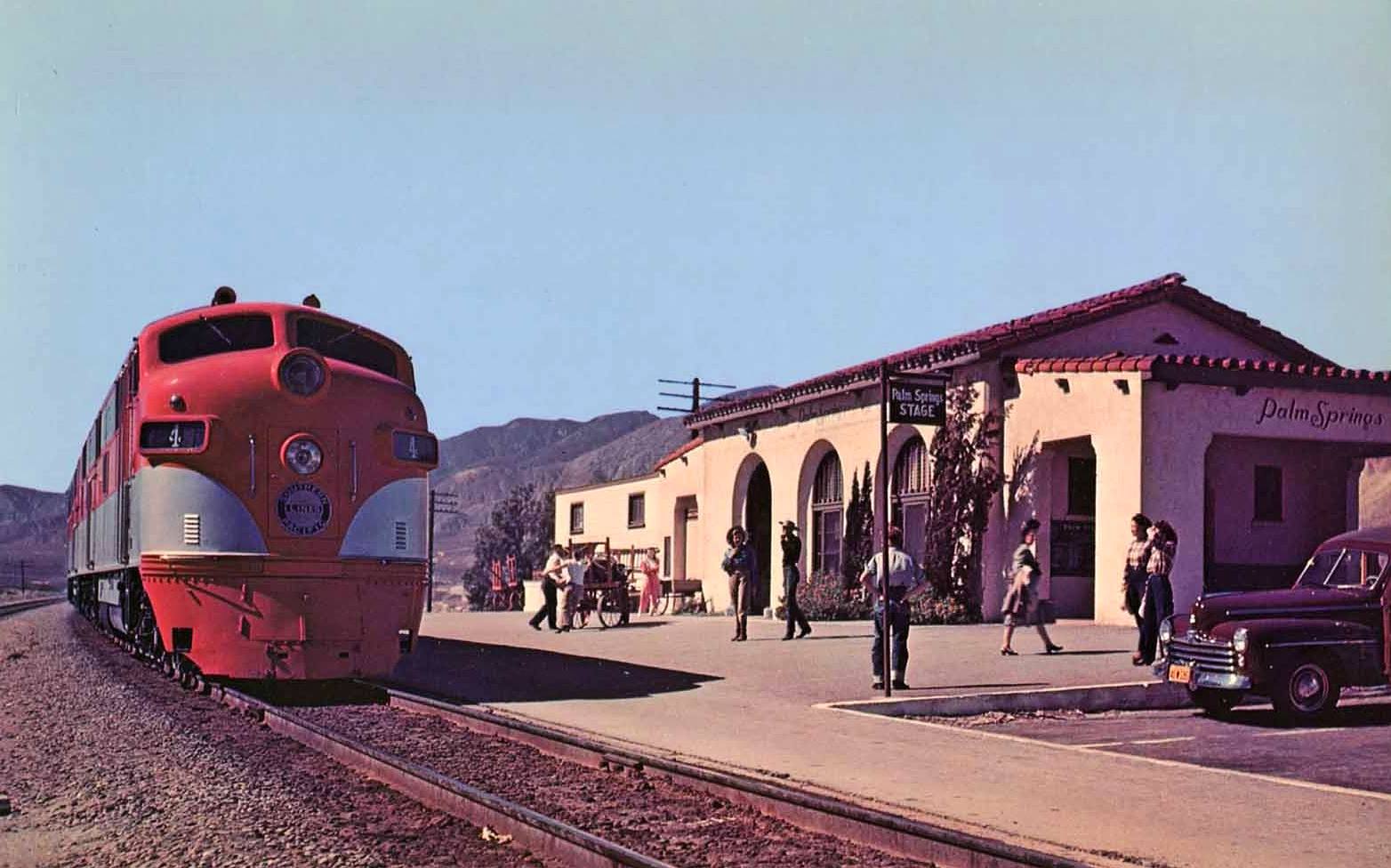 A Southern Pacific publicity photo featuring the eastbound "Golden State" at Palm Springs, California during early 1946. The train was a joint service with the Rock Island between Chicago and Los Angeles.
For all of its prestige in relation to California the Southern Pacific, of course, was not the only well-known railroad operating in the state.
The Western Pacific was another famed railroad to be found within California's borders.
The smallest of California's classic large systems, its Feather River Canyon main line between Reno and Sacramento (in all it connected the Bay Area with Salt Lake City, Utah) is arguably the state's most beautiful route and it is still operated today by Union Pacific as an important main line. 
Prior to the merger movement the Union Pacific did not have much of a presence in California although its main line connecting Salt Lake City and Los Angeles did provide the railroad with important sources of traffic and continues to do so even today.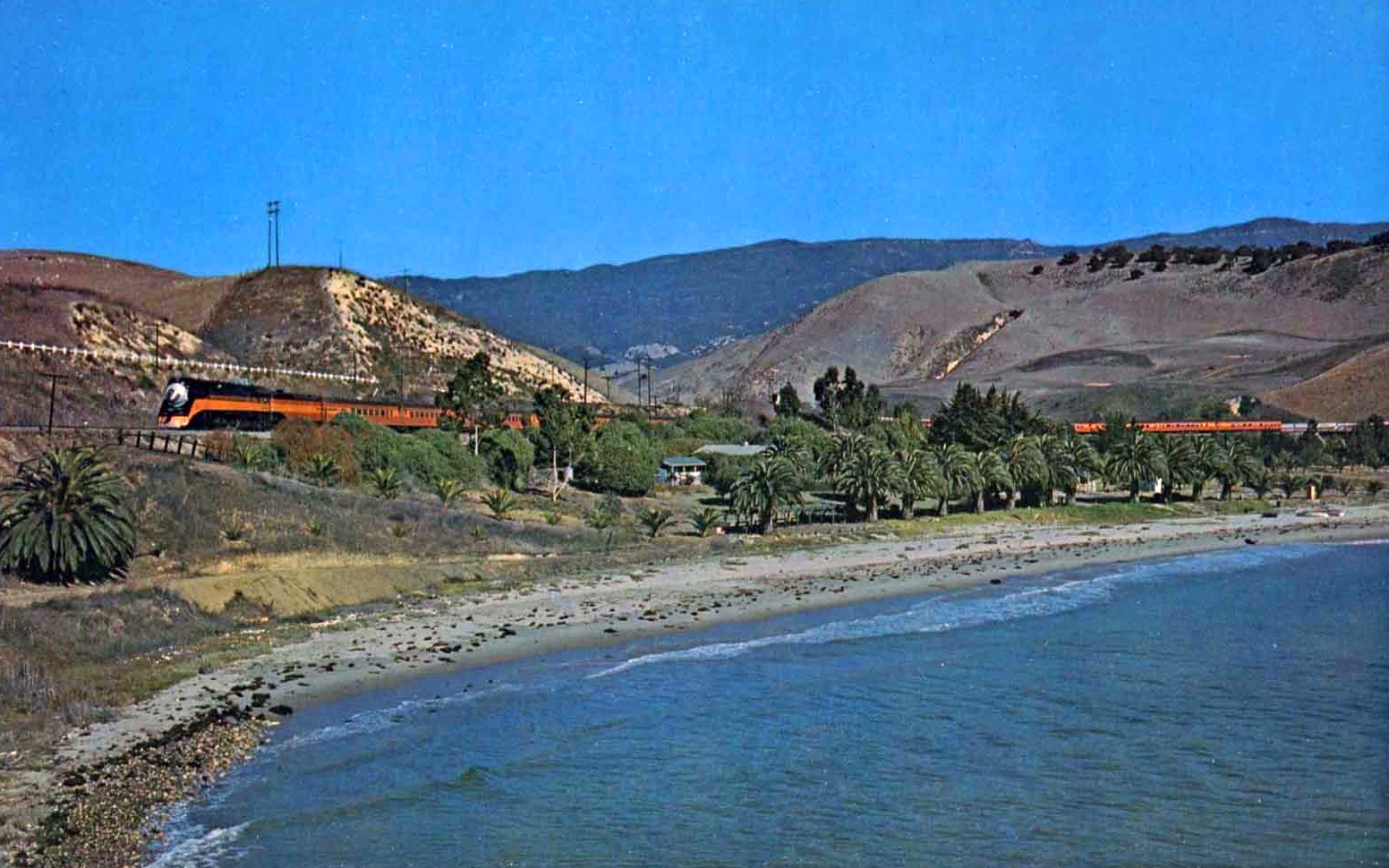 Running the famous "Coast Line," one of Southern Pacific's streamlined 4-8-4's brings train #99, the "Coast Daylight" (Los Angeles - San Francisco), northbound out of Santa Barbara, California during the 1950s.
Last, but certainly not least, was the Atchison, Topeka & Santa Fe Railway.
It was the Southern Pacific's main competition in California and the Southwest as the two railroads competed for much of the same traffic.
The legendary Santa Fe system was massive stretching from Chicago to western Louisiana, as well as San Francisco and Los Angeles, although its Californian routes were never quite as strategic as the Espee's.
The Santa Fe's most well known California railroad landmark is Cajon Pass in the San Bernardino mountain range in the southern part of the state.
The ATSF is also celebrated for its many mission-style depots and stations it built in the southwest, including California. Today, Santa Fe's lines in the Golden State are operated by its successor the BNSF Railway.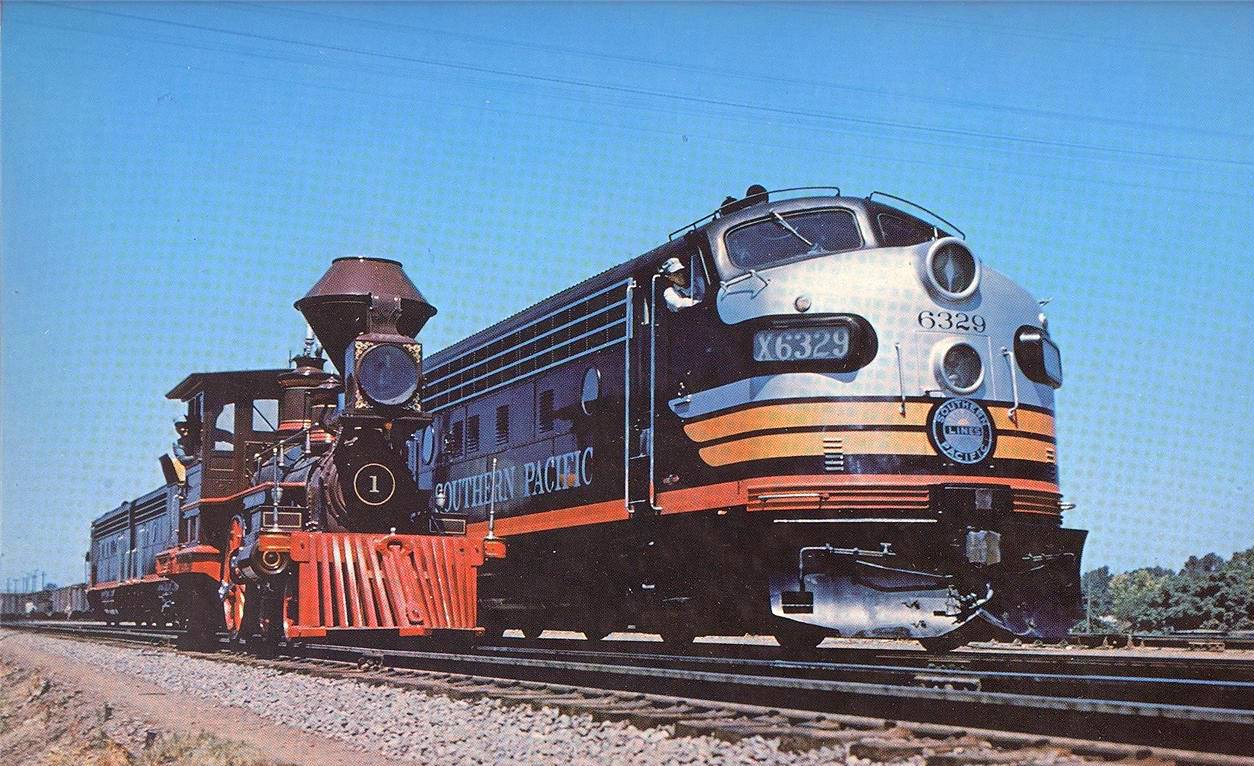 A new, A-B-B-A set of Southern Pacific F7's pose beside 4-2-4T #1, the "C.P. Huntington" in Sacramento, California during 1950. The little machine was originally built by the Danforth, Cooke & Company of Patterson, New Jersey in 1863 for the Central Pacific. It was CP's third locomotive and helped in the effort to construct the Transcontinental Railroad. To reach the West Coast, however, it was shipped south from New York, around South America's Cape Horn, and finally north to California (roughly 19,000 miles). Today, the "Huntington" sits on display at the California State Railroad Museum.
Short Lines
California, however, also features much more than just the large Class I systems as dozens of smaller railroads dot the state. Some of these include:
Amador Foothills Railroad


California Northern Railroad


Carrizo Gorge Railway


Central California Traction


Modesto & Empire Traction


Modoc Northern Railroad


Oakland Terminal Railway


Pacific Harbor Line


Quincy Railroad


Richmond Pacific Railroad


San Diego & Imperial Valley Railroad


San Joaquin Valley Railroad


Sierra Railroad


Stockton Terminal & Eastern Railroad


Trona Railway


Ventura County Railroad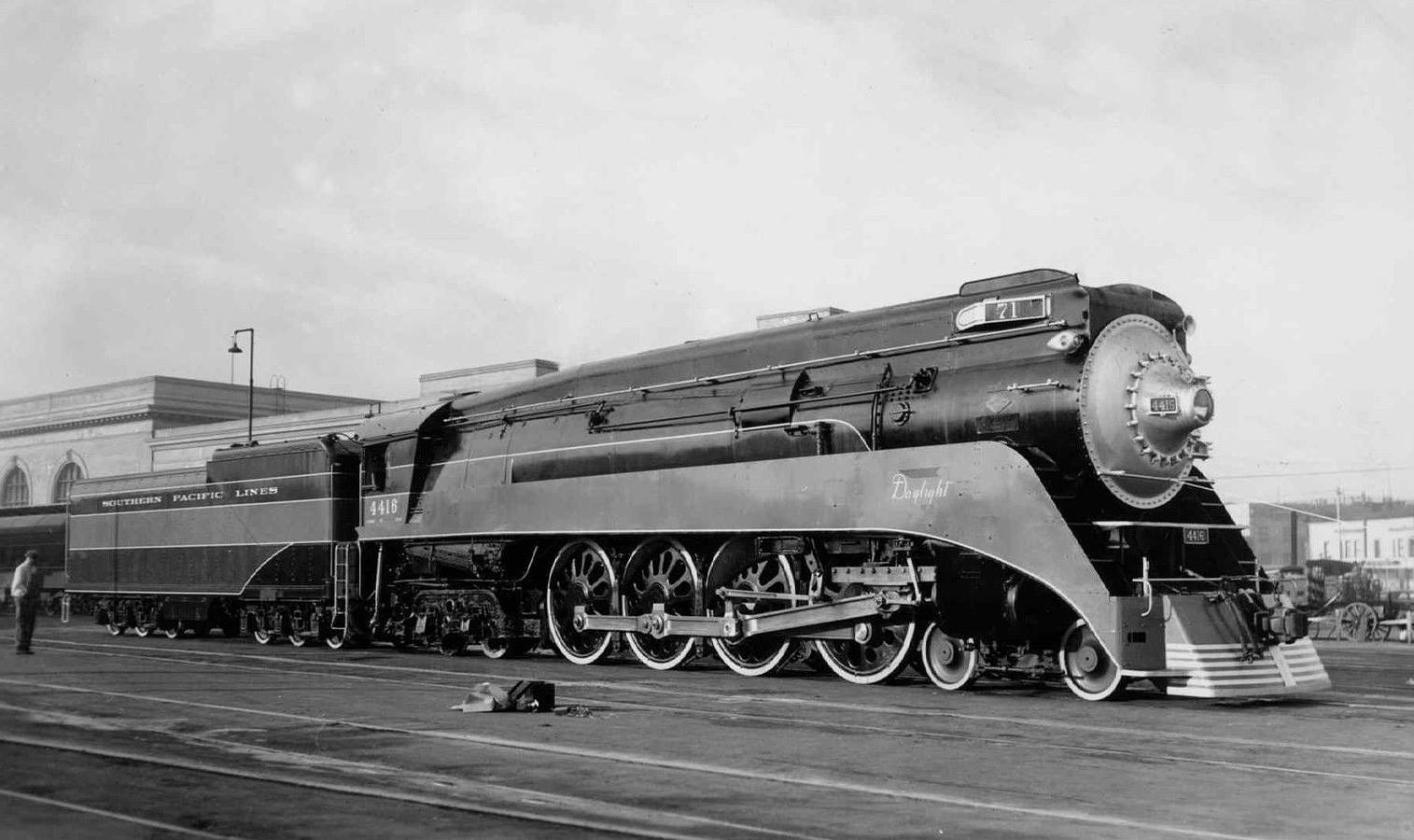 Southern Pacific 4-8-4 #4416 (GS-3) that appears to have either arrived at, or will be departing from, Los Angeles with unnamed train #71 (Los Angeles - San Francisco) in a scene which likely dates to sometime around 1937 when it was delivered from Lima.
Railroad Museums And Attractions
Freight railroading aside, if you are a vacationer looking for places to visit or just a railfan who loves trains, California includes several museums and tourist lines.
Some of the state's most recognized museums and tourist railroads include:
California State Railroad Museum (an enormously popular museum well known throughout the country, not just in California) located in the former Southern Pacific's Sacramento Shops


California Western Railroad (The Skunk Train)


Napa Valley Wine Train


Niles Canyon Railway


Pacific Southwest Railroad Museum


Western Pacific Railroad Museum


Shasta Sunset Dinner Train


Western Railway Museum
Other non-freight railroads include California's ever-growing commuter, transit, and light rail systems.
The state is a leader in commuter rail and one reason behind this is its attempt to find ways to reduce its large amounts of carbon monoxide emissions, mostly from highway traffic.
The state's commuter rail system includes the CalTrain (the Bay Area), Metrolink (Southern California), and Altamont Commuter Express (serving the Central valley and the Silicon valley). 
---
---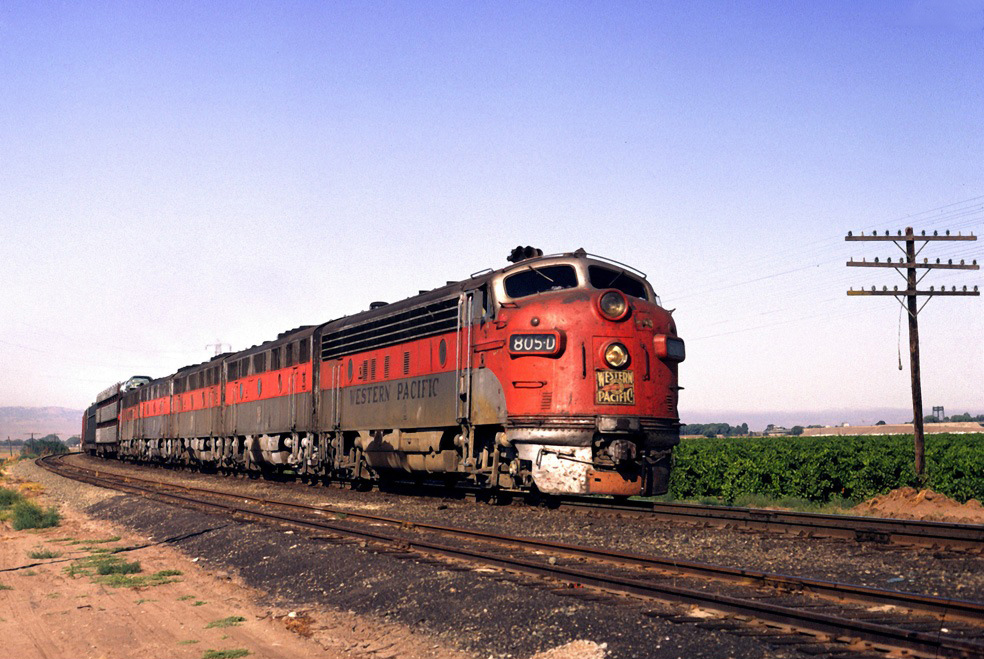 Western Pacific FP7 #805-D leads a B-B-B-A set of F3s as they power an eastbound freight through Manteca, California during April of 1972. Drew Jacksich photo.
Of course, the state is also home to plenty of local services like Amtrak's Surfliner and Capitol Corridor operations part of the passenger carrier's and state's Amtrak California services as well as San Francisco's famous trolley system. 
In all, California offers a multitude of things to experience and see so my advice is to simply find what interests you the most and start there first!
Whether it is the famous engineering marvels like Tehachapi and Cajon or railroad museums like CSRM and the famous Napa Valley Wine Train, there really is something for everyone in California.
Most importantly, whatever you might decide to do first, if and when you visit the Golden State, just remember to have fun!