Guide To Amtrak/Passenger Trains In Connecticut (2023)
Published: July 18, 2023
By: Adam Burns

Connecticut, located in the heart of the bustling Northeastern United States, boasts an efficient and interconnected rail network that facilitates seamless passenger and commuter travel throughout the state.
From scenic journeys to daily commutes, Connecticut offers a variety of train services that cater to different needs. In this article, we will explore the current passenger and commuter trains available in Connecticut, highlighting their key features and popular routes.
Photos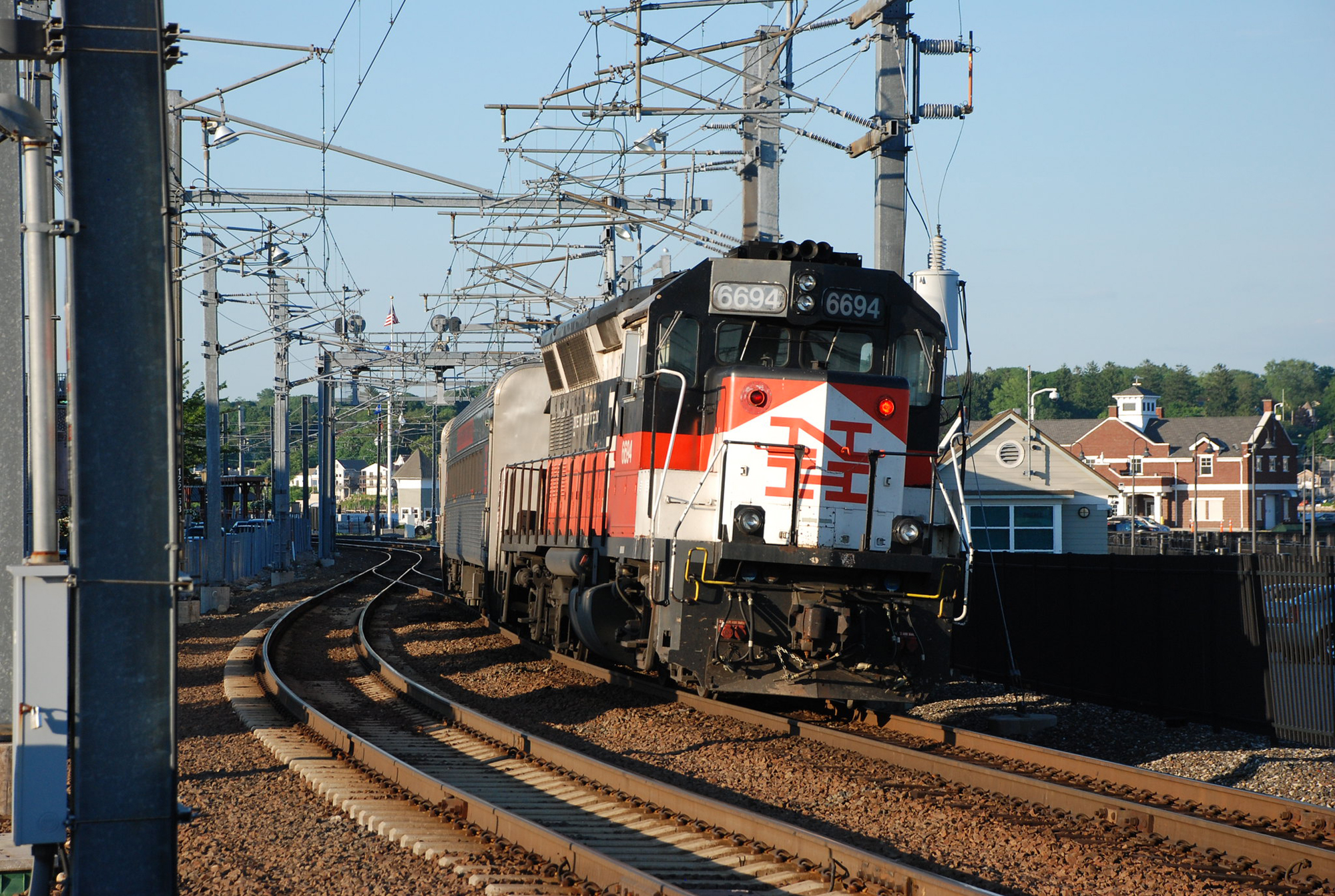 Connecticut Department of Transportation GP40PH #6694 is pushing commuter train #1640 on the Northeast Corridor at New London, Connecticut on June 14, 2013. Doug Kroll photo.
Amtrak, the national rail operator, serves several cities in Connecticut, offering both regional and long-distance trains.  These operate along the carrier's very busy Northeast Corridor (NEC), which at its length runs covers 457 miles between Boston and Washington, D.C. via Baltimore, Philadelphia, and New York City.
The bustling NEC facilitates seamless travel for millions of passengers each year.  Typically, more than 10.5 million travel the corridor annually, although these numbers declined precipitously during COVID-19.
The NEC serves as a lifeline for the Northeast region, linking major metropolitan areas, economic hubs, and cultural landmarks. It is renowned for its efficiency, speed, and connectivity, offering an attractive alternative to congested highways and airports.
Acela Express: Amtrak's Acela Express, a flagship service on the NEC, exemplifies speed and comfort. Operating between Boston and Washington, D.C., with stops in major cities including Providence, New Haven, New York City, Philadelphia, and Baltimore, the Acela Express provides a premium travel experience. With speeds reaching up to 150 mph, passengers can swiftly navigate the corridor while enjoying spacious seating, onboard amenities, and Wi-Fi connectivity.
Northeast Regional:  The Northeast Regional caters to both regional and long-distance travelers. Spanning the entire NEC, this service offers numerous stops within Connecticut, including New Haven, Bridgeport, and Stamford. The Northeast Regional allows passengers to explore smaller towns and cities while connecting to major urban centers, providing a more affordable alternative to the Acela Express.
Gateway to Cultural and Historical Landmarks: The NEC grants access to a plethora of iconic cultural and historical sites. Passengers can embark on a journey through time by visiting Philadelphia's Independence Hall, exploring the rich colonial heritage in Boston, or immersing themselves in the vibrant cultural scene of New York City's Broadway. The NEC offers convenient connections to these remarkable destinations, making it an ideal choice for leisure and cultural enthusiasts.
Commuter Rail Integration: The NEC also integrates seamlessly with local commuter rail systems, extending its reach to suburban areas. Metro-North Railroad's New Haven Line, for example, connects communities in Connecticut to major cities like New Haven and Stamford, allowing commuters to access both local and long-distance train services.
High-Speed Rail and Infrastructure Upgrades: Recognizing the growing demand and potential of the NEC, there are ongoing plans for high-speed rail improvements and infrastructure upgrades. These initiatives aim to enhance travel times, increase capacity, and further improve the overall passenger experience along the corridor.
Amtrak's Northeast Corridor is a vital transportation lifeline, connecting the bustling cities and charming towns of the Northeastern United States. Whether you're a commuter, a leisure traveler, or an adventurer seeking cultural experiences, the NEC offers an exceptional rail network that seamlessly links iconic destinations.
From the sleek Acela Express to the versatile Northeast Regional, Amtrak's Northeast Corridor ensures a fast, reliable, and enjoyable journey for all passengers, setting the stage for memorable travel experiences along the Eastern Seaboard.
Valley Flyer
Amtrak's Valley Flyer operates between Greenfield, Massachusetts, and New Haven, Connecticut, with several stops along the way. This rail service offers a convenient and comfortable means of transportation for both local residents and visitors, allowing them to explore the beauty of Western Massachusetts and Connecticut's scenic landscapes.
The Valley Flyer makes several stops in Connecticut, providing access to both urban centers and charming towns. Some notable stations include Wallingford, Meriden, Berlin, and Windsor. These stops offer opportunities for passengers to disembark and explore the local attractions, historical sites, and cultural offerings of each destination.
The Valley Flyer seamlessly connects with other Amtrak trains or commuter rail services, such as Metro-North Railroad, expanding their options for further exploration and travel beyond Connecticut.
Each stop along the Valley Flyer's route in Connecticut offers its own unique attractions. Travelers can explore the rich history of Wallingford, visit the exhibits and events in Meriden's cultural venues, discover the quaint charm of Berlin, or explore the historical sites and natural beauty of Windsor. The Valley Flyer allows passengers to embark on exciting adventures and discover the hidden gems of these Connecticut towns.
The Metro-North plays a crucial role in the daily lives of thousands of commuters, offering reliable and efficient train services that connect Connecticut suburban areas to bustling New York City. 
The New Haven Line: The New Haven Line serves as the primary commuter rail line in Connecticut. Stretching from New Haven to Grand Central Terminal in New York City, this bustling line connects various cities and towns, ensuring efficient transportation for both work and leisure.
The corridor serves numerous stations throughout Connecticut, catering to commuters from various suburbs. Some notable stations along the line include New Haven, West Haven, Milford, Stratford, Bridgeport, Fairfield, and Stamford.
These stations provide convenient access to neighboring communities and connect seamlessly to other train services, including Amtrak's Acela Express and Northeast Regional.
The line also links New Canaan (via Stamford), Danbury (via South Norwalk), and Waterbury (via Stratford).   During peak hours, trains run frequently to accommodate the high volume of commuters traveling to and from New York City. Additionally, Metro-North provides weekend and off-peak schedules to cater to leisure travelers and those with flexible work arrangements.
Commuter-Friendly Amenities:  Trains are equipped with amenities such as comfortable seating, onboard restrooms, and Wi-Fi connectivity, allowing passengers to stay connected and productive during their journey. Some trains also feature quiet cars, providing a serene environment for those seeking a peaceful commute.
Scenic Delights Along the Way:  The New Haven Line offers passengers the opportunity to enjoy the picturesque landscapes of historic Connecticut. As the train winds through charming towns, rolling hills, and coastal vistas, commuters can witness the natural beauty of the state from the comfort of their seats. This scenic backdrop adds an extra touch of pleasure to the daily commute.
Shore Line East is a commuter rail service connecting towns along the Connecticut shoreline with New Haven, where passengers can transfer to Metro-North trains.
New London Line: This line connects New London to New Haven, making stops in towns such as Old Saybrook, Westbrook, Clinton, Madison, Guilford, and Branford. It offers a scenic journey along the picturesque Connecticut coastline.
Hartford Line:  The Hartford Line is a commuter rail service that connects Springfield, Massachusetts, with New Haven, Connecticut, via Hartford. It serves various towns and cities in Connecticut, including Windsor Locks, Windsor, Hartford, Berlin, Meriden, Wallingford, and New Haven.
---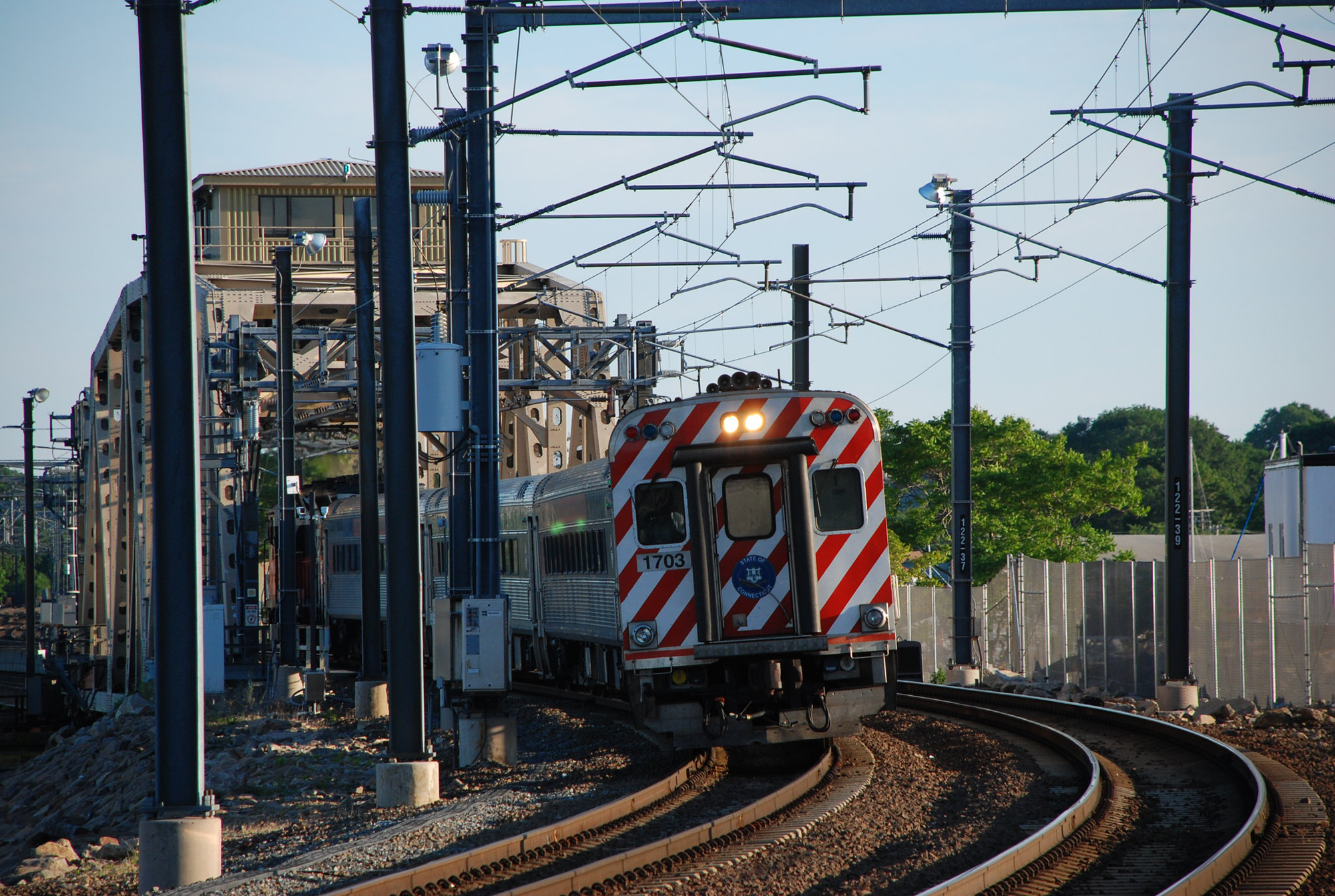 Connecticut Department of Transportation commuter train #1640 crosses the Shaw Cove Drawbridge at New London, Connecticut on June 14, 2013. Doug Kroll photo.
Conclusion
Whether you're looking to commute to New York City, explore the scenic shoreline, or travel within the state, the various train services, such as Amtrak, Metro-North Railroad, and Shore Line East ensure convenient and reliable transportation.
So, hop aboard and enjoy the journey as Connecticut's trains connect you to exciting destinations while providing a comfortable and efficient travel experience.