Chesapeake & Ohio 2-8-2 (Class K)
Last revised: May 6, 2023
By: Adam Burns

The Chesapeake & Ohio's first, larger class of freight locomotives included its fleet of 2-8-2 Mikados. 

These steamers first entered service before World War I and the railroad continued buying them through the 1920s, until the company switched to purchasing "Super Power" designs (beginning with the 2-10-4's of 1930 followed by even more powerful models through World War II).  
The C&O listed theirs as Class K and while many were purchased new others came via acquisition of the Hocking Valley Railway (Ohio), Pere Marquette Railway (Michigan), and a short line in West Virginia.  
The Mikes remained in service until the early 1950s when the remainder were retired.  Alas, no examples of this class were ever preserved.

As on most of the large Class I's, C&O's 2-8-2's could be found in all types of freight assignments.  They normally handled medium/heavy freights, handling everything from merchandise to coal. 
In typical Chessie fashion the Mikes featured the trademark "flying air pumps" on the smokebox, giving them a robust and somewhat intimidating appearance.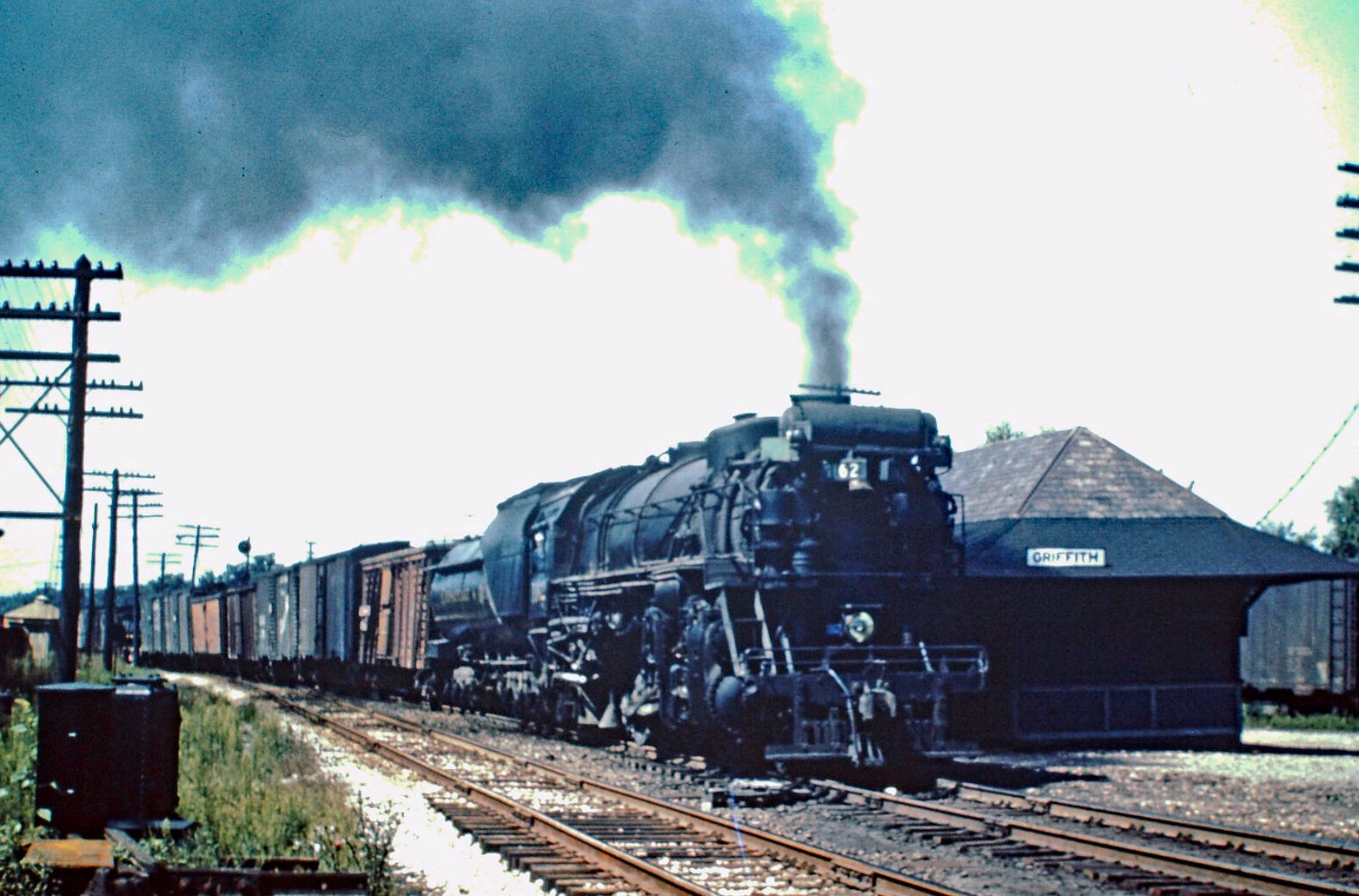 Chesapeake & Ohio 2-8-2 #1162 (Class K-2) steams past the depot at Griffith, Indiana with a freight train in July, 1940. This locomotive was scrapped in the early 1950's.
The application of a trailing truck on a steam locomotive was nothing new during the late 19th century.  However, it had never before been applied to a design sporting four driving axles (eight wheels total). 
The first 2-8-2 rolled out on the Lehigh Valley in 1883 as an experimental design born through a rebuilt 2-10-0 Camelback. 
The name "Mikado" (referring to a Japanese emperor) was applied to a batch of narrow-gauge 2-8-2s manufactured by the
Baldwin Locomotive Works for Japan Railways in 1893.  As the 20th century dawned the wheel arrangement slowly took hold and the first railroad to employ the design in standard road service was coal-hauler Virginian Railway during 1909.
The Chesapeake & Ohio followed closely behind its neighbor acquiring its first 2-8-2 in 1911 from the American Locomotive Company (Richmond Works), listed as Class K-1 and numbered 800 (later renumbered 1100). 
At the time the railroad was in the midst of upgrading its fleet to handle both heavier trains and increase speeds on passenger/expedited movements.  
Its fleet of 2-8-0s, 4-6-0s, and elderly 4-4-0s could simply no longer handle the modern-day equipment and increasing demand for rail service. 
As a result new 4-6-2's began appearing in 1902 followed by its first 2-6-6-2 Mallets in 1910 (Class H-1), and a year later the 4-8-2 Mountains entered service in 1911 (this wheel arrangement was born on the C&O).  
The new Mikados would be tasked with freight assignments on the flatter parts of the railroad for increased speeds via heavier trains.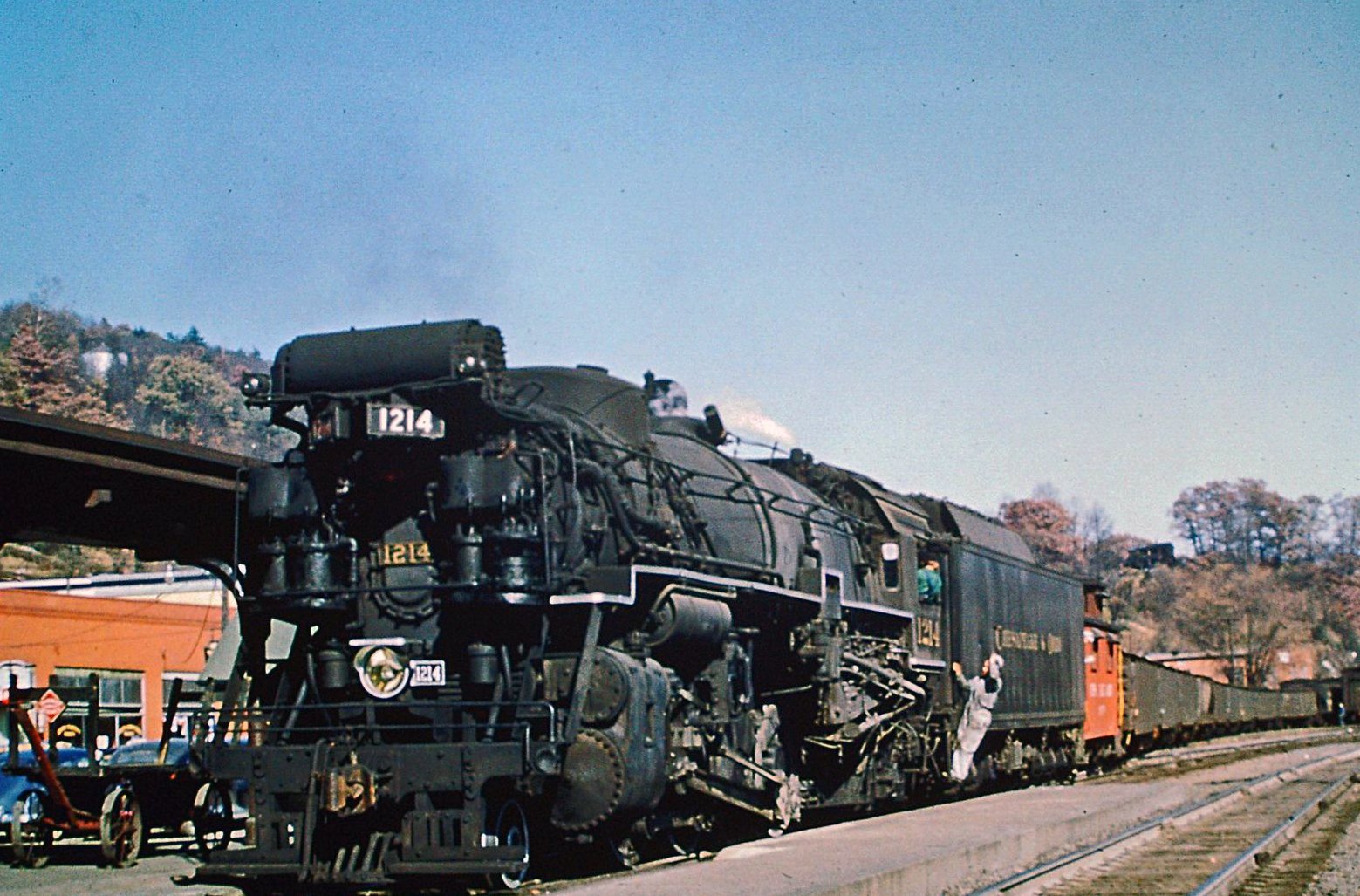 Chesapeake & Ohio 2-8-2 #1214 (Class K-3) switches coal hoppers at Ronceverte, West Virginia on October 22, 1952. The C&O owned hundreds of 2-8-2's, many manufactured by American Locomotive. All were scrapped by the early 1950's.
Following its first 2-8-2 the C&O ultimately wound up with sixty examples of K-1's from Alco's Richmond Works (#1100-1159).  
At the time they offered ample power for the task at hand providing more than 63,000 pounds of tractive effort, 185 psi boiler pressure, weight of 315,000 pounds, and 57-inch drivers.  
Noted C&O historian Eugene Huddleston makes the point that the K-1's were very similar to the railroad's J-1 Mountains without, of course, the additional lead axle and slightly larger drivers (56 inches).  
The Mikados performed their jobs well although with ever-increasing demand by the 1920s the C&O was interested in more and placed an order for additional 2-8-2s in 1924.
These considerably larger and more powerful examples were listed as Class K-2 and K-3; once again the C&O stuck with Alco's Richmond Works for the order.  
They continued in sequential numbering for the K-2's (#1160-1209) and K-3's (#1210-1259) while the K-3a's were numbered 2300-2349; the new units, not considerably different from one another, slowly arrived on the C&O's property through 1926.  
According to Thomas Dixon, Jr.'s book, "Chesapeake & Ohio Railway:  A Concise History And Fact Book," the new Mikados offered increased tractive efforts of 67,000 pounds, weighed considerably more (358,000 pounds), and their larger 63-inch drivers provided higher speeds.  
The arrival of these 2-8-2s proved to be some of the final non-articulated, non-Super Power designs the C&O purchased as the company opted for ever-larger, more powerful models to handle heavier trains.
Aside from new Mikados the C&O also acquired a batch of units from predecessors; three came from the Kanawha, Glen Jean & Eastern (Class M-4, #300-302), a short line located in West Virginia while eleven others came from the Hocking Valley  (another small system based in Ohio), #180-190 (Class M-1).  
These Mikes arrived on their respective railroads between 1910 and 1912; the KGJ&E's were very light weighing only 217,300 pounds with tractive efforts of just 46,000 pounds while the HV's were similar to the K-1's providing around 60,000 pounds of tractive effort.  
Once folded into the C&O roster the units were renumbered into the K class along with their other counterparts.  Finally, there was a large batch of 2-8-2s that arrived from much larger predecessor Pere Marquette during 1947.
---
The PM was a rather significant road serving its home state of Michigan and owned a substantial number of Mikados totaling fifty units, #1101-1150, acquired between 1913 and 1927.  
These steamers were built by Baldwin and Alco while the rest of is roster came second-hand from the Wabash, Erie Railroad, New York Central, and Indiana Harbor Belt. 
None were as powerful as the Class K models with tractive efforts hovering around 55,00 pounds.  Under the C&O the units were listed as Class K-5 through K-8.  
Most of these were retired or scrapped a few years after World War II while most of the C&O's other 2-8-2s continued in service until the early 1950s when diesels began arriving.