2-8-2 "Mikado" Locomotives

The Mikado type was the workhorse steam locomotive for the railroad industry during the 20th century and prior to the switch to diesel-electric technology. The design is often regarded as the classic American steam locomotive for this very reason.
The 2-8-2 design (a blend of the 2-8-0 and 2-6-2 wheel arrangements) offered just the right amount of power, pull, and speed to be used for about any type of service, from passenger trains to freights moving over stiff grades.
Additionally, they were built to both standard as well as narrow-gauge applications. While the wheel arrangement had its origins in Japan the World War II conflict resulted in a number of railroads deciding to rename their fleets to remove any association with that country. 
With so many Mikados manufactured over the years numerous examples remain preserved today and several of those are still operational.

Like the Consolidation, the 2-8-2 has become an attractive candidate for restoration.  Today, you can find several in operation, in particular at the Durango & Silverton Narrow-Gauge and Cumbres & Toltec Scenic which maintain several of Rio Grande's fabled narrow-gauge Mikado's.  
Colorado & Southern 2-8-2's, led by #807, double-head this freight near Boulder, Colorado on September 14, 1957. Author's collection.
The history of the Mikado type in reference to simply the wheel arrangement itself has quite an interesting history. The very first locomotive ever operated as a 2-8-2 design is said to have been an experimental built by the Lehigh Valley.
The railroad took one of its 2-10-0 Camelbacks and cut it down into a 2-8-2 with the belief that it would reduce flange wear on the rear set of drivers.
While the LV went on to become one of the early pioneers of the 2-8-2 the wheel arrangement was mostly shelved within the U.S. railroad industry for the following two decades. Ten years after the LV's first experiment Baldwin Locomotive Works built a fleet of narrow-gauge (three-foot, six-inch) 2-8-2s for the Japan Railways in 1893.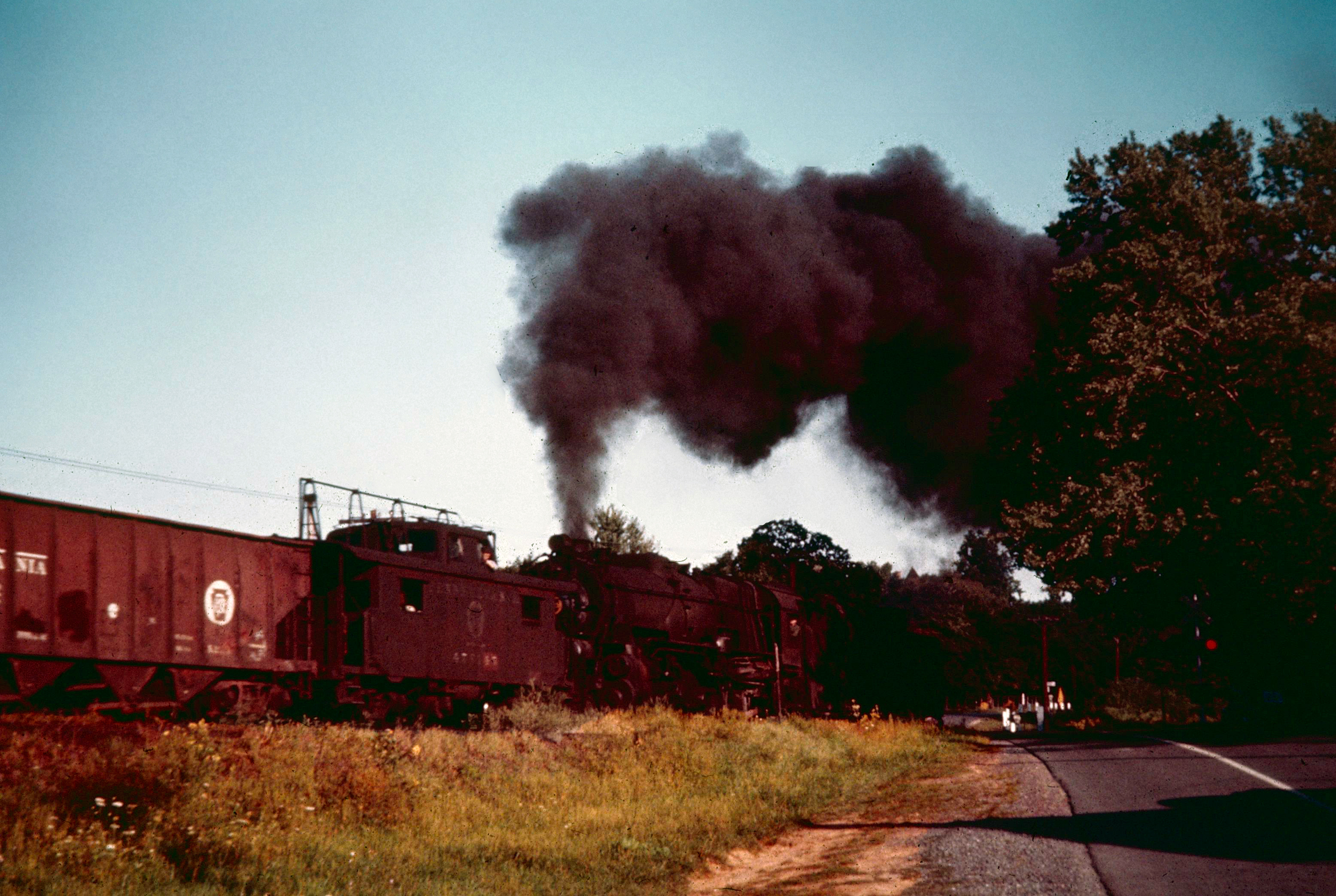 Pennsylvania 2-8-2 #6894 works helper service on a westbound freight approaching Horseshoe Curve during a late summer's evening in the 1950's. Philip R. Hastings photo. Author's collection.
It is here where the term Mikado, which refers to a Japanese emperor, is said to have been applied to the 2-8-2 design. In 1903 the LV came back to the wheel arrangement, purchasing 47 examples as Camelbacks by 1905 (#220-267), which featured Wooten fireboxes.
Of course, Camelbacks were a unique design that utilized a cab, which sat atop the boiler. The arrangement never caught on with most railroads due to the fact that it was designed to burn anthracite coal (found only in the Northeast) and was extremely uncomfortable for crews to operate.
The first 2-8-2s employed in standard road service that featured the larger fireboxes and boilers (for increased steam pressure, and thus, more power) is often credited to the Virginian Railway; in 1909 the coal-hauler acquired a fleet of 42 units from Baldwin (#420-461) listed as Class MB that provided tractive efforts greater than 53,000 pounds.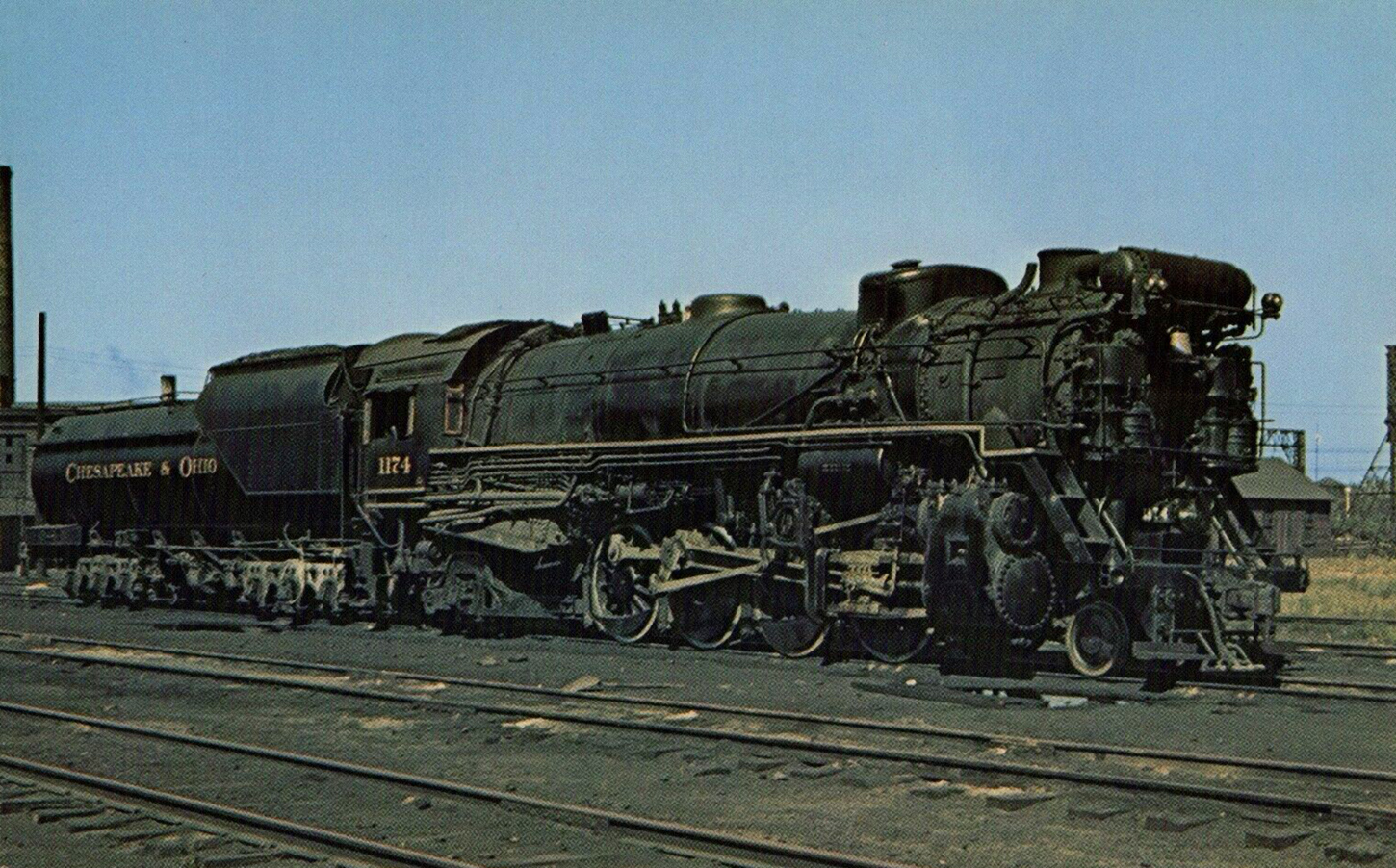 An intimidating locomotive with its big Elesco feedwater heater on the smokebox, Chesapeake & Ohio 2-8-2 #1174 (Class K-2, manufactured by American Locomotive in 1924) lays over between assignments in Chicago on September 19, 1939. As originally built the Mikado's handled coal traffic out of West Virginia. Richard Kindig photo.
Other railroads to use early examples of the 2-8-2 include the Bismark, Washburn & Great Falls Railway which used a few beginning in 1903 and the Northern Pacific's initial batch of 1905 (often credited with kicking off interest in 2-8-2s as main line road power). 
Up to that time the standard main line wheel arrangement within the industry was the common 2-8-0 Consolidation. While this design continued to be improved upon through the 1920s its size eventually limited further enhancements.
As the Mikado type slowly took over where the Consolidation had left off it, too saw improvements and upgrades as new technologies arrived such as superheaters, boosters, feedwater heaters, mechanical stokers, and later examples were oil burners.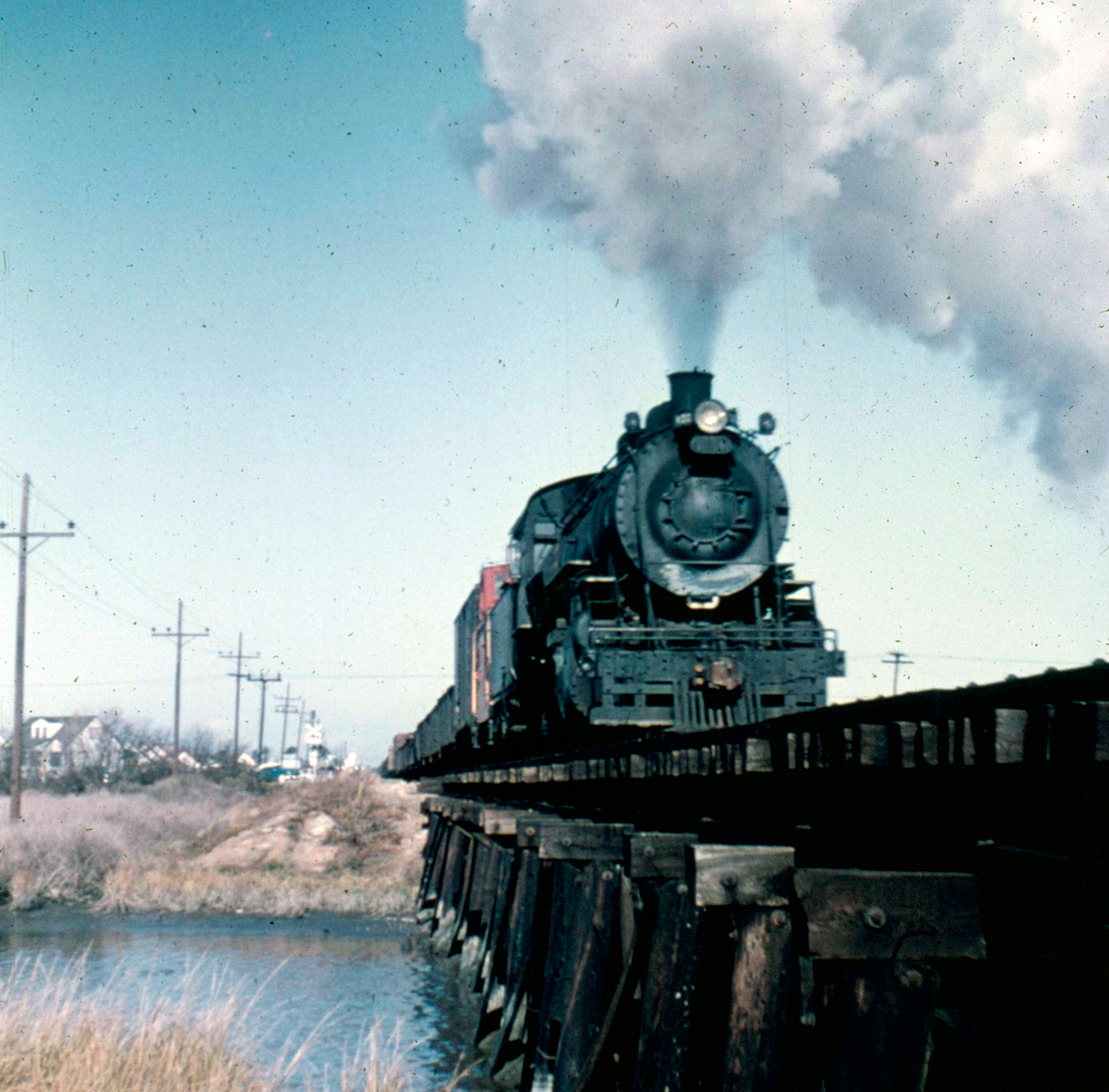 Virginian Railway 2-8-2 #432 (Class MB) leads a westbound freight through Norfolk, Virginia in December, 1954. Author's collection.
Other railroads that would own several hundred examples of Mikado types include the Baltimore & Ohio, Santa Fe, Chesapeake & Ohio, Burlington, Milwaukee Road, Illinois Central, Louisville & Nashville, Missouri Pacific, Pennsylvania, Southern, and Union Pacific.
Of course, this is just a small fraction of the total; virtually every line of any significant size rostered at least one Mikado and while some were used in passenger service the design was most often employed in freight service due to its eight drivers and overall ability to pull trains weighing 3,000 to 5,000 tons.
Additionally, due to its very layout 2-8-2s were incredibly well balanced machines allowing for easier maintenance and smooth riding.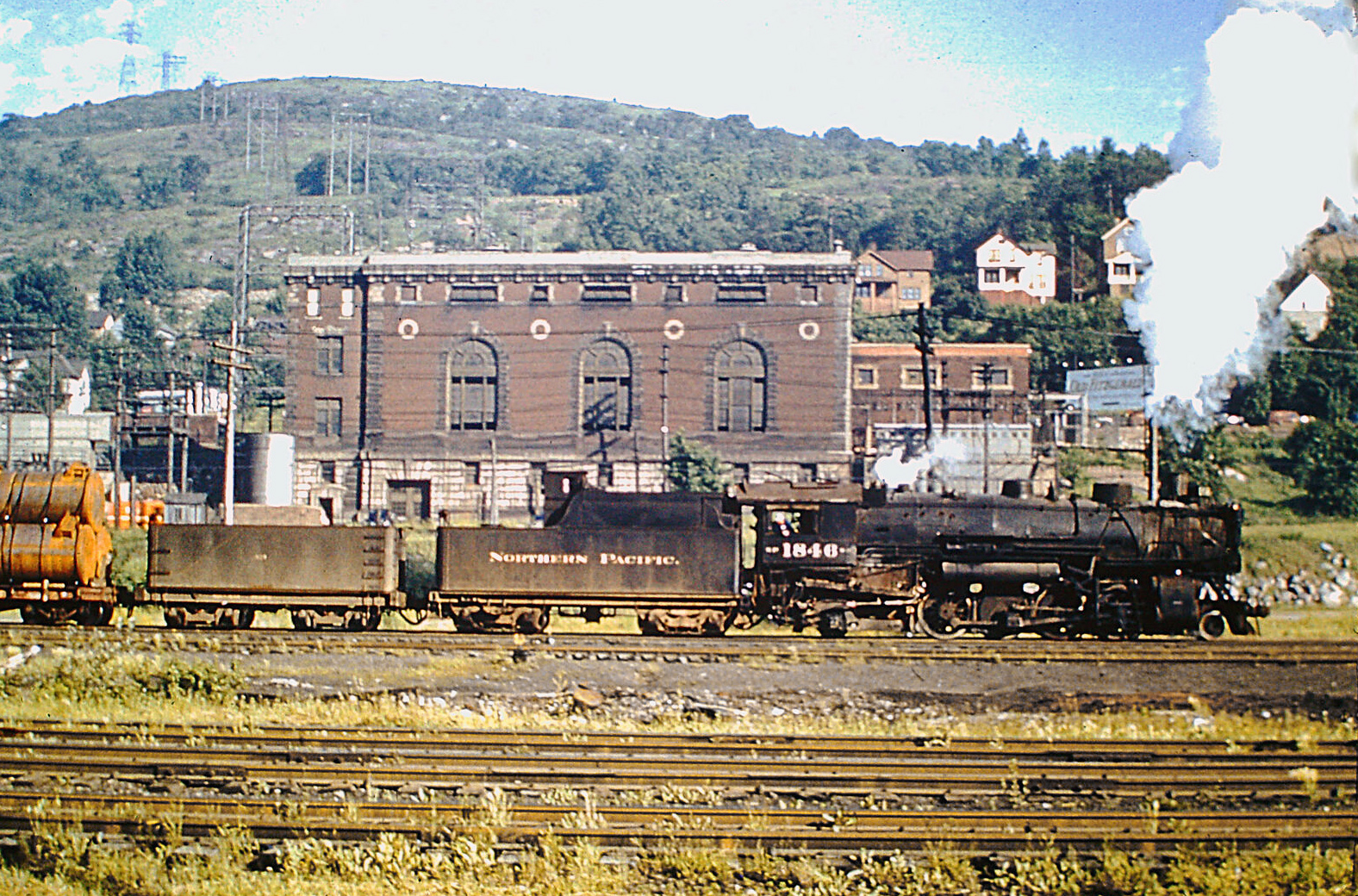 Northern Pacific 2-8-2 #1846 (W-5), manufactured by American Locomotive in 1922, is seen here at work in Duluth, Minnesota on July 9, 1954.
Most of the 11,000+ Mikado types built came from the American Locomotive Company (Alco), Baldwin Locomotive Works, or Lima Locomotive Works.
However, a few hundred more were built by the railroads themselves either as an experimentation or in an attempt to save on the cost of purchasing new by having their own shop forces produce the locomotive.
Also, some 2-8-2s built in the U.S. were sent for service in other countries and Mexico went on to purchase several second-hand examples for service south of the border.
Just for historical reference it should noted that during World War II some railroads notably the B&O and Union Pacific, in an attempt to shed the locomotive's ties to Japan, reclassified their 2-8-2s as "MacArthurs" in place of the Mikado name.

---
---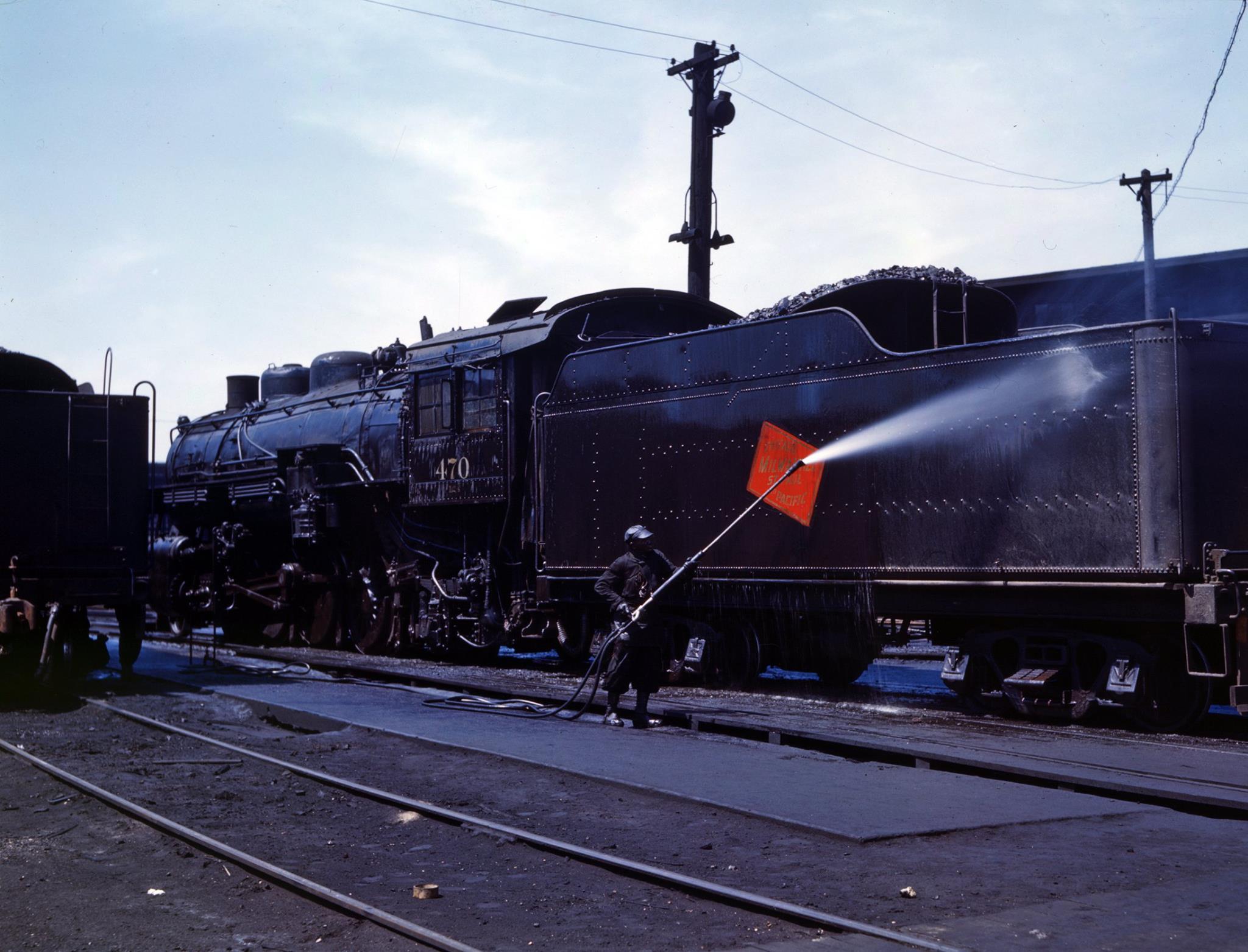 A worker washes Milwaukee Road 2-8-2 #470 (L2-b) at the terminal in Bensenville, Illinois during April of 1943. Jack Delano photo.
Today, several Mikado Types survive around the country, such as beautifully restored Southern #4501 at the Tennessee Valley Railroad Museum and Southern Pacific Class Mk-5 #745, owned by the Louisiana Steam Train Association.
The largest batch of Mikes still in service are the Rio Grande's various Class K narrow-gauge examples in operation on the Cumbres & Toltec Scenic and Durango & Silverton (as well as one on the Huckleberry Railroad in Michigan).
Several others are not mentioned here due to the shear number, which does not even include the several others currently in some state of restoration. The site also provides a long, detailed list of operating and preserved Mikes found around the country.