Colorado Railroads

Colorado railroads are known mostly for three things; flat plains, the Rocky Mountains, and narrow-gauge railroading (even today!). It shouldn't be surprising then that mountainous operations also define the state's railroads. While the first line would not appear in Colorado until over 40 years after the Baltimore & Ohio was incorporated the state's rail network rapidly expanded after this time. During the state's heyday with trains it featured a rail network consisting of over 5,000 miles and a half-dozen classic "fallen flags". Today, Colorado is dominated by Class I systems Union Pacific and BNSF Railway. Along with the Class I railroads the state is also renowned for its bucolic and breathtaking narrow-gauge railways.   Most were operated by the fabled Denver & Rio Grande Western while other famous names included the Rio Grande Southern; Denver, South Park & Pacific; and Colorado & Southern.

The information included on this page gives a brief background and overview of Colorado from its earliest history with trains to present-day operations. Additionally, when possible links are provided to other pages here at the site covering various railroad subjects related to Colorado (i.e., museums, excursion trains, interurbans, etc.).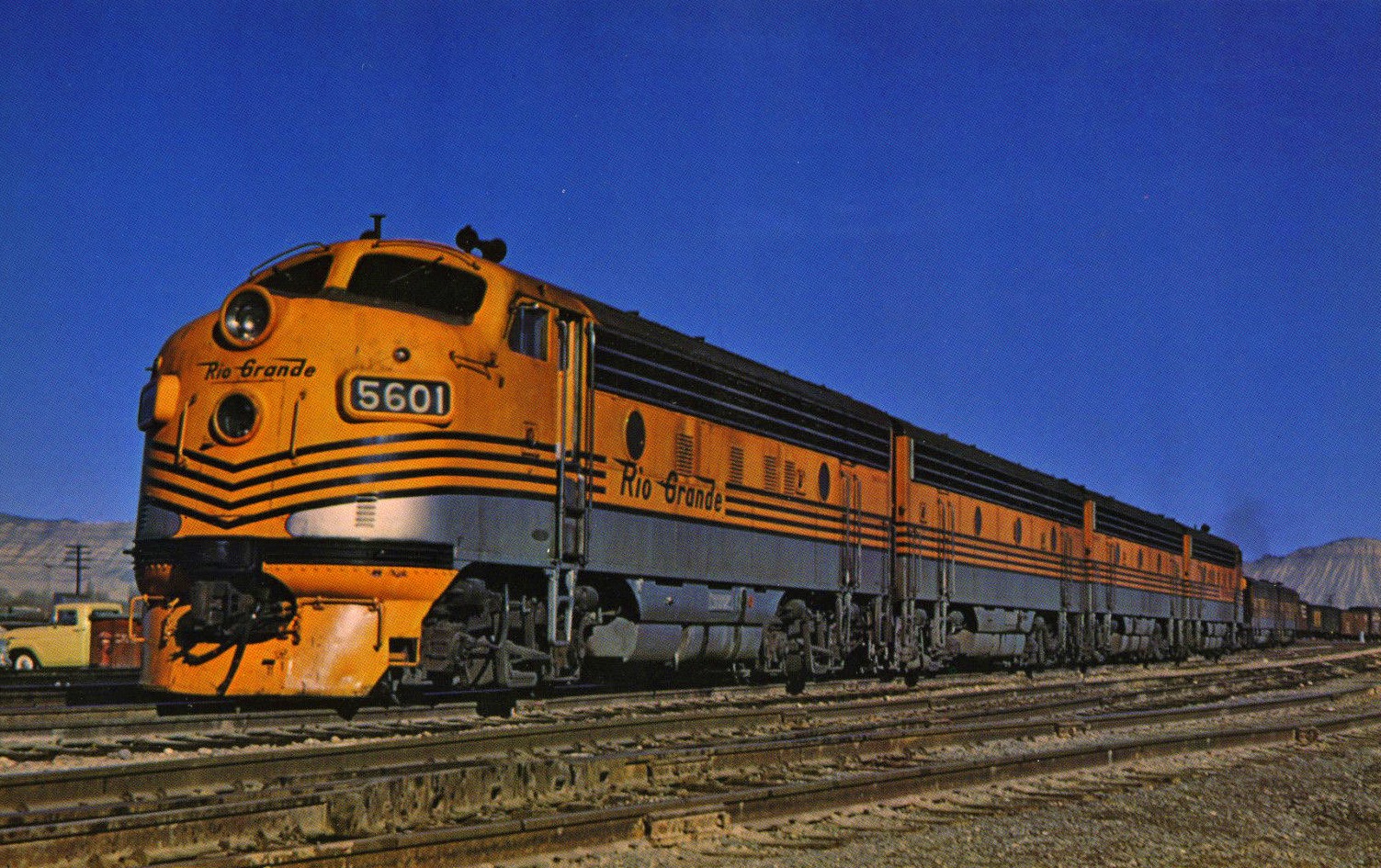 An A-B-B-A set of Rio Grande F7's (#5601 was originally built as #560-A in 1949) were captured here by Jackson Thode between assignments at Grand Junction, Colorado in 1957.
Colorado railroads arrive rather late to the game in comparison to other states, as the state's first railroad did not appear until 1867. That year the Denver Pacific Railway & Telegraph Company was chartered to complete a main line between Denver and Cheyenne, Wyoming where it would establish a connection with the growing Union Pacific system. After three years of construction the new 100-mile route was opened in 1870. Just ten years later the DPR&TC became another division of the UP system. After this line was opened the state's rail network quickly exploded to over 1,500 miles by 1880.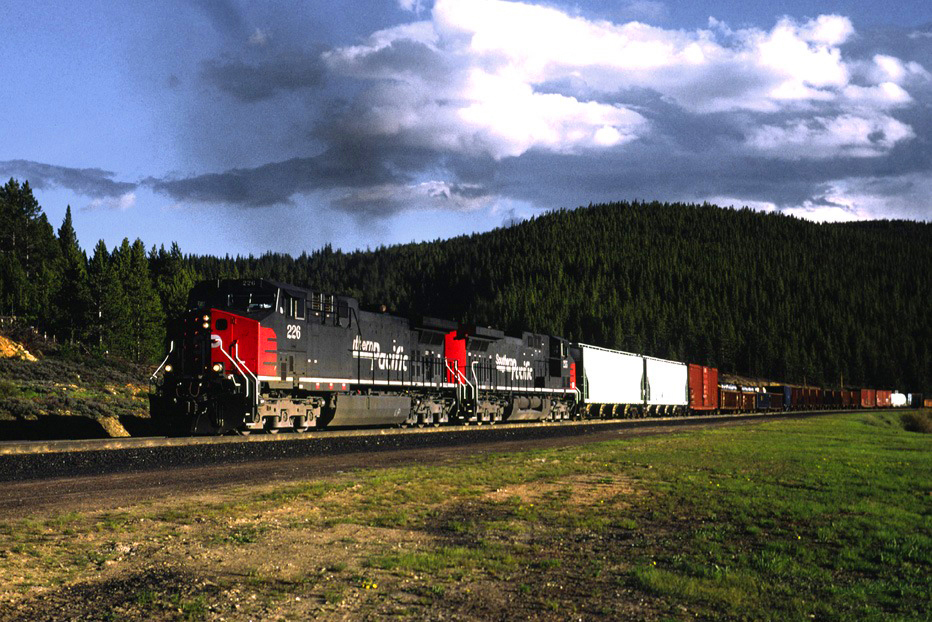 A pair of Southern Pacific AC4400CW's are near Leadville, Colorado during July of 1997 on the former Rio Grande's Tennessee just weeks before it closed. Drew Jacksich photo.
Of the classic fallen flag systems that made up most of Colorado's railroads, the Rio Grande is by far the state's most celebrated and recognized, mostly due to its fabled and sprawling narrow-gauge system, which lasted until the late 1960s. It's narrow-gauge operations, or what remained of them anyway (over the years the once almost exclusive narrow-gauge system had been converted to standard gauge), was centered primarily in the southern part of Colorado and northern New Mexico. It was originally built to serve coal, timber, silver, and gold although most of this (particularly the latter) had dried up by the 20th century and in its final days the narrow-gauge operations were mostly a tri-weekly service carrying mixed trains of people and freight.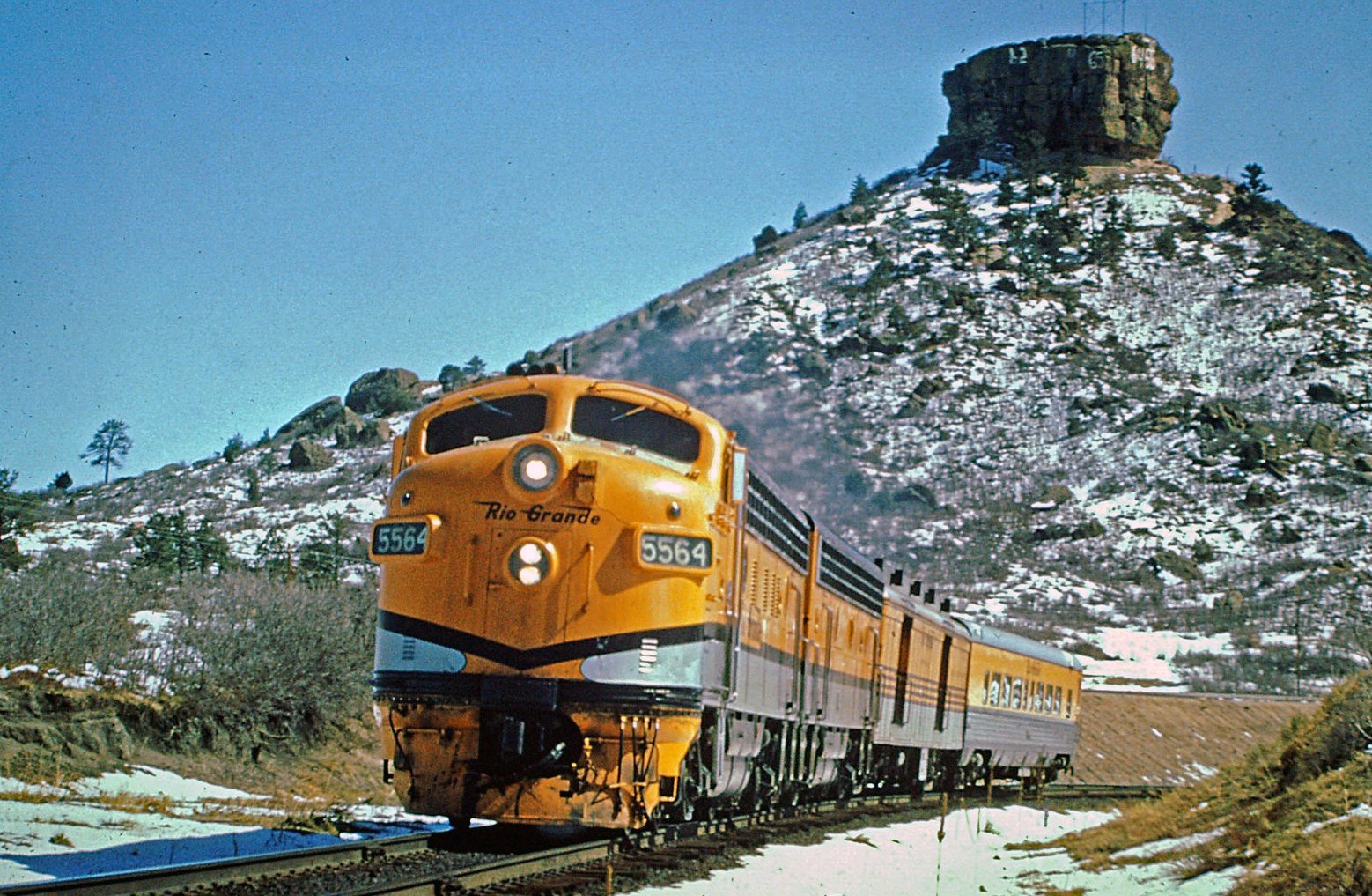 A single baggage and coach comprise Rio Grande's "Royal Gorge," seen here at Castle Rock, Colorado on April 11, 1967.
One of the Rio Grande's narrow-gauge operations did survive, however. The Silverton Route survived abandonment and today continues on as the very popular Durango & Silverton Railroad. Along with the Silverton Route the Rio Grande's narrow-gauge line between Chama, New Mexico and Antonito, Colorado also survived. Today this line is home to the likewise well known Cumbres & Toltec Scenic Railroad.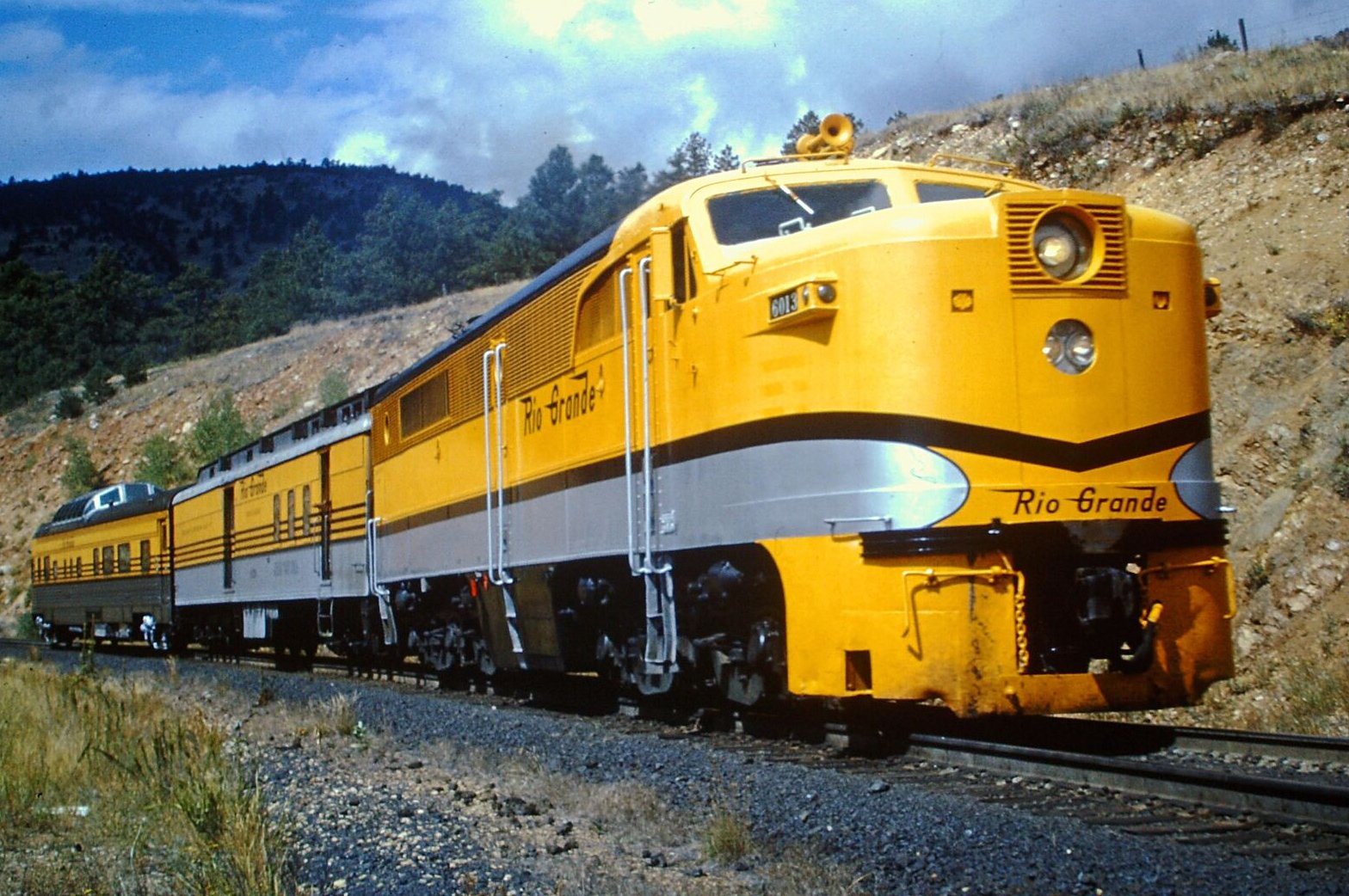 Rio Grande PA-1 #6013 has the "Yampa Valley Mail" at Plainview, CO on August 22, 1966. Restrictive state public service commissions and the federal Interstate Commerce Commission often forbade railroads from retiring money-losing trains, forcing them to run very short consists like this.
Besides the Rio Grande's famed narrow-gauge lines two other future ventures would earn the railroad legendary status. At the Continental Divide northwest of Denver, the Denver and Rio Grande Western completed the famous Moffat Tunnel in 1928, some 6.1-miles in length and bypassing the torturous Rollins Pass, over 11,000 feet in height! The new tunnel cut down transit times over that section of main line from several hours to mere minutes and further strengthened the line's demand as a high-speed connection over the Rockies.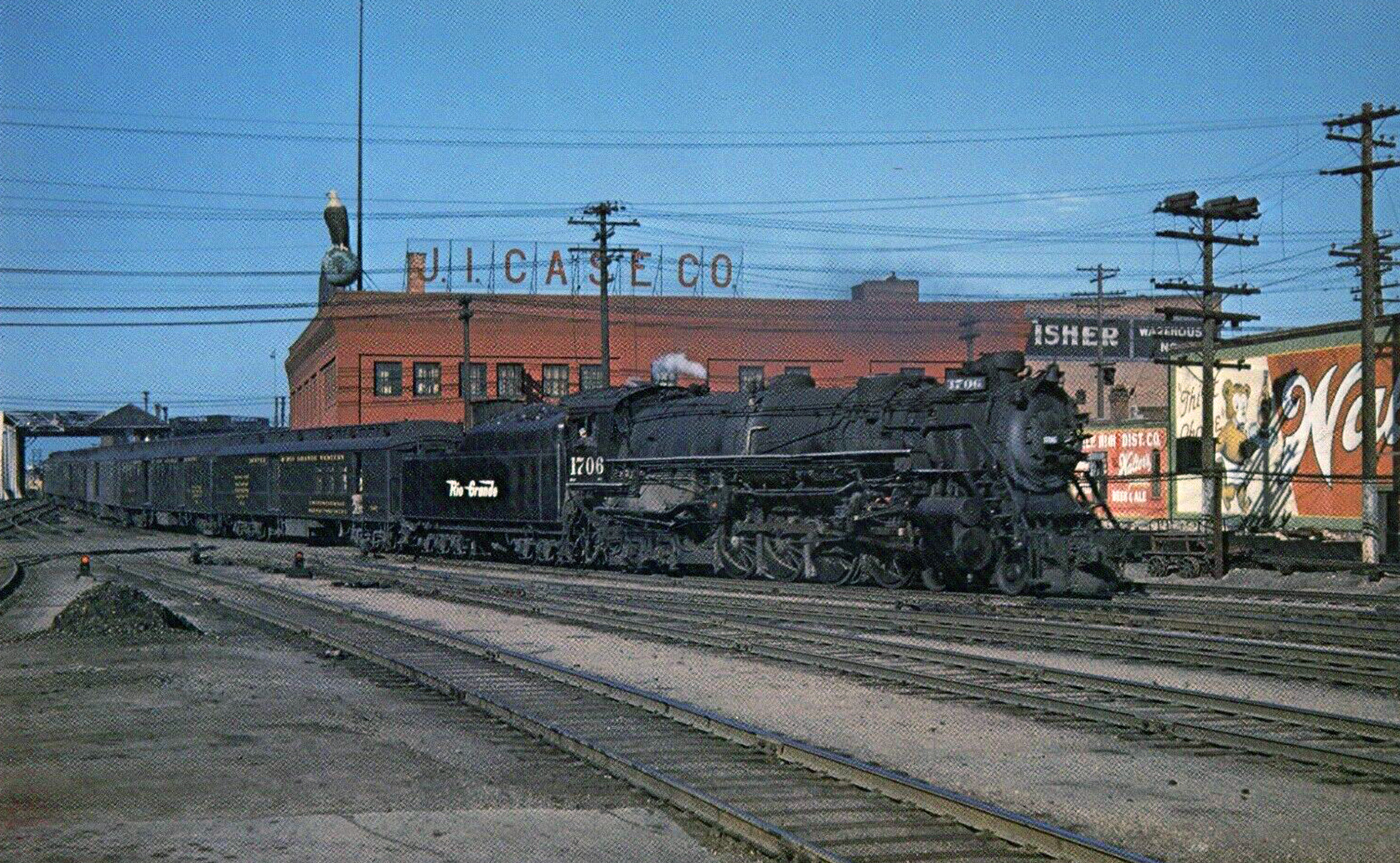 Denver & Rio Grande Western 4-8-4 #1706 (M-64) arrives in Denver with train #16, the northbound "Colorado-New Mexico Express" (Alamosa-Denver) on June 17, 1947. This service continued with the narrow-gauge "San Juan Express" which operated from Alamosa to Durango until 1951. Alas, #1706 survived only a few more years and was scrapped in August, 1952. Richard Kindig photo.
Even more famous than the tunnel was the introduction of a joint passenger train by the Burlington, Rio Grande, and Western Pacific in 1949 known as the California Zephyr deliberately routed through the mountains so that passengers could witness the stunning beauty offered over the Rio Grande's main line through the Rockies. Not surprisingly the train was an instant hit with the public and did so well that the Rio Grande elected not to include it in Amtrak in 1971 and would rename the train the Rio Grande Zephyr. The train by then was so well known that Amtrak did not hesitate to keep it in service when the Rio Grande finally did elect to relinquish the train in the early 1980s and even honored it by renaming it back to the California Zephyr in 1983.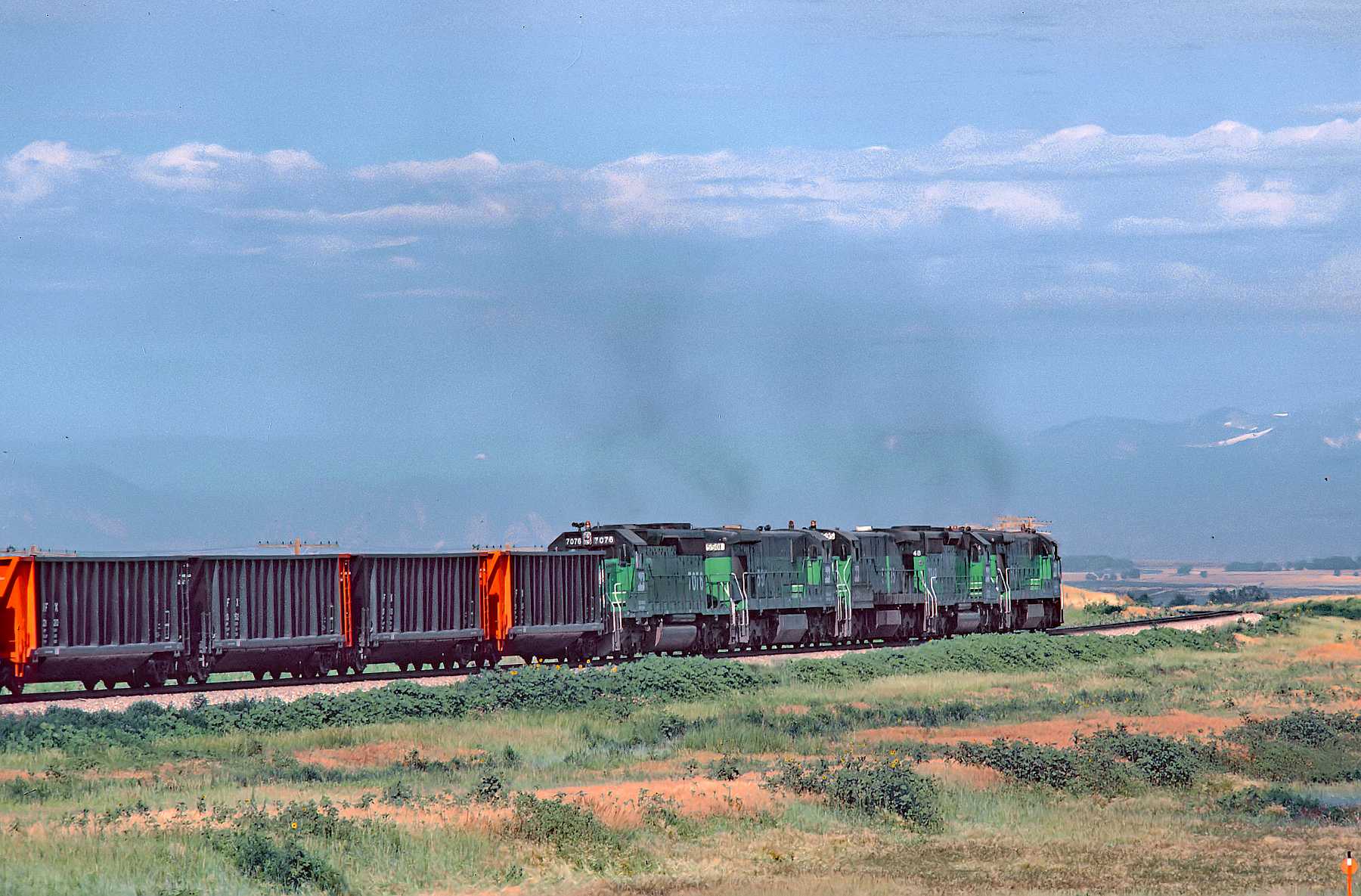 A trio of Burlington C30-7's and a pair of SD40-2's lead empty gondolas between Fort Morgan and Irondale, Colorado in July, 1981. Roger Puta photo.
Today, the Rio Grande and other classic fallen flag systems have been merged away into the Union Pacific and BNSF Railway which carry on much of what their predecessors left behind as many lines remain important routes. For a more in-depth look at Colorado's rail mileage over the years please refer to the table below. As you can see, during the height of rail travel Colorado was home to just over 5,500 miles of trackage. Today, that number has fallen to around 2,500 or a loss of 54%. Considering that many states have lost about half of their rail infrastructure since the 1920s Colorado's decline is fairly typical.  Colorado also features a few smaller short line systems including the Great Western Railway of Colorado, Colorado & Wyoming Railway, Kyle Railroad, Nebraska, Kansas & Colorado Railway, Cimarron Valley Railroad, Denver Rock Island Railroad, Rock & Rail, San Luis Central Railroad, San Luis & Rio Grande Railroad, and the Towner Railway. 

* Colorado's first operational railroad was the Denver Pacific Railway & Telegraph Company.  Incorporated in 1867 it was designed to link Denver by rail after the Union Pacific elected to bypass the Frontier town on its way to meet the Central Pacific.  With a great deal of financial backing it was completed to Cheyenne in 1870.  In 1880 it merged with Union Pacific and Kansas Pacific forming a new Union Pacific Railway.
---
Along with the Durango & Silverton and C&T narrow-gauge operations the state boosts several other museums and tourist railroads. These include the Boulder County Railway Historical Society, Colorado Railroad Museum, Cripple Creek & Victor Narrow Gauge Railroad, Forney Museum of Transportation, Fort Collins Municipal Railway, Galloping Goose Historical Society, Georgetown Loop Historic Mining and Railroad Park, Leadville, Colorado & Southern Railroad, Mamtou & Pike's Peak Railway, Museum of Northwest Colorado, Platte Valley Trolley, Pueblo Railway Museum, Ridgway Railroad Museum, Royal Gorge Route Railroad, The Ski Train, and Windsor Museum.

---
---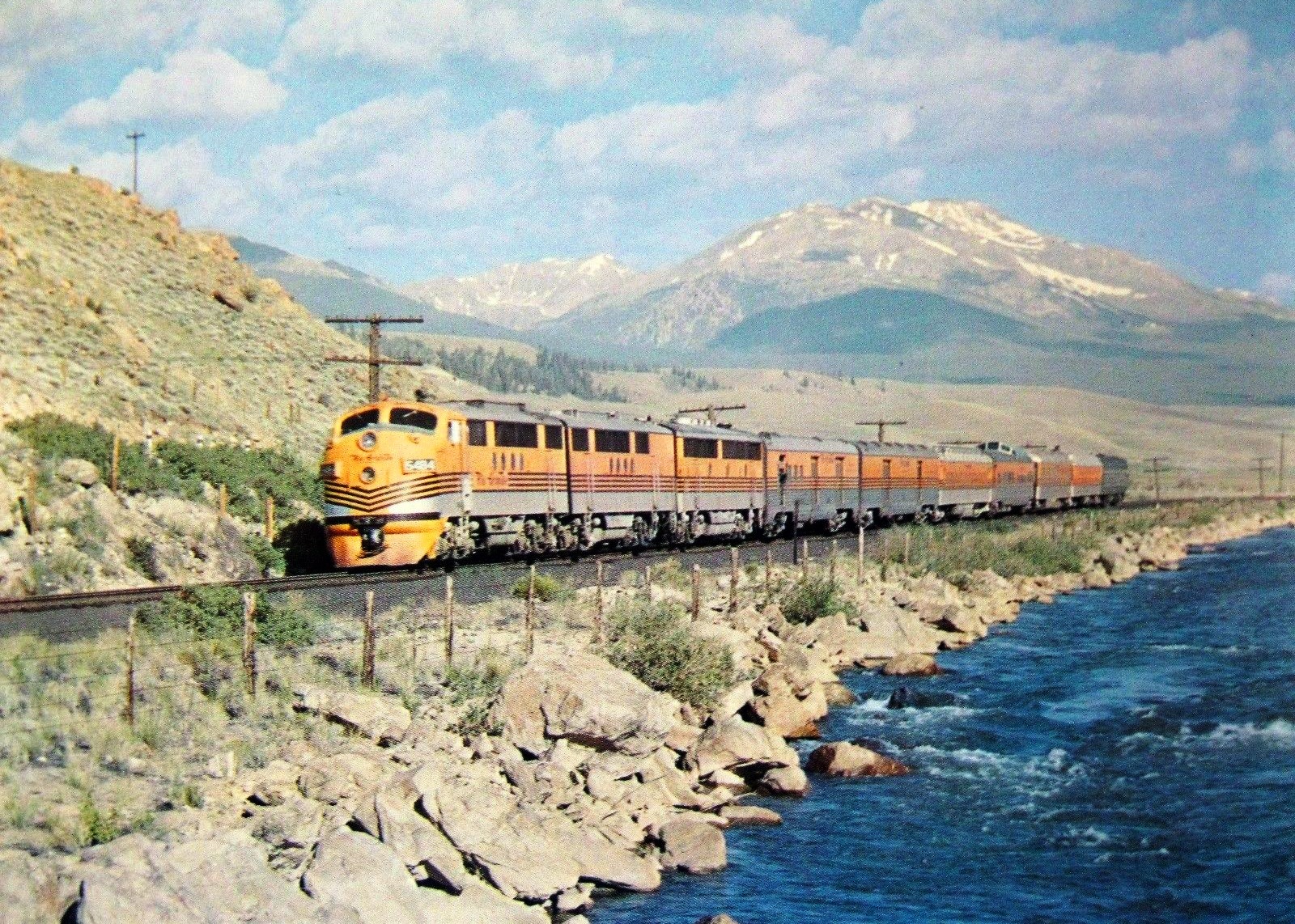 In this Rio Grande publicity scene an A-B set FT's, along with an F3B, lead train #2, the eastbound "Royal Gorge" (Ogden/Salt Lake City - Denver) along the Arkansas River at Kobe, Colorado during the summer of 1957. The train's consist on this day included an RPO, standard baggage, heavyweight coach, dome-observation (ex-Chesapeake & Ohio), a "Mount" series lounge-diner, and a pair of 10-section/2-double bedroom/1-compartment sleepers.
Lastly, if you are planning a trip to Colorado to either railfan or enjoy the sites and sounds of the state's many museums and tourist railroads don't forget to stop by beautiful Denver Union Station in downtown Denver. It is well worth the drive to see! While it still serves Amtrak's California Zephyr and Southwest Chief, as well as the seasonal Ski Train, plans for the station's future include it becoming the city's hub of its ever-growing commuter rail system.  In any event, the state's beauty alone is well worth a visit to the Centennial State, whether your interested in Colorado railroads or not! All in all there is plenty to do and see all across the state so you are bound to have a wonderful visit whatever you decide to do.