2-8-0 "Consolidation" Locomotives

Last revised: September 20, 2023
By: Adam Burns

The Consolidation Type was a highly successful steam locomotive design of the latter half of the 19th century that would eventually replace the 4-4-0 American Type.

The new Consolidation, a 2-8-0 design, allowed for more tractive effort with two additional driving axles and a larger boiler. Because of this the wheel arrangement could haul much heavier trains than the American design.
The first 2-8-0 is said to have appeared on the Pennsylvania Railroad around the end of the Civil War.
The original designs were not very successful as they were mounted with a rigid front truck assembly instead of one that could freely move to more easily negotiate curves.
History
However, once the issues were worked out Consolidations became most railroads' choice as main line power from the second half o the 19th century through the second decade of the 20th century (a span of roughly 50 years).

Because of their moderate size and respectable power, many 2-8-0's have been restored to operation by various museums and tourist railroads.
You can find them in various corners of the country, such as the Lake Superior Railroad Museum, Age of Steam Roundhouse, and Nevada Northern Railway.  
Photos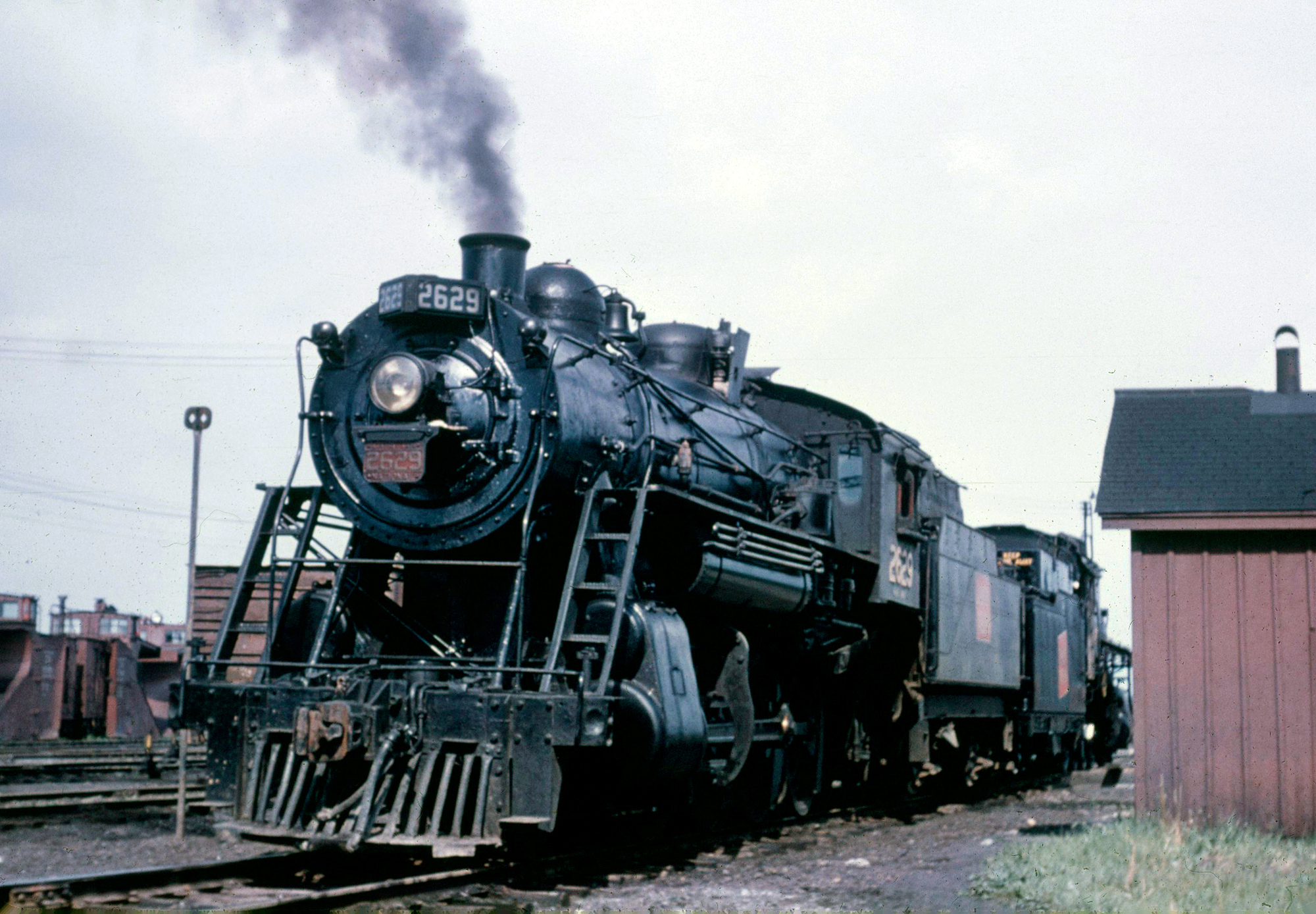 Fresh off a rebuild, Canadian National 2-8-0 #2629 is being broken in at Stratford, Ontario during the 1950's. Paul Meyer photo. Author's collection.
Early Examples
The history of the Consolidation's origins is interesting; the first prototype actually constructed is said to have been built by the Lehigh & Mahanoy Railroad around 1865, which modified a standard 0-8-0 switcher by adding a front axle to the locomotive.
However, a year later it was perfected by Matthias Baldwin's Baldwin Locomotive Works, which improved the 2-8-0 by making the lead truck/axle self-centering via its mount from the driving wheels.
This not only greatly improved stability but also since the lead axle freely swiveled it vastly enhanced the locomotive's ability to negotiate curves. The first Consolidation purchased from a manufacturer was built by Baldwin and delivered to the Lehigh Valley in 1866 for use on the road's stiff grades of its Mount Carmel Branch in Pennsylvania.
Union Pacific 2-8-0 #535 works local service near Albany, Wyoming in August, 1956. American-Rails.com collection.
It is said that the 2-8-0 gained its name from Baldwin himself, which wanted to dedicate the design after two recent acquisitions by the LV, the Beaver Meadow, Penn Haven & White Haven and Lehigh & Mahanoy railroads.
With these purchases the locomotive was named the Consolidation. While sales for 2-8-0s were initially slow due to early design flaws (like the rigid front truck) after these issues were worked out the locomotive sold quite well beginning in the 1870s.
The 2-8-0 design was a significant technological leap from the 4-4-0 as its heavier frame and larger boiler greatly increased tractive effort and horsepower. In particular, mountain railroads found the design very useful for both of these reasons.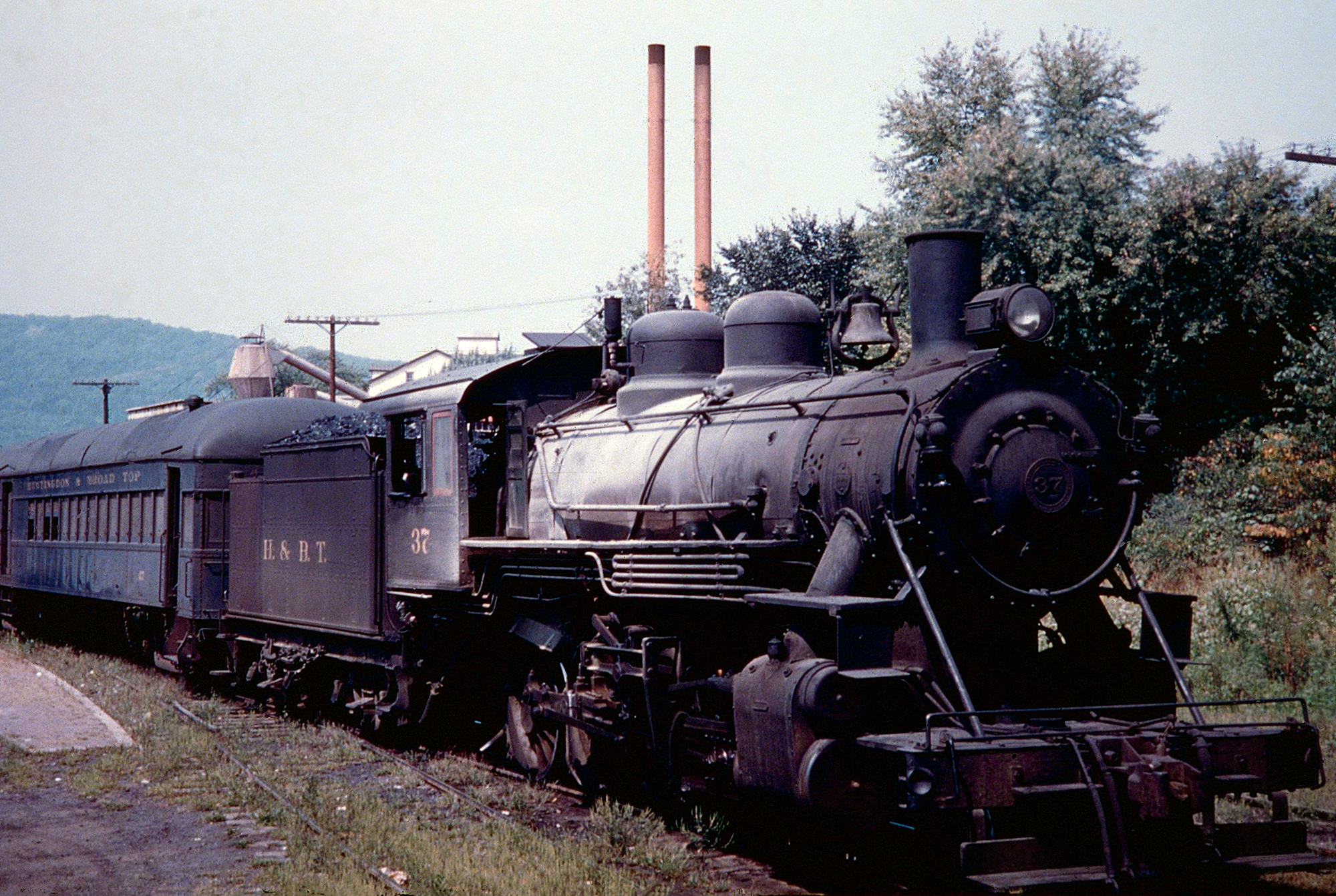 Huntington & Broad Top Mountain 2-8-0 #37 at Bedford, Pennsylvania; September 15, 1953. Homer Newlon, Jr. photo. American-Rails.com collection.
For instance lines such as the Baltimore & Ohio, Pennsylvania, Erie and others began replacing their fleets of 4-4-0s for the more powerful Consolidation (additionally, as it turns out, the 2-8-0s were not as expensive).
In the case of the Lehigh Valley, with the success of the initial model it purchased from Baldwin the railroad went on to order fourteen more (the LV went on to roster hundreds of 2-8-0s purchasing its final batch from Alco in 1916, Class M-36 #813-832).
The Consolidation, with its two extra driving axles and front pilot truck could not only pull trains that were twice as heavy but also run at speeds fast enough to be used in any type of passenger service.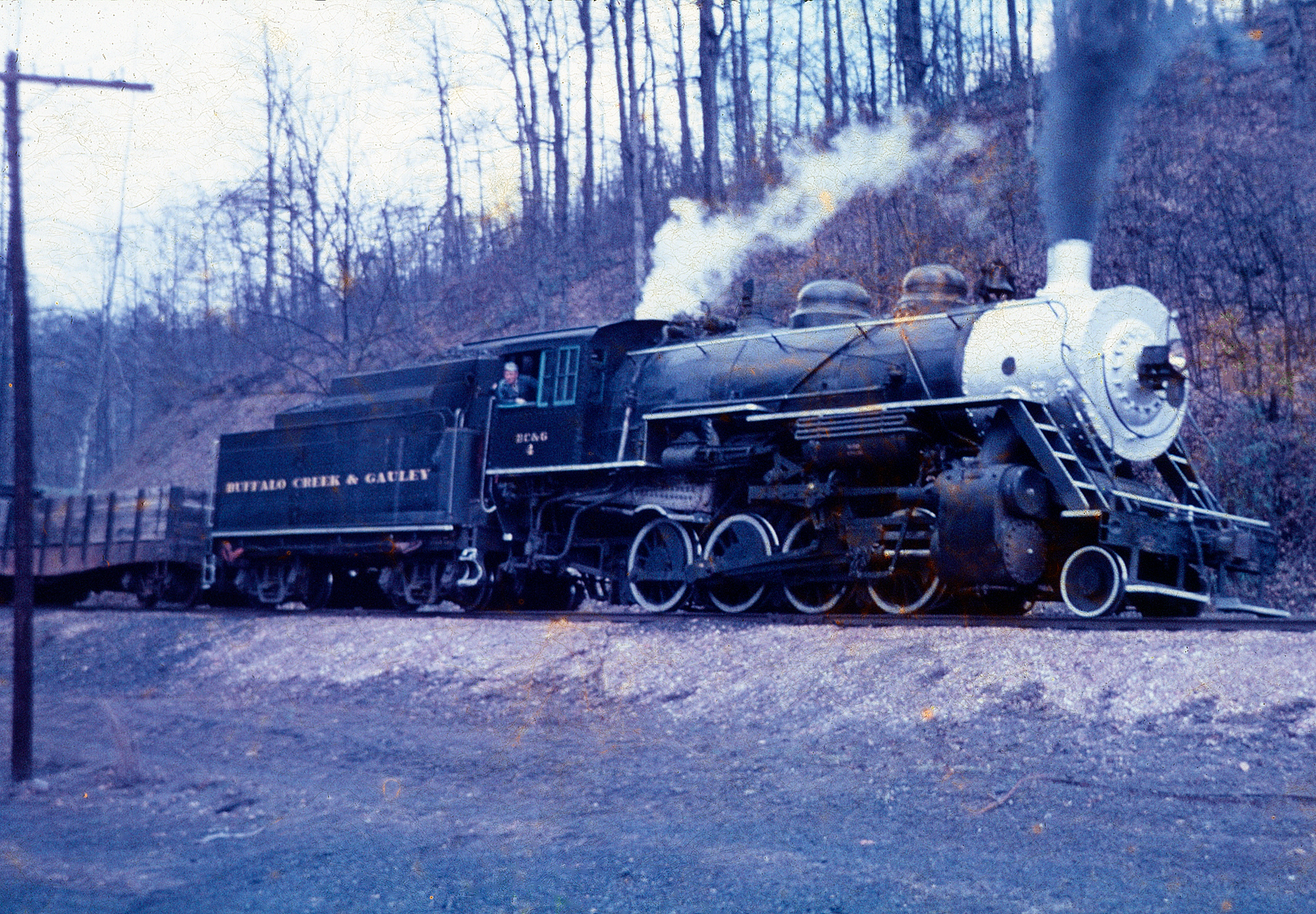 Buffalo Creek & Gauley 2-8-0 #4 steams past the yard in Dundon, West Virginia with a string of empty hoppers in the fall of 1964. Larry Fellure photo. American-Rails.com collection.
By the 1880s Consolidations had become universally accepted as main line power. As railroads came to find out, the 2-8-0 was extremely versatile and received, or was built with, upgrades as technologies improved through the end of the 19th century.
With the development of the air-brake in 1872 by George Westinghouse tonnage grew as the invention slowly gained acceptance within the industry, and the Safety Appliance Act of 1893 required some such system to be equipped on every car and locomotive.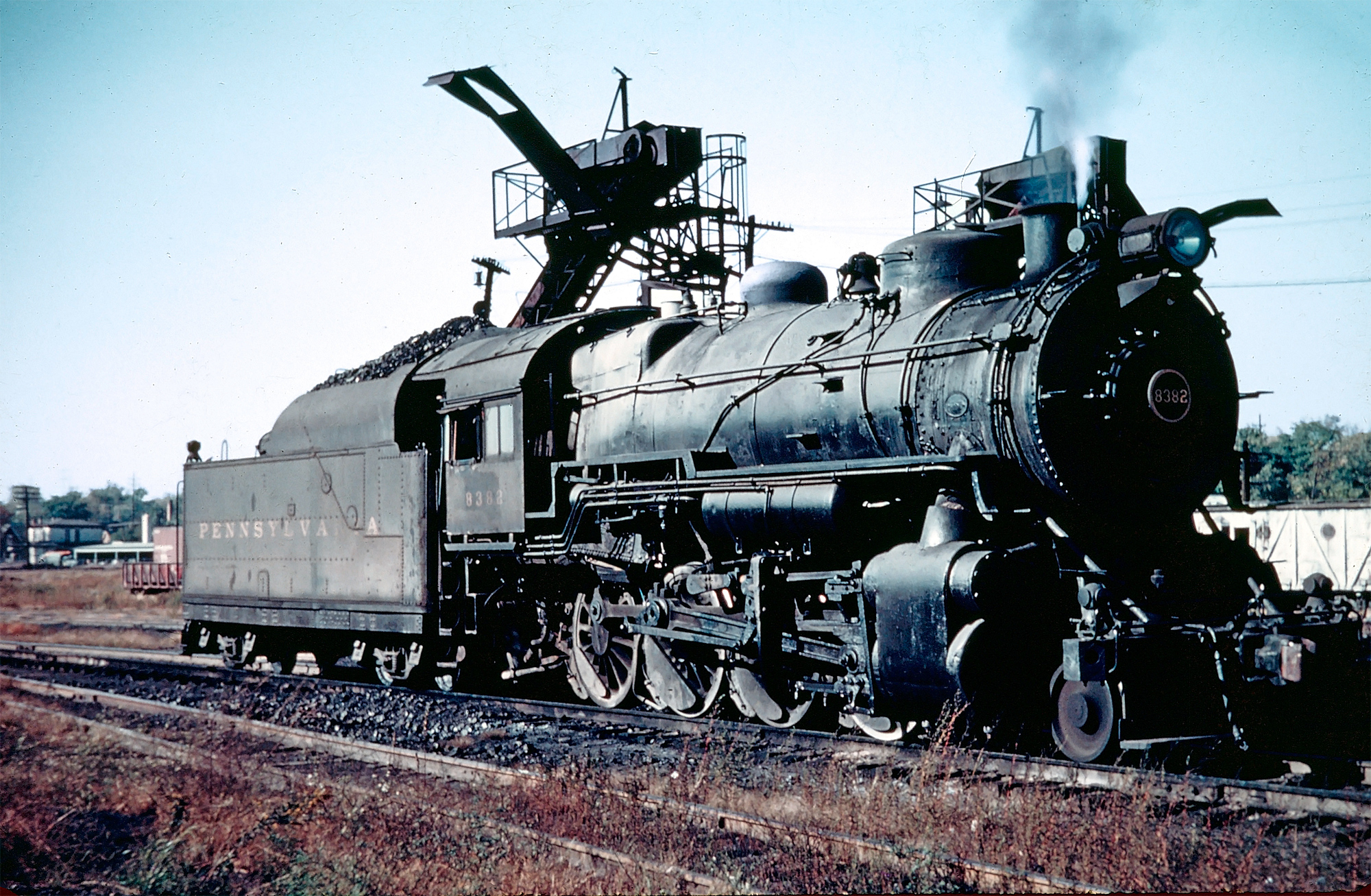 Pennsylvania Railroad 2-8-0 #8382 (H-10s) simmers away at Hawthorne Yard in Indianapolis, Indiana, circa 1953. The Consolidations were workhorses on the PRR in light/medium freight assignments, as on most railroads. The Pennsy once rostered some 3,335 examples of this wheel arrangement during the 1920s. This particular unit was manufactured by Alco's Brooks Works in August, 1916 and retired in November, 1957. Fred Byerly photo. American-Rails.com collection.
Top Speed
The Consolidation was duly suited to take on the added weight. The design continued to be improved upon through the 1920s until its inherent size simply precluded further enhancements. 

By that time 2-8-0s featured some highly advanced features such as superheaters, feedwater heaters, piston valves, and outside radial valve gear. Even in this late era the locomotive's top speed typically did not exceed 40 mph since the Consolidation featured drivers no larger than 63 inches.
Colorado & Southern 2-8-0 #634 was photographed here at Rice Yard in Denver, Colorado, circa 1950. American-Rails.com collection.
Specifications
All railroads' 2-8-0s were different in terms of size, power, boiler pressure, tender utilized, etc.  The below information offers general data on Baltimore & Ohio's modern E-27c consolidations.  These beefy little steamers were used far and wide all across the B&O's system in branch line and light duty service.  They were originally built in 1909-1910 and heavily modified by B&O shop forces over the years.  All were scrapped by the 1950s.
| | |
| --- | --- |
| Builder | American Locomotive Company (Richmond Works) |
| Years Produced | 1909-1910 |
| Classes | E-27c, E-27J, E-27ca |
| Whyte Notation | 2-8-0 |
| Valve Gear | Walschaert |
| Driver Brake | American |
| Wheelbase (Driver) | 16 Feet, 8 Inches |
| Wheelbase (Engine) | 41 Feet, 1 ¼ Inches |
| Wheelbase (Tender) | 20 Feet, 2 Inches |
| Wheelbase (Engine + Tender) | 59 Feet, 8 ½ Inches |
| Total Length (Engine + Tender) | 68 Feet, 6 ½ Inches |
| Height (Top of Rail to top of Cab) | 14 Feet, 5 ½ Inches |
| Weight on Drivers | 198,650 Lbs (E-27c): 202,900 (E-27ca and E-27J) |
| Engine Weight | 220,370 Lbs (E-27c): 224,900 Lbs (E-27ca and E-27J) |
| Tender Weight (Loaded) | 148,070 Lbs |
| Total Weight | 350,970 Lbs - 372,970 Lbs |
| Tender Fuel Capacity | 15 Tons |
| Tender Water Capacity | 7,500 Gallons |
| Driver Diameter | 62 Inches |
| Boiler Pressure | 215 psi |
| High Pressure Cylinders (Diameter x Stroke) | 22" x 30" (E-27c): 24" x 30" (E-27ca and E-27J) |
| Maximum Tractive Effort | 40,800 - 42,800 Lbs (E-27c): 50,900 Lbs (E-27ca and E-27J) |
| Factor of Adhesion | 4.91 - 4.68 (E-27c): 3.94 (E-27ca and E-27J) |
---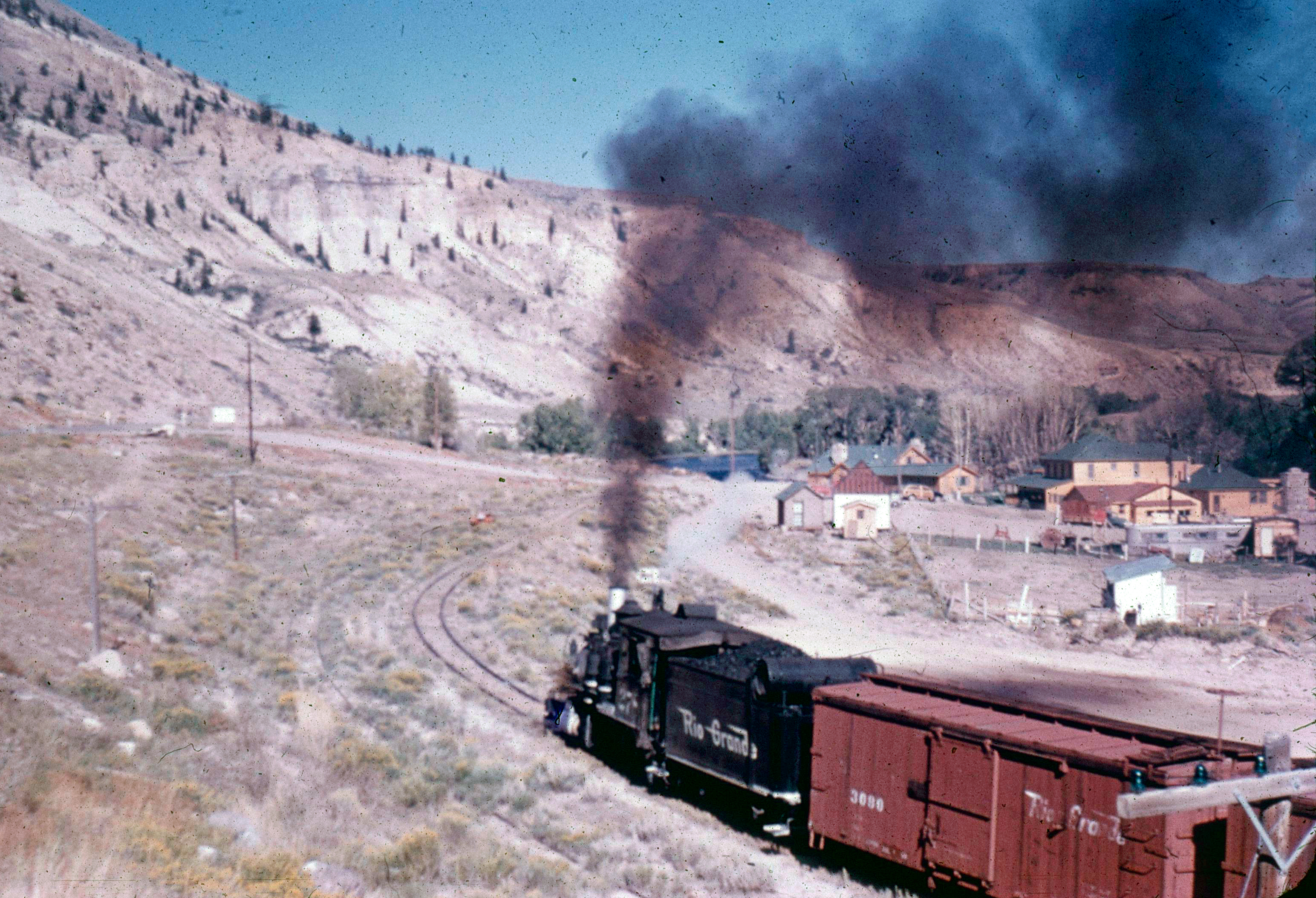 Denver & Rio Grande Western 2-8-0 #278 heads east over the narrow-gauge Gunnison Branch as the train nears Cebolla, Colorado during the 1950's. The right-of-way here now lies beneath the Blue Mesa Reservoir. James Stitzel photo. Author's collection.
Preservation
While the Consolidation was replaced by larger and more advanced designs such as 2-8-2s, 2-10-0s, 4-8-2s, and others many railroads continued to use theirs in some type of capacity until the end of steam.
For instance, the Western Maryland, which owned hundreds of Consolidations found the design very useful to move heavy tonnage over the road's stiff grades in Maryland, Pennsylvania, and West Virginia.
The WM's latest examples including Class H-7a, H-7b, H-8, and H-9a could achieve tractive efforts between 60,000 and 74,000 pounds, and where not retired until the mid-1950s.
By the time production had ended on the 2-8-0 some 23,000 had been manufactured domestically with another 12,000 built for export.
Today, several Consolidations have been preserved across the country including several that are still in operation.
Sources
Boyd, Jim. American Freight Train, The. Osceola: MBI Publishing, 2001.
Edson, William D. Steam Locomotives Of The Baltimore & Ohio: An All-Time Roster.  Potomac: William D. Edson, 1992.
Mainey, David. Baltimore & Ohio Steam In Color. Scotch Plains: Morning Sun Books, 2001.
Schiffer Publishing. Baldwin Locomotive Works: Record of Recent Construction Nos. 21 to 30 Inclusive. Atglen: Schiffer Publishing Company, 2009.
Solomon, Brian. Classic Locomotives, Steam And Diesel Power in 700 Photographs. Minneapolis:  Voyageur Press, 2013.