The information below includes as much history concerning the state's logging lines as could be obtained, although please be aware that it is certainly not a complete list. Aside from the operations of the UP and Rio Grande there were three major lumber companies in Colorado that controlled or operated many miles of railroad in the state including the Hallack & Howard Lumber Company, Pagosa Lumber Company, and New Mexico Lumber Company. A lot of their tracts of timber were located in the same region as Colorado's narrow-gauge railroads built for the silver industry, in the southwest. However, companies like the H&HL also owned logging operations in other states. 
Arapahoe, Jefferson & South Park Railway Company
This railroad is only known to have operated in the Denver area during the very early years of logging systems circa 1868, owning 1 geared locomotive.
Middle Park Lumber Company
This lumber company was served by the Colorado Utah & Southwestern Railway, which had a connection with the Denver & Rio Grande at Fraser and operated about a 6 mile branch to reach nearby timber reserves. It began operations in 1906 using a single Climax locomotive to haul loads and was a very short-lived logging line, as it was abandoned in 1919.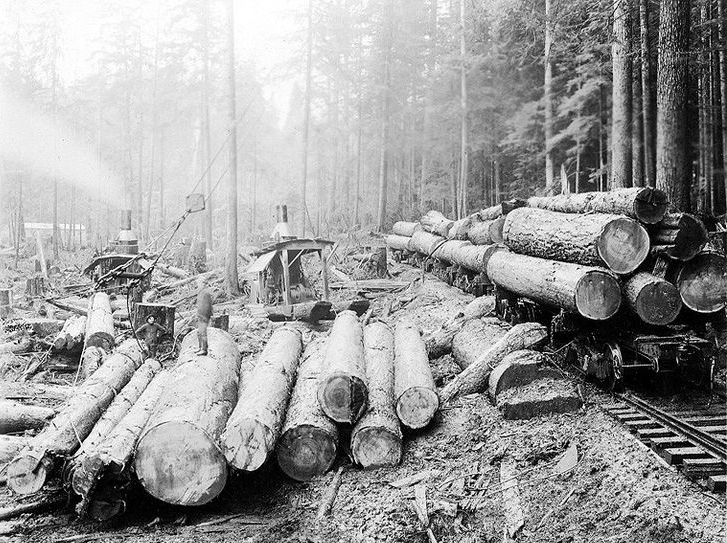 Grand Lake Lumber & Crate Company
Located in the area around Grand Lake little is known about this operation.  It owned 21 miles of track although its locomotive roster is unknown.  Operations are only known to have taken place from 1935 through 1936.
Montezuma Lumber Company
This company originally began as the New Mexico Lumber company of 1927, a division of McPhee & McGinty, located in the Durango area.  it operated 45 miles of track via subsidiary Colorado & Southwestern Railroad with 1 geared and 4 standard locomotives.  In 1936 the entire operation came under the direction of the Montezuma Lumber Company, which had apparently reduced rail service to 5 miles with 2 locomotives until service was suspended in 1949.  In addition, Montezuma had another mill at Arloa which operated a 14 mile railroad with 1 standard locomotive.  It is only known to have been in use from 1908-1911.
Hallack & Howard Lumber Company
This operation had numerous tracts in the west from which it harvested and included the states of Colorado, New Mexico, and Idaho. It was headquartered in Denver and was originally founded in 1867. While Hallack & Howard owned their own fleet of rolling stock and locomotives (all of which were ex-D&RGW or Colorado & Southern), in Colorado and New Mexico the company regularly worked with the Denver & Rio Grande, later the Denver & Rio Grande Western, to either move its finished lumber to market or serve its mills directly. The H&HL's history and general operations are tough to find information on although it remained in operation until its sale in 1960 when most of the rail lines were likewise sold off or abandoned.
McPhee & McGinnity Lumber Company
This lumber company was one of the oldest located in the west, dating as far back as 1869. At its peak the company owned about 60 miles of narrow-gauge railroad and vast tracks of timber in Colorado, which was primarily centered around its mill at McPhee. It began operations in 1891 as the Denver and Rio Grande Southern Railroad and slowly expanded over the years to grow to its peak mileage. Much of the company's locomotives were second-hand purchases from the Denver & Rio Grande and Rio Grande & Southwestern Railroad. Logging operations by rail mostly ended in 1932 although a short five-mile segment remained in use until 1948.

Rio Grande, Pagosa & Northern Railroad
This railroad was owned by the Pagosa Lumber Company, a company that was founded by Alexander T. Sullenberger, one of the most successful timber businessmen in southwest Colorado and northwest New Mexico. 

It was a narrow-gauge line serving Dyke and South Pagosa Springs with the company's sawmill located in Azotea, New Mexico. The RGP&N had connections with the D&RGW's nearby narrow-gauge operations (which were at Chama, about eight miles away), which moved the finished timber to market.  Some of the other Colorado logging railroads or companies that operated in the state include the Fisher Lumber Company Railroad, Rocky Mountain Railway, Rust Logging Road, Trinchera Estates Lumber Company Railroad, Montezuma Lumber Company Railroad, Rio Grand Southern, and Sayra Newton Lumber Company.  For more information about the state's logging railroads please click here.
Many thanks to Kramer Adams' book, "Logging Railroads Of The West," for help in researching Colorado's logging railroads.
Related Reading You May Enjoy


Home

›

Logging Railroads

› Colorado