Delaware Railroads In "The First State"

Last revised: October 11, 2023
By: Adam Burns

Delaware railroads feature one of the nation's first railroads and while today it has nearly the fewest rail miles of any state its rails are critically important to the Northeast.

Even during the heyday of the railroad industry the state's rail network was never that extensive featuring less than 400 miles of trackage.
History
However, even today when it comes to Delaware, big things come in small packages. Few states offer such a wide variety of trains and railroads as the First State (both Class Is operated in the state along with about a half-dozen short lines). 
The state's loss in rail lines has been entirely secondary, agricultural corridors consisting of the Pennsylvania Railroad's so-called Delmarva Lines running into Maryland and Virginia. 
These branches have been steadily abandoned over the last 50 years. Whether you are interested in high-speed trains, bucolic steam locomotives, or coastal railroad operations, Delaware offers all three!
Photos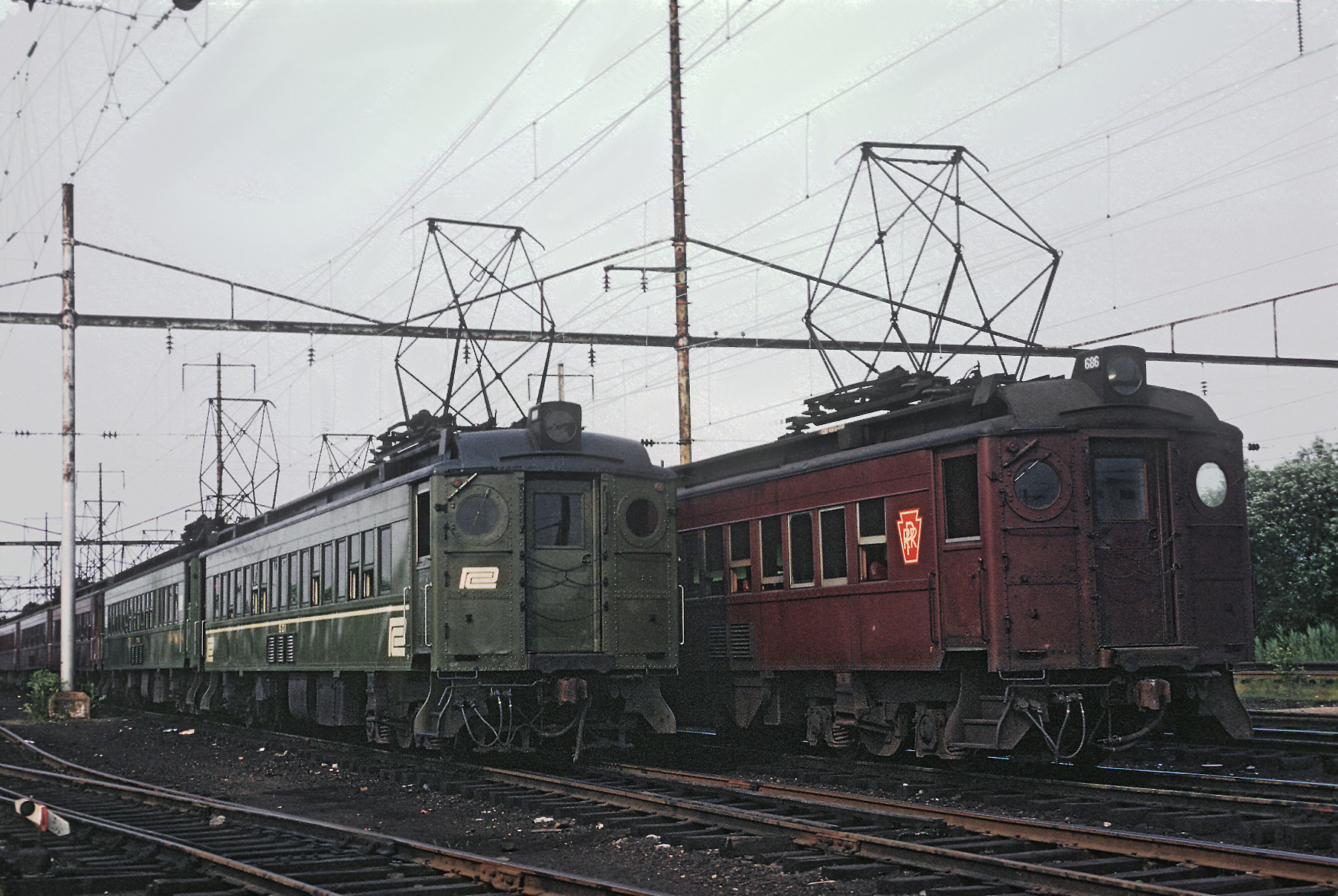 It's the early Penn Central era as former Pennsylvania Railroad MU's are tied down at West Yard in Wilmington, Delaware on June 21, 1969. Roger Puta photo.
Delaware railroads date all of the way back to 1832 when the little, and mostly forgotten, New Castle & Frenchtown Railroad opened that year as a better transportation alternative between the Chesapeake Bay and Delaware River.
The railroad had been chartered February 7, 1829 (just a few years after the Baltimore & Ohio was chartered) and operated a virtually straight main line that stretched some sixteen miles between New Castle, Delaware and Frenchtown, Maryland.
Using very early railroad construction techniques of the time the line featured stone blocks for ties and strap rails.  
Once the Philadelphia, Wilmington & Baltimore Railroad opened in 1838 connecting its namesake cities (the PW&B became part of the Pennsylvania Railroad in 1902 serving as its main line to Baltimore) the NC&F became redundant. 
Statistics
| | |
| --- | --- |
| First Railroad | New Castle & Frenchtown Railroad (1832) |
| Peak Mileage | 335 (1920) |
| Current Mileage | 236 (2020) |
| Current Railroads | 7 |
| Originated Rail Tons (2019) | Less than 1/2 million |
| Terminated Rail Tons (2019) | Less than 1/2 million |
| Current Rail Employees | 168 |
As such, it was gradually cut back and mostly abandoned by 1853.  Interestingly, part of the route continues to carry on today under the Norfolk Southern banner.  
Although Delaware has never held many miles of railroad it has been home to several classic railroad companies. These include the Baltimore & Ohio Railroad, Pennsylvania Railroad (and later Penn Central/Conrail), and Reading Railroad.
Of note, other companies like the Pennsylvania-Reading Seashore Lines came close to operating lines into Delaware but never quite reached across the border. 
The B&O's main line to New York stretched through Delaware (the route operated from Newark to Carrcroft, a distance of just 15.7 miles according the railroad's official timetable) and the Reading operated a branch between Birdsboro, Pennsylvania and Wilmington.

However, it was the Pennsylvania Railroad that owned most of the state trackage, sprawling all over the state with a main line that stretched south from Wilmington, Delaware to Cape Charles, Virginia.
In any event, as you can see in the below chart, the state's rail system has never been that extensive and today most of the original network remains intact and in use.
State Map
As anyone who studies at least a little railroad history is well aware, the Pennsylvania Railroad was one of the most powerful companies of its time nearly until its merger with the New York Central in 1968 to form the Penn Central.
While the PRR stretched to Detroit, Buffalo, northern Michigan, Chicago, St. Louis, Cincinnati, and a myriad of other eastern/Midwestern cities it had a high concentration of branch lines and routes in New Jersey, eastern Pennsylvania, Maryland, and Delaware.
---
Abandoned Lines
The state of Delaware is one of the smallest, not only in land area but also railroads.  At its peak there were only 335 miles.  
The most notable line was Pennsylvania Railroad's important Northeast Corridor, which passed through Wilmington on its way to Baltimore/Washington, D.C.
The Baltimore & Ohio also maintained a competing route through Delaware and Wilmington that terminated in Philadelphia (the B&O reached Jersey City via the Reading and Central Railroad of New Jersey).
Finally, the Reading operated an important route to Wilmington from the north that linked Reading, Elverson, and Coatesville (Pennsylvania).
Delaware has lost fewer than 100 miles thanks to the importance of its routes.  Much of the abandonments have came via the old PRR's Delmarva Lines.
These extended southward through Wilmington, down the heart of Delaware, and through Maryland's southeastern tip to Cape Charles, Virginia. 
They were predominantly constructed by the New York, Philadelphia & Norfolk Railroad, which opened for service in 1884.  
The lines predominantly handled agriculture and many have since been removed in all three states.
Another notable removal was PRR's old Pomeroy Branch that linked the Northeast Corridor at Newark, Delaware with Pomeroy, Pennsylvania along the Harrisburg/Pittsburgh/Philadelphia main line.
---
Its secondary main line between Wilmington and Cape Charles provided interchanges with southern lines, Norfolk & Western, the original Norfolk Southern, and Chesapeake & Ohio all of whom served the ports of Norfolk/Newport News/Virginia Beach.
Much of its Delmarva Lines have since been abandoned or reduced to secondary status as short lines.
State Mileage Chart
First Railroad
* Delaware was home to one of the nation's earliest railroads when the New Castle & Frenchtown Railroad, opened a 16-mile corridor between a wharf along the Delaware River in New Castle to a wharf along the Elk River in Frenchtown, Maryland on February 28, 1832.  The NC&F initially used horse-powered carriages but on September 10th debuted an English-built steam locomotive.  In 1839 it was sold to the Philadelphia, Wilmington & Baltimore, a future component of the modern Pennsylvania Railroad (much of the NC&F's western alignment, deemed redundant, was abandoned in 1859).
Additionally, the PRR had several branch lines (five) diverging from this main line through Delaware.
Most of these routes served one or more towns in nearby Maryland such as Chestertown, Centreville, Queenstown, Queen Anne, McDaniel, Hurlock, Cambridge, Vienna, Ocean City, and Franklin City. However, a few served locations directly in Delaware such as Smyrna and Rehoboth Beach.
Today, many of these branches have since been abandoned. However, the main line to Cape Charles is still fully intact operated by Class I, Norfolk Southern through most of Delaware while CSX Transportation operated the rest through Maryland.
Today, the other remains of the PRR are still very present in the state as is the B&O's main line (operated by CSX).
Not only does our country's fastest passenger train, the Acela Express, operate at speeds of 135 mph along the NEC through Wilmington (and reaching Washington, D.C./Baltimore) but also the city is home to three large PRR buildings; Amtrak's current Wilmington Station, the railroad's former Wilmington office building, and its former freight station, today owned and used by Internet banking company INGDirect.
Wilmington is also home to Amtrak's Wilmington Maintenance Facility (an original PRR facility), Bear Maintenance Facility, Consolidated National Operations Center, and High-Speed Rail Training Facility. 

Current Railroads
CSX Transportation


Norfolk Southern


Conrail Shared Assets


Delmarva Central Railroad
East Penn Railway


Wilmington & Western Railroad


Maryland & Delaware Railroad

These small railroads operate the remains of the PRR's branch line network in the state.

---
Lastly, Delaware is home to just one tourist railroad (and no railroad museums), the Wilmington & Western Railroad.
This steam-powered line has been in operation since 1966 (although historically the W&W name dates back to the 1860s) and offers visitors an incredible journey along 10.2 miles of what was the B&O's Landenberg Branch between Greenbank Station and Mt. Cuba.
In all Delaware railroads offer a little of everything for a train lover, whether your railroading interest(s) might be railfanning, tourist railroads, or simply sightseeing.