Denver Union Station
Purely on aesthetics Denver Union Station (DUS) is one of the most appealing terminals in the country.
While part of this is due to the structure's beautiful architecture the other is its impressive and distinctive arched neon-lit sign that greets travelers; Union Station, Travel by Train.
During the heyday of rail travel in this country DUS played host to many of the West's most famous streamliners and witnessed thousands of passengers parading through its halls daily.
Thankfully, the facility has enjoyed quite a happy and productive life (unlike some of its counterparts across the country).  
Even through the dark days of the 1970s the terminal has been in continual use since it opened in 1914.  
Even more importantly, the City of Denver has included the station as part of its major commuter rail project, so expect the building to remain a centerpiece for years to come.

Santa Fe F3A #34-C sits along Denver Union Station's platforms with train #191-190 while Chicago, Burlington & Quincy's train #10, the eastbound "Denver Zephyr," awaits departure on December 17, 1970. Roger Puta photo.
The structure so well known today is not actually the original to occupy the site.
The first was depot opened in Denver was completed in 1868 by the Denver Pacific Railway, a system which linked Denver with Union Pacific's transcontinental main line at Cheyenne, Wyoming.
It also provided a through connection to Kansas City via Denver and the Kansas Pacific Railway.  Both routes would soon come under the control of UP.  
By the 1870s the city was served by four different stations utilized by:
Union Pacific


Kansas Pacific


Denver Pacific


Denver & Rio Grande (later Denver & Rio Grande Western)


Denver, South Park & Pacific (later Colorado & Southern, a division of Chicago, Burlington & Quincy)


Colorado Central (a later C&S subsidiary)
Led by Union Pacific's efforts to construct a centralized union station the four companies agreed and incorporated the Union Depot Company in 1879.
To build the facility William E. Taylor was hired and conceived a station in the Romanesque Revival Style featuring a central clock tower with two massive wings in each direction stretching nearly a football field in length (the entire limestone-and-rhyolite façade was 500 feet long).  
It was located just south of downtown Denver along 17th and Wynkoop Streets on the eastern bank of the South Platte River opening on June 1, 1881. 
This original facility had cost $525,000, quite a sum for that time.  
According to the website "Union Station Advocates" the building, "...radiated a civic monumentality far beyond its relatively modest interior volumes" with a large open lawn area and trees lining the street.  
Sadly, this original structure was partially destroyed by fire just 13 years after opening, on March 18, 1894. The cause of the fire was faulty electrical wiring, which was not uncommon in those times.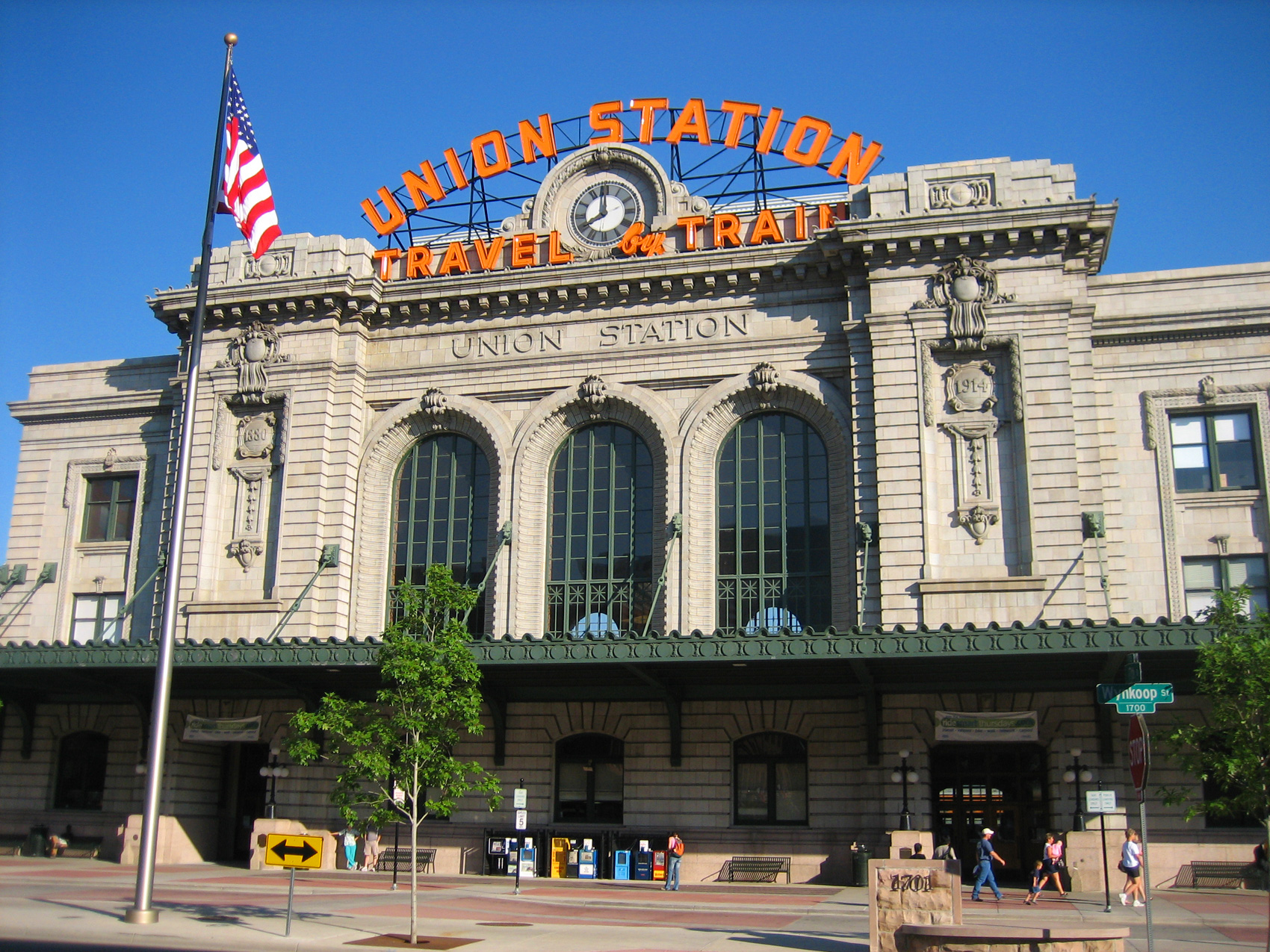 The front facade of Denver Union Station facing Wynkoop Street as it appears today with its famous neon sign. Alex Patton photo.
The fire caused severe damage to the the central waiting room and its southern section while the clock tower was completely destroyed.
It was decided the facility would be rebuilt and the firm Taylor, Van Brunt & Howe of Kansas City was hired for the job.  There were several changes carried out, notably on the exterior.  
They gave the new design a much lower profile and pitched roof but kept the same overall dimensions as the previous (its width was unchanged and the height remained at two stories).  
The ornamental architecture from the 1881 design was removed although the clock tower was rebuilt, a bit taller than the previous with clocks on each face.
The new terminal was also designed in the Romanesque Revival Style giving it the appearance of Medieval Europe and somewhat resembling a castle fortress.

Rio Grande F9A #5771 will be departing with the westbound "Rio Grande Zephyr" as Union Pacific 4-8-4 #8444 awaits to leave Denver Union Station with a northbound excursion to Laramie, Wyoming during October of 1978. Gary Morris photo.
In 1906, Denver Mayor Robert Speer dedicated a new "Welcome Arch" (also known as the Mizpah Arch) constructed in front of Denver Union Station to greet travelers.  
This decorative piece, also known as "Denver's Front Door" was built almost entirely of steel standing 65-feet high, 86-feet wide, and illuminated by 1,294 light bulbs.
As vehicular traffic increased throughout the 1920s the city deemed it a traffic hazard and removed the arch in 1931.  In 1912 operations to the terminal changed when the Union Depot Company was dissolved.  
To reflect the current standing of railroads serving the Mile High City the Denver Terminal Railway Company was created in its place jointly owned by the railroads serving the facility which included:
Union Pacific


Rio Grande;


Chicago, Rock Island & Pacific (Rock Island)


Atchison, Topeka & Santa Fe (Santa Fe)


Burlington/Colorado & Southern
Denver & Rio Grande Western's "Ski Train" sits beneath Denver Union Station's famous neon sign on a January night in 1985. Roger Puta photo.
Following this management change the group elected to embark on yet another overhaul of Union Station in an attempt to keep up with growing passenger traffic.  
Local Denver architects  Gove & Walsh (Aaron Gove and Thomas Walsh) was hired for the work and decided upon a Beaux-Arts Style to complement the building's existing Renaissance-Revival design.  
They aimed for an airy feel with open spaces by combing the vestibule, hall, and waiting rooms into one surrounded by the ticket offices, toilets, barber shop, and parcel checkroom.  
Sadly, one change included permanently razing its classic clock tower although the granite façade still provided a pleasing appearance dressed in a wrought-iron canopy.  
Interestingly, the station's unique "Union Station, Travel By Train" neon sign was not erected until 1952.  Today, it remains largely unchanged.

---
Denver Union Station's Interurban/Streetcar History
One of the building's more interesting historical footnotes is that it once served both standard and narrow gauge trains as well as interurban (trolley) operations.  
According to George Hilton and John Due's authoritative title, "The Electric Interurban Railways In America," streetcar services were provided by the Denver & Intermountain Railroad (Denver Tramways) and Denver & Interurban Railroad (D&I).  
The D&IM first began service in 1893 to Golden via a standard-gauge line (23 miles).  It was acquired by Tramways in 1909 and subsequently electrified.  
Its other component was the Denver & Northwestern (D&NW), which completed a 26-mile narrow-gauge route from Denver to Leyden in 1903 and opened a branch to Golden in 1904 where it interchanged with the D&IM.  
In 1902 the D&NW acquired control of Tramways but kept the latter's name with all streetcar and interurban operations more or less integrated.
As with most interurban operations hard times befell the company and it ended streetcar service just after World War II.  
In 1950 all passenger services ended and the narrow-gauge lines were abandoned.  The standard-gauge route to Golden (D&IM) remained in service until March 15, 1953.
The Denver & Interurban (D&I) was a subsidiary of Colorado & Southern.  Its 51-mile main line followed the C&S from Denver to Burns Junction and then utilized a loop system into Boulder whereby it operated over C&S-owned trackage via Marshall and Louisville.  
There was also a branch to Eldorado Springs that operated only during the summer.  The system used a 11,000 volt AC system (although cars were equipped for DC pickup) that opened in 1908.  
The D&I initially utilized Tramway DC trackage into downtown Denver and reach Union Station but the C&S electrified its own line into the terminal in 1923 ending this practice.  
The D&I was never particularly successful and eventually shutdown altogether on December 15, 1926 following several years of losses.  
---
During the station's heyday which lasted from the time of its second grand opening in 1914 through roughly World War II it served some eighty daily passenger trains of the Union Pacific, Rio Grande, Santa Fe, Burlington, and Rock Island.  
Famous names included the City Of Denver, Rocky Mountain Rocket, Denver Zephyr, California Zephyr, Prospector, and Missouri Pacific's Colorado Eagle (via the Rio Grande).  
It was during the 1950s that Denver Union Station declined (as with almost all other railroad stations nationwide) as a major rail hub.
At that time Brian Solomon notes in this book, "Railroad Stations," the facility was down to just 40 daily trains and by the 1970s few trains still called there.  
By 1983 only Amtrak's daily California Zephyr and Rio Grande's privately operated Rio Grande Zephyr (the last remnant of the original CZ), were still using the facility.  
In 2001 the city's Regional Transportation District purchased the terminal and former yards from the Denver Union Terminal Railway.

---
---
The city spent many years developing and planning the property's future, envisioning it as a multimodal hub served by buses, light-rail transit service, and Amtrak's long-distance trains.  
The project began in 2008 and was largely completed in 2014 following the restoration of canopies over the track platforms that matches the building's Beaux-Arts design.
Today, while a few of Denver Union Station's most decorative pieces have been removed including chandeliers, candelabras, and a large welcome-arch it mostly remains intact and just as it appeared following its opening.
The station also remains quite active with all floors filled with offices, business, or entertainment venues including the area immediately surrounding the building, which is quite prominent itself occupied by numerous shops and businesses.