East Broad Top Railroad: Map, Locomotives, History

Last revised: March 25, 2023
By: Adam Burns

The East Broad Top Railroad & Coal Company, or EBT, is a legendary narrow-gauge short line located in south-central Pennsylvania.  It historically was known as a profitable coal-hauler although that ventured ended in 1956.

The road dates back to the mid-19th century and survived as a popular tourist line thanks to the efforts of Nick Kovalchick. 
During its peak years of freight service the EBT served several mines that tapped a lucrative but centralized seam of coal located to the north and south of Rockhill Furnace.
Alas, lack of demand for this product ultimately cost the railroad its primary source of revenue.  From 1960 until 2011 the EBT hauled countless passengers over a short segment of the original right-of-way north of Rockhill Furnace.  
Despite this, uncertainty remained for decades as no buyer stepped forward to preserve the railroad's future.  It seemed one would never found, especially after operations ended following the 2011 season. 
Finally, a welcomed announcement came in February, 2020 stating the East Broad Top Foundation would become the EBT's new caretaker. 
Since the change in ownership the group has worked tirelessly to bring the property back to life.   To see the progress please visit the railroad's Facebook page.  
Photos
East Broad Top 2-8-2 #14 has returned to the shops in Rockhill Furnace, Pennsylvania following another excursion; August, 1971. American-Rails.com collection.
History
The history of the East Broad Top Railroad & Coal Company predates the Civil War.  As Dr. George Hilton notes in his book, "American Narrow Gauge Railroads," it was originally chartered on April 16, 1856 to serve mines located along a rich 80 square-mile seam of bituminous coal found on the Broad Top Mountain plateau. 
The completion of the Pennsylvania Railroad's main line nearby, along the Juanita River, was another driving factor as developers now had a major rail outlet.  However, funding could never be established and the onset of the Civil War (1861) it appeared the railroad might never be built.   
At A Glance
Headquarters

Philadelphia, Pennsylvania (260 South Broad Street)

States Served

Pennsylvania

Dates Of Operation (Common-Carrier)

August 30, 1873 - April 14, 1956

Track Gauge

3 Feet

4 Feet, 8 ½ Inches (Mount Union)

Charter Date

April 16, 1856

Route Miles

60

Reporting Mark

EBT
Like many such projects from that era the EBT languished on paper, which collected dust fore more than a decade.  Finally, the owners of the Rockhill Iron & Coal Company (RI&C), a group of Philadelphia businessmen, purchased controlling interest in the road. 
Their goal was to finally build the railroad but only as a three-foot narrow-gauge to keep construction costs down. 
The EBT finished its first 11 miles from Rockhill Furnace to Mount Union on August 30, 1873; the former would become the location of its primary shops and maintenance facility while the latter provided a connection to the PRR.
Rockhill Furnace also served another function, as the RI&C's iron furnace works. By November of 1874 the EBT was extended further westward to the mining town of Robertsdale. 
The line featured steep grades and sharp curves, a trademark of the railroad. The East Broad Top continued to grow, albeit marginally, after this time by adding branches and secondary lines to continue reaching more mines; at its peak the EBT owned 33-miles of main line and another 27 miles of branch. 
In all, its network totaled roughly 60 miles.  Into the 20th century the railroad substantially rebuilt its property with heavier rail and bridges to handle longer and heavier coal trains.
Current System Map
This time period also marked a transition on the East Broad Top; steel had replaced iron as the preferred metal of choice in essentially every application due to its increased strength and durability.  As a result, the Rockhill Iron Furnace shutdown causing the railroad a major loss of traffic. 
At around the same time the silica brick industry sprang up around Mount Union.  This product used a locally quarried aggregate known as ganister rock in the baking process; bricks became an important, albeit secondary, source of freight for the railroad.
Aside from coal and aggregates the EBT also hauled a variety of other freight that including local agriculture, animal feed, and timber.
Freight traffic remained steady through the 1940s, despite lean years during the Great Depression.  The continued success allowed the railroad to constructed new maintenance facilities and a coal cleaning plant.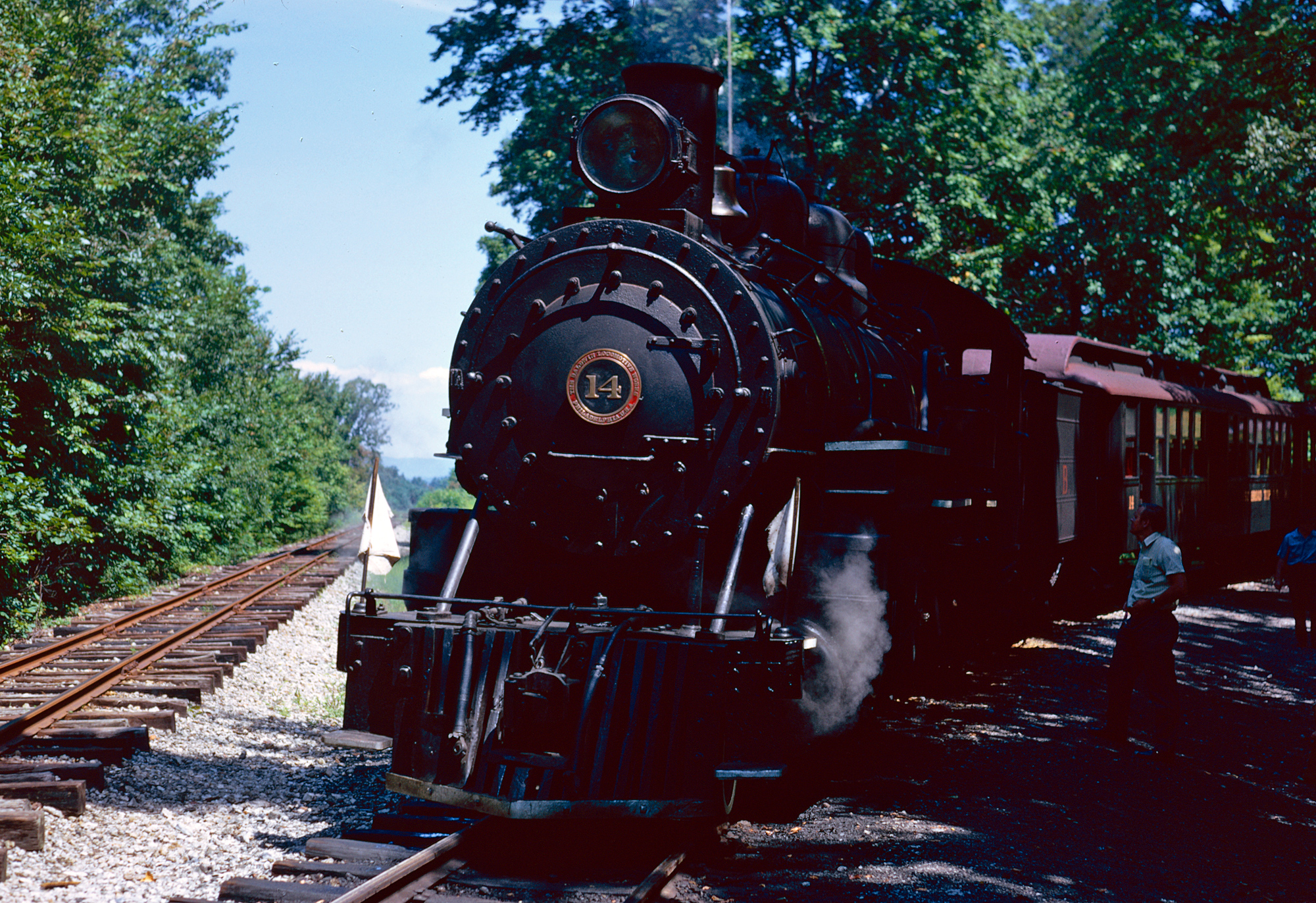 East Broad Top 2-8-2 #14 is on the south leg of the wye at the Colgate Grove Picnic Area as the little Mikado readies its return to Rockhill Furnace; August, 1971. American-Rails.com collection.
The EBT's final new steam locomotives, all 2-8-2's, were acquired from the Baldwin Locomotive Works between 1911 and 1920, capable of producing between 19,000 and 30,000 pounds of tractive effort.
The road's last three new Mikado's, were highly regarded for their ability to lug more hoppers than any previous locomotive on the property. 
It was #16 that started it all; purchased in 1916 it mesmerized management one day by lugging 65 empties back to the mine.  Two more, #17 and #18, quickly followed in 1918 and 1920. 
Interestingly, as diesels became the industry norm during after World War II management saw no interest in the motive power due to steam's inherent longevity and an unlimited fuel supply available. Ownership also never gave serious thought to standard gauging the right-of-way. 
Logo
There were two reasons for this; first, re-boring the tunnels and widening the bridges would have been an expensive proposition and second, its primary source of traffic, coal, had to be graded and cleaned anyway prior to its delivery to the PRR.
When freight cars did have to be transferred to or from narrow-gauge rails, EBT crews were on the ready to swap out trucks.   Interestingly, in late 1953 a major cover story appeared in Trains magazine featuring the road. 
Written by Phillip Hastings, the fascinating article gave an in-depth background on the operation and included comments from management which seemed quite confident coal would continue to remain a major source of traffic for the line for decades to come. 
They also felt remaining deposits of low-grade iron ore would provide another source of revenue. As is so often the case, fate seems to have different ideas and demand for the local coal dried up soon after the article was published (particularly in residential applications).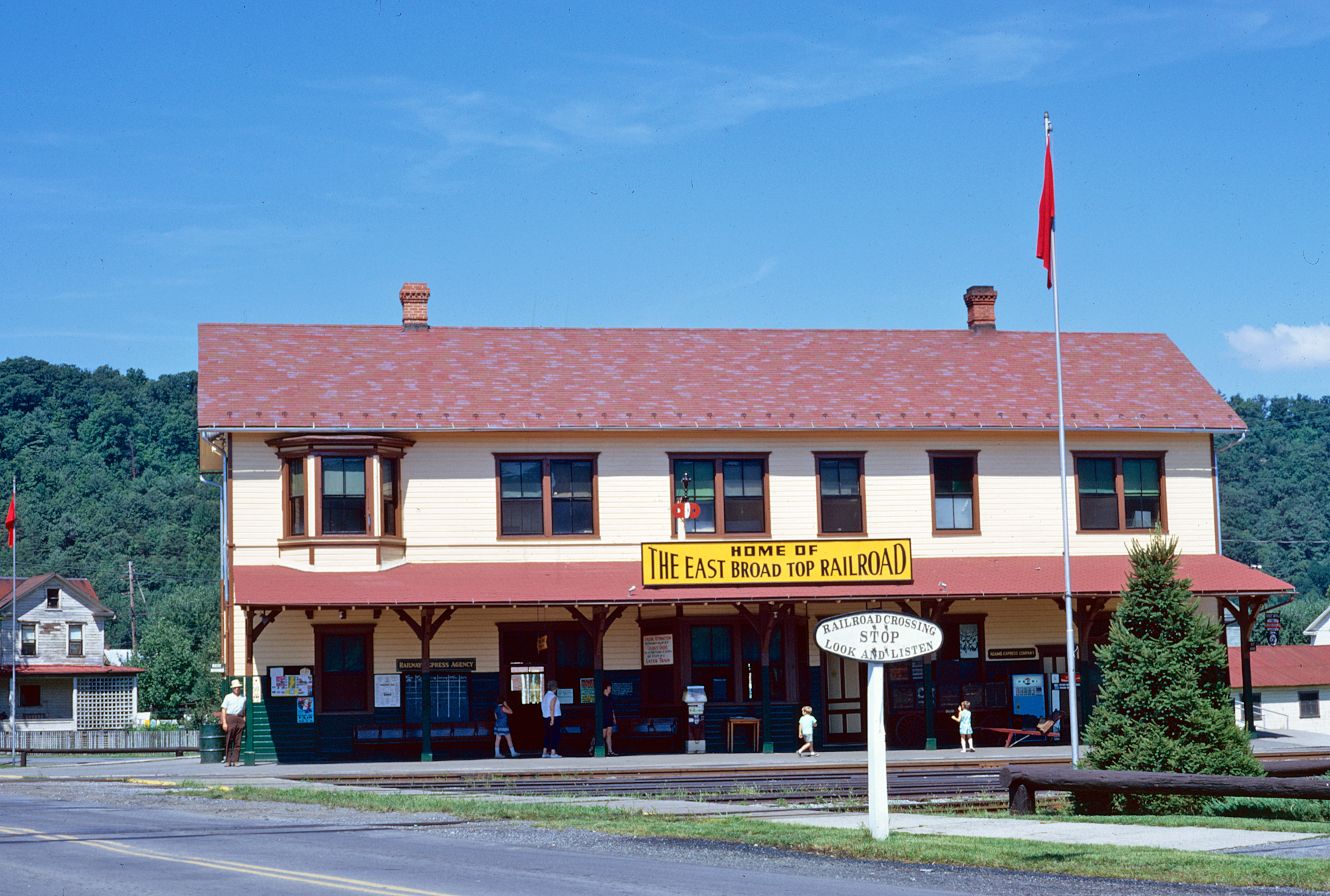 The East Broad Top's beautiful station in Rockhill Furnace, Pennsylvania as it appeared in August, 1971. American-Rails.com collection.
Around the same time, the silica brick plants switched from coal to oil and natural gas as their primary fuel source. With ganister rock now the only source of traffic (and not particularly profitable), there was not enough coal business remaining to support the railroad (by 1953 many of the branches and spurs had already been abandoned).
Less than three years after the Trains article appeared the East Broad Top Railroad ended freight operations on April 14, 1956. The property was subsequently sold to the Kovalchick Salvage Corporation.  Interestingly, instead of scrapping it owner Nick Kovalchick recognized the railroad's historic value. 
As a Trains Newswire article dated February 14, 2020 stated, entitled "The East Broad Top will run again and again," there was another motive behind Mr. Kovalchick's purchase, the love of trains.  He had wanted a toy train set as a kid but never received one. 
As a result, he was determined to acquire the East Broad Top.  He went to 13 banks before finally convincing one to loan him the needed money. Ultimately, he was able to refurbish a short, 5-mile stretch of track that remained in use for the next 51 years.
Timetable (1940)
In 1964 the EBT was declared a National Historical Landmark, forever preserving its future and in 1983 The Friends of the East Broad Top, Inc. was formed to both further enhance the railroad's public appeal as well as rebuild the property.
The volunteer effort has been a monumental success with many buildings since restored, perhaps even better than during the EBT era. 
The first attempt to restore the main line to Robertsdale was launched in 2009 by the East Broad Top Railroad Preservation Association (EBTPA), an all volunteer group. 
Unfortunately, funding for this idea was never secured.  In addition, the Kovalchicks (which still owned the property) and EBTPA could not come to an agreement for the railroad's continued operation beyond 2011. The family was interested in the property's long-term preservation but no longer wished to continue operating it as a tourist attraction.
East Broad Top 2-8-2 #14 departs the station at Rockhill Furnace, Pennsylvania with another excursion bound for the Colgate Grove Picnic Area; August, 1971. American-Rails.com collection.
In March, 2014 news came that the EBTPA had filed with the Surface Transportation Board to inaugurate the all-new East Broad Top Connecting Railroad. 
This common-carrier freight line purchased the defunct 4.1 miles of dual-gauge track at the north end of the network, running from the Norfolk Southern (ex-PRR) connection at Mount Union, south (including the old EBT yard).  Trains had not operated this stretch since freight operations ended in 1956. 
The group hoped to resuscitate the track and serve a nearby industrial park as a means of financing excursions and generally rebuilding the right-of-way.  Unfortunately, not much came of this venture as, once again, it lacked funding.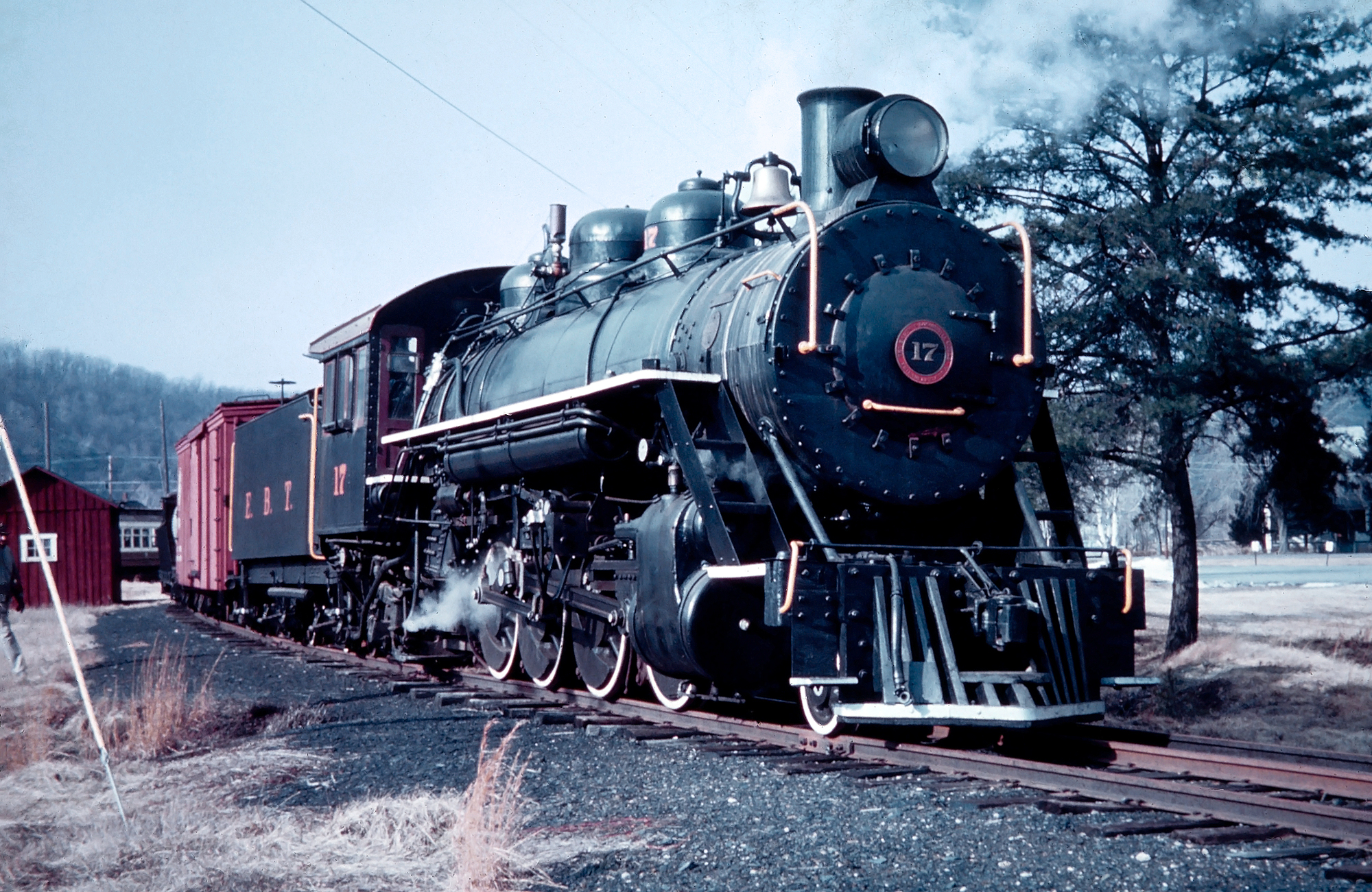 East Broad Top 2-8-2 #17 with a photo freight at Orbisonia, Pennsylvania, circa 1971. Fred Byerly photo. American-Rails.com collection.
2020 Revival

After the East Broad Top concluded its 2011 season (marking 52 years of continuous operation as a tourist attraction) it appeared the railroad may never run again.  As the years passed this became increasingly likely, despite the Kovalchick's best intentions of preserving this national treasure. 
However, unknown to most railfans was an effort to not only preserve the railroad but also restore to it to its former glory. 
On a cold February 14, 2020 the Kovalchick family and the new East Broad Top Foundation, Inc. (EBTF) made a major announcement (from the depot in Rockhill Furnace) stating the EBTF had purchased the entire property.
Restoration

This includes 28 miles of railroad, all original shops and the roundhouse in Rockhill Furnace, all rolling stock, and the six original 2-8-2's built by Baldwin between 1911 and 1920 (#12 and #14-18). 
The trackage runs from the concrete arch bridge spanning Aughwick Creek (south of Mount Union) to the road crossing at Wood Township. 
Much of this has never seen a train in decades so revival will take quite some time.  The EBTF's initial goal is to reopen the 5 miles from Rockhill Furnace to the wye near Shirleysburg.  Limited excursions kicked off in May, 2021 with a full scheduled offered in 2022.
Maps And Diagrams
For 2020 the group planned a number of "soft openings" which will include hosting an event on August 13, 2020, marking the 60th anniversary since tourist operations first began in 1960. The new foundation has significant backing with several notable railroad professionals leading the way. 
As a result, the EBT should have a strong future for decades to come.  Principle backing includes 
Charles "Wick" Moorman, former CEO of both Norfolk Southern and Amtrak (he is famous for his nod to rail heritage by painting more than 20 locomotives in predecessor colors while at NS in 2012, launching a new steam program from 2011-2015, and purchasing historic F units for the company's business train that ran from 2007-2019).


Bennett Levin, owner Juniata Terminal Company who operated an historic pair of Pennsylvania Railroad E8A's for many years.


Henry Posner III who chairs the Railroad Development Corporation (which owns regional Iowa Interstate and a number of railroads in other countries)


Brad Esposito, a 20-year employee of the Buffalo & Pittsburgh Railroad.
Altogether there will be a 10-member board overseeing operations and its direction. 
As Esposito says, the East Broad Top will have three primary goals; preservation and operation, teaching the public about rail history and how modern railroads play such a vital role in the nation's growth, and finally act as a economic boon for the region. 
It remains unclear just how much of the railroad will eventually be restored although the group will likely want to reactivate as much of the property as possible given the time and resources. 
The railroad offers incredible scenery, a time capsule in history, and is the only original narrow-gauge operation still entirely intact east of the Mississippi River.
The EBT we know today would not be possible without the foresight of Nick Kovalchick who acquired the entire railroad after the final mine closed in 1956. 
As his son Joseph stated, "This is the best possible outcome for the railroad, which has been in my family for two generations. It is with a combination of pride and relief that we pass the torch in its second reincarnation."  Please click here to visit the EBT website and keep up with the latest happenings.
Locomotive Roster
| Builder | Type | Road Number | Driver Size | Weight | Tractive Effort | Built |
| --- | --- | --- | --- | --- | --- | --- |
| BLW | 0-6-0 | 3 | 51 | 137,000 | 33,500 | 1923 |
| BLW | 0-6-0 | 6 | 50 | 75,000 | 23,000 | 1907 |
| BLW | 2-8-2 | 12 | 48 | 117,800 | 19,600 | 1911 |
| BLW | 2-8-2 | 14 | 48 | 147,500 | 27,600 | 1912 |
| BLW | 2-8-2 | 15 | 48 | 147,500 | 27,600 | 1914 |
| BLW | 2-8-2 | 16 | 48 | 160,500 | 30,600 | 1916 |
| BLW | 2-8-2 | 17 | 48 | 161,000 | 30,600 | 1918 |
| BLW | 2-8-2 | 18 | 48 | 161,000 | 30,600 | 1920 |
#16 was rolled out of the roundhouse and performed steam tests on June 23, 2022.  It was the first time the little 2-8-2 had been heard since 1956.  On February 1, 2023 the locomotive rolled out of the roundhouse and its restoration deemed officially complete.
---
A peak inside the Rockhill Furnace roundhouse in August, 1971 reveals the tenders of 2-8-2's #12, #18, #17, and #15. American-Rails.com collection.
New Milestones, $1.1 Million State Grant
As the EBT has surged ahead and reopened its original 4.5 miles of tourist trackage to the Colgate Grove picnic area, north of Rockhill Furnace, its support continually grown.
The state of Pennsylvania has long been a supporter of its efforts and, having already provided a $1.4 million grant in 2020, announced on December 8, 2021 a second grant totaling $1.1 million.
This latest money will not only rebuild 7.8 miles of track south of Rockhill Furnace to Three Springs and Saltillo (trackage that has not witnessed a train since 1956) but also carry out several other improvements including:
Acquisition of additional property at Colgate Grove.


Purchasing maintenance-of-way equipment.


Improve the water supply at Rockhill Furnace for installation of a fire suppression system at the shops and roundhouse.


Restore the Rockhill Iron & Coal Company office building.