East Broad Top Railroad & Coal Company

Header Photo: Drew Jacksich
The East Broad Top Railroad and Coal Company, or EBT for short, is a legendary narrow-gauge shortline located in south-central Pennsylvania that historically was a profitable coal-hauler. The road dates back to the mid-19th century although for roughly the last 50 years it has prospered as a popular tourist line hauling passengers on a short section of the original right-of-way. During the peak years of freight service the EBT served several mines that tapped a lucrative but centralized seam of coal. Interestingly, it was lack of demand for this product that cost the railroad its only major source of revenue. Still, foresight by the line's last owner spared it a certain fate of abandonment. Today, the EBT certainly ranks as one of Pennsylvania's most popular attractions thanks to the Friends Of The East Broad Top Railroad and its rare status as a National Historical Landmark.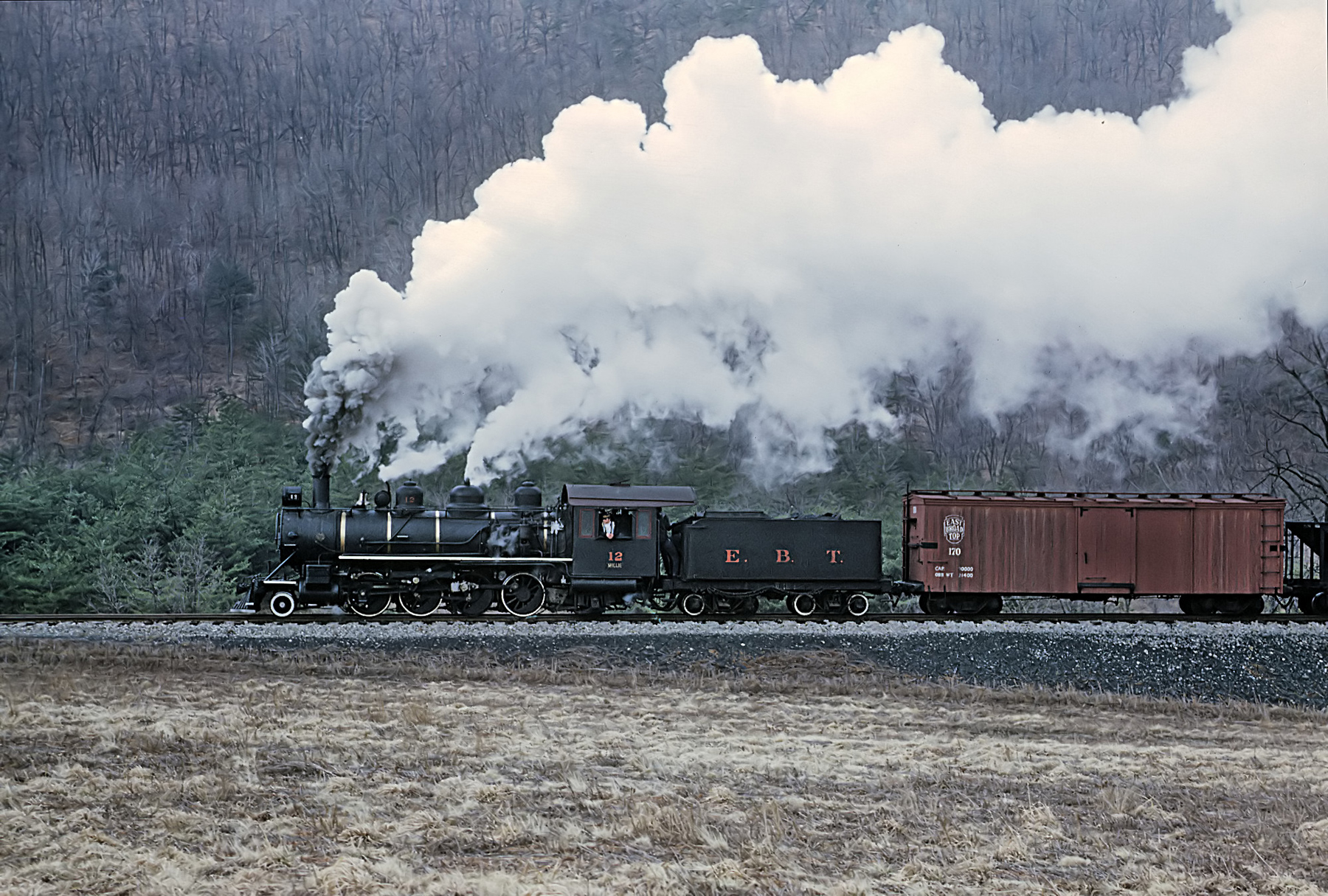 East Broad Top 2-8-2 #12, nicknamed "Millie," steams east of Rockhill Furnace, Pennsylvania with special fan trip on February 22, 1969. Roger Puta photo.
The history of the East Broad Top Railroad and Coal Company dates to before the Civil War with its chartering on April 16, 1856 to serve coal mines located along a rich 80 square-mile bituminous seam on the Broad Top Mountain plateau. However, funding could never be established to begin construction and the onset of the Civil War in 1861 further delayed building. For more than a decade the EBT did not make it off the paper until the owners of the Rockhill Iron & Coal Company, a group of Philadelphia businessmen, purchased controlling interest in the road and looked to use it as a transportation asset for its operations. Built to narrow-gauge standards to keep construction costs down the EBT was completed between Mt. Union and Rockhill Furnace on August 30, 1873, a distance of about 11 miles.
Mt. Union became the railroad's connection to the outside world with the Pennsylvania Railroad while Rockhill Furnace was home to the EBT's primary yard and shops as well as the RI&C's Rockhill Iron Furnace. By November of 1874 the line was extended further westward to the mining town of Robertsdale. As with the rest of the East Broad Top route this extension was quite circuitous with steep grades. The railroad continued to grow, albeit marginally, after this time adding branches and secondary lines; at its peak the EBT owned 33-miles of main line and roughly 60 miles altogether including branches. Just after the turn of the 20th century the company substantially rebuilt its property with heavier rail and bridges.
This time period was also one of transition for the East Broad Top Railroad. Steel became the preferred metal of choice over iron in essentially every application due to its increased strength and durability; because of this the Rockhill Iron Furnace shutdown causing a loss of traffic for the EBT. Additionally, the silica brick industry sprung up around Mount Union which used a locally quarried aggregate known as ganister rock in the baking process, which became an important but unsubstantial source of freight for the railroad. Aside from coal and aggregate the EBT also hauled a variety of other type of freight that included local agriculture, animal feed, and timber. Freight traffic remained steady through the 1940s, despite lean years during the Great Depression, which enabled the company to further improve its operations; new steam locomotives were purchased and it constructed new maintenance facilities and a coal cleaning plant.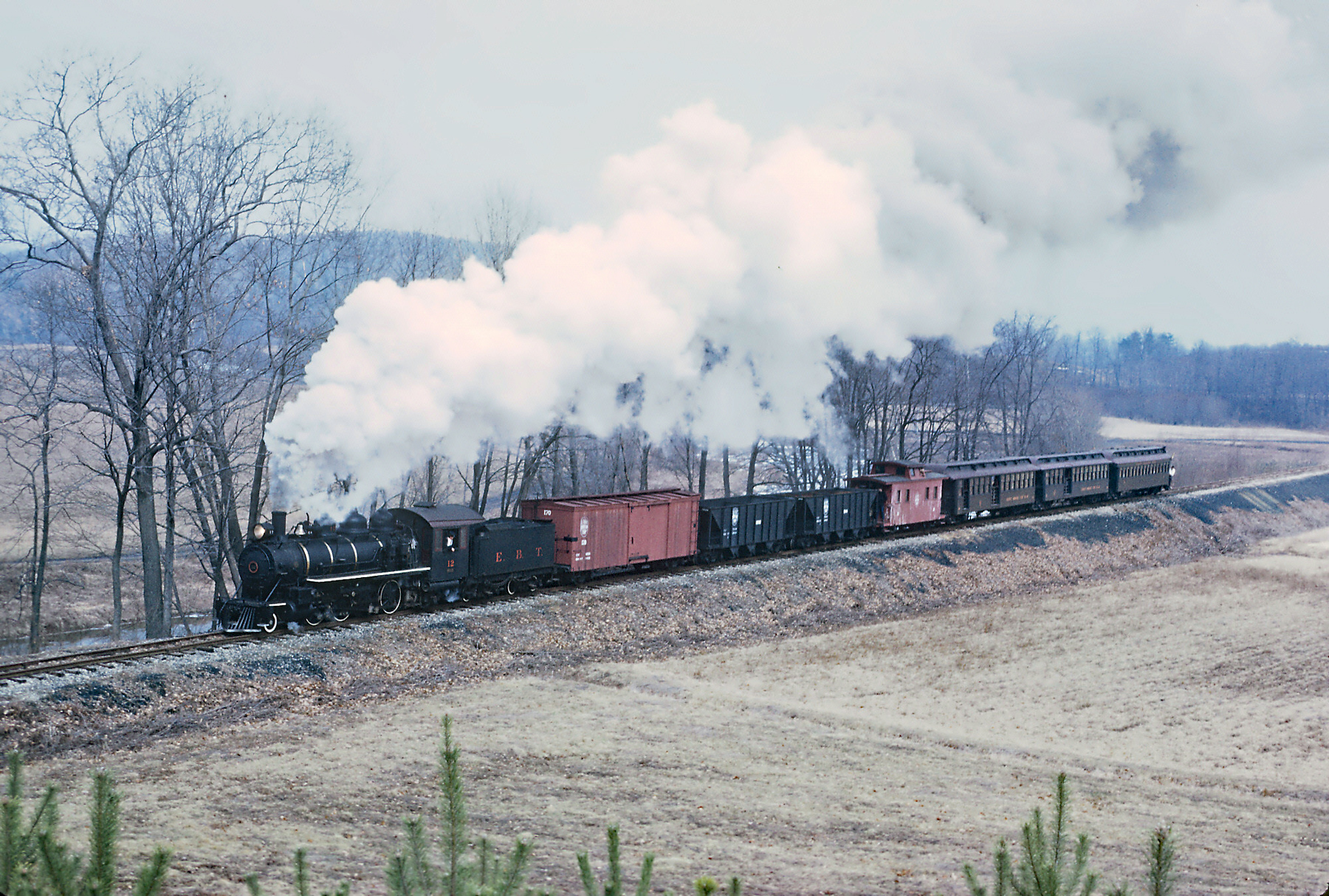 East Broad Top 2-8-2 #12 has a special mixed train near Shirleysburg, Pennsylvania on February 22, 1969. "Millie" was EBT's earliest Mikado, acquired new in December, 1911 from Baldwin. In freight service she was rated to pull 15 loaded coal hoppers. Roger Puta photo.
The new steam power was purchased from Baldwin, acquired between 1911 and 1920 that totaled six narrow-gauge 2-8-2 Mikados capable of producing between 19,000 and 30,000 pounds of tractive effort. These steamers would be the newest motive power the railroad ever owned. Interestingly, as diesel locomotives became the industry norm during the 1940s the railroad's management never considered purchasing them due to steam's inherent longevity and the fact that unlimited fuel was readily available. Ownership also never gave a serious thought to updating the property to standard gauge for two reasons; first, reboring the tunnels and widening the bridges would have been an expensive proposition along with the fact that its primary traffic source, coal, had to be graded and cleaned at the prep plant anyway before delivery to the PRR.
When freight cars did have to be transferred to or from narrow-gauge rails EBT crews were on the ready to swap out correct trucks to do so. Interestingly, in late 1953 a major cover story appeared in Trains magazine featuring the road written by Phillip Hastings. The fascinating article gave an in-depth background on the railroad and also included comments from management which seemed quite confident that coal would continue to remain a major source of traffic for the line since there were still many decades worth of bituminous to be mined from the region not to mention that there were also deposits of low-grade iron which might also have been shipped by rail. As is so often the case, fate seems to have different ideas and the demand for coal dried up soon after for both residential uses as well as in industrial settings.
Three of East Broad Top's 2-8-2's are lined up and ready for service next to the station at Rockhill Furnace, Pennsylvania. From left to right these appear to be #14 (built in 1912 by Baldwin), #15 (built in 1914 by Baldwin), and #12.
Around the same time, the silica brick plants switched from using coal to oil and gas as their primary fuel source. With ganister rock the only source of traffic left and only marginally profitable, not enough coal could be sold to support both the railroad and the mines it served (by 1953 many of the branches and spurs had already been abandoned). Less than three years after the Trains article appeared the East Broad Top Railroad ended freight operations on April 14, 1956. The property was sold to the Kovalchick Salvage Corporation but curiously, instead of scrapping it the owner, Nick Kovalchick, decided to hold on to the railroad. Ultimately, he decided to refurbish a short stretch of track, extending five miles from Mount Union, and host a few tourist excursion trains. The idea proved to be so successful that it has continued every year since except 2012.
In 1964 the EBT was declared a National Historical Landmark, forever preserving its future and in 1983 The Friends of the East Broad Top, Inc. was incorporated to both further enhance the railroad's appeal to the public as well as rebuild the property. The volunteer effort has been a monumental success with many buildings since restored perhaps better than they ever were under EBT ownership. The latest major plans occurred in 2009 when the East Broad Top Railroad Preservation Association (EBTPA) was formed as another all-volunteer effort to attempt to restore the entire 33 main line miles of the East Broad Top Railroad to Robertsdale.  Unfortunately, the Kovalchicks and EBTPA, which now operates the railroad, could not come to an agreement on its operation for neither 2012 nor 2013.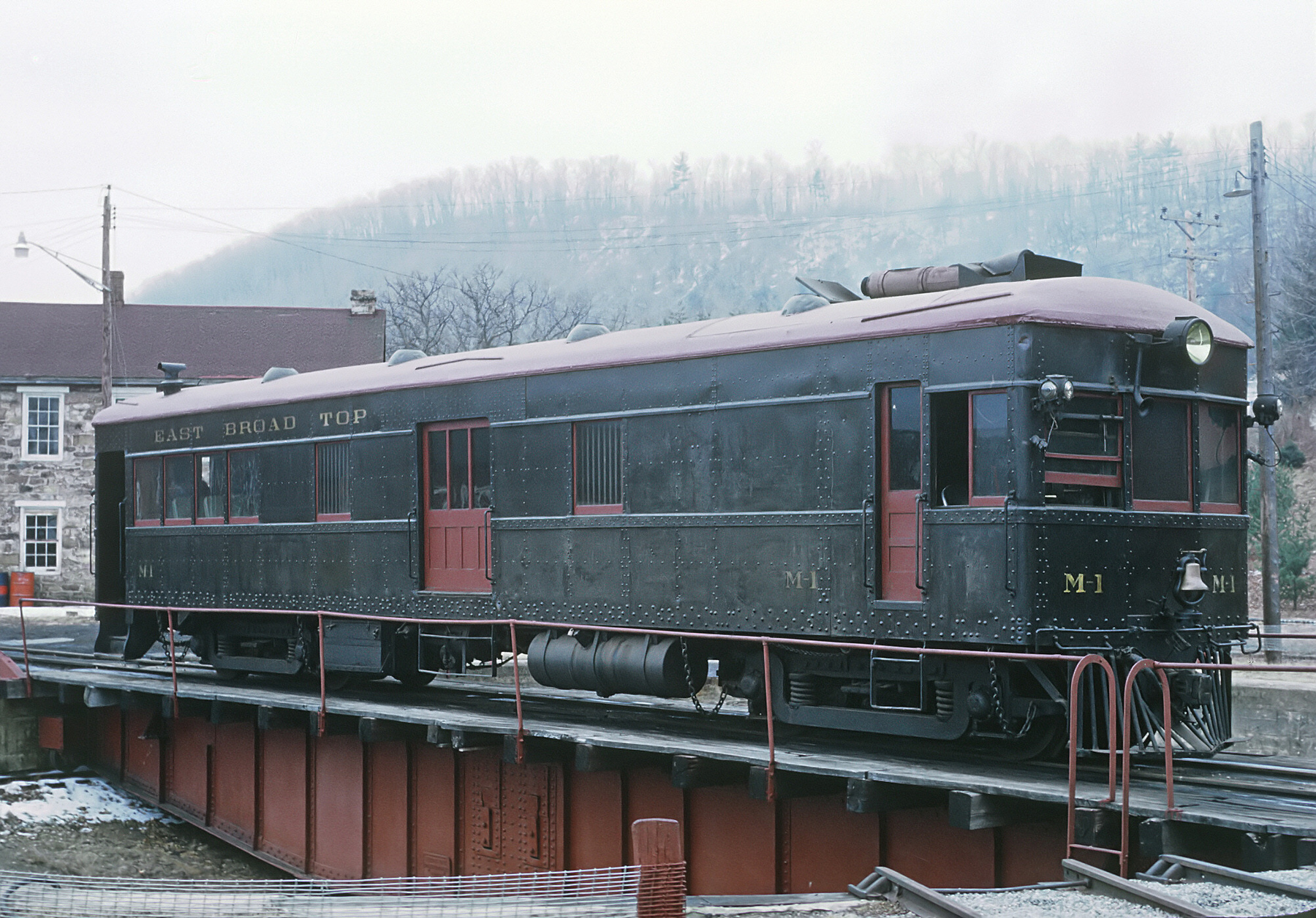 East Broad Top motorcar M-1 is seen here on the turntable in Rockhill Furnace, Pennsylvania on February 22, 1969. This "Doodlebug" was built by EBT's own shop forces in 1927, based from J. G. Brill & Company plans (a well-known builder of interurban equipment). Roger Puta photo.
East Broad Top Railroad Locomotive Roster
| Builder | Type | Road Number | Driver Size | Weight | Tractive Effort | Built |
| --- | --- | --- | --- | --- | --- | --- |
| BLW | 0-6-0 | 3 | 51 | 137,000 | 33,500 | 1923 |
| BLW | 0-6-0 | 6 | 50 | 75,000 | 23,000 | 1907 |
| BLW | 2-8-2 | 12 | 48 | 117,800 | 19,600 | 1911 |
| BLW | 2-8-2 | 14 | 48 | 147,500 | 27,600 | 1912 |
| BLW | 2-8-2 | 15 | 48 | 147,500 | 27,600 | 1914 |
| BLW | 2-8-2 | 16 | 48 | 160,500 | 30,600 | 1916 |
| BLW | 2-8-2 | 17 | 48 | 161,000 | 30,600 | 1918 |
| BLW | 2-8-2 | 18 | 48 | 161,000 | 30,600 | 1920 |
---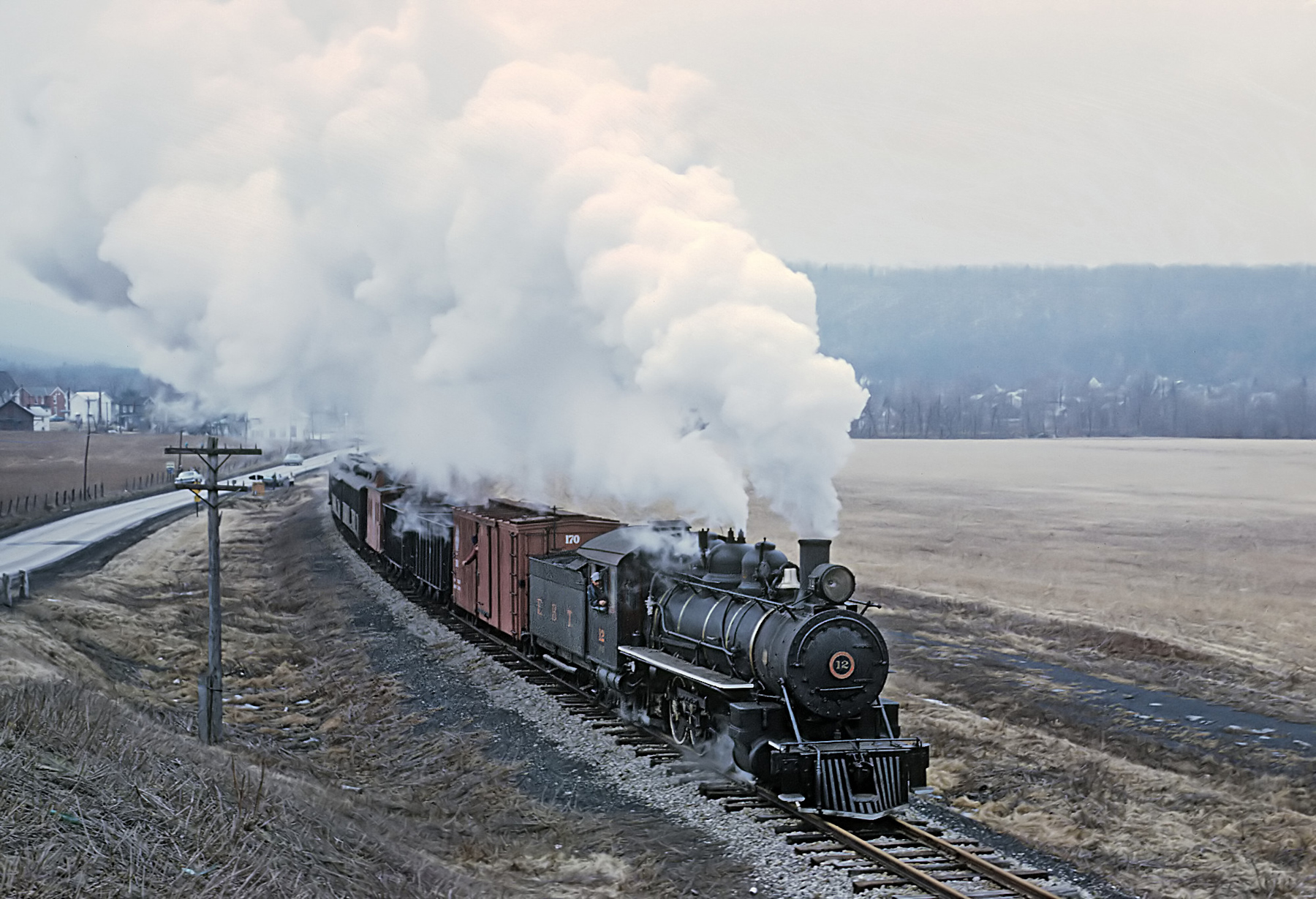 Another scene captured by Roger Puta featuring a special East Broad Top fan trip led by 2-8-2 #12 east of Rockhill Furnace, Pennsylvania on February 22, 1969.
However, news came during March of 2014 that the EBTPA had filed with the Surface Transportation Board to inaugurate the East Broad Top Connecting Railroad as a common-carrier freight line following their purchase of the defunct 4.1 miles of dual-gauge track running from the Norfolk Southern main line outside of Mount Union to Route 522 in Mount Union (which includes the yard).  The group hopes to resuscitate this property and serve a nearby industrial park (as a means of helping finance excursions and rebuild the right-of-way) and this part of the line has not seen trains for many decades.  In the meantime they are still working to secure the other 33 miles from the Kovalchick for both tourist trains and freight service.

Home

›
Tourist Train Information
› East Broad Top Railroad