Railroad Magnate, Edward H. Harriman

Last revised: May 8, 2023
By: Adam Burns

Because of his immense success in managing, reviving, and controlling railroads Edward H. Harriman (or, E.H. Harriman) has often been regarded as another of the ruthless tycoons.

However, much like James Hill, Harriman actually took great interest in the railroads he oversaw and found great reward and turning a rundown line into a profitable operation.
Overview
Perhaps the best example of this is the Union Pacific which was bankrupt at the end of the 19th century. However, under Harriman's leadership the UP became a profitable operation and prospered.  Much of the railroad's foundation was laid during Harriman's tenure and the company may be another historical footnote today him. 

While he is best known for his time at UP (the railroad continues to honor him in many ways, including naming its largest dispatching center after him, the Harriman Dispatching Center in Omaha, Nebraska) he also controlled several other noteworthy railroads including Southern Pacific, Illinois Central, and Central of Georgia Railway.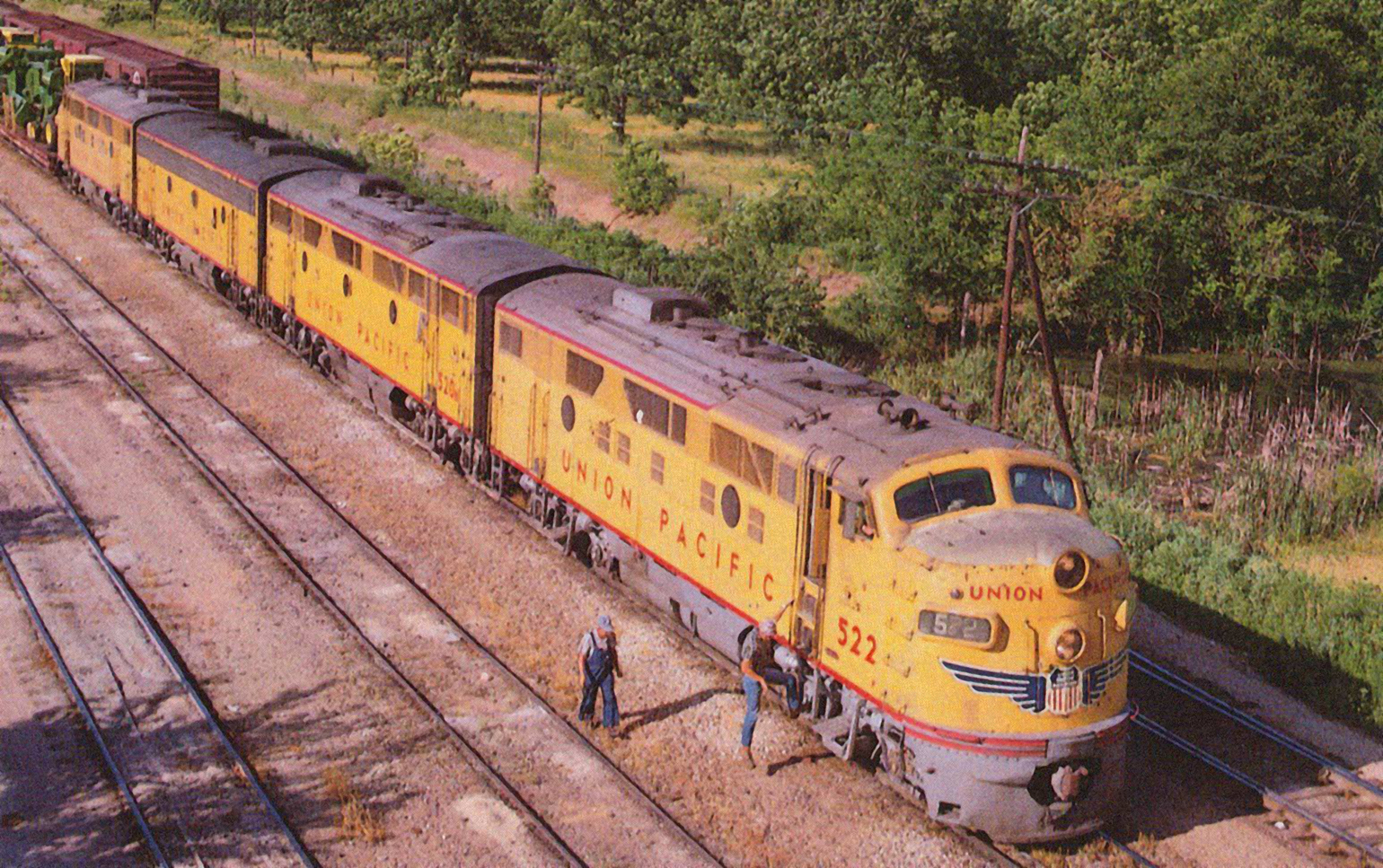 An A-B-B-A set of Union Pacific covered wagons ready to depart from an unknown location in June of 1968. Mac Owen photo.
Early Life
His estate went beyond the railroad industry and included the Pacific Mail Steamship Company and Wells Fargo Express Company.  It is said he net worth ranged from $150 million to $200 million, which was left to his wife Mary Williamson following his death. 
Harriman, whose full name was Edward Henry Harriman, was born on February 25, 1848 in Hempstead, New York the son of an Episcopal minister. 

Never one who much liked school he left his studies at only the age of 14 to pursue a career on Wall Street along with the help of his uncle, Oliver Harriman.
Edward proved to be quite adept on Wall Street and correctly reading stocks, so much so that by the age of 21 he had his own seat on the stock exchange. 
In 1879 he married Mary Williamson Averell at the age of 31 and thus became quite interested in railroads due to his father-in-law, William Averell being president of the Ogdensburg & Lake Champlain Railroad.
Railroads
Three years later in 1882 Harriman entered the railroad business officially when he purchased the bankrupt Lake Ontario Southern Railway and reorganized it as the Sodus Bay & Southern Railroad. 

This railroad began as the Sodus Bay & Southern Railroad of 1873 connecting Sodus Point on Lake Ontario with Stanley, New York to the south (a distance of about 40 miles).
The line was never profitable until Harriman gained control of the property quickly turning it around. By 1884 he had sold the line to the Northern Central Railway, which eventually came to be owned by the Pennsylvania Railroad. 
Soon after this and realizing his potential to manage railroads Harriman set after a bigger goal, the Illinois Central Railroad. Under Harriman's direction the railroad expanded west and north reaching (via branch lines) Madison and Dodgeville, Wisconsin along with Cedar Rapids, Iowa; Omaha, Nebraska; and Sioux Falls, South Dakota.
Later it reached cities like Indianapolis, Birmingham and Fulton, Kentucky. He was also able to guide the IC through the Panic of 1893 without it falling into bankruptcy.

Union Pacific
E.H. Harriman's most ambitious project was to rescue the bankrupt and failing Union Pacific system in 1897, a company which was already legendary for being part of the original transcontinental railroad.
Harriman quickly set to changing the culture at UP, restructuring its heavy debt, and pouring millions of dollars into upgrading the railroad's property. 
Under Harriman, Union Pacific saw its main line between Omaha, Nebraska and Granger, Wyoming entirely double-tracked, a more efficient route scaling Sherman Hill (located in Wyoming), significant line relocations to improve grades and curves, and an updated, automatic signaling system.
It was during Harriman's tenure that the Union Pacific became its own transcontinental railroad, connecting to Los Angeles via Ogden, Utah in 1907.
One reason for Harriman's success as a railroad manager was his call for streamlining operations and standardization, notably with a company's fleet of freight and passenger cars. During Harriman's years the Union Pacific never looked back as he truly had changed the culture at the railroad.
It has remained well managed and maintained virtually since his tenure.  In 1901 Harriman had quite an empire of railroads in the west including, along with the Union Pacific, the Southern Pacific and Central Pacific. However, in 1904 he was sued by President Theodore Roosevelt and the Supreme Court forced Harriman to break up his empire.
---
Other Acquisitions
However, still under the management of the Union Pacific after this incident, he moved eastward and took over management of the Chicago & Alton, Central of Georgia, and even the Erie Railroad in 1908. 
The Erie would be Harriman's final management as a railroad magnate as he passed away in September of 1909. His reputation as a ruthless railroad baron was mostly based on conjecture by the general public as they only saw the end result and millions of dollars he earned for managing so many companies.
In truth, he was anything but as he worked tirelessly to maximize a railroad's efficiency and make it as profitable as possible, taking great pride in doing so.   
Harriman remains a legendary figure at Union Pacific today as the railroad's primary dispatching center in Omaha is named directly after him, the Union Pacific Harriman Dispatch Center.