Edward H. Harriman

Last revised: October 17, 2023
By: Adam Burns

Edward H. Harriman was an American railroad executive and financier, known for reorganizing and consolidating various failing railway systems into well-managed, profitable enterprises.
Born in 1848, Harriman began his career as a stockbroker and later became the director of the Union Pacific Railroad, turning it into a highly efficient business.
Harriman's aggressive business tactics and significant influence on the American railway system earned him a reputation as a ruthless "robber baron." He died in 1909.

Because of his immense success in managing, reviving, and controlling railroads Edward H. Harriman (or, E.H. Harriman) has often been regarded as another of the ruthless tycoons.

However, much like James Hill, Harriman actually took great interest in the railroads he oversaw and found great reward and turning a rundown line into a profitable operation.
Perhaps the best example of this is the Union Pacific which was bankrupt at the end of the 19th century. However, under Harriman's leadership the UP became a profitable operation and prospered. Much of the railroad's foundation was laid during Harriman's tenure and the company may be another historical footnote today him.
While he is best known for his time at UP he also controlled several other noteworthy railroads including Southern Pacific, Illinois Central, and Central of Georgia Railway.
His estate went beyond the railroad industry and included the Pacific Mail Steamship Company and Wells Fargo Express Company. It is said he net worth ranged from $150 million to $200 million, which was left to his wife Mary Williamson following his death.
Early Life
Edward Henry Harriman, more commonly known as E.H. Harriman, was born on February 25, 1848, into a middle-class family in Hempstead, New York. His father was a Episcopal minister, which shaped the early part of Harriman's life significantly.
In his personal life, Harriman married Mary Williamson Averell, and together they had six children. Among them were Averell Harriman, a future state governor, and Mary Harriman Rumsey, who became a philanthropist.
Never one who much liked school he left his studies at only the age of 14 to pursue a career on Wall Street along with the help of his uncle, Oliver Harriman.
Harriman's footsteps into the world of business investments were uncharted, yet confidently made. Despite the lack of formal education, he became a broker in Wall Street at the age of 19.
By 22, he had become a member of the New York Stock Exchange (NYSE) and proved so adept he started his own brokerage firm.
In 1879 he married Mary Williamson Averell at the age of 31 and thus became quite interested in railroads due to his father-in-law, William Averell being president of the Ogdensburg & Lake Champlain Railroad.
Railroads
In 1881 Harriman became interested in railroad securities and acquired bonds of the Chicago, St. Louis & New Orleans.  With available capital from this move he purchased the bankrupt Lake Ontario Southern Railway in 1882 and reorganized it as the Sodus Bay & Southern Railroad.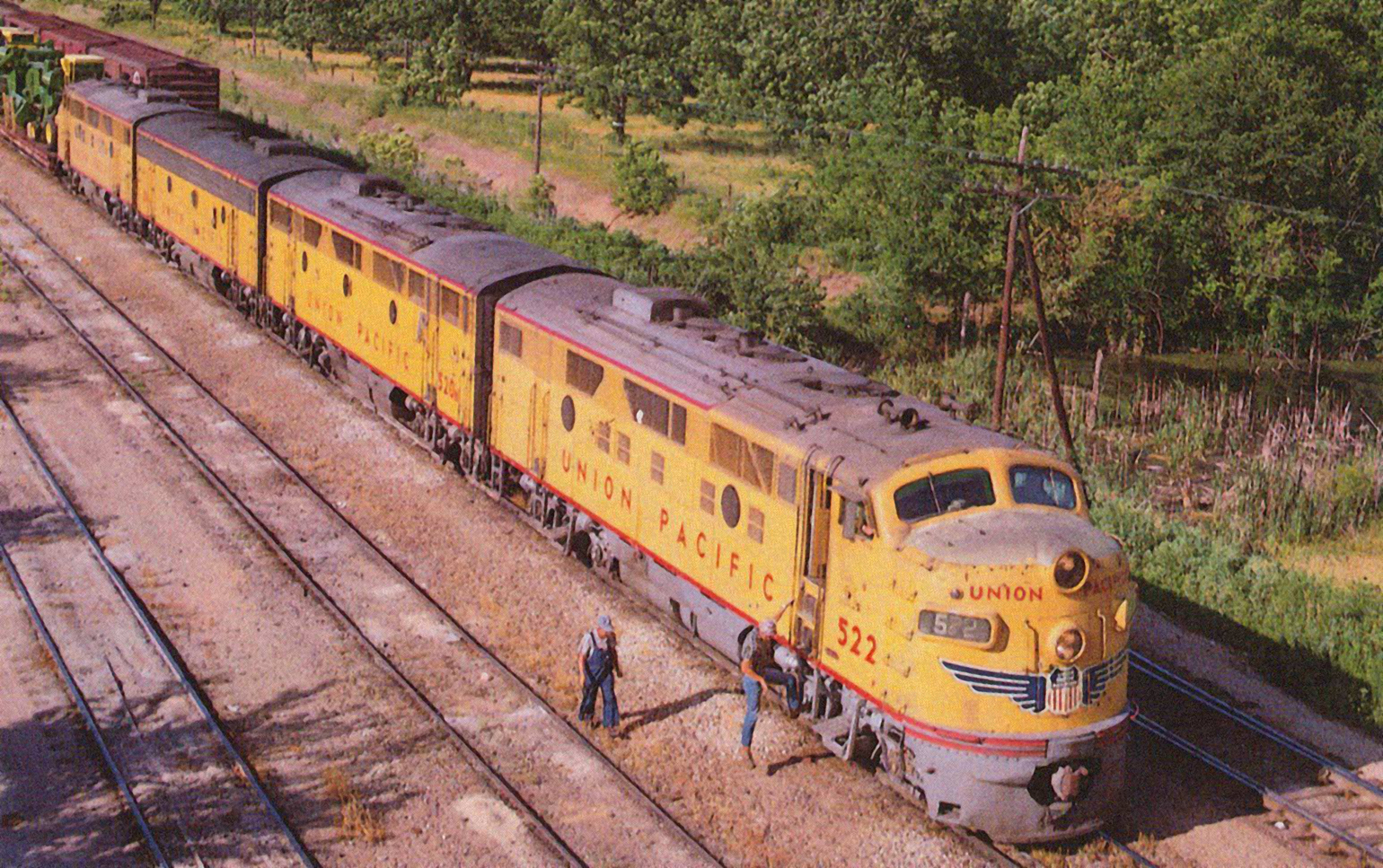 An A-B-B-A set of Union Pacific covered wagons ready to depart from an unknown location in June of 1968. Mac Owen photo.
This railroad began as the Sodus Bay & Southern Railroad of 1873 connecting Sodus Point on Lake Ontario with Stanley, New York to the south (a distance of about 40 miles).
The line was never profitable until Harriman gained control of the property quickly turning it around. By 1884 he had sold the line to the Northern Central Railway, then a subsidiary of the Pennsylvania Railroad.
At A Glance
Occupation

Railroad Tycoon

Born

February 20, 1848 (Hempstead, New York)

Death

September 9, 1909 (Harriman, New York/Arden Estate)

Parents

Orlando Harriman, Sr. (father)

Cornelia Neilson (mother)

Early Life

Minister's Son

Formal Education

None

Spouse

Bertha Leone Elkins (married, 3/2/1885)

Children

Mary Harriman, Cornelia Harriman, Carol Averell Harriman, William Averell Harriman, Edward Roland Noel Harriman, Henry Neilson Harriman

Railroads Controlled

Union Pacific

Southern Pacific

Saint Joseph and Grand Island Railroad

Illinois Central

Central of Georgia Railway

Other Companies

Pacific Mail Steamship Company

Wells Fargo Express Company
In 1883 he took a significant step in the industry hierarchy when he was elected to the Illinois Central's board of directors.
Under Harriman's direction the railroad expanded west and north reaching (via branch lines) Madison and Dodgeville, Wisconsin along with Cedar Rapids, Iowa; Omaha, Nebraska; and Sioux Falls, South Dakota.
Later it reached cities like Indianapolis, Birmingham and Fulton, Kentucky. He was also able to guide the IC through the Panic of 1893 without it falling into bankruptcy.
Union Pacific
In 1897, Harriman purchased a leading stake in the struggling Union Pacific, which was in financial ruin after the Panic of 1893.  Even at that time the company was well known as being the eastern component of the first Transcontinental Railroad. 
Despite the UP's teetering on the brink of bankruptcy, Harriman perceived it as an opportunity to revamp the industry and embarked on a significant rebuilding project.
Harriman quickly set to changing the culture at UP, restructuring its heavy debt, and pouring millions of dollars into upgrading the railroad's property. 
Under Harriman, Union Pacific saw its main line between Omaha, Nebraska and Granger, Wyoming entirely double-tracked, a more efficient route scaling Sherman Hill (located in Wyoming), significant line relocations to improve grades and curves, and an updated, automatic signaling system.
Furthermore, he improved the alignments and upgraded stations, making them more passenger-friendly. This resulted in the increased reliability and speed of the Union Pacific trains, which significantly enhanced the line's profitability.
It was during Harriman's tenure that the Union Pacific became its own transcontinental railroad, connecting to Los Angeles via Ogden, Utah in 1907.
A primary reason for Harriman's success was his call for streamlining operations and standardization, notably with a company's fleet of freight and passenger cars.
Beyond infrastructure, Harriman also focused on improving the company's management. He introduced a centralized system and eliminated corruption at UP. This instilled a sense of professionalism which was subsequently reflected in the company's smooth operations. It has remained well managed and maintained ever since.
Southern Pacific
Arguably Harriman's most notable deal came when he acquired Southern Pacific in 1901. He efficiently merged it with Union Pacific (although both companies remained separate operations), creating an efficient and modern railroad network in the west.
Harriman's involvement with the Southern Pacific was marked by vast capital improvement projects similar to the Union Pacific. Under his supervision, Southern Pacific experienced advancements in communications using wireless telegraph, installments of block signals for safety, and grade reductions.
He improved the mainline tracks and significantly expanded the railroad's network. He also invested in the construction of the Lucin Cutoff across the Great Salt Lake, which slashed the route by 43 miles. These upgrades made Southern Pacific a lucrative railroad operation in the Western United States.
Recognizing the importance of freight business, Harriman implemented policies that increased the load capacity of freight cars and the speed of operations. This boosted the profitability of both Southern Pacific and Union Pacific as they could cater to the growing markets in western states more efficiently.
By 1901, Harriman had quite an empire of railroads in the west including, along with the Union Pacific, the Southern Pacific and Central Pacific. However, in 1904 he was sued by President Theodore Roosevelt and the Supreme Court forced Harriman to break up his empire.
---
Other Acquisitions
However, still under the management of the Union Pacific after this incident, he moved eastward and took over management of the Chicago & Alton, Central of Georgia, and even the Erie Railroad in 1908. 
The Erie would be Harriman's final management as a railroad magnate as he passed away in September of 1909. His reputation as a ruthless railroad baron was mostly based on conjecture by the general public as they only saw the end result and millions of dollars he earned for managing so many companies.
In truth, he was anything but as he worked tirelessly to maximize a railroad's efficiency and make it as profitable as possible, taking great pride in doing so.   
Harriman remains a legendary figure at Union Pacific today as the railroad's primary dispatching center in Omaha is named directly after him, the Union Pacific Harriman Dispatch Center.
Net Worth
Over the course of his career, Edward Harriman accumulated vast wealth. At the time of his death in 1909, his estate was valued at approximately $200 million. His wealth was largely attributed to his majority shareholdings in the Union Pacific and Southern Pacific railroads.
Legacy
Harriman died on September 9, 1909. His vast fortune was divided amongst his wife and children. His son, Averell Harriman, stepped into his father's shoes and continued to manage the railroads.

The legacy left by Harriman in America's railroad industry is undeniably impressive. His vision and unwavering dedication to the advancement of the railroad networks has left an indelible mark on America's transportation infrastructure.
His investments and improvements in the Union Pacific and Southern Pacific not only turned around the collapsing companies but also contributed to the development of the West. His efforts to streamline operations and focus on customer service have had far-reaching implications in the industry.
Harriman's work impacted not only the business of railroads but also labor policies across the country. His management practices resulted in an improvement of employee rights, with workers benefiting from his introduction of standardized hours and better pay.
His willingness to invest in infrastructure development went beyond pure business reasons, it demonstrated his interest in science and engineering. He contributed to numerous scientific expeditions and funded research that has increased our understanding of the natural world.
Beyond his business endeavors, Harriman was known for his many philanthropic activities. He funded the establishment of the Harriman Research Laboratory, which became a leading institute for studying blood diseases.
Despite his achievements, Harriman's life was not without controversy. His aggressive acquisition of railroads earned him the title of "railroad baron," and he was often criticized for his monopolistic tendencies.
At the peak of his power, Harriman controlled about 60,000 miles of railroads in the U.S., earning him the scrutiny of President Theodore Roosevelt. This resulted in regulation changes that restricted monopoly power in the railroad industry.
In his later years, Harriman became involved in philanthropy. His contributions in the field of education and health were significant, with substantial donations to Columbia University and other higher education institutions. His values and business mindset have been a source of inspiration for future generations of entrepreneurs and business leaders.
Today, Edward H. Harriman is remembered as one of the most important figures in American railroad history. His contributions to transforming Union Pacific and Southern Pacific into highly efficient and profitable operations, and his commitment to improve and expand railroads in the U.S. have cemented his place in American history.
The Sweedler Preserve at Lick Brook in Ithaca, New York was once part of Harriman's vast empire, and it still pays homage to his legacy with part of his name. Harriman State Park, one of the nation's largest parks, was developed from land Harriman gave to the state of New York in memory of his wife.
Harriman's legacy also continues through his descendants. His son Averell Harriman served as U.S. Secretary of Commerce under President Harry S. Truman, and under President John F. Kennedy, he served as Under Secretary of State for Political Affairs.
Edward Harriman truly transformed the American railroad industry, turning rickety and inefficient railroads into an efficient, superpower transportation system that played a pivotal role in modernizing the U.S. economy in the late 19th century.
Harriman not only recognized the importance of a robust railway system but also foresaw the enormous opportunities it would bring to the American West. His investments and work play a crucial part in the successful growth of the western U.S.
Despite his humble upbringing and lack of formal education, Harriman demonstrated superior management skill and business acumen. He was a visionary leader who was able to perceive great opportunities in seemingly dire situations.
His ruthless business tactics earned him a fair share of critics and enemies. However, there is no denying that Harriman reshaped the American railroad industry and laid the foundations for the modern infrastructure that is so critical to the U.S. economy.
Declared as one of the richest persons in the U.S. during his time, Harriman's name is often mentioned alongside fellow industrial magnates of the era like Rockefeller and Carnegie. His influence on business and industry was profound, and his legacy continues to be felt today.
Edward H. Harriman exhibited a unique blend of foresight, business ingenuity, and unwavering persistence. These qualities not only led to his phenomenal success but also served to shape the American railroad industry.
Harriman's insights and strategies, particularly in the development of the Union Pacific and Southern Pacific, are still relevant today. Whether in terms of railroad design, operations, labor policies, or adoption of advanced technology, his vision continues to inspire.
In conclusion, Edward H. Harriman's determination, vision, and leadership epitomize the "American dream." His legacy continues to shape and inspire the world, enriching the annals of American railroads for generations to come.
From Hempstead to Wall Street, from Union Pacific to Southern Pacific, Harriman's life journey is an enduring journey of dreams, determination, and success. His remarkable story reflects the heights that the human spirit can reach and the profound impact that one individual can have on the world.
Sources
Murray, Tom.  Illinois Central.  St. Paul:  Voyageur Press, 2006.
Schafer, Mike. Classic American Railroads. Osceola: MBI Publishing, 1996.
Solomon, Brian. Southern Pacific Railroad. St. Paul: Voyageur Press, 2007.
Welsh, Joe and Holland,

Kevin. 

Union Pacific Railroad.  Minneapolis:  Voyageur Press, 2009.