Milwaukee Road "Boxcabs" (Class EF-1/EP-1)

Last revised: May 8, 2023
By: Adam Burns

The Milwaukee Road's 3,000-volt DC system, which electrified two large sections of its main line in Montana, Idaho, and Washington was opened in 1915 (and completed to its farthest reaches in 1927).

The boxcabs were the first electric locomotives employed by the railroad on the new system and were built by General Electric and the American Locomotive Company (Alco).
While these locomotives were rather simple in design they were quite reliable and powerful and remained in operation on the Milwaukee Road for nearly 60 years until the final units were parked and scrapped following the railroad's 1974 shutdown of its electrified system.
One reason for the locomotives' incredible longevity was simply the fact that the railroad's electrical shop forces did an incredibly fine job maintaining them.
Mr. Michael Sol, who was part of an engineering team to ascertain the condition of the electrified property during the 1970's, noted the only part of the system in very poor condition were the trolley poles and ties.   The history of Lines West is a sad tale of wanton neglect which led to abandonment.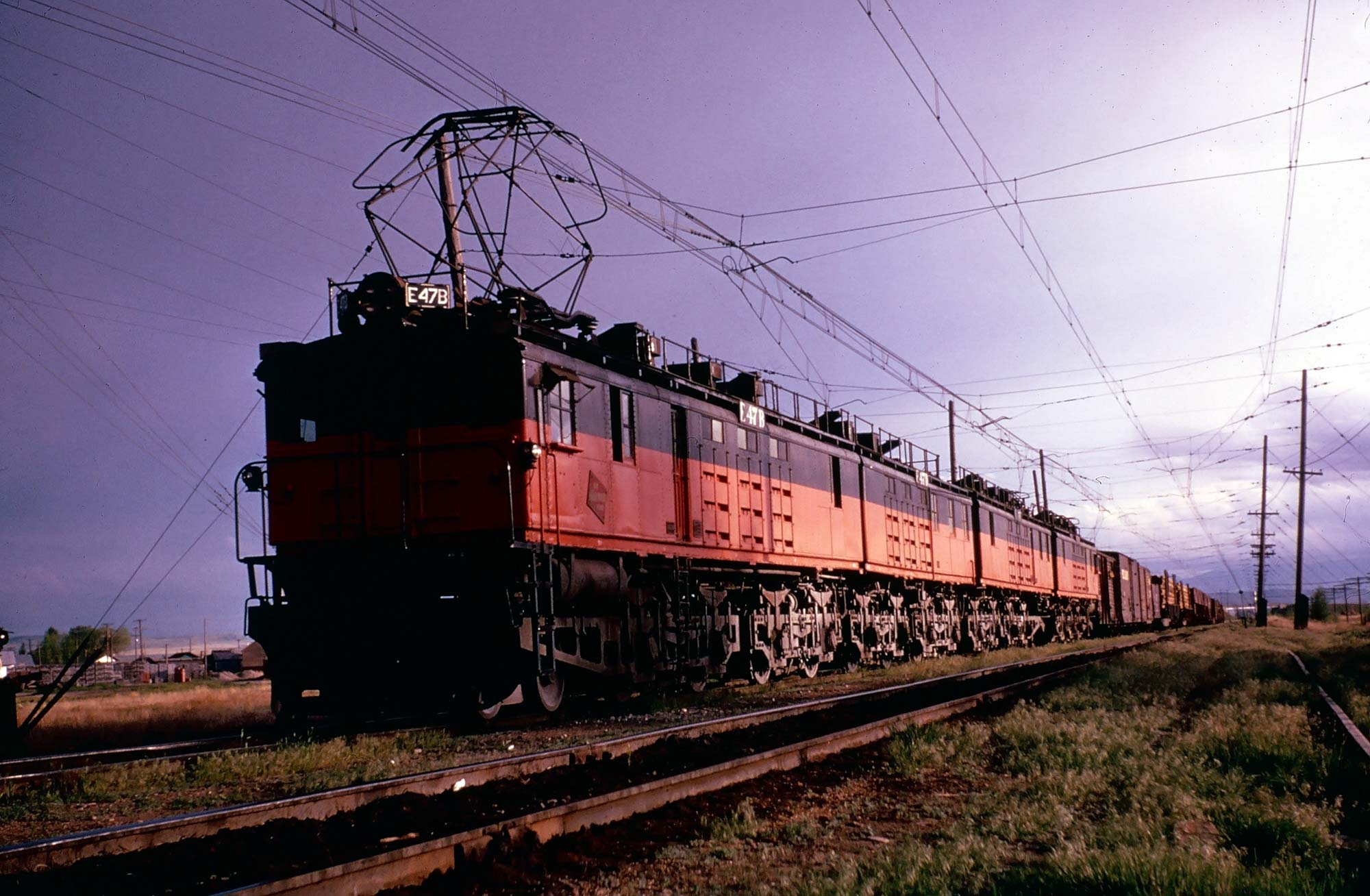 Milwaukee Road boxcab E47B arrives in Three Forks, Montana with a westbound freight on June 8, 1968. American-Rails.com collection.
The Milwaukee Road boxcabs built by General Electric and American Locomotive Company (Alco) were, in terms of electric locomotive technology, somewhat simple designs.
They featured a 2-B-B+B-B-2 wheel arrangement with two, semi-permanently coupled units making up the locomotive (technically each unit was known as an "A" and ran as an A-A set).
Rated at over 6,800 hp the Milwaukee Road wound up with 84 total "A" units operating as 42 pairs with 30 geared for freight service (known as EF-1s by the railroad) and 12 geared for passenger service (known as EP-1s by the railroad). 
It is said that after the Milwaukee Road put these first electrics to work passenger service costs were reduced by over 50%! While the Milwaukee's original electrics were fairly basic designs they did employ one innovative feature for their time, smaller motors (mounted over each driving axle) that turned at higher speeds.
Milwaukee Road boxcabs, led by E-34B, are about to couple onto their train at Butte, Montana, circa 1965. American-Rails.com collection.
The Milwaukee Road boxcabs went into service the same year that electric service began on the western system in 1915.
At the time, General Electric was fast becoming a reliable and reputable builder of electric locomotives. As such, while Alco conceived the overall design and function of the EF/EP-1s GE supplied all of the model's internal components.
The model was one of the first to employ the now common multiple-unit train control (MU), a very early version of GE's Locotrol. It allowed for the two-pair tandems of boxcabs to work together as one, providing the Milwaukee Road with much more power for each train.
Milwaukee Road boxcab set E49 was photographed here between assignments at Deer Lodge, Montana on August 14, 1967. Author's collection.
The Milwaukee Road boxcabs carried on being used in freight and passenger service until the early 1950s when they were mostly replaced by the new "Little Joe" electrics from GE (a botched order for the Soviet Union that could not be delivered because of the Cold War situation), which had arrived in 1950.
Still, even after their displacement several of the boxcabs remained in daily use until the end of electrified operations in June of 1974.
Today, at least one of the Milwaukee Road boxcabs remains preserved, E50, at the Lake Superior Railroad Museum in Duluth, Minnesota.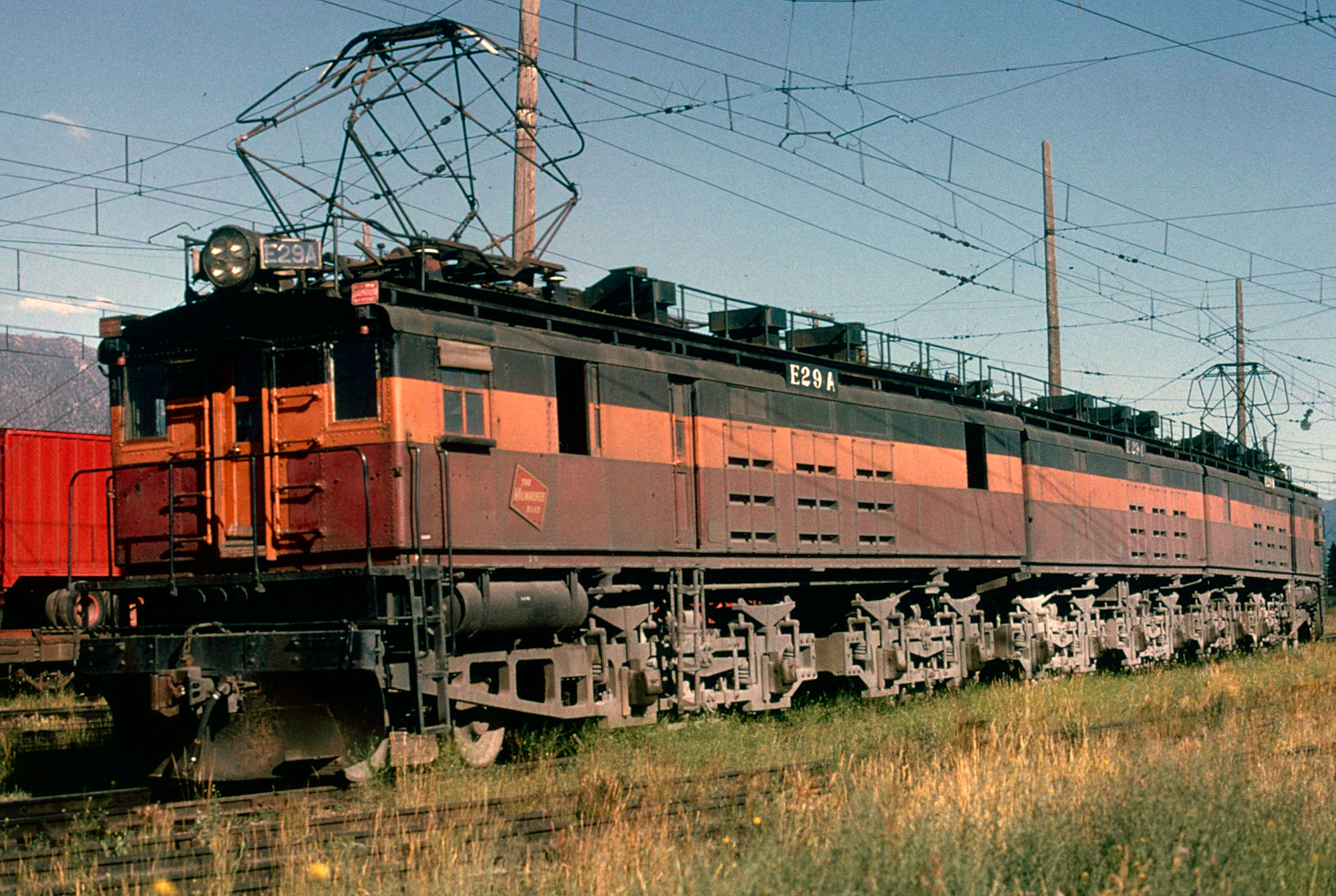 Milwaukee Road boxcab set E29 is seen here between assignments in Butte, Montana during August of 1965. Author's collection.
Interestingly, despite being used in main line service the EF-1 boxcabs were not particularly all that fast, even for a freight locomotive.
As built, the model was only geared for about 35 mph, which the railroad never seemed to care for much even though they were quite pleased with the motor overall.
Milwaukee Road boxcab set E-30 with an eastbound freight at Othello, Washington, circa 1962. American-Rails.com collection.
It provided for good pulling power, starting tractive effort, and was relatively easy and inexpensive to maintain. In any event, during a major rebuild of the boxcabs in the 1950s they were re-geared for speeds of 45 mph, allowing the Milwaukee to increase freight transit times to some extent (event though by that point the railroad had already taken delivery of the much faster and efficient EF-4 "Little Joes"). 
While the Milwaukee Road boxcabs proved highly reliable for six decades by the time of their retirement they were long overdue for replacement. 
Class EF-1
| Road Numbers | Date Built | Builder | Horsepower |
| --- | --- | --- | --- |
| 10200–10229 | 1915 | Alco/GE | 4,100 HP 1 Hour/3,340 HP Continuous |
Class EP-1
| Road Numbers | Date Built | Builder | Horsepower |
| --- | --- | --- | --- |
| 10100–10111 (Re-Classed as 10230–10241 in 1919.) | 1915 | Alco/GE | 4,100 HP 1 Hour/3,340 HP Continuous |
---
Not so much in the fact that the units were tired and worn out (surprisingly, a testament to their maintenance) but rather that newer models could have provided the railroad with even more efficiency and savings.  
Sadly, as anyone who knows the history of the Milwaukee is aware, instead of overhauling its entire electric territory and reap the incredible savings it would have afforded the railroad oddly elected to scrap the system. 
It is interesting to note that just after the Milwaukee Road shutdown its electrification the oil embargo hit causing oil prices to shoot through the roof and resulted in the railroad not only spending millions on fuel but also new locomotives to replace the electrics. 
Sources
Murray, Tom. Milwaukee Road, The. St. Paul: MBI Publishing, 2005.
Ploss, Thomas. Nation Pays Again, The. Ploss (Self Published): January, 1985.
Schafer, Mike. Classic American Railroads. Osceola: MBI Publishing, 1996.
Scribbins, Jim.  Hiawatha Story, The.  Minneapolis:  University of Minnesota Press, 2007.
Scribbins, Jim. Milwaukee Road Remembered.  Minneapolis:  University Of Minnesota, 2008 (Second Edition).
Solomon, Brian and Gruber, John. Milwaukee Road's Hiawatha's, The.  St. Paul: Voyageur Press, 2006.
Wood, Charles R. and Wood, Dorothy M.  Milwaukee Road West.  Seattle: Superior Publishing Company, 1972.