The EMC E5 began production in early 1940. It was ordered by the CB&Q to power the railroad's new Zephyr passenger train fleet which included names like the Afternoon Zephyr, Morning Zephyr, Nebraska Zephyr, Ak-Sar-Ben Zephyr, and the American Royal Zephyr.  Per Electro-Motive's common practice for passenger models, the E5 used an A1A-A1A truck setup (meaning the center axle was unpowered) and featured two GM model 567 prime movers; combined these could produce 2,000 horsepower.  Additionally, using four of GM's standard model D7 traction motors the E5 offered 56,500 pounds of starting tractive effort and 31,000 pounds continuous. Once again, EMC gave the E5 a "slant nose" design, commonly used on the E3 and E4, which disappeared entirely following the E6 as both E and F models used the classic "bulldog" design.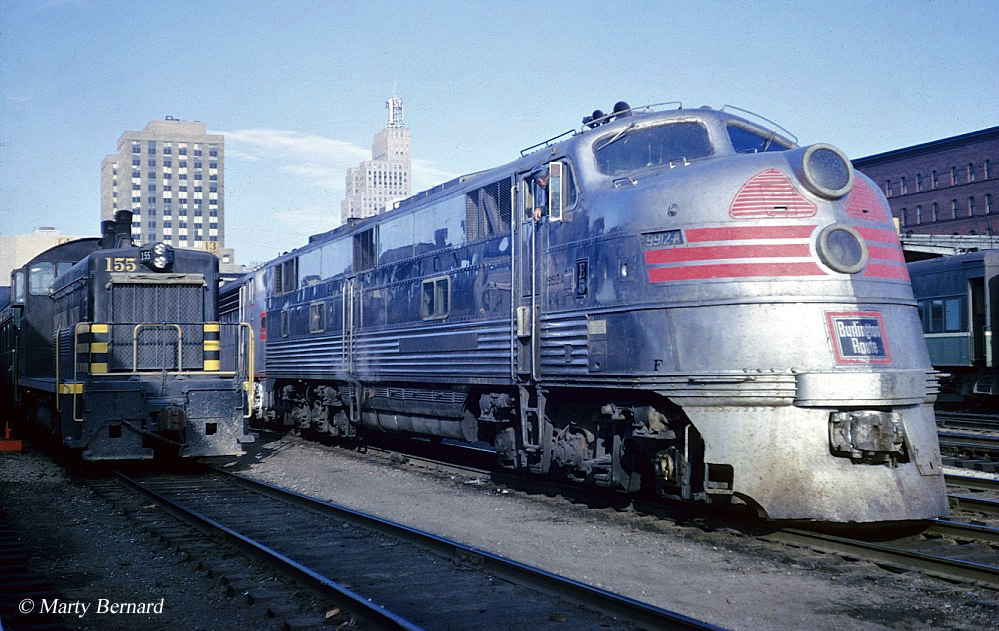 Production of the EMC E5 ran through mid-1941 and although the design was manufactured for over a year only 11 E5As and 5 E5Bs were built. The CB&Q first began receiving its locomotives in February and March of 1940 when E5A's 9910A-9912A, 9909, and Fort Worth & Denver City 9980A arrived along with E5Bs 9910B-9912B, Colorado & Southern 9950B, and Fort Worth & Denver City 9980B. That concluded its order of B units but another A arrived in October of that year, CB&Q 9913. Finally, in June of 1941 just months before the United State entered World War II A units 9914A, 9914B, 9915A, and 9915B arrived completing the order. The Burlington apparently really liked their E5s as they remained in service all of the way through the 1960s although some units were retired prior to that time.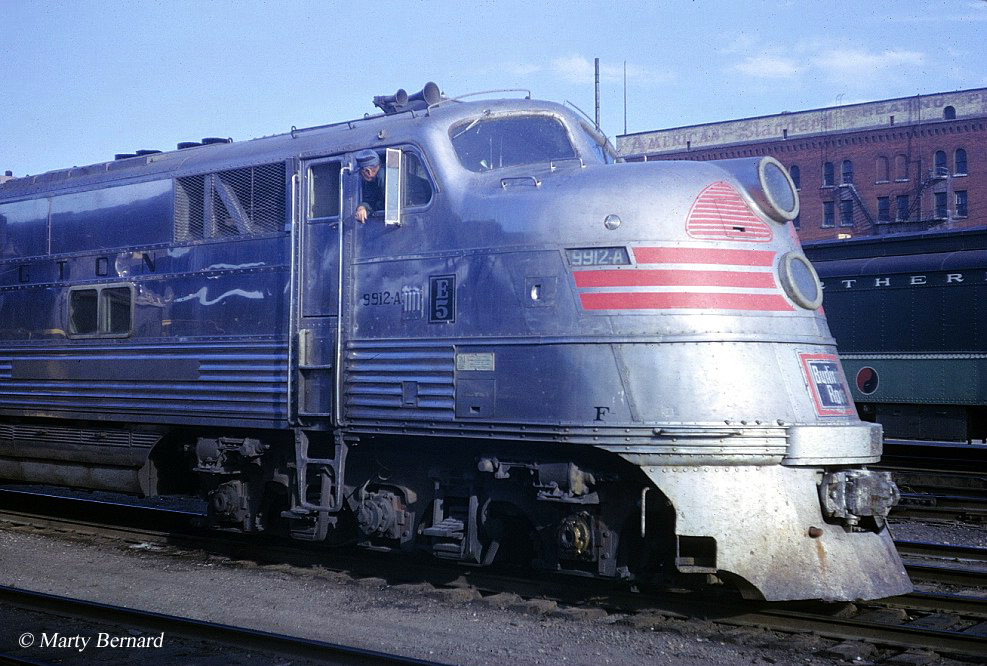 In many ways, the E5 was simply a variant design as the company had already began production on the E6 in 1939 that coincided with the release of its publicly successful FT model used in freight service. The E6 sold more than 100 A an B units and the following E7 and E8 designs outshopped more than 1,000 altogether. By the time the war had ended EMD was fully entrenched as the leader of the diesel locomotive market pulling away from the American Locomotive Company whose beautiful but mechanically trouble-prone PA fell behind the E series in sales and interest. General Motors' subsidiary would soon begin to dominate the industry by the 1950s releasing models like the GP7 and GP9.  In any event, as mentioned above one of these beautiful locomotives was preserved, #9911A, which resides at the Illinois Railway Museum. It is occasionally operates and has even been featured in movies (notably "A League of Their Own" and "Flags of Our Fathers").
Electro-Motive E5 Production Roster
| Owner | Road Number(s) | Quantity | Date Built |
| --- | --- | --- | --- |
| Chicago, Burlington & Quincy | 9910A-9912A, 9913, 9914A-9915A, 9914B-9915B | 8 | 1940-1941 |
| Chicago, Burlington & Quincy | 9910B-9912B (E5B) | 3 | 1940-1941 |
| Colorado & Southern Railway (CB&Q) | 9950A | 1 | 1940 |
| Colorado & Southern Railway (CB&Q) | 9950B (E5B) | 1 | 1940 |
| Fort Worth & Denver City Railway (CB&Q) | 9980A | 1 | 1940 |
| Fort Worth & Denver City Railway (CB&Q) | 9980B (E5B) | 1 | 1940 |
For more information on the history of Electro-Motive's covered wagons noted historian Brian Solomon has published a book entitled, Electro-Motive E-Units and F-Units: The Illustrated History of North America's Favorite Locomotives, which superbly details the entire line from its early days in the mid-1930s to the end of production.  He also has another entitled, EMD Locomotives, which generally highlights the history of EMD from its earliest beginnings in the 1920s and phenomenal successes in the mid-20th century to its decline during the 1980s at which time it fell behind General Electric and was eventually sold by General Motors in 2005. The book features 176 pages and is filled with excellent photography and illustrations.  


Home

›

Diesel Locomotives

› E5